Juicy grilled beef carne asada topped with plenty of cheese, fresh pico de gallo, sour cream and avocado make for the yummiest of weekend plans. I'm excited to partner with Rumba meats to share this weekend family favorite recipe for carne asada nachos.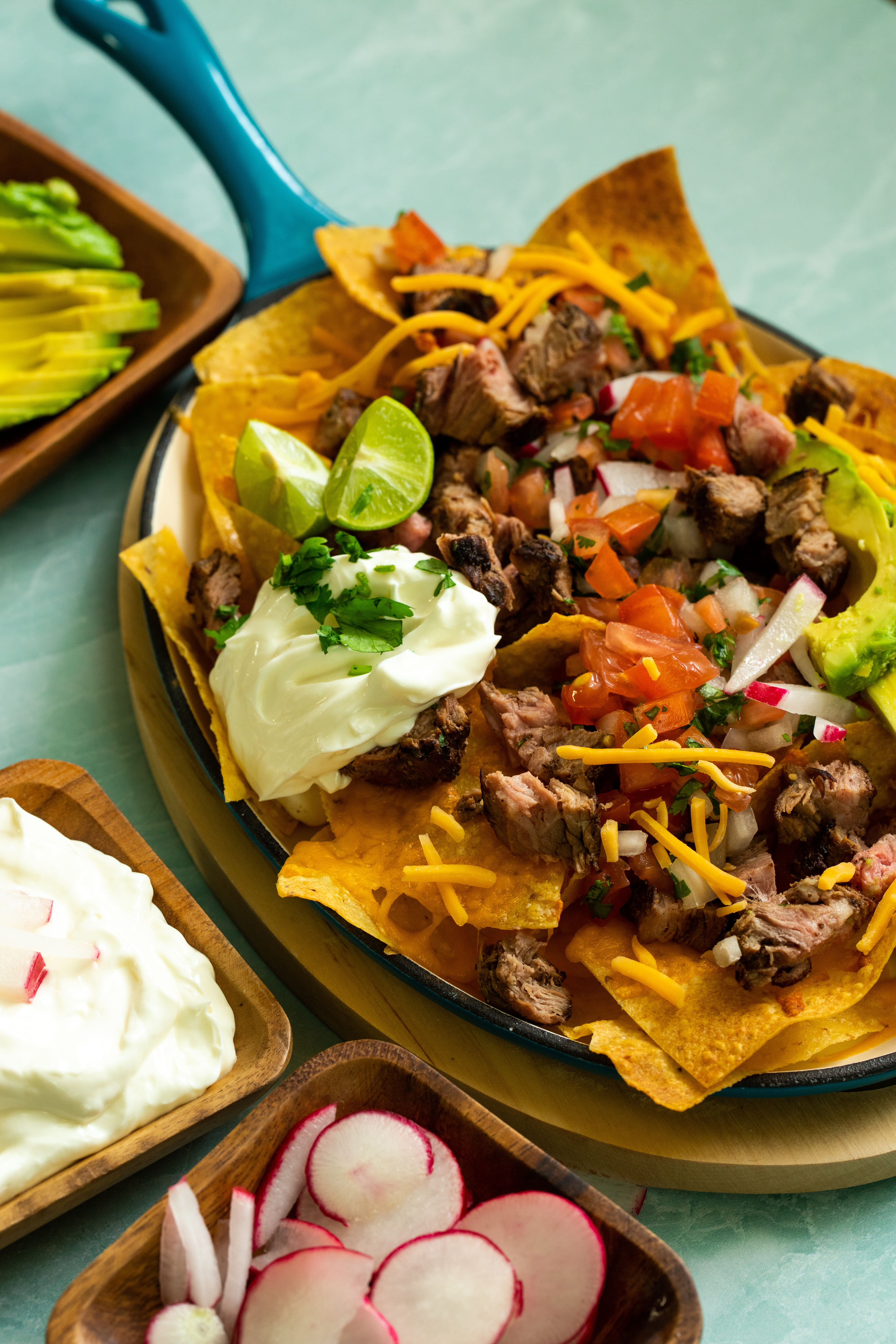 My little familia lives for the weekends. Since moving, one starting college, mi carino working extra hours, art classes and my hectic travel schedule our days are full of busy, quick goodbye hugs and plenty of early mornings kisses on the cheeks before mami heads out on the road.
When Friday arrives the texts started rolling in.
What are we doing this weekend?
Wanna try that new place I saw on Instagram?
Let's watch a movie! My turn to pick!
What about the farmer's market?
Let's make nachos!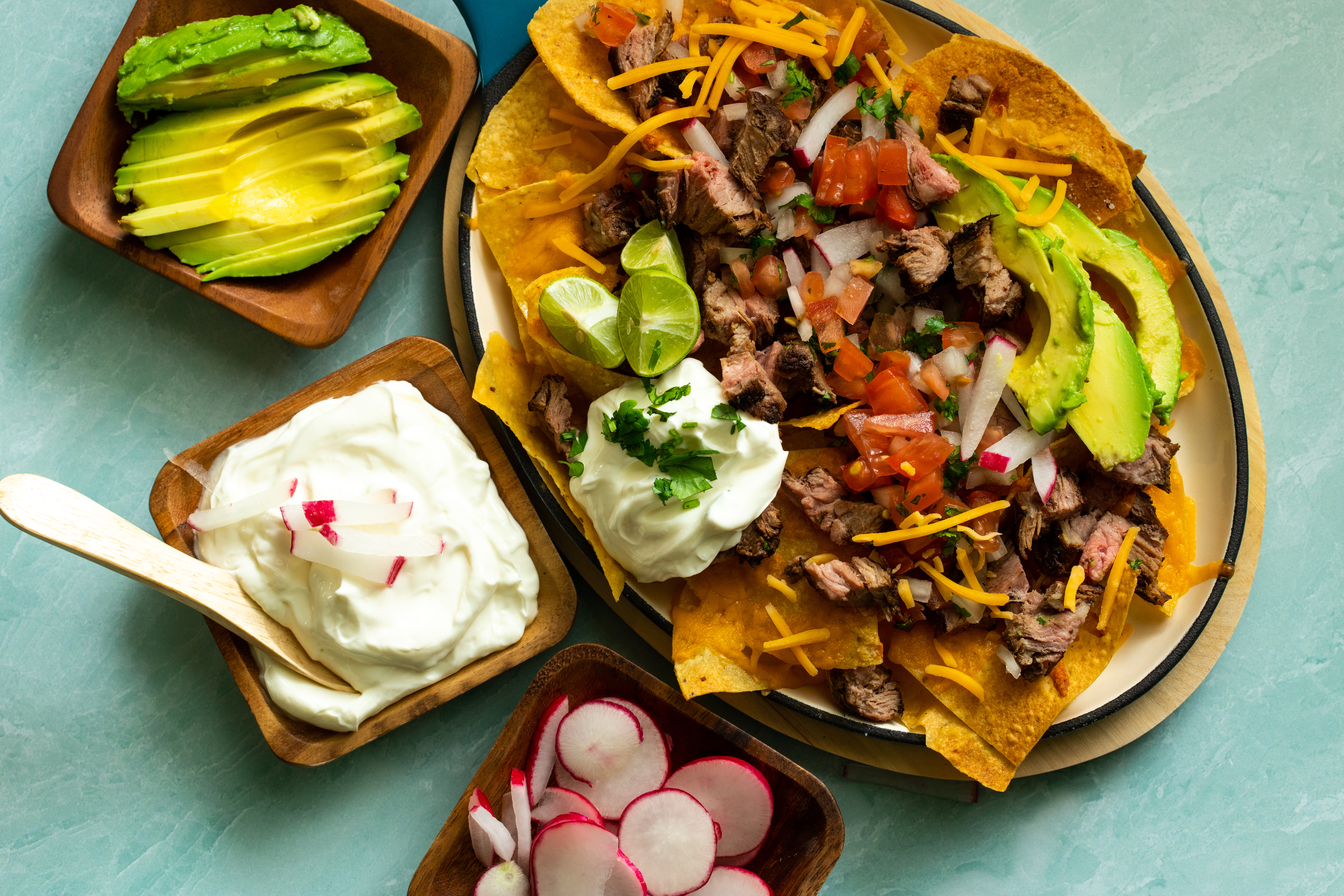 We try to pack as much as we can on the weekends, but always end up watching a movie and whipping up nachos on Sunday. Not only can I prep most of the components for nachos in advance my nachos are a one-pan recipe. Bake until bubbly, serve warm with bowls of toppings are you set to watch a movie or entertain. I can't tell you how many times I have made three baking sheets of carne asada nachos when friends come over. They are always a hit.
For this recipe, I am using Rumba meats Beef Flap Meat. Once the butcher's best-kept secret, Beef Flap Meat has seen a recent rise in popularity thanks to its hearty texture and robust flavor. This celebration-worthy cut is relatively affordable and perfect for feeding a crowd. Its coarse grain allows it to soak up the flavors of any marinade, but it has plenty of rich flavor on its own. Beef Flap Meat is best when grilled over high heat – the end result is a juicy, flavorful inside with delicious crispy, charred edges.
I wanted to prep my carne asada on Friday morning, cook in the evening, then dice and place in the fridge. Saturday morning I whip up a batch of pico de gallo before we head out then pick up avocados from the farmers market.
I marinate the beef in a plastic resealable bag for convenience and less clean up. Quickly grilled over a preheated grill my carne asada is ready to make nachos, tacos or burritos.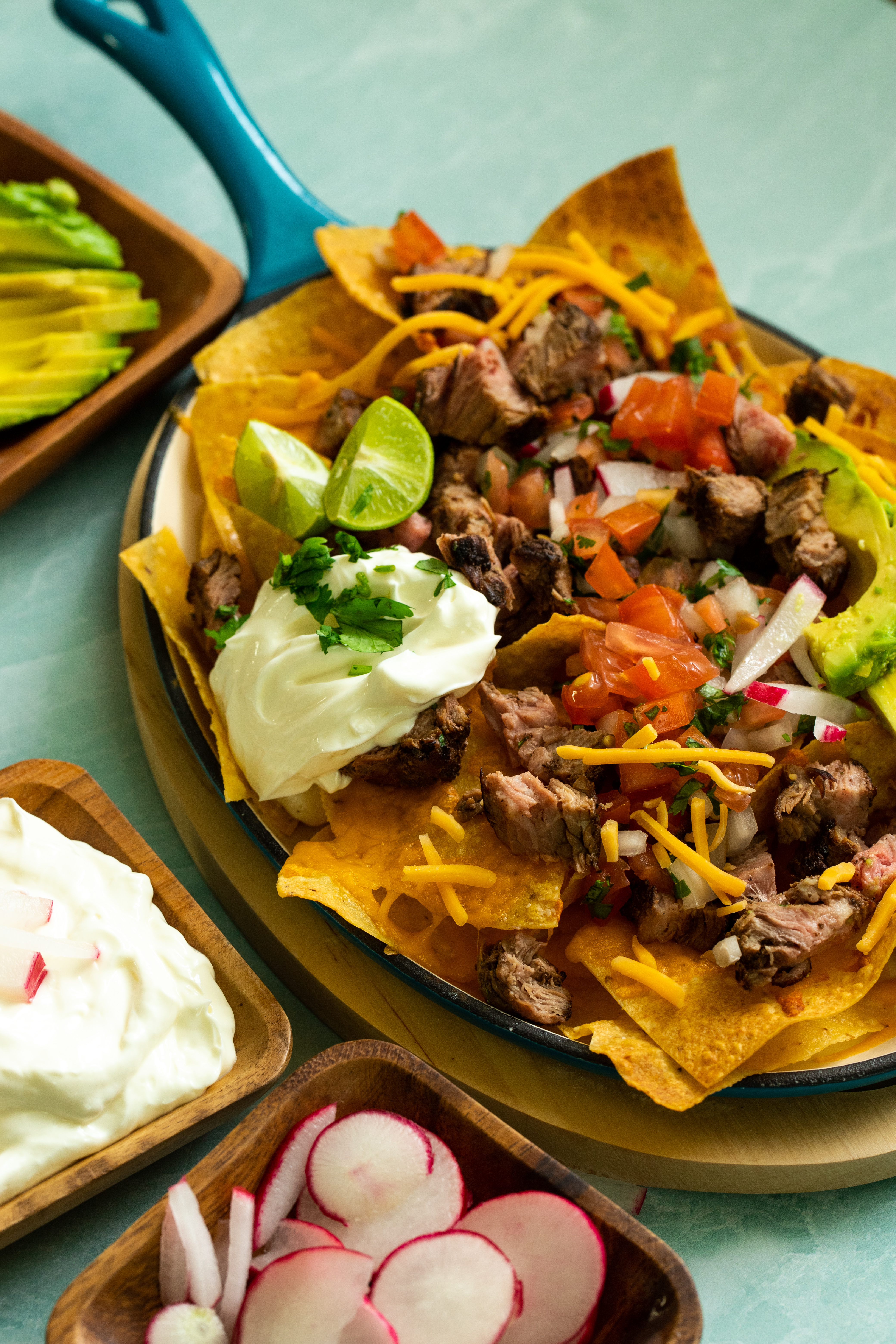 Did you know Rumba Meats has recently launched new delivery with Amazon?
When Rumba meats asked me to help them share how easy it is to order directly from Amazon to receive Rumba meats at home, I was more than happy to share this great delivery option.
I'm always planning my next family dinner, and the option to have Rumba meats delivered directly to my doorstep has me giddy with excitement. There is nothing I hate more than driving from store to store in search of ingredients I need to make my meals. I often find my local grocery stores cannot keep up with the demand for specialty cuts of meats I use to create my meals. To celebrate Rumba is offering my readers a special, check it out!
GET 20% off any Rumba Meats products using 20RumbaVR now until 4/10
With Rumba meats new delivery system you will receive:
Four packages of beef flap meat (min. 1.4 lbs. each)
Each container of Rumba Meats is packed with the right amount of dry ice to ensure your product stays frozen during transit
Vacuum-sealed and frozen to lock in freshness; Thaw for immediate use or keep frozen for later use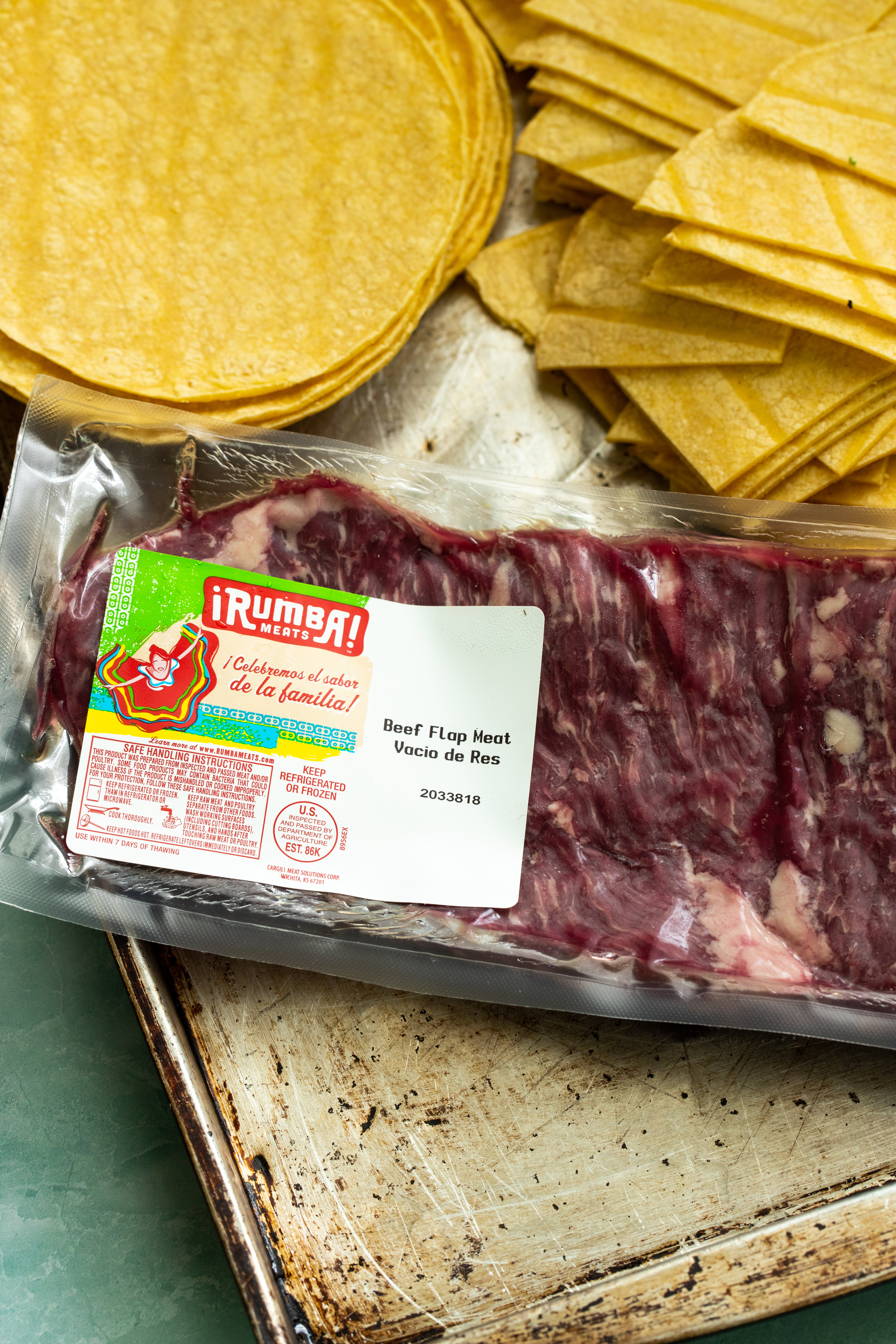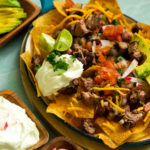 Carne Asada Nachos
Juicy grilled beef carne asada topped with plenty of cheese, fresh pico de gallo, sour cream and avocado make for the yummiest of weekend plans.
Course:
Appetizer, dinner
Cuisine:
Mexican, tex-mex
Ingredients
2

lbs.

Rumba meats flap meat

2

teaspoons

salt

2

teaspoons

pepper

1/3

cup

olive oil

1/4

cup

soy sauce

Juice from 2 limes

2

tablespoons

cider vinegar

2

tablespoons

sugar

1

teaspoon

ground cumin

4

garlic cloves

sliced

1

onion

sliced

To serve:

Sour cream

Avocado

Pico de galls

Lime wedges
Instructions
Pat flap meat dry with paper towels.

Season liberally with salt & pepper on both sides.

In a bowl whisk together olive oil, soy sauce, lime juice, vinegar, sugar, and cumin.

Place flap meat in a large resealable plastic bag along with marinade and garlic and onion.

Place in the fridge to marinade for 45 minutes to 1 hour.

Preheat grill to medium-high heat.

Grill flap meat 6 to 8 minutes per side depending on thickness or until internal temperature reaches 140°F.

Remove to a platter, allow meat to rest for 5 minutes then dice finely.

Preheat oven to 350 degrees.

On an oven-safe dish or baking sheet layer tortilla chips, top them with cheese and carne asada. Bake until cheese is melted, about 45 minutes. Remove from oven serve warm with plenty of garnishes.