Sweet Life Disclosure: This is a sponsored post with La Lechera.  As a member of the La Lechera Team I am happily spreading the word about La Lechera. Thank you for supporting the brands I collaborate with to bring you exciting new recipes.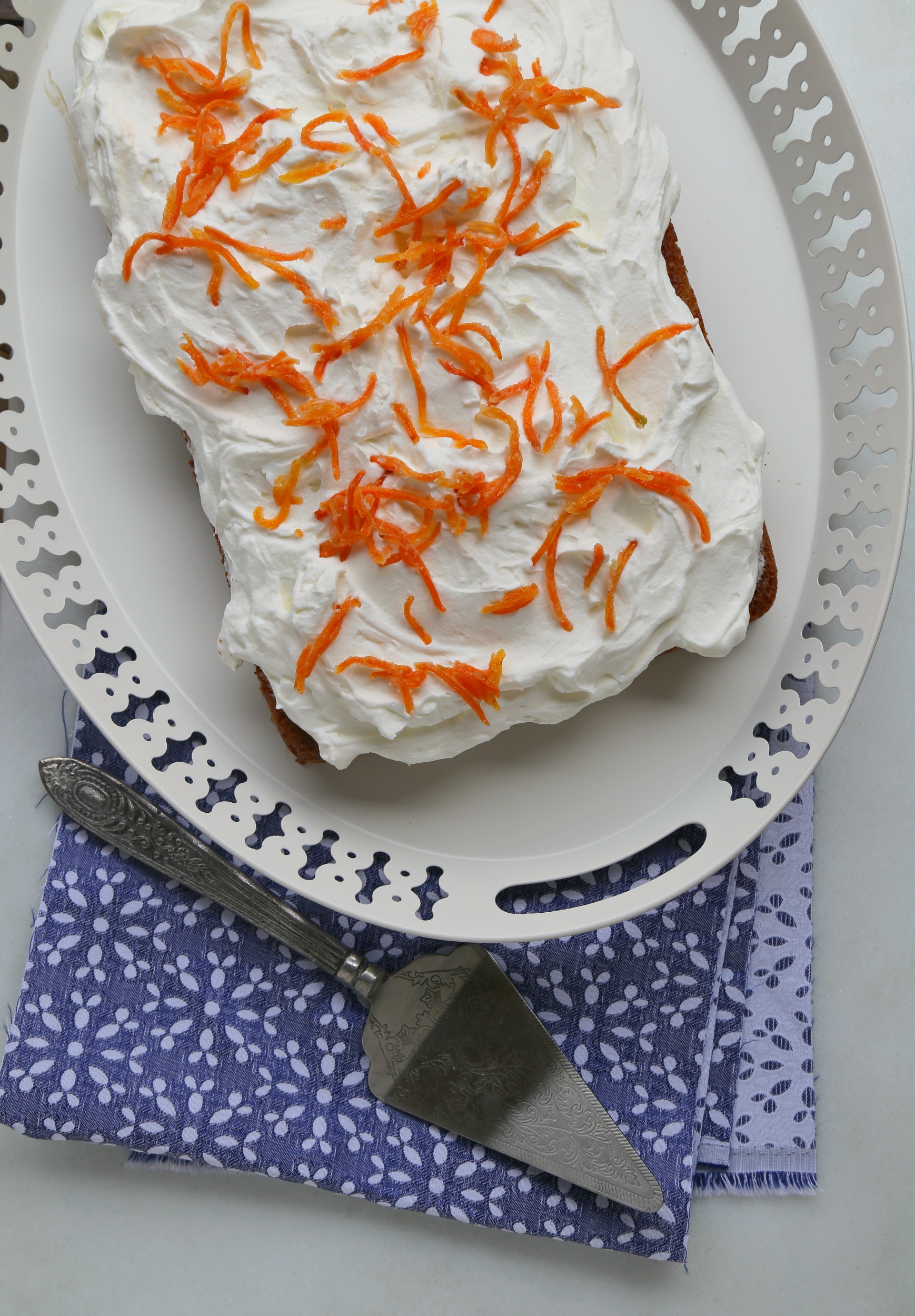 Celebrating Easter with Tres Leches & La Lechera
Spring is here and that means that Easter is on the way.  With it, comes the abundance of sunshine and cool breezes, and lots of outdoor parties with delicious treats and desserts.
As a mami, Easter is one of my favorite holidays, as it is packed with wonderful memories, sweet traditions, and plenty of quality time cooking with mis niñas.
I remember sitting at the table with my abuelita, at the age of eight, squeezing fresh lemon juice to make lemonade.  Or helping my little sister bake her first cake.  These are the memories I hope to create with my girls, as we gather together as a familia…to cook, bake, and celebrate the holidays.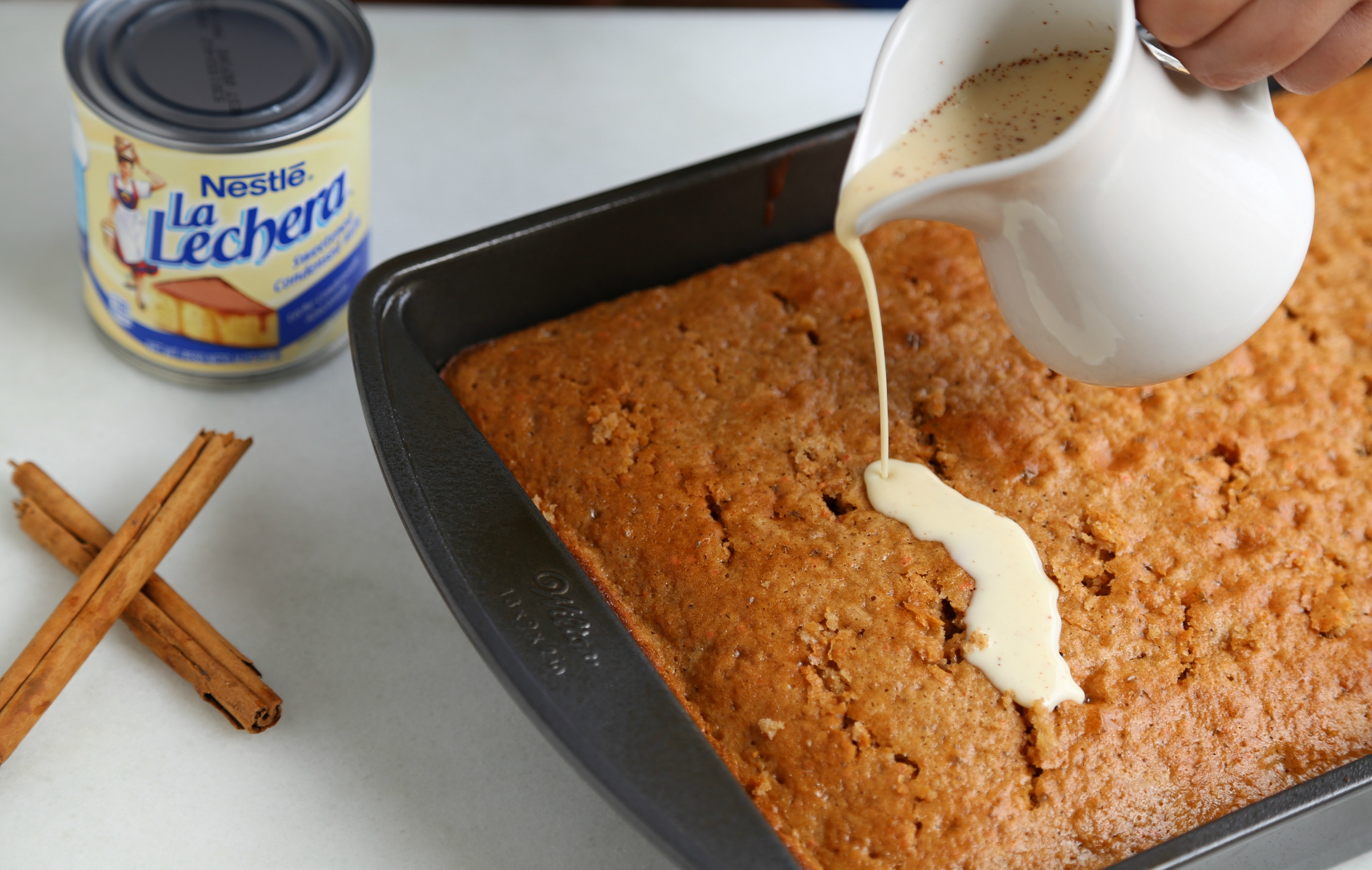 A New Spin on Tres Leches Cake
In preparation for this delicious, treat-filled holiday, I have an amazing Tres Leches Carrot Cake recipe for you, that captures the essence of Spring!
So, what is Tres leches cake?  Put simply, it's a delicious, custard-soaked cake that is revered throughout Latin America.  And it's growing in popularity here in the U.S. too, quickly becoming a favorite dessert!  Tres Leches cake is often served at parties and family get-togethers, like birthday parties, baptisms, weddings and quinceñeras.
The cake is made by adding tres leches – evaporated milk, sweetened condensed milk and heavy cream – to a cake fresh from the oven.  As a result, Tres Leches cake is one of the most moist and rich cakes you'll ever taste! And I normally use La Lechera, a product that I trust because it helps me create a distinctive flavor and characteristic richness of an unbelievable Tres Leches cake for this recipe.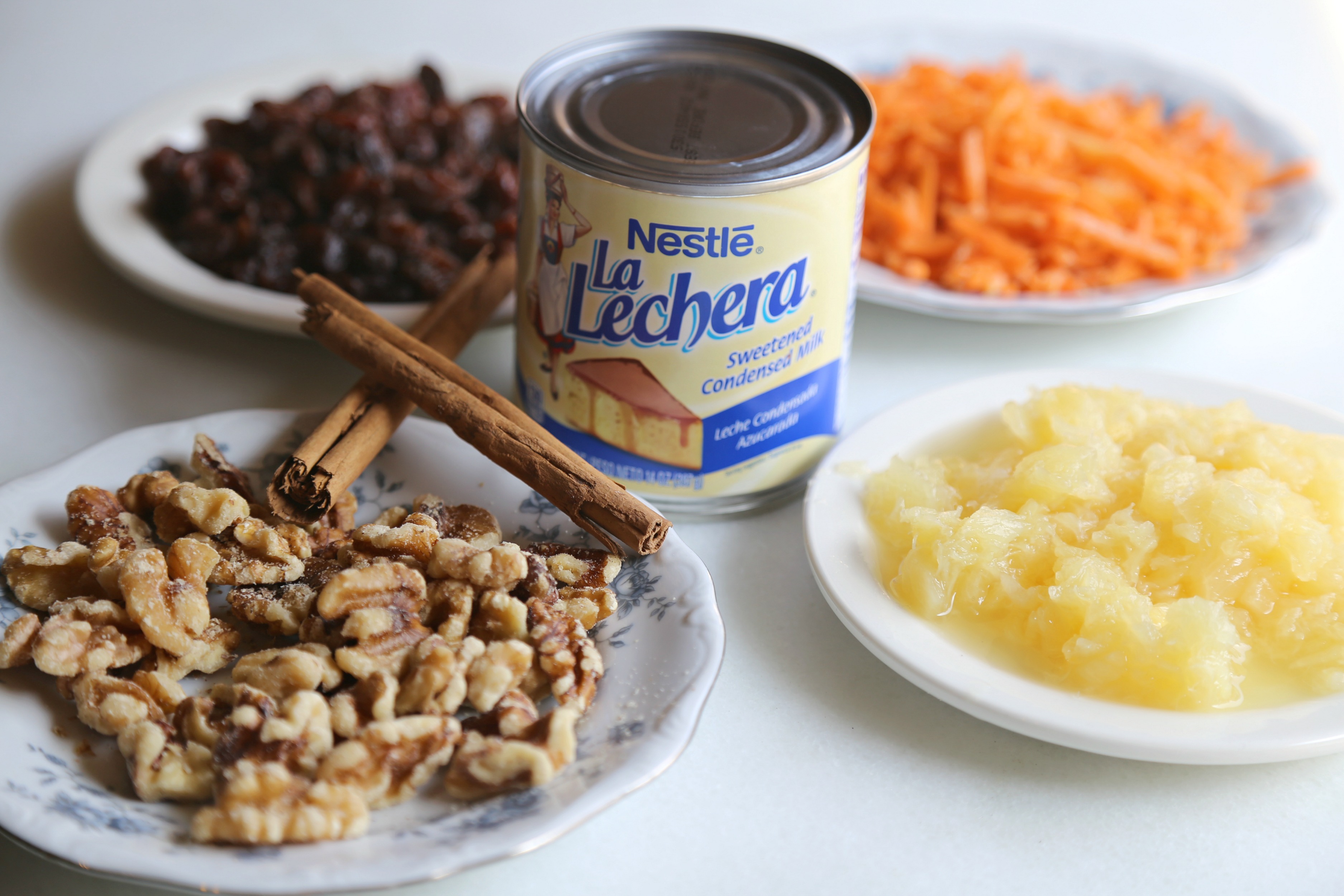 Tres Leches Carrot Cake with La Lechera
Now, this particular Tres Leches Carrot Cake is a spin on the original and a nod to mi abuelita who made tres leches for me as a little girl.
Tres Leches and Carrot Cake together?  What could be better!?
This recipe is made with freshly grated carrot, pineapple, raisins and aromatic spices.
And while the cake is still warm from the oven, it's drizzled with a heavenly, cinnamon-scented, tres leches cream and topped with a hand-whipped topping.   Then I finish it off with some bright orange ribbons of candied carrots.  Delish!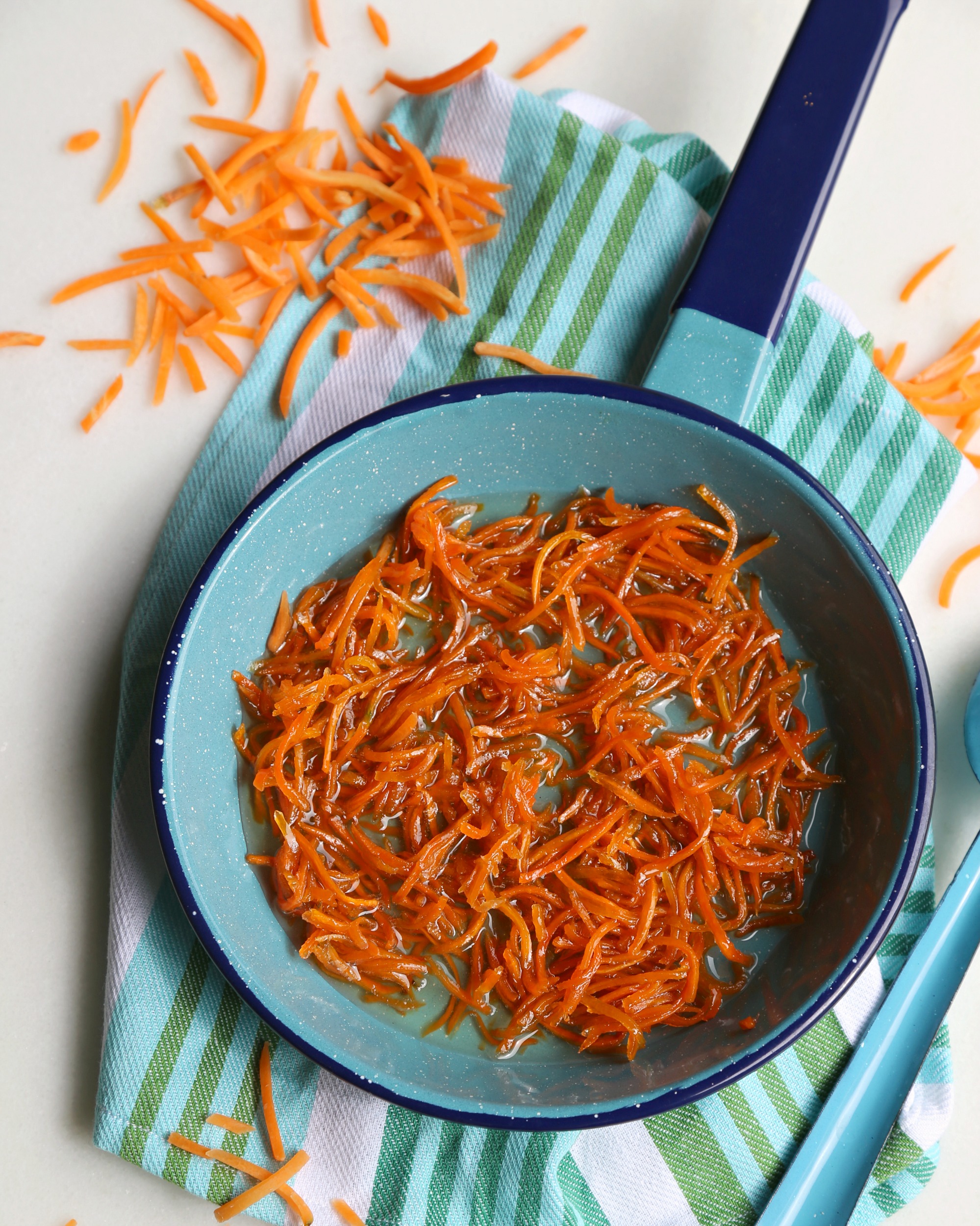 From our family to yours, this delicious fusion of two wonderful classics…Tres Leches Cake and Carrot Cake…is one you'll want to share with your family over and over again!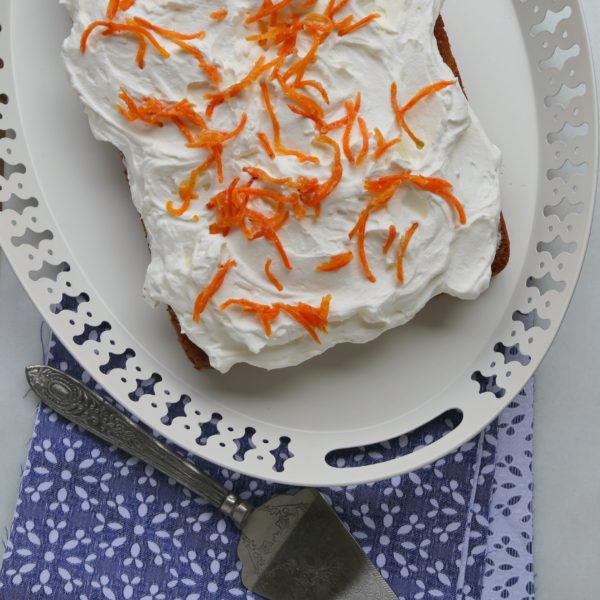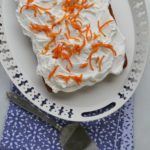 Carrot Tres Leches Cake
Ingredients
For Carrot Cake:

2

cups

all-purpose flour

2

teaspoons

baking soda

1/2

teaspoon

salt

1

teaspoon

ground allspice

¼

teaspoon

ground cinnamon

1

teaspoon

ground nutmeg

3

large eggs

2

cups

sugar

3/4

cup

vegetable oil

3/4

cup

buttermilk

2

teaspoons

vanilla extract

2

cups

grated carrot

1

8-ounce can crushed pineapple, drained

½

cup

raisins

1

cup

chopped walnuts

1

14 oz can Nestle La Lechera sweetened condensed milk

1

12oz can evaporated milk

1

cup

milk

2

teaspoons

ground cinnamon

2

cups

heavy cream

2

tablespoon

sugar

1

teaspoon

vanilla extract

Diced pineapple

For Candied Carrots:

Ingredients

2

medium peeled carrots

1

cup

water

1

cup

sugar
Instructions
Preheat oven to 350 degrees.

Lightly coat a 9x13 pan with non stick cooking spray and line with parchment paper.

In a bowl whisk together flour, baking soda, salt, allspice, cinnamon and nutmeg.

Beat eggs, sugar, vegetable oil, buttermilk and vanilla extract at medium speed with an electric mixer until smooth.

Add flour mixture, beating at low speed until blended.

Fold in carrots, drained pineapple, raisins and walnuts.

Pour batter into prepared pan.

Bake at 350° for 25 to 30 minutes or until a wooden pick inserted in center comes out clean. While cake bakes make tres leches cream.

Whisk together sweetened condensed milk, evaporated milk, milk and ground cinnamon.

Once cake is baked, remove from oven and allow to cool for 10 minutes in pan.

Carefully remove cake from pan, using parchment paper and place in serving platter.

Poke top of cake with fork to create small holes and slowly pour tres leches mixture over entire cake.

Refrigerate cake overnight.

Before serving make whipped topping.

Whisk heavy cream, sugar and vanilla until soft peaks form.

Top cake with freshly whipped cream and garnish with candied carrots.

For Candied Carrots:

Using a large grater, grate carrots strips.

In a medium saucepan combine water and sugar; bring to a boil to dissolve sugar.

Add carrots strips; reduce heat and cook strips for 15 minutes.

Remove carrots strip with a slotted spoon to a baking sheet lined with parchment paper.

With a fork separate carrots strips or they will clump together and break when separated.

Cool completely and use to garnish tres leches cake.