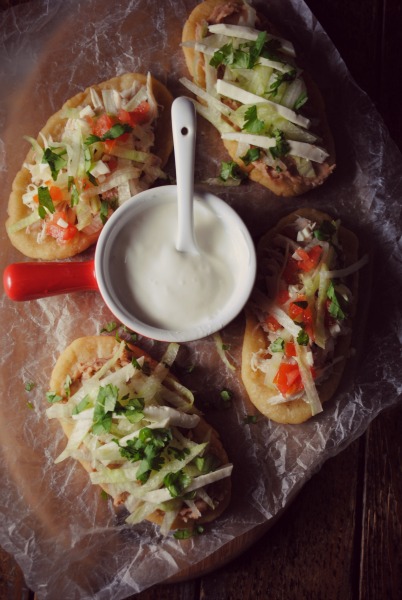 Chalupas
Growing up one of my favorite games to play was Lotería.   Similar to bingo this game used picture cards instead of numbers. There is 54 character cards total in the game like:
El cazo (ladle)
El mundo (world)
El apache (apache)
El alacrán (scorpion)
El nopal (cactus)
My favorite card was La Chalupa (boat,canoe). A beautiful lady seated in a chalupa over bright blue water, her canoe filled with baskets of fruit, vegetables and flowers. I love to imagine her selling her goods to help provide for her family or maybe she was heading home after a shopping trip. Her hair neatly pulled back with a string of beads around her neck it is still my favorite card to this day.
La chalupa ~ Rema que rema Lupita, sentada en su chalupita.
On the weekends we used to play outside with papi as he grilled.  He would toss a handful of beans on the table as we all strategically picked our game card.  My older sister loyally played the same card game after game, my brother would switch it up after a few games and my little sister would switch out after each game.
I was never lucky in Lotería, even when papi called "black out," and you had to fill your entire card.  Now as a family when we play my girls' take turns calling out the character cards, my little one thinks el borracho (drunk) looks funny and my older one loves la luna (moon)
I still enjoy gazing at la chalupa and remain unlucky. I guess some things never change.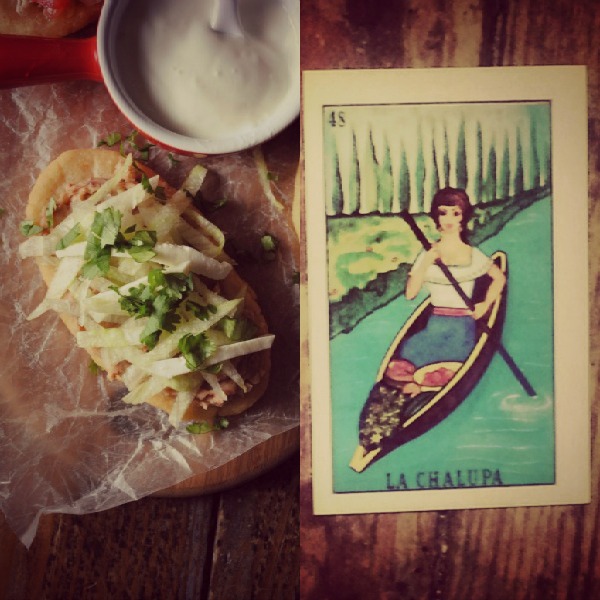 A few days ago at breakfast my daughter asked if we could play Lotería in the evening.  Of course we all agreed and I decided to surprise them with a tasty game time bite, chalupas.  They were happily received.
Masa shaped into a little boats, lightly fried until crisp and stuffed with your favorite toppings.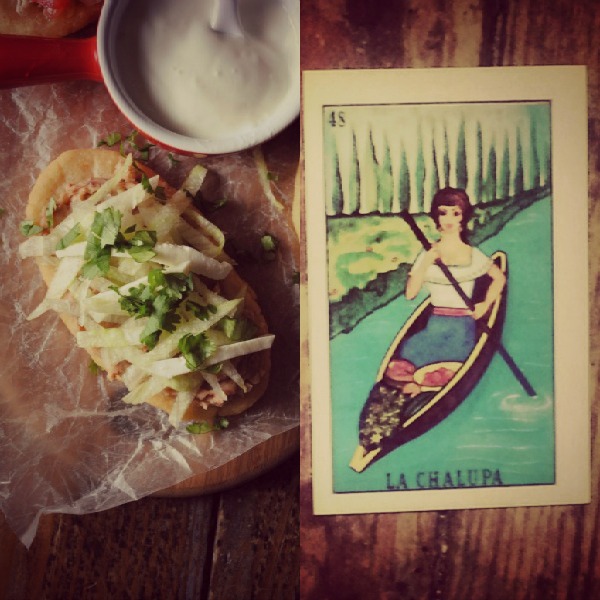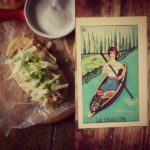 Chalupas
Ingredients
Refried beans

Shredded

fully cooked chicken

Thinly sliced lettuce

Crema

Oil

for frying

1 ¾

cups

masa harina or Maseca

1 ½

cups

hot water

1

tsp

of salt
Instructions
In a bowl combine masa, hot water and salt.

With hands combine until your masa holds together, add more water if needed.

The masa will be sticky, but hold together.

Cover with damp towel and allow to sit for 10 minutes.

Divide masa into 12 portions.

Roll out masa into oval shape to desired size.

With fingers pinch edges to form a small raised border.

Set aside and cover with damp towel and continue to shape remaining masa.

Lightly fry chalupas until golden brown on each side.

Top each chalupa with refried beans, chicken, lettuce and crema.
7 weeks of Lenten dishes!! Join in on the fun with a group of wonderful bloggers!