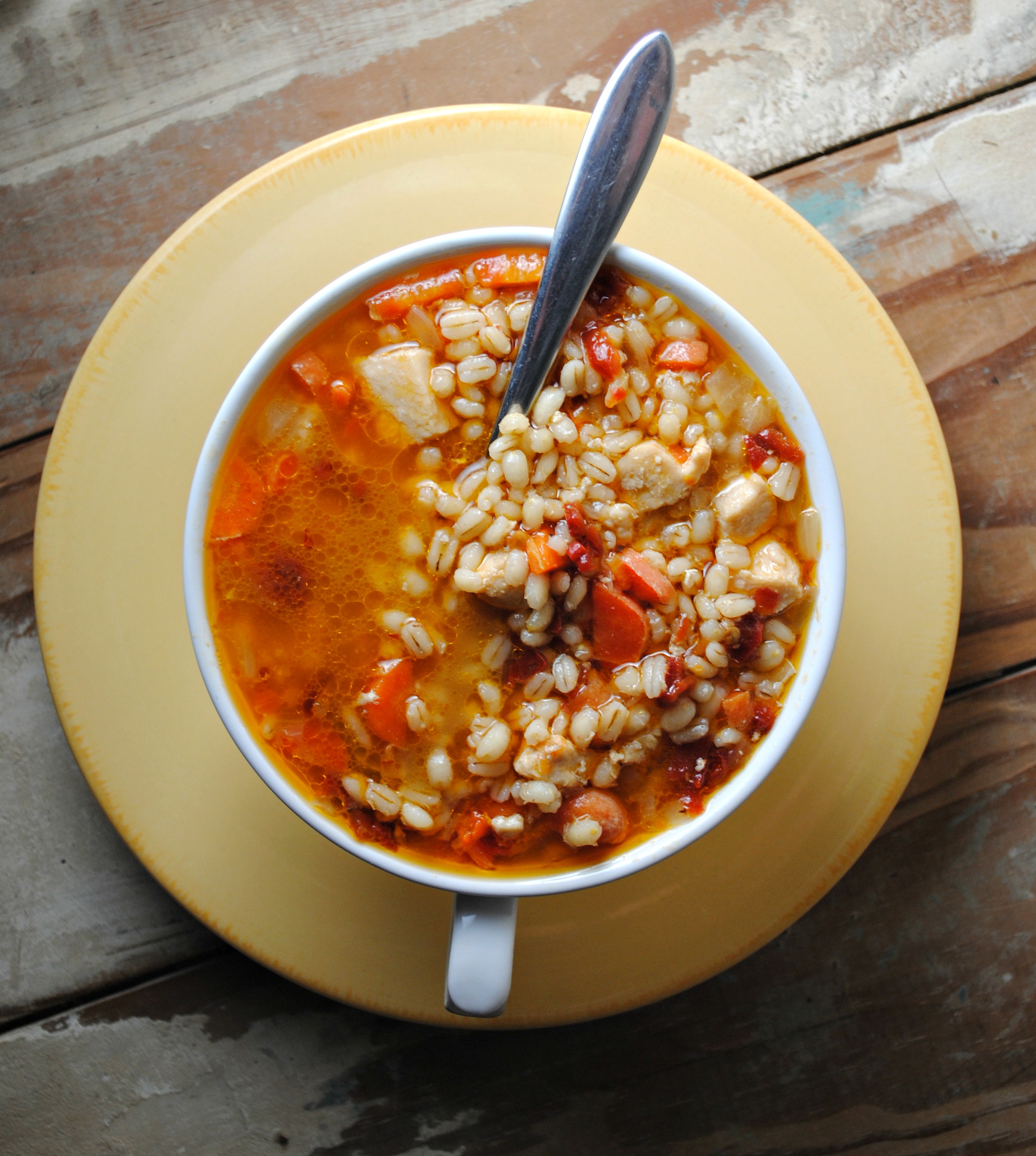 Chipotle Chicken Barley Soup
My mami's kitchen pantry is always well stocked. Beans, sopitas, chiles, and grains are her go-to staples for weekly meals.  On chilly days you can always find a  pot of beans quietly churning away on the stove alongside a pot of caldo which simmered all day.  Caldo for dinner and beans for the following days the kitchen smelled heavenly and was a warm escape from the cold outdoors. Home from school we would sit at the table, begin our homework until it was time for dinner.
A spicy caldo speckled with vegetables, barley, and diced chicken is one of her favorite soups to make on a cold winter evening. These are the flavors I crave when the temperatures drop. I've tweaked this recipe to reduce cooking time without losing the comfort sensation of an all day simmer that can be enjoyed any day of the week.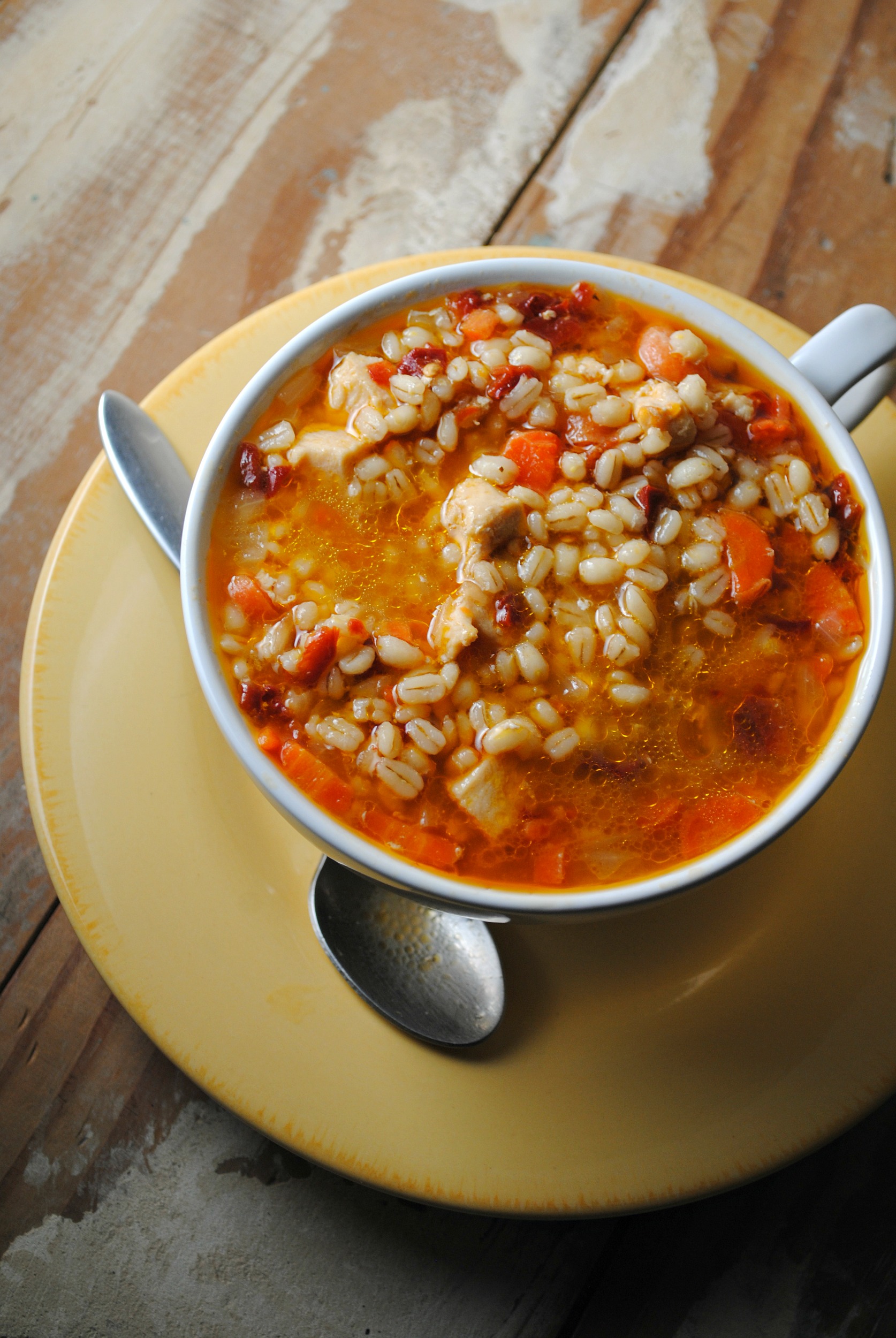 Eating barley has shown to help prevent blood sugar levels from rising and aids in reducing blood pressure. Rich in calcium, magnesium, phosphorus, potassium, and selenium…barley is also packed with both soluble and insoluble fiber. Barley has a chewy consistency with a nutty taste. Barley can be served as a side dish, cooked in soups or stews, or made into a breakfast cereal.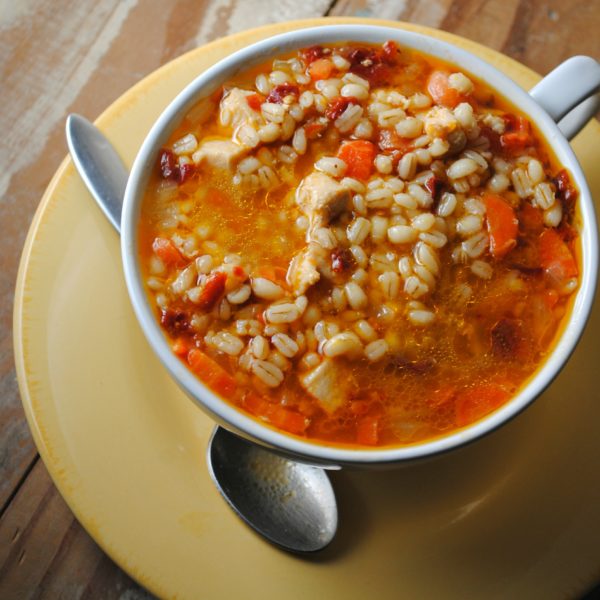 Chipotle Chicken Barley Soup
Ingredients
2

tablespoons

olive oil

1

onion

diced

2

large carrots

diced

3

cloves

of garlic

minced

2

boneless chicken breasts

diced

1

cup

barley

½

teaspoon

comino

6

cups

chicken stock

1

chipotle chile

from can, finely chopped

2

–3 spoons of adobo sauce from canned chipotles

Salt

Pepper
Instructions
Over medium heat add oil, carrots and onion. Season with salt and pepper.

Cook until tender, about 6 minutes.

Add garlic and cook an additional 2 minutes.

Add chicken, cook for 5 minutes, stir to brown on all sides.

Add barley and comino and cook an additional minute, stirring constantly.

Add broth, chile and season with salt and pepper.

Cover, reduce heat and simmer until barley is tender and chicken is cooked through, about 15 minutes.

Remove lid add adobo sauce 1 spoonful at the time until reached desired heat. Serve warm.
This recipe was featured on mamiverse.com.