Grilled chicken marinated in a chipotle, Red Gold Tomatoes ® Ketchup, piloncillo, honey and fresh lime juices creates a delicious base for your next weekend grilling feast.
Nothing beats chicken fresh off the grill wrapped in a warm tortilla. It is our favorite weekend meal. Today I want to share a new smoky marinade I have been using to marinade my chicken for our family grilling sessions.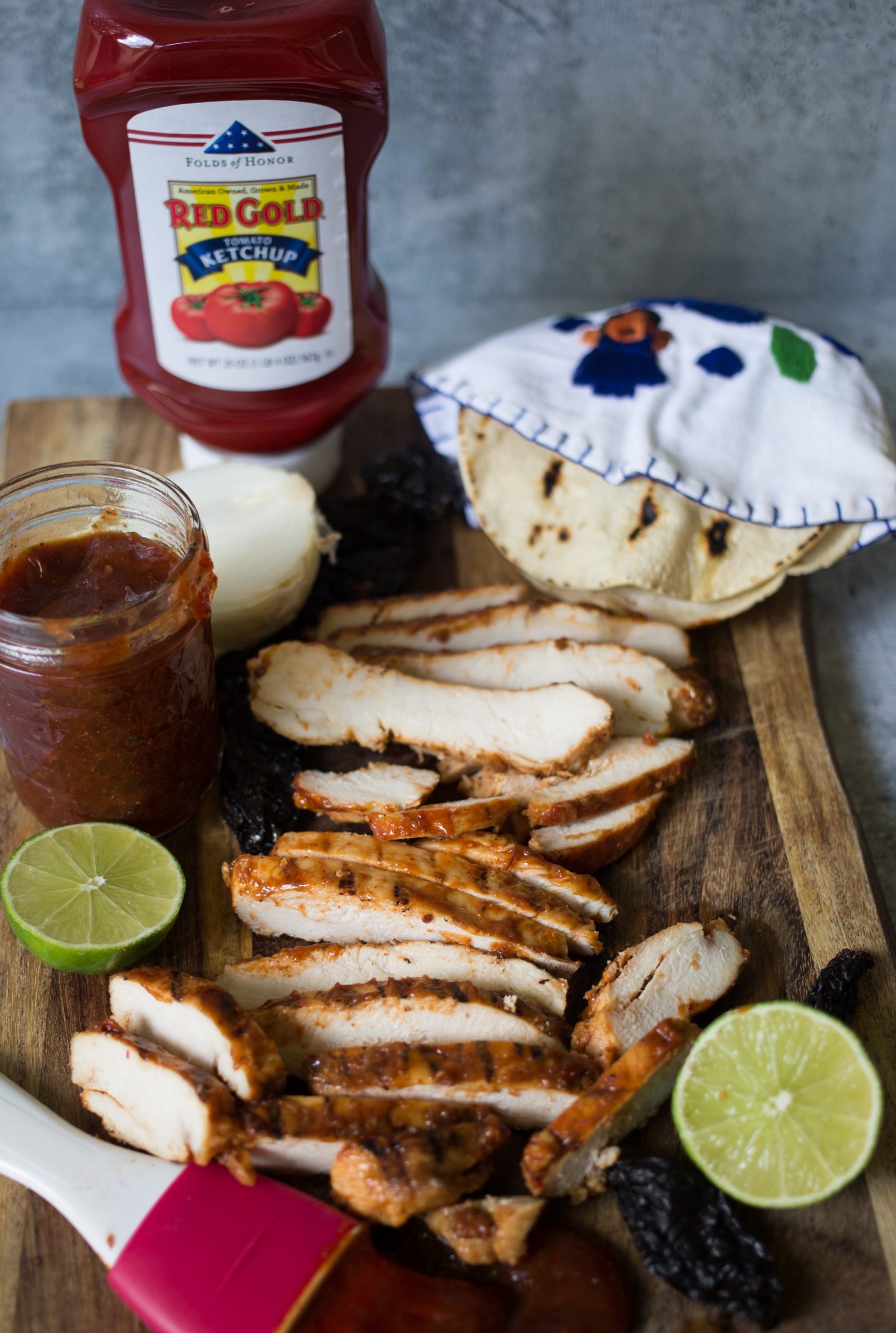 The base of my marinade is chipotle peppers in adobo sauce, Red Gold ® Ketchup, and piloncillo. Blending these ingredients results in a quick marinade that you can easily whip up in less than 5 minutes.
Ketchup helps to thicken the sauce and balances out the heat from the chipotles with a hint of sweetness. Sweet, smokey, and salty – you cannot beat it! For this recipe, I am using Red Gold ® Ketchup, a premium-quality, full-flavored ketchup that blows all other options out of the water (it also comes in a squeeze bottle to make it easy!). It is perfect for burgers, hot dogs, fish sticks, French fries, meatloaf, and any other family favorite that needs a tangy tomato complement.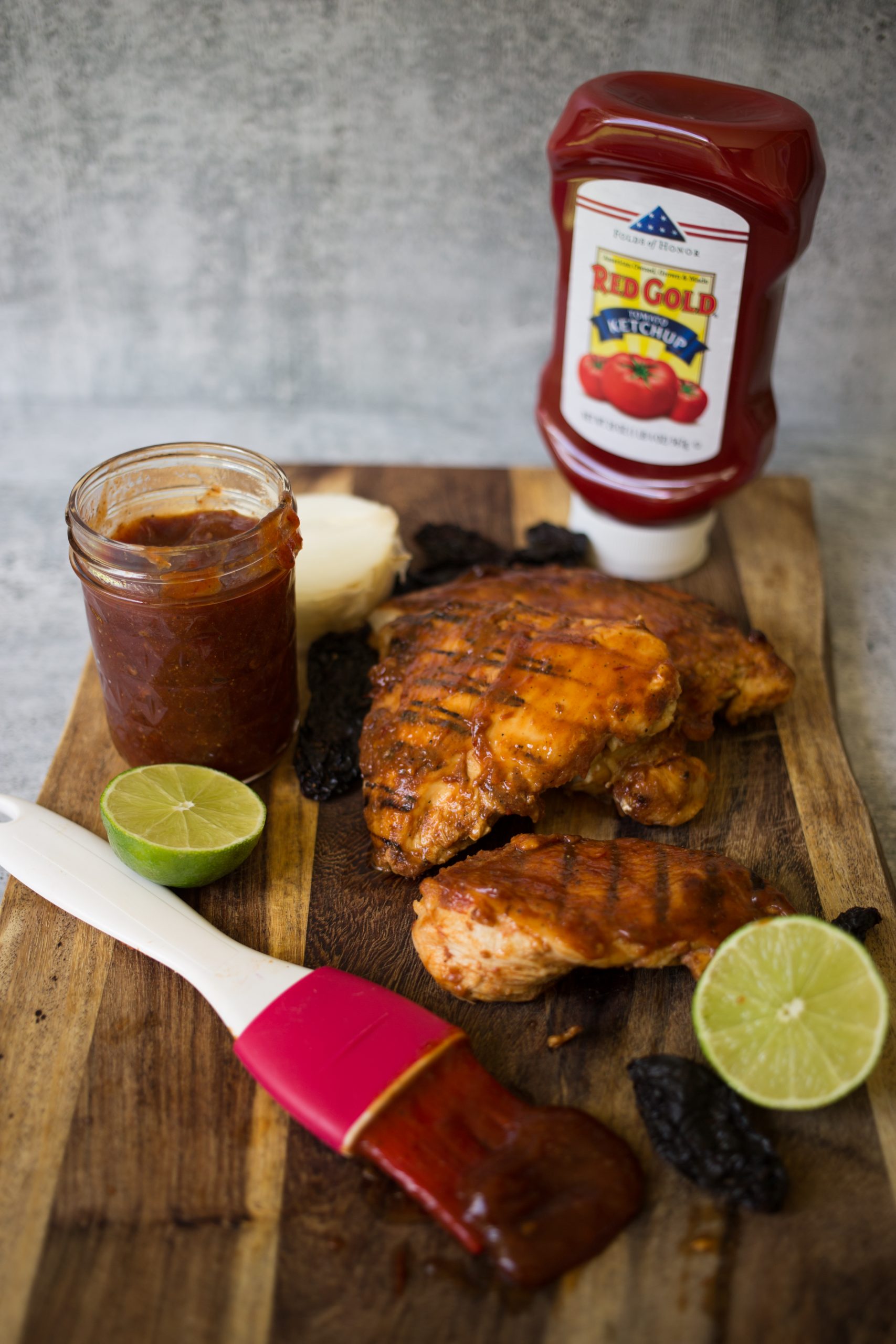 When Red Gold reached out to ask if I would develop a new recipe featuring their new Red Gold Folds of Honor Ketchup, I quickly knew I wanted to help share this amazing initiative to support our military soldiers. Red Gold recently partnered with Folds of Honor to launch the Ketchup with a Cause program. For each bottle for Red Gold's Folds of Honor Ketchup purchased (see bottle in recipe image), a portion of the proceeds will help provide educational opportunities to the children and spouses of our nation's fallen or disabled military members!
We have a special place in our heart for the Military as mi carino served as an Army Medic for 5 years with the 110 CAV 4th ID. His unit was deployed twice to Iraqi supporting Operation Iraqi Freedom. I missed him terribly when he left, but I knew he was in the nest hands. He served alongside fellow soldiers ranging from fresh out of high school to soldiers who had served over 10 years. These soldiers quickly became his family as they serve together for a year and are now considered part of our extended family.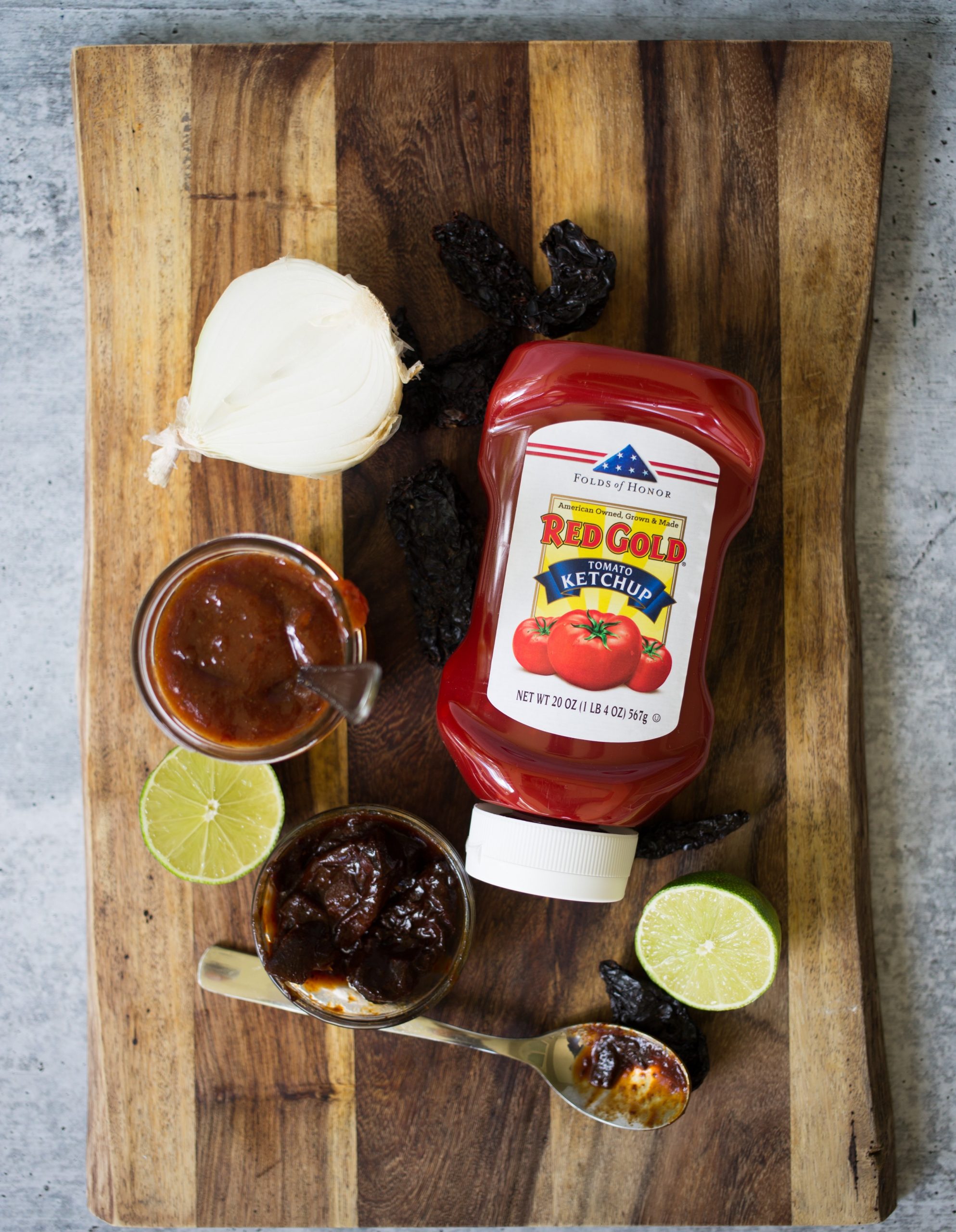 Before they left for deployment, I invited his fellow soldiers over for a casual dinner to send them off with a home-cooked meal. Piping hot trays of cheesy chicken enchiladas, Mexican rice, and plenty of charro beans. We ate, chatted about packing up, what they will miss (fast food for the younger soldiers) and had a wonderful evening. I will never forget that evening, it was truly special.
Honor our nation's military heroes by purchasing a bottle today. Here is the Red Gold store locator to find a store near you: http://bit.ly/storelocatorrg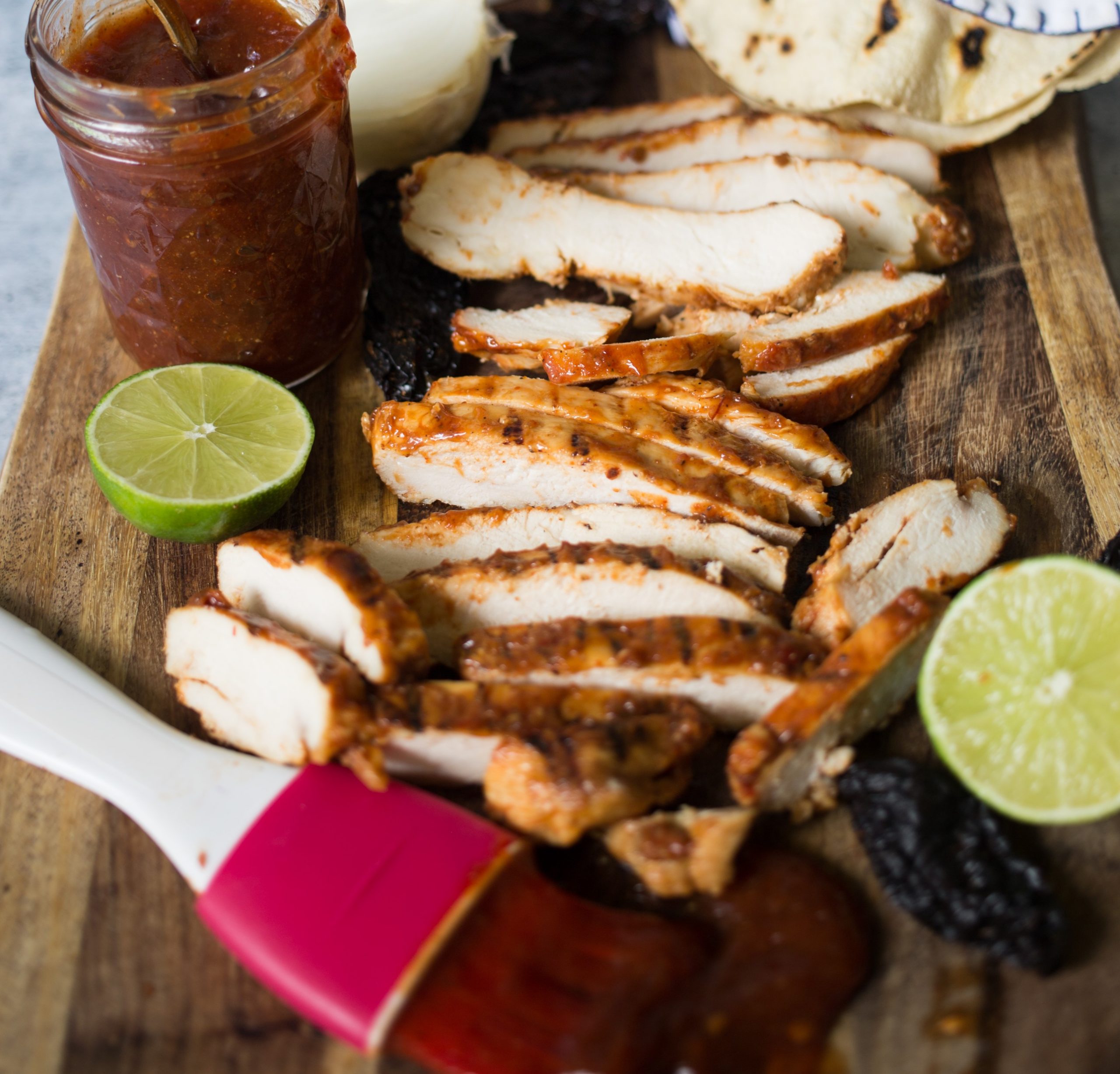 Next, add in the canned chipotles. I always have canned chipotles in my pantry and stock up when they are on sale because they are great in marinades, salsas, and sauces. Found in the Latin section at your grocery store, chipotles are ripe jalapenos that are dried, smoked, and canned with adobo sauce. Once opened, store remaining chipotles in adobo sauce in an airtight container in the fridge for up to a month, or store them in a plastic bag in the freezer for up to three months.
Marinating helps flavor our chicken, prevents it from drying out on the grill and tenderizes it to make the juiciest chicken for our tacos. YUM!
Nervous that chipotles may be too hot for your family? Start by adding and blending one at a time, then taste the marinade for heat. Add more chipotles to suit your family's taste if desired.
Pour half the marinade over your chicken, then use the remaining marinade to baste the chicken as it grills. Once the internal temperature for the chicken reads 165F, remove from grill. Allow the chicken to rest before slicing and serving with warm tortillas and plenty of fresh salsa and garnishes!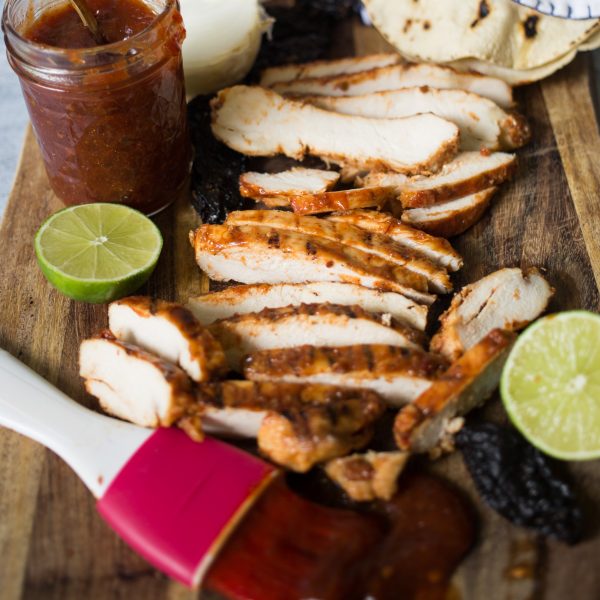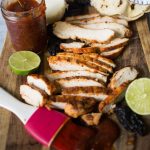 Chipotle Grilled Chicken
Grilled chicken marinated in a chipotle, Ketchup, piloncillo, honey and fresh lime juices creates a delicious base for your next weekend grilling feast.
Ingredients
2

pounds

boneless skinless chicken thighs or breasts

3/4

cup

RED GOLD ketchup

2-3

chipotle peppers in adobe sauce

2

tablespoons

vinegar

2

tablespoons

piloncillo or brown sugar

1/4

cup

honey

1/2

teaspoon

salt

1/2

teaspoon

onion powder

1/2

teaspoon

ground cumin

1/4

teaspoon

black pepper

¼

cup

fresh lime juice
Instructions
In a food processor add Red Gold Ketchup, chipotle pepper, vinegar, piloncillo, honey, salt, onion powder, ground cumin, black pepper, and lime juice. Process until smooth. If the mixture is too thick thin with a little water. Pour half the marinade over chicken, cover a place in the fridge to marinate for at least 4 hours or overnight. Preheat grill pan or grill. Grill chicken, nesting with remaining marinade until fully cooked. Remove chicken from grill, allow to rest, slice, and serve warm.