I'm excited to partner with Cheerios to celebrate the newest flavor in the Os family.  A fun fall granola made with Chocolate Peanut Butter Cheerios is a wonderful way to celebrate National Chocolate Day.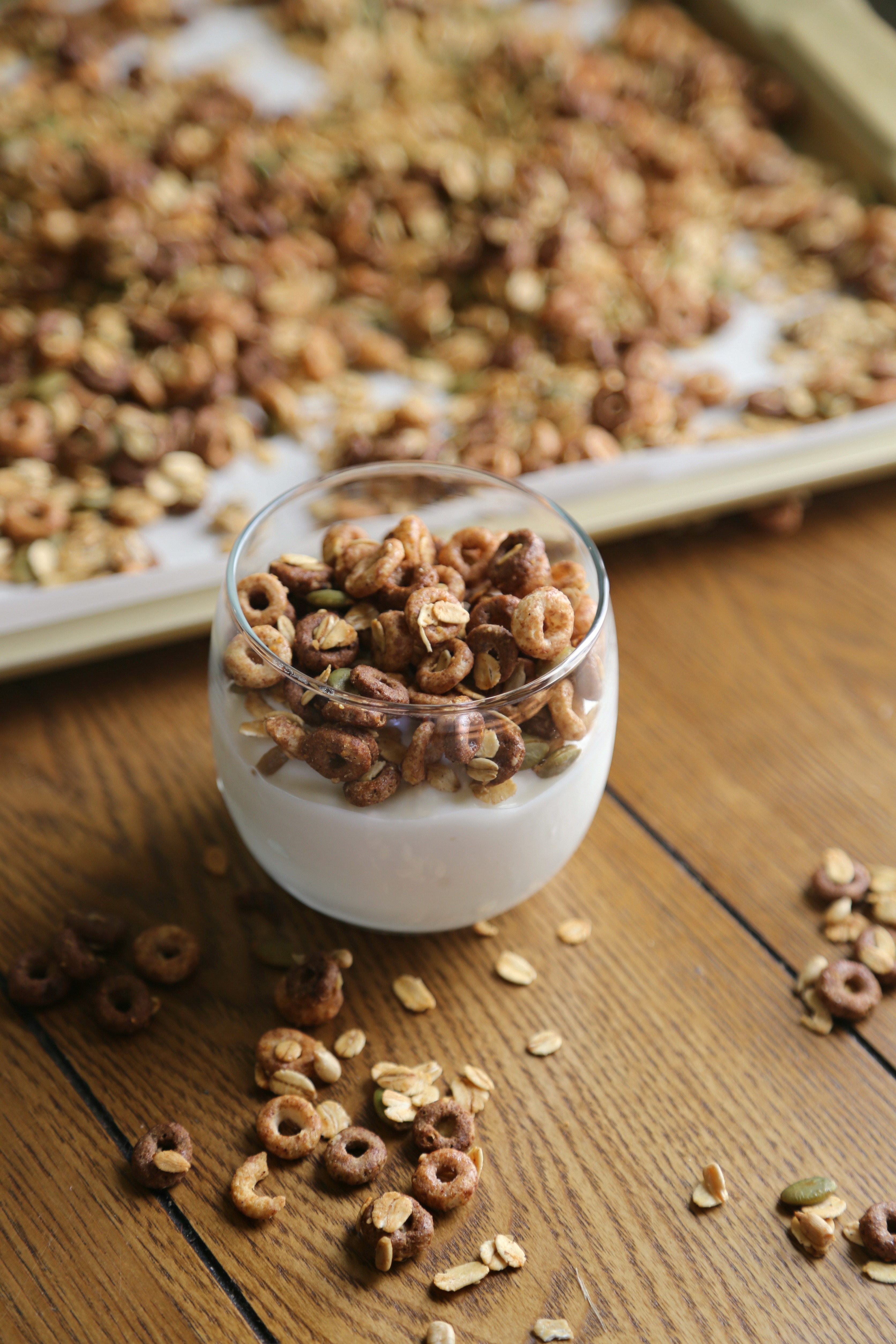 I am so ready for fall weather guys! Here in South Texas, we Texans welcome any drop in our temperatures so that we may crank on the oven and bake all the deliciousness. One of my favorite things to make in the fall is homemade granola. My entire family adores granola over yogurt as a mid-morning snack, but many I find are loaded with sugar and additives, which is no Bueno.
When Cheerios reached out to me to ask if I wanted to create a recipe featuring their new Chocolate Peanut Butter flavor I was quick to respond yes. We are a Cheerios family, from Honey Nut to Chocolate Cheerios we always keep a few boxes in our pantry.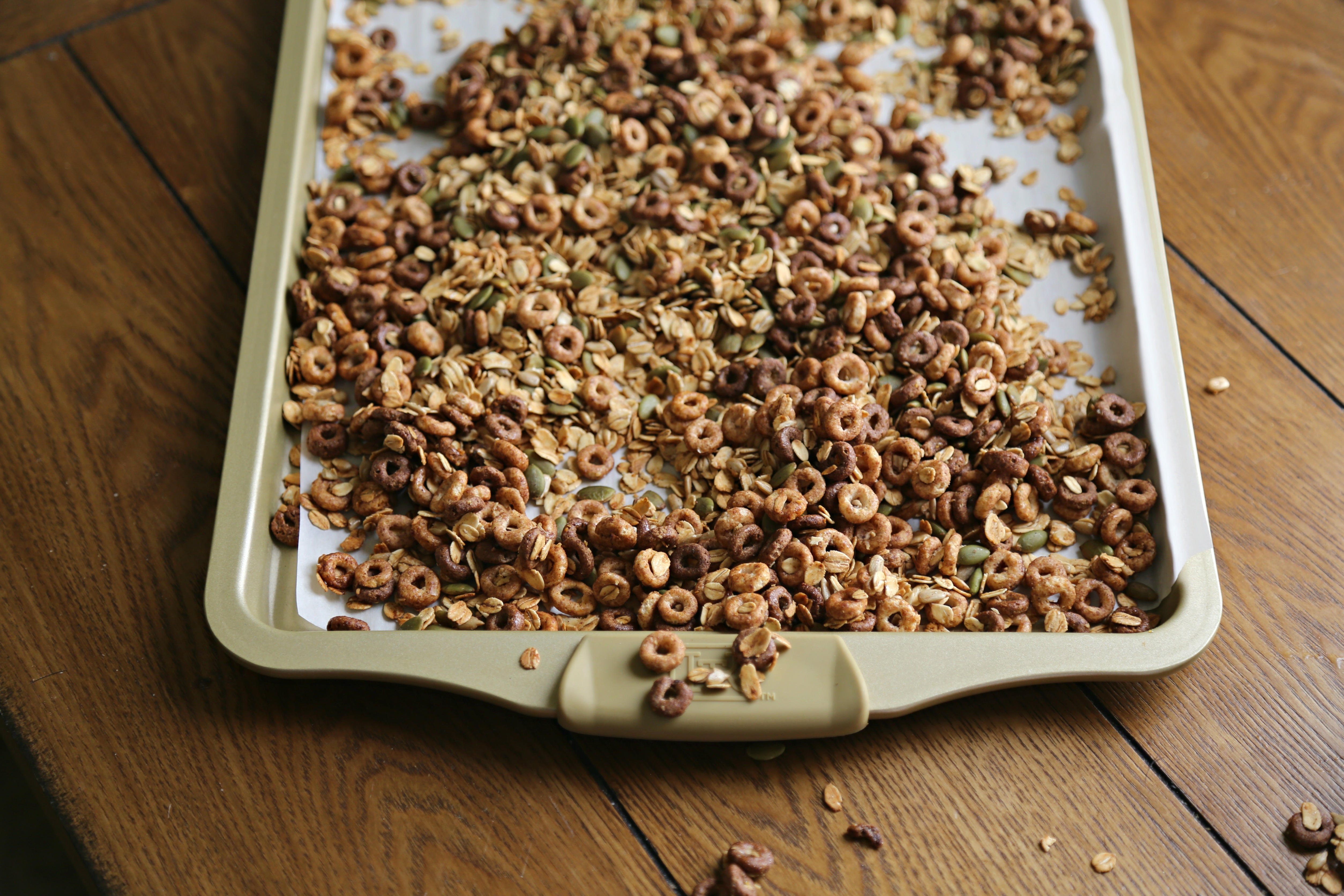 I was set on making chocolate peanut butter cookies, but then a mild cold front streamed in dropping our temperatures to a chilly 46 degrees, so I just had to make granola. Studded with plenty of rolled oats, pepitas, sunflowers and lightly sweetened with agave and pumpkin pie spice.
I knew the pepitas would pair perfectly with the Chocolate Peanut Butter Cheerios, but I had no idea the addition of the sunflower seeds would make this granola pop. Hints of chocolate, peanut butter and plenty of seeds, this granola is my newest addiction.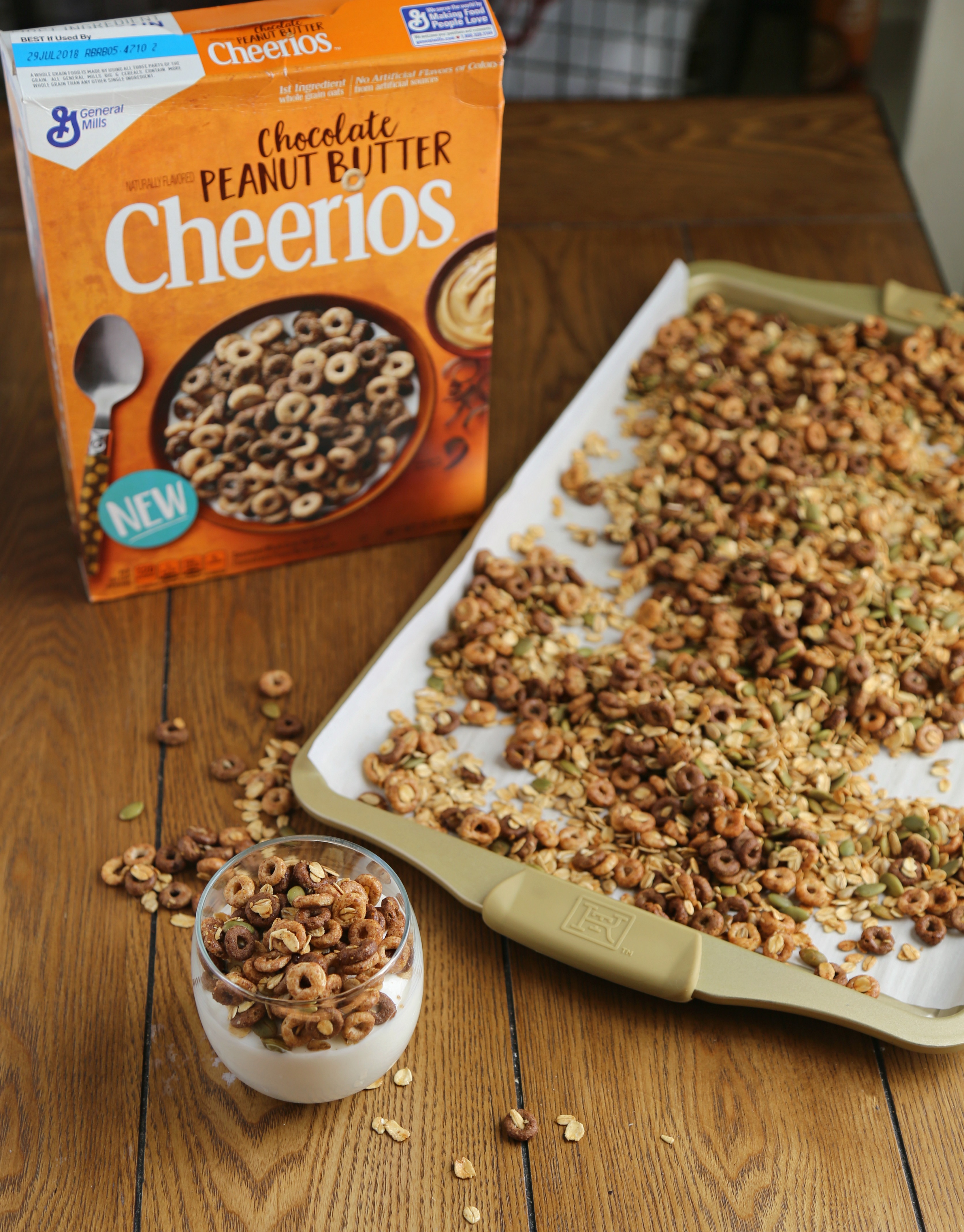 A one bowl recipe this granola comes together quickly. Simply add all your ingredients to the bowl, top with liquid ingredients and give it a thorough mix. Once coated place on a baking sheet and pop it into the oven for 12 minutes. I like to stir the granola midway through the cooking process to ensure crispness.
Chocolate Peanut Butter Cheerios has all the wholesome goodness of Cheerios, but with the delicious taste of real peanut butter and cocoa, which I love. Keep an eye out for the newest O in stores.
Chocolate Peanut Butter Cheerios Granola
Yield 6-8 Serves
A fun fall granola made with Chocolate Peanut Butter Cheerios is a wonderful way to celebrate National Chocolate Day.
Ingredients
2 cups Old fashioned Oats
2 cups Chocolate Peanut Butter Cheerios
1 cup pepitas
1/2 cup sunflower seeds
3 tbsp melted butter
3 tbsp agave
1 tsp pumpkin spice mix
1 tsp salt
Instructions
Preheat oven to 350 degrees. In a large bowl combine oats, Cheerios, pepitas, and sunflower seeds; mix to combine. In a small bowl whisk together melted butter, agave, pumpkin spice and salt. Pour over dry ingredients and stir to coat evenly. Place on a baking sheet lined with parchment paper and bake for 12-15 minutes, stirring occasionally until nice and golden brown. Remove from oven, allow to cool and serve over yogurt.
Courses Breakfast
Cuisine Mexican
Sweet Life Disclosure: I've partnered with Chocolate Peanut Butter Cheerios to bring you a fun, new recipe. Thank you for supporting the brands I collaborate with to bring you new recipes.