Guys Welcome to Selena week! An entire week dedicated entirely to recipes, cocktails, memories inspired by our South Texas Reina Selena Quintanilla. I am SO excited to share this week with you, plus a full recap of the exclusive Raised on Selena dinner I hosted along with Soy Tejana for media and local influencers. Selena was a huge inspiration to me growing up. Her dedication to her music, fans, and creative journey paved the way for Latinas y Tejanas to work hard, hustle and dream big. For our fun giveaways, please head over to the Soy Tejana Instagram page.
We're on day 4 of Selena Week! So far I have shared  Tex-Mex Pizza inspired by Selena, the Olive Garden Salad with Spicy Dressing Selena was obsessed with and a cocktail lovingly named after one of her BIGGEST songs the Dreaming of You Creamy Coca-Cola Cocktail
Today I'm sharing the dessert I paired with the Dreaming of You cocktail which was inspired by Selena's partnership with Cocoa-Cola.
Now, let's get our bidi bidi bom bom on!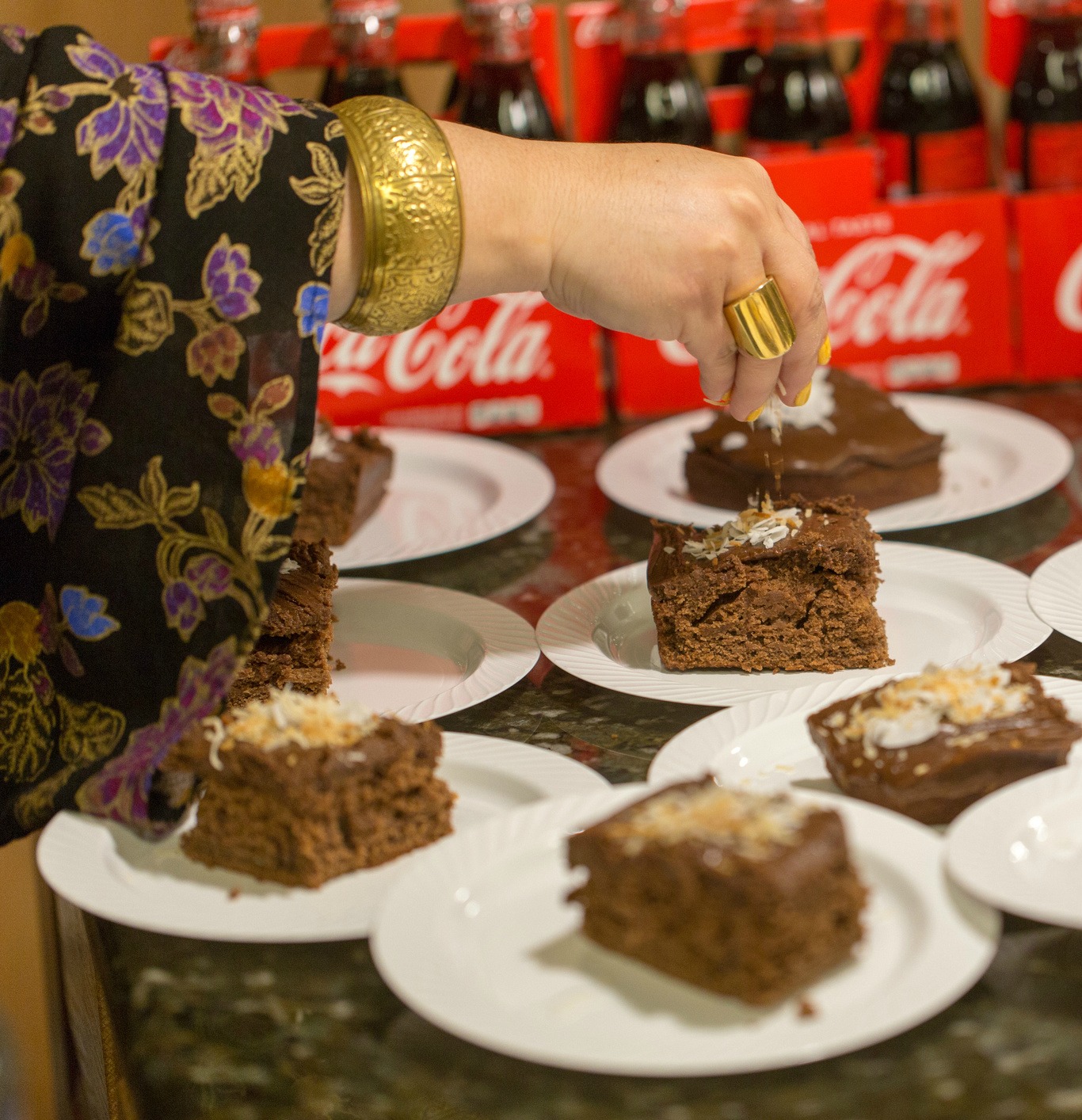 Bring on the dessert!
Guys, there was no way I would host a Selena inspired dinner and not have something sweet to offer my guests.
Yesterday I touched on how Selena was a spokesperson for Coca-Cola from 1989 until the time of her death. She filmed three commercial with Coca-Cola where she belts out a catchy tune, and true Selena fashion showcases her dancing skills.
"Can't beat it, the rhythm, the one that you get from Coca-Cola Classic."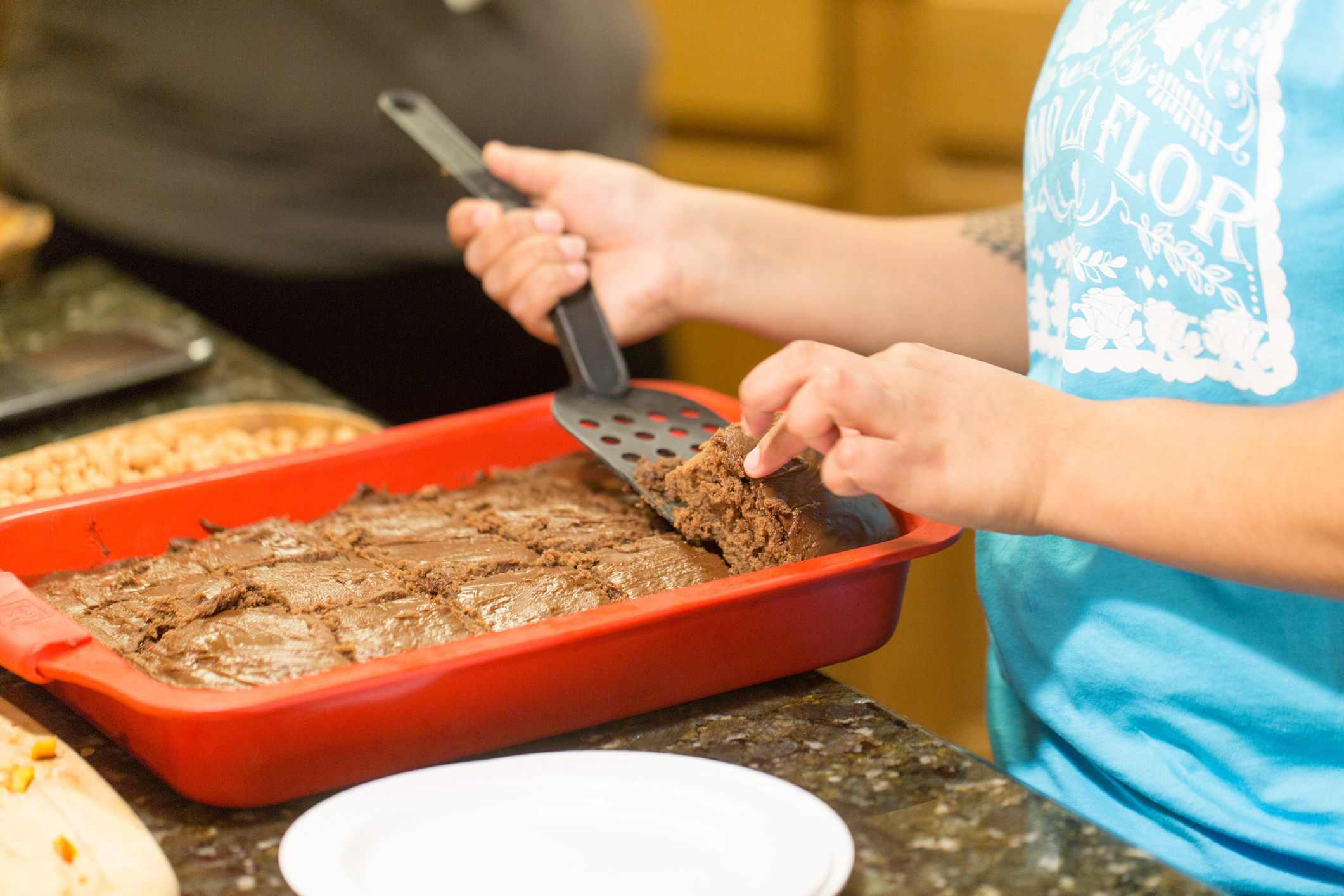 Do yourself a favor and google her commercial – IT. IS. AMAZING!
Today I wanted to pay homage to Selena's Coca Cola fantastic commercial by sharing a Coca-Cola cake topped with a Coca-Cola glaze and garnished with toasted coconut. I paired it with the Dreaming of You Creamy Cocoa-Cola cocktail.
My guests loved it. This cake is great for pot-lucks or Sunday dinner and feel free to swap out the Cocoa-Cola for Dr.Pepper (totally Texas).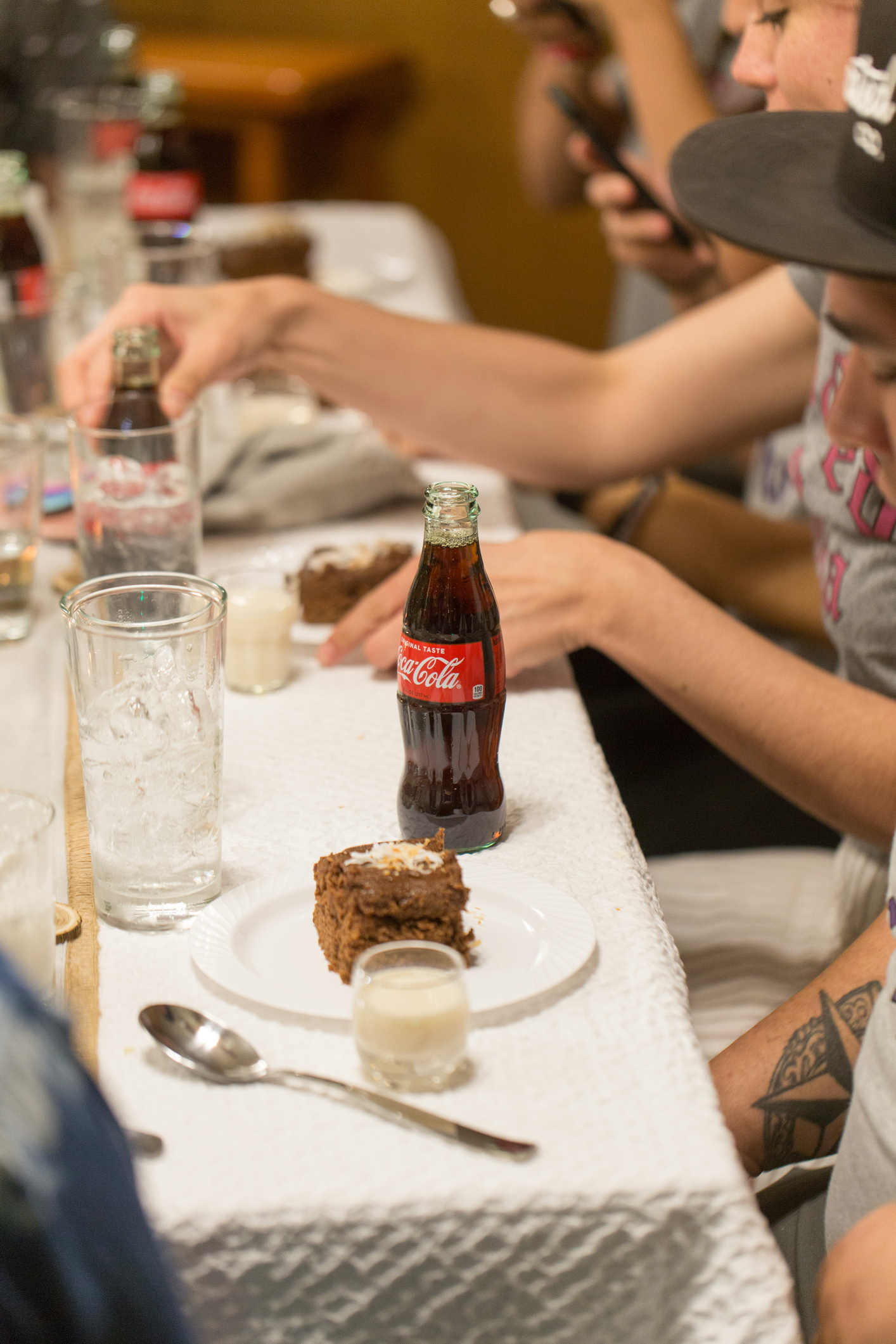 Coca-Cola Cake
Yield 12 Serves
A decadent cake that pays homage to Selena's Cocoa Cola fantastic commercial.  A Coca-Cola cake topped with a Coca-Cola glaze and garnished with toasted coconut.
Ingredients
2 cups all-purpose flour
2 cups sugar
1 teaspoon baking soda
1/2 teaspoon salt
1/2 teaspoon ground cinnamon
1 can (12 ounces) coca-cola
1 cup butter, cubed
1/4 cup baking cocoa
2 large eggs
1/2 cup buttermilk
1 teaspoon vanilla extract
GLAZE:
1 can (12 ounces) coca-cola
1/2 cup butter, cubed
1/4 cup baking cocoa
4 cups confectioners' sugar, sifted
Instructions
Preheat oven to 350°. Grease a 13×9-in. baking pan.
In a large bowl, whisk the first five ingredients. In a small saucepan, combine cola, butter and cocoa; bring just to a boil, stirring occasionally. Add to flour mixture, stirring just until moistened.
In a small bowl, whisk eggs, buttermilk and vanilla until blended; add to flour mixture, whisking constantly.
Transfer to prepared pan. Bake 25-30 minutes or until a toothpick inserted in center comes out clean.
About 15 minutes before cake is done, prepare glaze. In a small saucepan, bring cola to a boil; cook 12-15 minutes or until liquid is reduced to 1/2 cup. Stir in butter and cocoa until butter is melted; remove from heat. Add confectioner's sugar; stir until smooth. Pour immediately over hot cake.
Notes
recipe from Taste of Home
Courses Dessert
Cuisine Texas Tex-Mex