I enjoy hosting dinner parties. Having a full table of friends and family at my table warms my heart. This doesn't mean I want to spend hours upon hours in the kitchen prepping dishes. Today I'm excited to team up with Evite to host an ultimate Fall Dinner party with a few other talented ladies.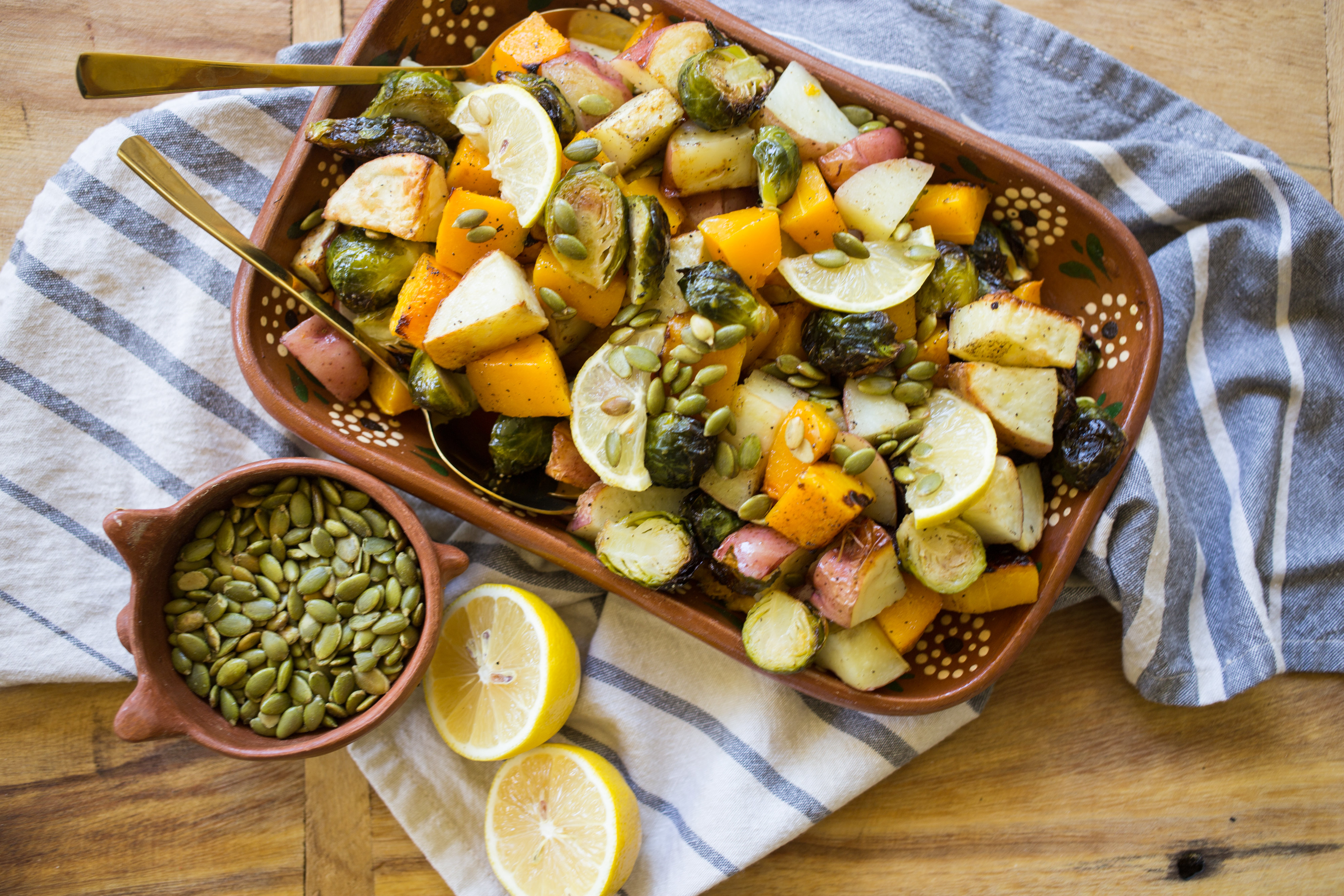 Have you heard of Evite? Evite is the leading digital platform for bringing people together to celebrate their most important life moments. With free, easy-to-use digital and text invitations, inspirational video content, and a private sharing feed for photos and conversations, Evite makes coming together face-to-face effortless and more memorable for its 100+ million annual users. The company has sent over 2 billion event invitations in its history and currently handles hundreds of millions of RSVPs every year.
I love this concept, bringing people together to celebrate their most important moments – YAY!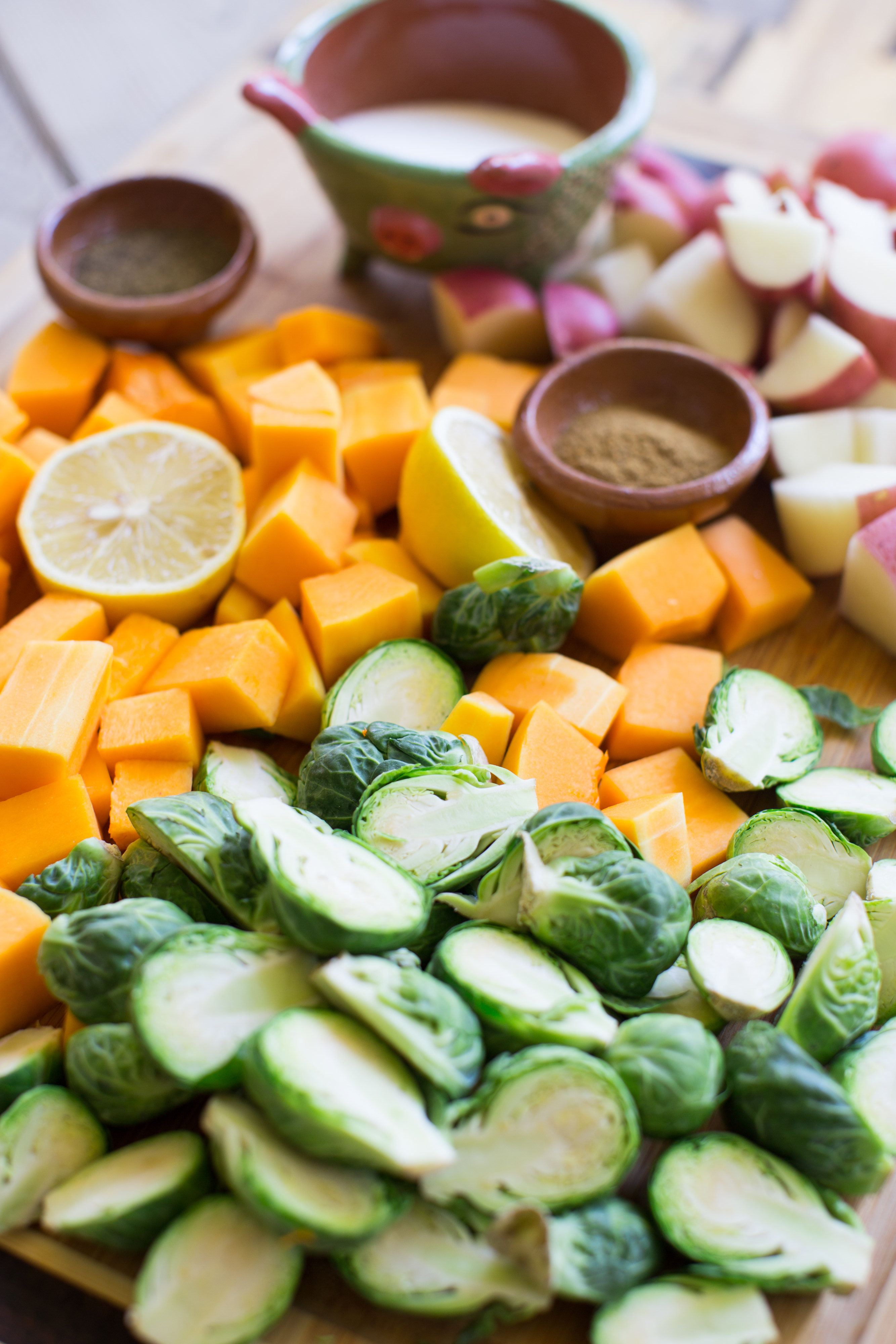 For our fall dinner party, I was designated a side dish – winning. I'm all about a great side dish, I mean they really elevate the main dish. What's Thanksgiving turkey without cream dreamy mashed potatoes, it just wouldn't be the same.
I knew I wanted to serve up something that paired well with our menu for the evening.
Menu:
Main Dish: Spatchcock Herb Roasted Chicken
Side Dish: Open-Faced Tomato Tart
Drink: Rosemary Lemon Beer Cocktail
Dessert: almond turtle pie topped with a chocolate coating
I wanted something packed with fall flavors, but with a hint of citrus to pair with the herb roasted chicken and lemon beer cocktail. That's when it hit me roasted vegetables.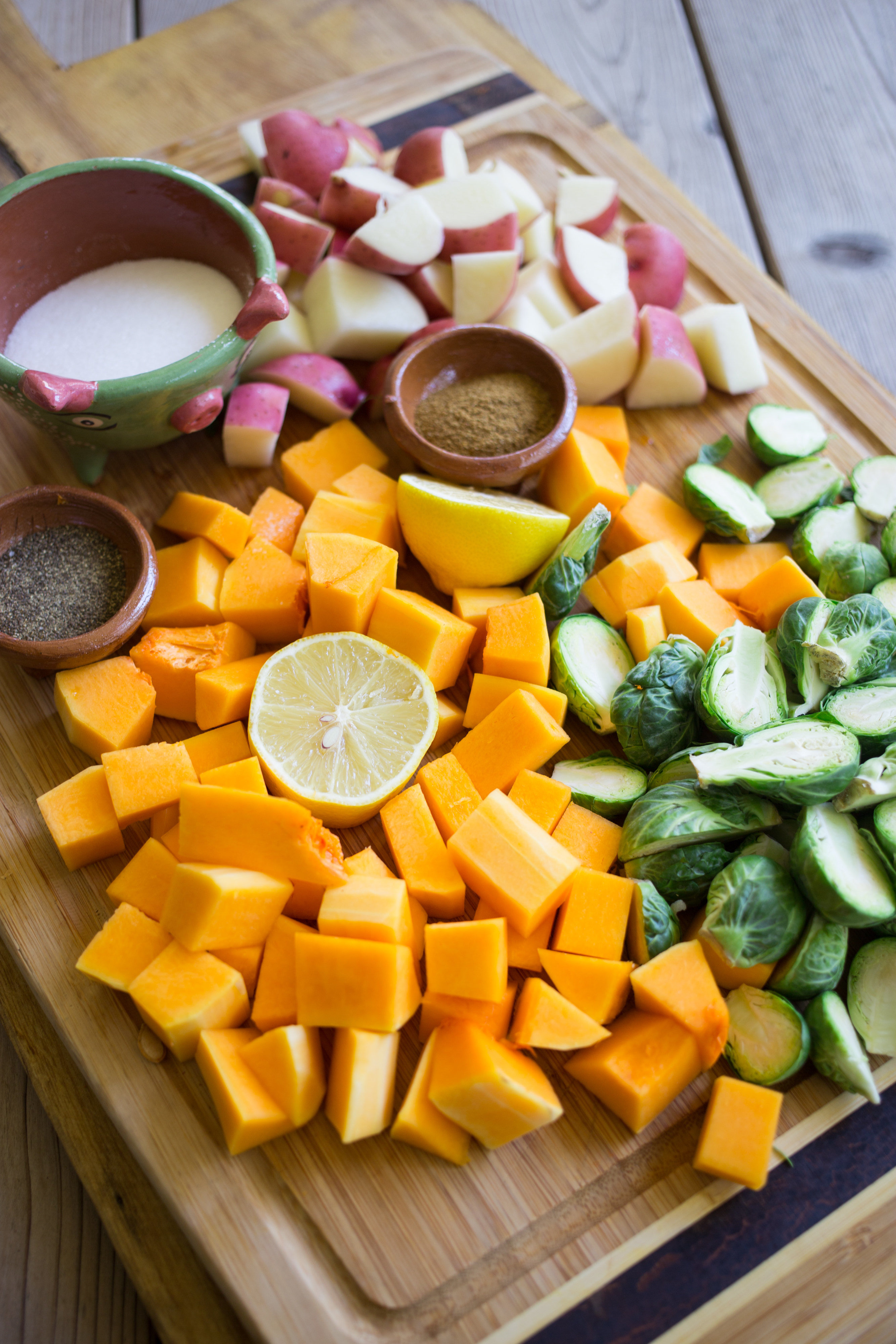 Roasting vegetables enhance their flavor, while the high temperatures create a delicious crust of flavor. Roasted vegetables can be easily adapted to include your favorite vegetables, and t's one-pan dish which makes for easy clean-up.
Root vegetable such as potatoes, carrots and sweet potatoes  are amazing roasted, but don't think you options end there. Anything from Brussel sprout to squash, peppers and even cabbage can be added.
Cut your vegetables in even piece for even roasting. I like to add all my diced vegetable to a large bowl, then toss with the oil to coat them completely. Tossing your vegetables in oil help the vegetables to cook evenly, but the oil also helps to crisp your vegetables.
I season my vegetable with plenty of salt, pepper and cumin. You want to season generously as you are wanting to be sure each piece of vegetable is seasoned another reason I like to toss in a large bowl.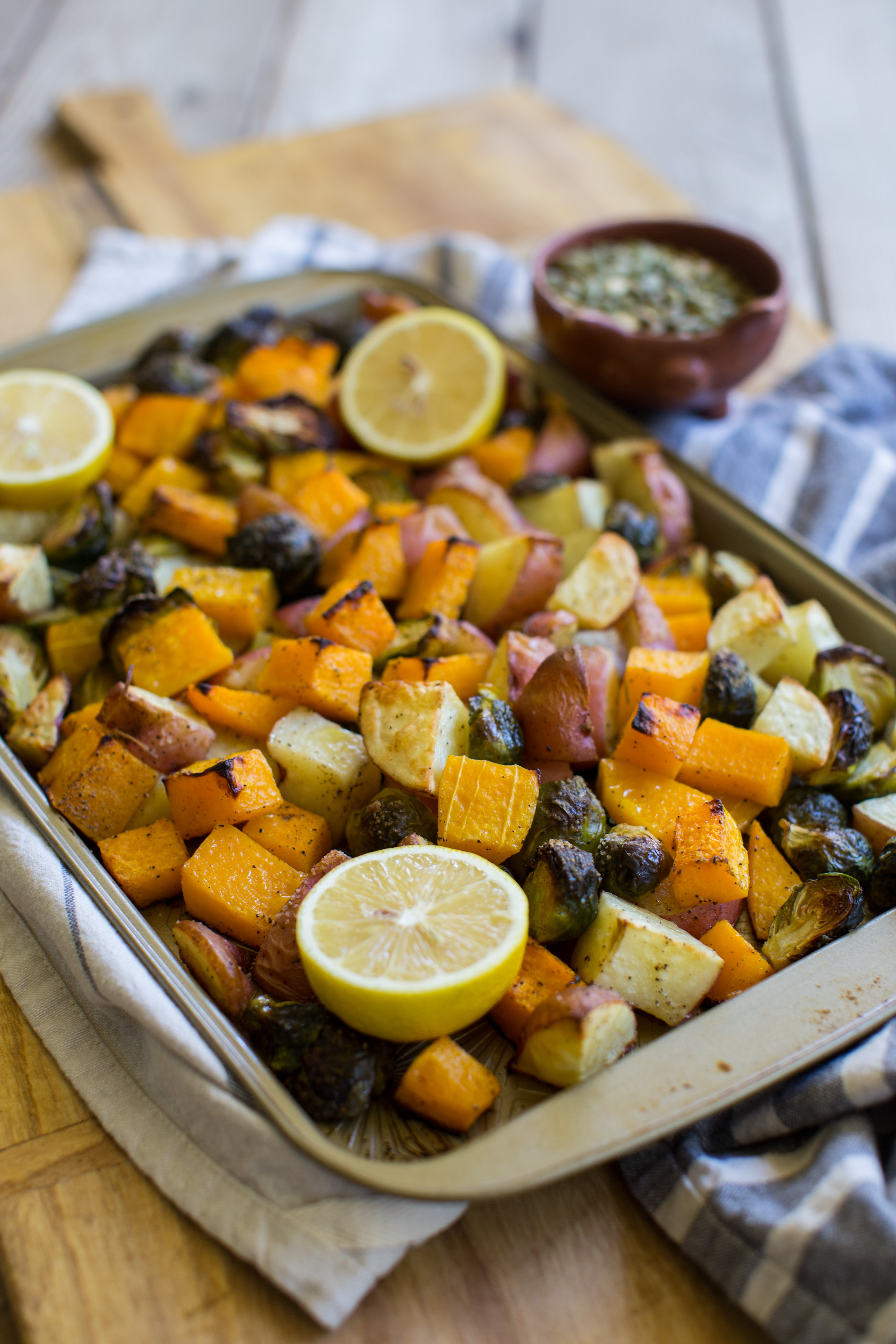 Evenly spread the vegetables on a baking sheet, but do not overcrowd the sheet. If you make a double batch or add more of one vegetable, feel free to split the vegetable between tow baking sheets. If the baking sheet is over crowed this will cause the vegetables to steam, not roast.
I also like to stir my roasted vegetable once during the cooking process to ensure even roasting, Warm from the oven I drizzle the warm vegetables with fresh lemon juice and sprinkle with pepitas. The lemon juice perks up the flavor and the pepitas add a nice crunch.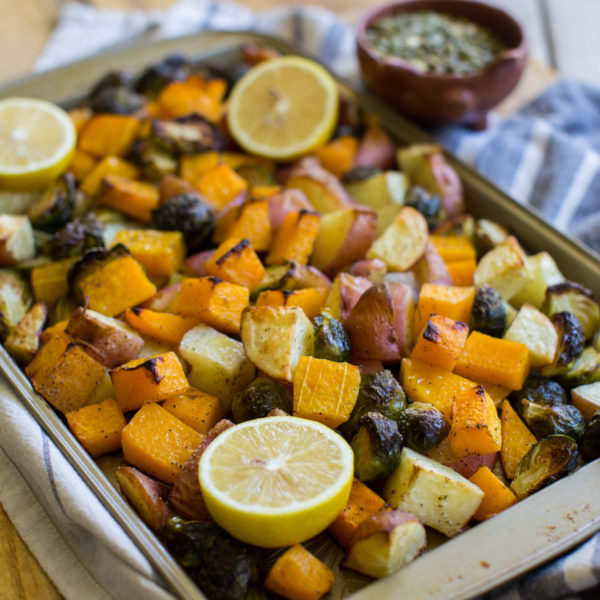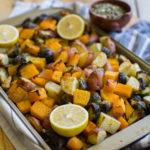 Cumin-Lemon Sheet Pan Roasted Vegetables
Ingredients
3

tablespoons

olive oil

1

teaspoon

salt

1

teaspoon

ground cumin

1-

pound

peeled cubed butternut squash

1-

pound

peeled cubed red potatoes

1-

pound

brussels sprouts

trimmed and halved

Cooking spray

1/4

cup

pepitas

4

tablespoon

fresh lemon juice
Instructions
Preheat oven to 450°F.

Whisk together oil, salt, and cumin. In a large bowl combine butternut squash, red potatoes, and brussels sprouts, in a large bowl.

Add seasoned oil mixture, garlic; toss to coat.

Liberally spray baking sheet with cooking spray and evenly spread vegetables on baking sheet.

Bake at 450°F for 35 minutes or until browned and tender, stirring gently with a spatula once during cooking time.

Carefully remove pan from oven. Drizzle vegetables with fresh lemon juice and sprinkle with pepitas, serve warm.