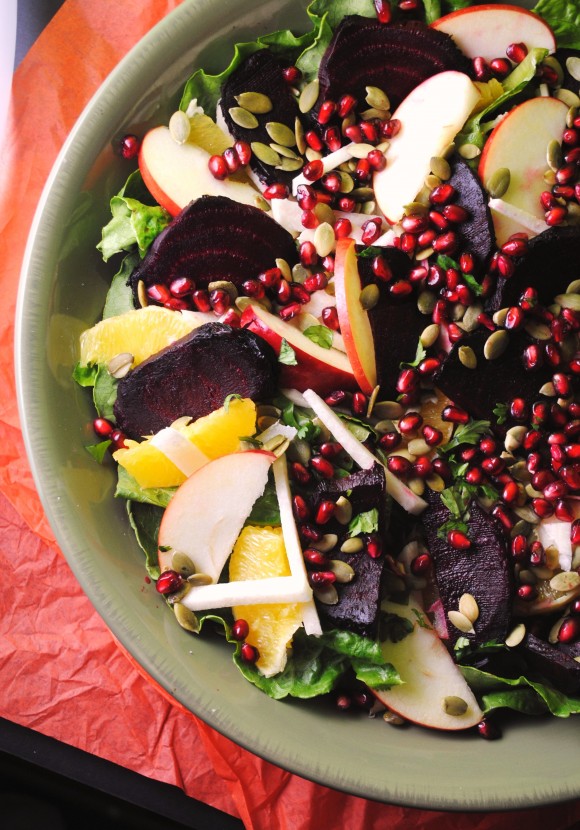 In Spanish Noche Buena means "Good Night."
In the month of December Noche Buena for Latinos becomes a celebratory part of the Christmas Holiday. Noche Buena means Christmas Eve or Poinsettia and is the final evening of Las Posadas.
On Noche Buena families attend misa de gallo (midnight mass).  After mass entire families, friends and neighbors come together for La Cena de Noche Buena where the year's blessings, unity and love are celebrated.
This night is celebrated with a fiesta of comida with flavors of every region.  This includes tamales, pozole, menudo, turkey, mole, ponche navideño and ensalada de Noche Buena. This salad is one of my favorite foods featured on Noche Buena.  A platter brimming with the colors of Christmas.
Roasted beets, oranges, jicama, apples, pomegranate and pepitas are layered decoratively over romaine lettuce. Crema Mexicana is lightly tinted with beet juice to give the dressing a festive color. Enjoy Ensalada de Noche Buena this Holiday with families, friends and neighbors.
May your Holidays be filled with amor, familia y comida.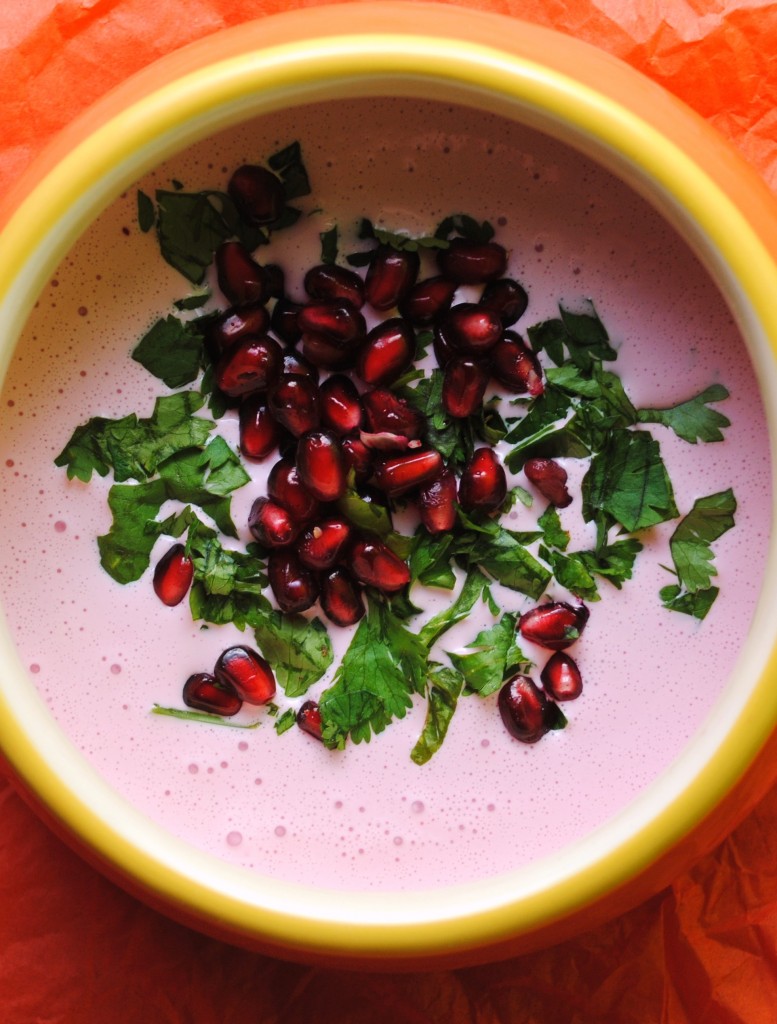 Ensalada de Noche Buena
by Vianney Rodriguez at a sweetlifebake.com
Ingredients:
4 medium beets
4 oranges sectioned, remove membrane
2 red apples
2 granny smith apples
1 medium jicama, peeled and sliced
1 cup pepitas, pumpkin seeds
2 heads of romaine lettuce
1 cup crema Mexicana,  sour cream or yogurt
Juice of 1 lemon
1 pomegranate
1 tablespoon sugar
Directions:
When handling beets you may want to use gloves as beets will stain the hands.
Roast beets in a 350 degree oven for about 30 minutes, until tender.
While beets roast remove pom seeds from pomegranate. Set aside.
Peel and slice roasted beets. Set one slice apart for dressing.
Core and slice apples. Add to lemon juice to prevent browning.
Line a shallow serving platter with the outer leaves of the romaine lettuce.
With hands tear remaining lettuce and place on top of the leaves.
Arrange apples, beets, oranges and jicama over lettuce.
Combine crema and sugar in a small bowl and whisk to dissolve sugar.
With hands squeeze the remaining beet slice to release juice.  This will add the festive color to your dressing.
Season to taste adding sugar if needed.  When ready to serve sprinkle salad with pom seeds and pepitas.
Add chopped cilantro to dressing, mix to combine and drizzle over salad.