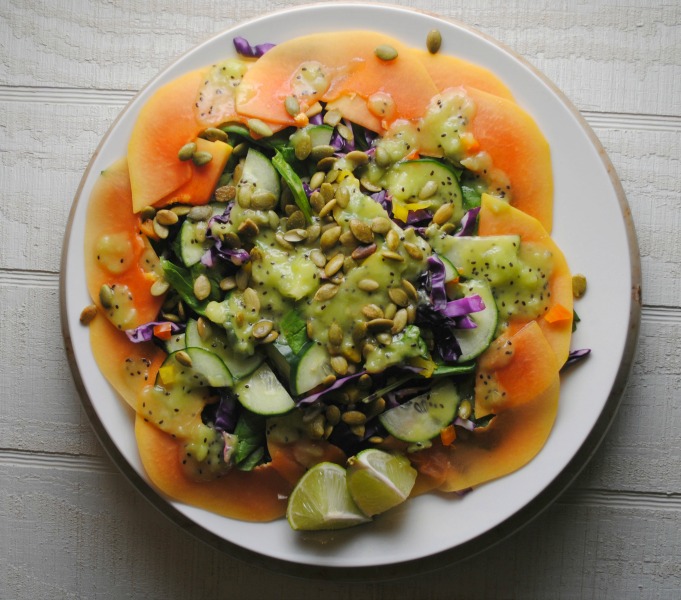 Papaya Salad with Kiwi Lime Dressing
Growing up we ate a lot of papayas. Mami used them to make aguas, smoothies, salads and nieve (ice cream). They hold a special place in her heart since her father grew them in their backyard. We always look forward to papaya paletas or thick slices of papaya with a hefty dousing of chile powder in the Summer.
These are the flavors of my childhood, the flavors I am drawn to, inspired by and the flavors I happily share with my children.
One of my favorite Spring salads includes papaya of course, but this papaya salad also includes a refreshing kiwi- lime dressing that ties it all together. Slice your papaya paper thin to layer around the outside rim of the plate making a festive ring to add your spinach and remaining vegetables. Blend your kiwis in a food processor or blender, but do not strain. You'll want to enjoy every last bit of kiwi flavor. I serve this salad alongside roasted chicken or shrimp.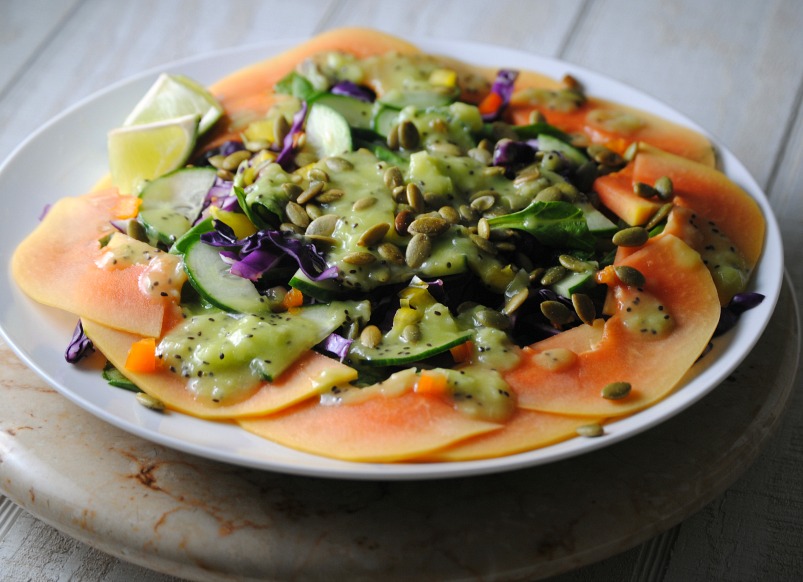 Tip: Toast the pepitas in the oven for a few minutes to release some of their natural oils.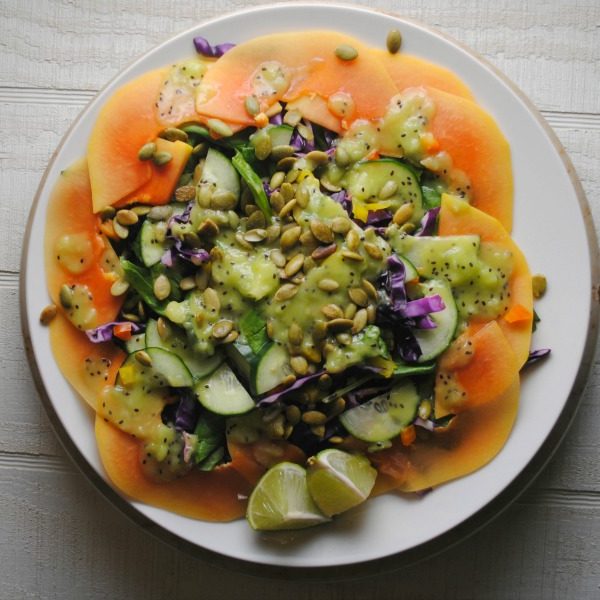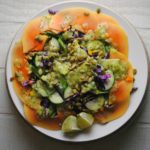 Papaya Salad with Kiwi Lime Dressing
Ingredients
1

half of a medium papaya- peeled

seeded and thinly sliced

4

cups

spinach

1

cup

chopped red cabbage

1

medium cucumber

thinly sliced

½

small yellow bell pepper

diced

½

small red bell pepper

diced

1

cup

pepitas

Kiwi Lime Dressing

recipe follows

2

Kiwis

peeled and diced

½

cup

olive oil

1

tsp

lime zest

1/4

cup

fresh lime juice

Salt and freshly ground pepper
Instructions
Arrange the papaya slices around the outside of 2 salad plates. In the center of each plate add half the spinach, red cabbage, sliced cucumbers, diced yellow and red bell peppers.

Drizzle with kiwi-lime dressing and sprinkle pepitas over the top of each plate.

For Dressing:

Combine kiwis, olive oil, lime zest and lime juice in blender or food processor.

Blend until smooth, season to taste with salt and pepper