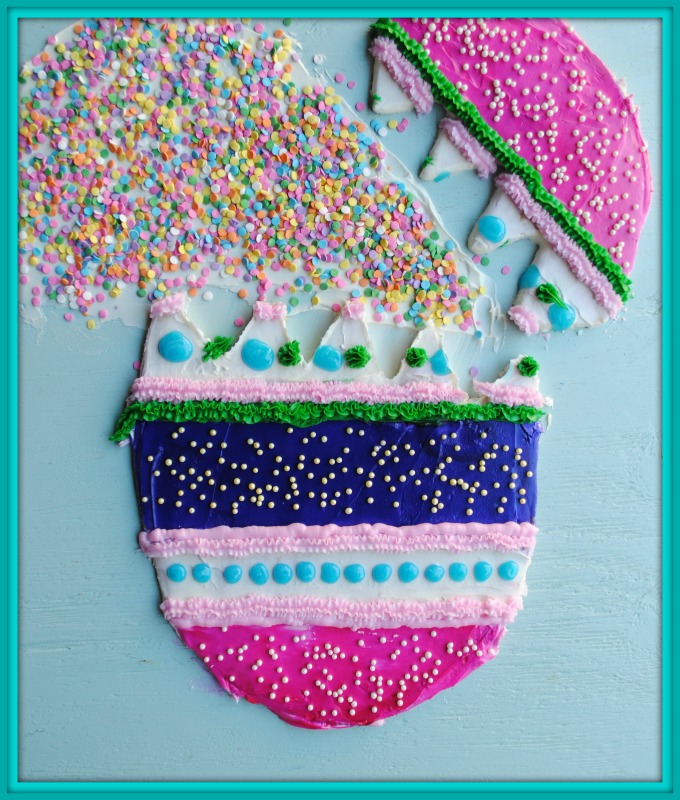 Cascarones! Cascarone Sugar Cookie Cake
When I announced to my family that I was chosen to be a Wilton ambassador, my children squealed in delight.  They love Wilton.  As a family we have been baking with Wilton for as long as I can remember.  Holidays, Birthdays or any Family Celebration we turn to the Wilton aisle at our local hobby store picking up new tools, liners, bake ware and decorating supplies. My daughter has become quite the baker and my youngest loves to shower any baked treat with sprinkles.
Cascarones hail from Mexico but their popularity has expanded throughout Central and South America and even to the United States.
When the Wilton boxes began to arrive at our doorstep the girls' eyes beamed with excitement. As we peeked inside to unveil our new treasures they offered suggestions as what I should bake first.  Then they spotted the confetti sprinkles "Mom we have to make cascarones!"  "Can we help you bake your first Wilton blog post?"
The word cascaron comes from the Spanish word "cascara", which means egg shell.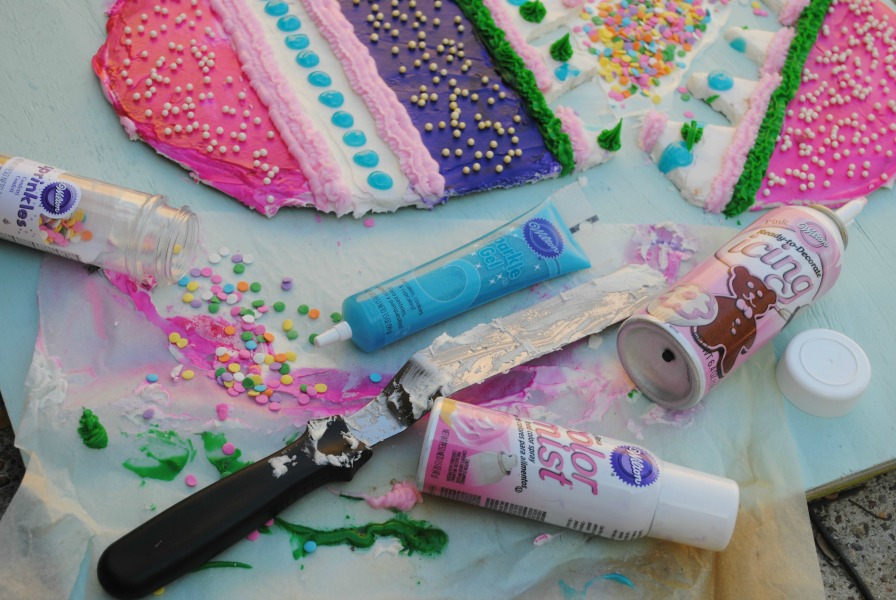 "Sure, of course!" I said.  Who was I to deny them the pleasure of baking with Wilton ….and why deny myself the pleasure of their company for a few hours? So we discussed, should we make cookies, a cake or cupcakes.  My youngest suggested a GIANT sugar cookie, decorated with bright BOLD colors like the cascarones her grandmother makes every year.  Great idea.  My eldest suggested we crack the cascarone to show the confetti spilling out as if it had been cracked over someone's head. Love it!
Traditional or not, cascarones provide endless hours of fun and are great for Easter egg hunts, or even as colorful Easter decorations.  
We shaped the sugar cookie dough with a large oval platter, baked until golden, rolled up our sleeves and began decorating. One piped, the other added sprinkles and supervised (watched in delight) as their vision came to life.  Using Wilton's ready to decorate icing the project came together in a breeze and the color mist in the bright pink color looked stunning against the white frosting.
It came out amazing, colorful with the colors of cascarones we make every year.  The girls were so happy with their creation and I was so happy to spend a day with them.  Thanks Wilton.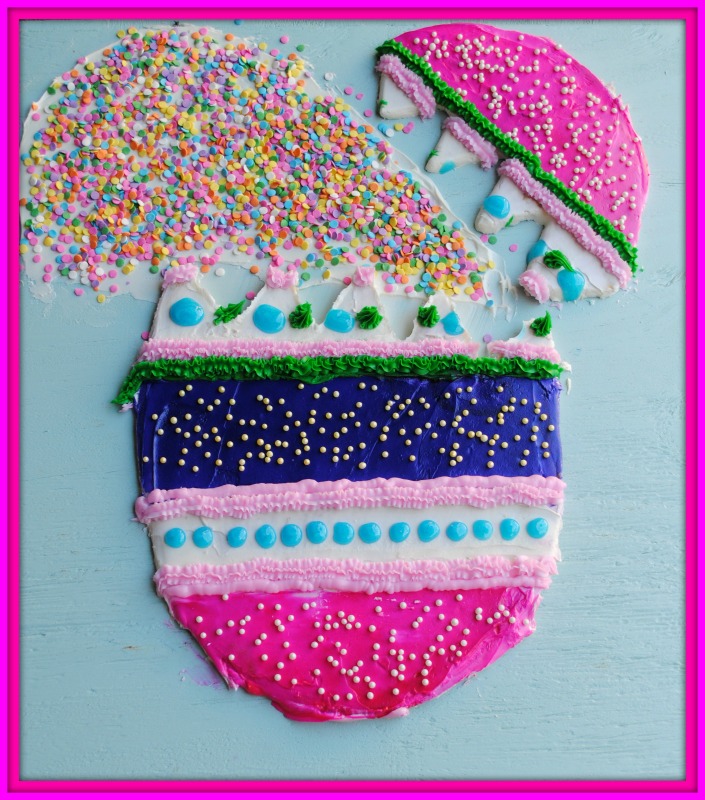 To make cascarones – Crack open just the top/tip of an egg. Tip: Tap the top (the small end) of the egg on a sharp corner. Next, drain the egg into a bowl (use the eggs later in a meal or to  bake) Rinse out the inside of the egg thoroughly ans set aside to dry. Once the eggs have dried, decorate them using colors, markers, spray paint, egg dye, water colors, or paint. Allow to dry completely and fill the inside with confetti. Finish off the cascarone by placing glue around the edges and placing a small square of colorful tissue paper over the hole. Dry and enjoy!
Wilton Products Used: 
Wilton Ready to decorate Icing in Pink and Green
Wilton Color Mist in Pink and Purple
Wilton Sugar Pearl Sprinkles in White and Yellow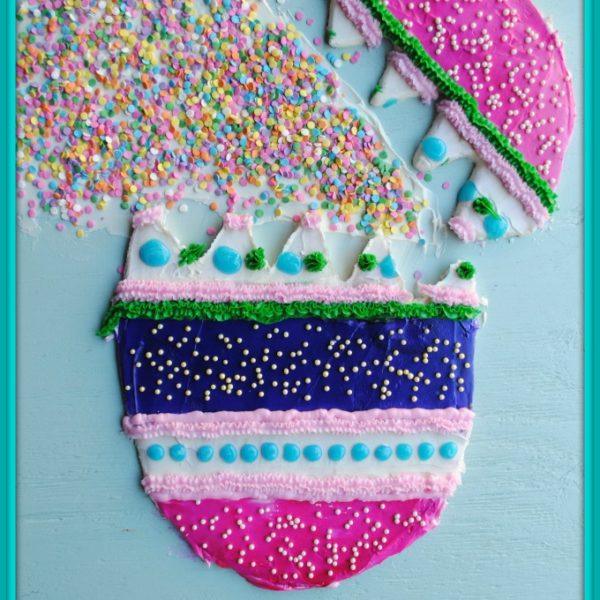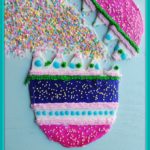 Sugar Cookies
Ingredients
2

cups

all-purpose flour

1/4

teaspoon

salt

1/2

teaspoon

baking powder

1/2

cup

1 stick unsalted butter

1

cup

sugar

1

large egg

lightly beaten

2

tablespoons

brandy

or milk

1/2

teaspoon

pure vanilla extract
Instructions
Whisk together flour, salt, and baking powder in a medium bowl; set aside. In the bowl of an electric mixer fitted with the paddle attachment, cream butter and sugar; mix until light and fluffy. With mixer running, add egg, brandy, and vanilla; mix until well combined. With the mixer on low, slowly add reserved flour mixture. Mix until just combined.

Transfer dough to a work surface. Shape into 1 disc, cover with plastic wrap, and refrigerate for at least 1 hour.

Preheat oven to 350 degrees. Line baking sheet with nonstick baking mats or parchment paper; set aside.

On a lightly floured work surface, roll out dough to 1/8-inch thickness. Using an oval platter cut into a large egg shape and carefully transfer to prepared baking sheet. Leftover dough can be rolled and cut once more. Bake until lightly golden, about 10 minutes; do not allow to brown. Transfer to wire racks to cool.

With a knife carefully cut out cracked egg top.

Decorate
Recipe Notes
recipe from Martha Stewart
I hope you enjoyed our first Wilton post.  Stay tuned for a more new recipes using Wilton products and information on new products from Wilton. Sweet Life Disclosure: This is a sponsored post with the fine folks over at Wilton, where I am a part of the Wilton Treat Team.