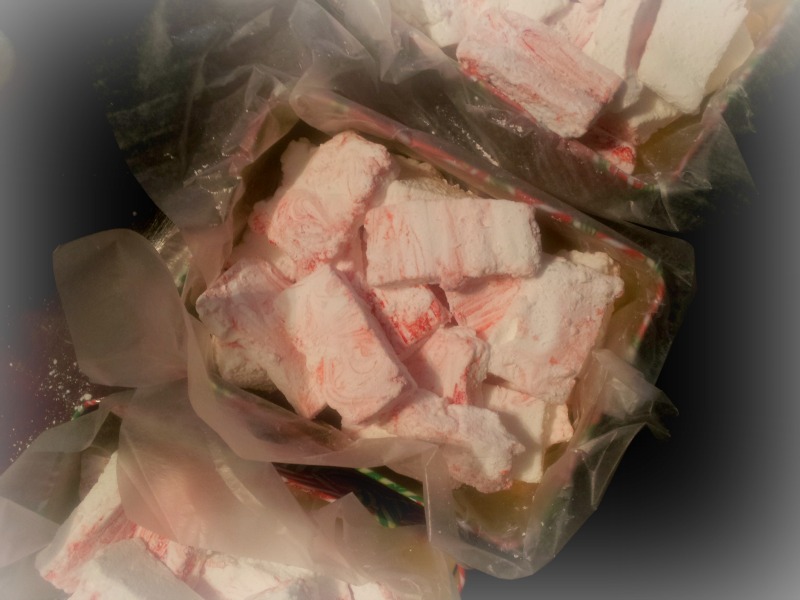 Peppermint Marshmallows
There are things for me that naturally come each December
It's a Wonderful Life—Ahh  James Stewart
Christmas Cookies- no surprise
Holiday music- Oh I love it, even makes my piles of laundry bearable
Wrapping presents at the last moment- Seriously happens every year and I enjoy the stress it brings me- ya I'm weird.
Hot cocoa and marshmallows- one cannot be served without the other…
Soft little pillows floating in a warm liquid of chocolate not only get my girls excited, hubby and I anxiously await this concotion every year. The marshmallow  recipe is always the same, from Martha and ever so easy-I was afraid at first thinking I would completely make a mess of the recipe and ruin Christmas. Yes it's that serious,  they were a cinch to make and are a must every year. Others add choclate, swirl them or make them into perfectly precious shapes- not me I make them thick and square just big enough to cover the entire surface of steaming cocoa. With each sip your nose is slightly tickled by the softness of the slowly melting marhmellow— a cup of holiday cheer. The cocoa recipe changes every year why?? Not sure, but it is fun to mix different chocoates. This year I ran across a recipe that you simply add everything into a crockpot- set on low and walk away. Do you have holiday must haves? I hope you do, because this time of year is meant for slowing down with family and enjoying new memories being made. Enjoy!!
Homemade Marshmallows
Martha Stewart
makes 2 dozen
vegetable oil for baking dish
1 1/2 cups cold water
4 envelopes unflavored gelatin
3 cups granulated sugar
1 1/4 cups light corn syrup
1/4 tsp salt
2 tsp pure vanilla extract (or 3/4 teaspoon peppermint extract)
1 cup confectioners sugar
Brush a 9by 13 inch Pryex baking dish with vegetable oil. Set aside.
Pour 3/4 cup water in the bowl of an electric mixer, and sprinkle with gelatin; let stand until softened, about 5 minutes.
Place the granulated sugar, corn syrup, salt, and remaining 3/4 cup water in a medium saucepan; bring to a boil over high heat. Clip a candy thermometer to side of pan; cook until mixture reaches the soft- ball stage, 238 degrees. Remove from heat.
With mixer on low speed, using whisk attachment, carefully add hot syrup to gelatin mixture, pouring it down side of bowl to prevent spattering. Gradually increase speed to high; continue beating until mixture is cool and stiff peaks form, about 30 minutes. Beat in the vanilla.
Pour mixture into prepared baking dish; smooth top with an offset spatula.
For Peppermint Marshamallows ~
Pour mixture into lined pan. Working quickly, drop dots of red food coloring across surface of marshmallow. Using a toothpick, swirl food coloring into marshmallow to create a marbleized effect. Let marshmallow stand, uncovered, at room temperature until firm, at least 3 hours or overnight. Cut into squares.
For regular marshamllows~
Let stand, uncovered, at room temperature until firm, at least 3 hours or overnight.
Sift 1/2 cup confectioners' sugar onto a clean work surface. Invert baking dish onto sugar, and lift to remove. Lightly brush a sharp knife with oil, and cut marshmallows into 2 inch squares. Sift remaining 1/2 cup confectioners' sugar into a bowl, and roll marshmallows in sugar to coat evenly.
Snow- Cocoa
by Gooseberry Patch
Christmas Book 7
2 cups whipping cream
6 cups milk
1 tsp. vanilla extract
12 oz pkg. white chocolate chips
Combine all ingredients in a slow cooker.
Heat on low for 2 to 2 1/2 hours or until chocolate is melted and mixture is hot.
Stir well to blend.
Serves 10
I have officially quit my holiday wish list- why?? because I want something different every day— oh well.