Do you ever have one of those weeks,  I don't know how to explain it,  just a weird week.   The week was a blur of lost items, confusion in dates and emotional roller coaster.   The family felt my unbalance.  They quickly swooped in, to make fun of me, yes they took any opportunity to crack a  joke.  I have to admit it really helped, laughing at yourself  somehow cleanses your attitude.   Thankfully today is Friday, I am so over this week.   Shall we cleanse together over a bowl of granola and share a laugh?  Funny thing is, I can really woof down granola.  I have admired this nutty concoction since my teenage years.   Only I could turn a healthy snack or light breakfast with yogurt into a addiction.  I blame it on my weird week, let's leave it at that.   Have a great weekend,  try laughing at yourself,  trust me it feels pretty darn good.  I send you Big Texas Hugs! Sweet Life!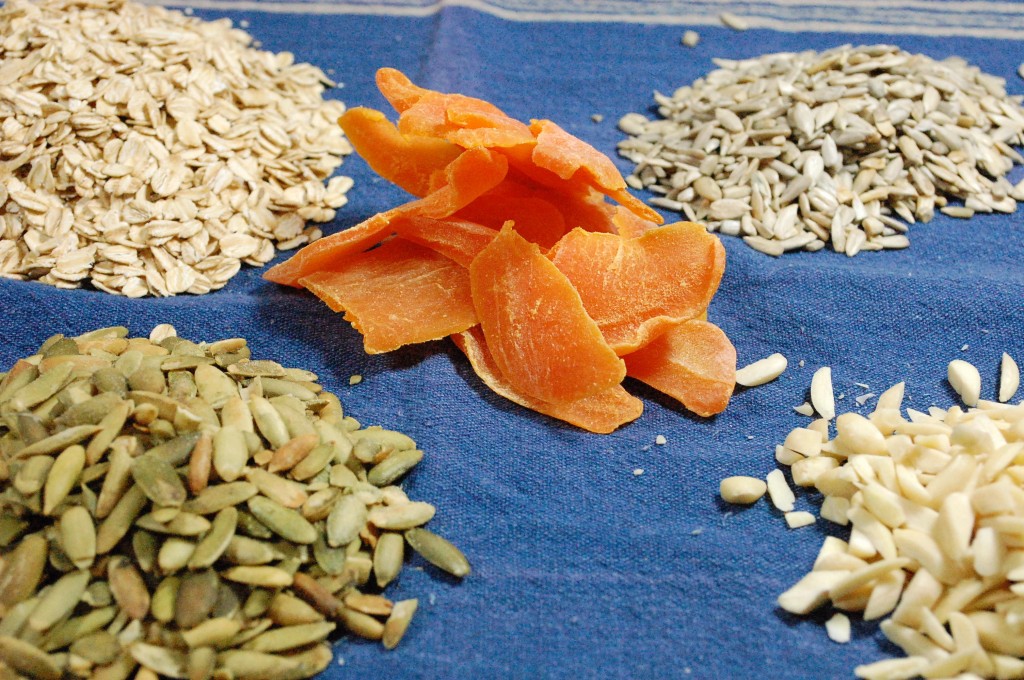 A granola loaded with sunflower seeds, almonds, pumpkin seeds, oatmeal, wheat germ and flax seeds.   Sweeten with clover honey,  agave, brown sugar and baked.  A sprinkle of dried chopped mango finishes off this crunchy treat.  Serve with yogurt or store in an airtight container.      
Homemade Mango Agave Granola
Bobby Flay
Cooking Channel
Brunch @ Bobby's
serves 4
1/4 cup canola oil
1/4 cup agave syrup
1/4 cup clover honey
1 teaspoon ground cinnamon
2 tablespoons light brown sugar
1 teaspoon vanilla extract
3 cups old-fashioned rolled oats (not instant)
3/4 cup slivered almonds
1/2 cup raw sunflower seeds
1/2 cup raw pumpkin seeds
1/2 cup wheat germ
2 tablespoons ground flax seed
1/4 teaspoon salt
1 cup diced dried sweetened mango
1 pint 2-percent Greek yogurt
Honey drizzle, for garnish
Preheat the oven to 325 degrees F. Line a 1/2-sheet pan with parchment paper or silpat.
Mix together the oil, agave syrup, honey, cinnamon, brown sugar, and vanilla extract in a small bowl until smooth. Combine the oats, almonds, sunflower seeds, pumpkin seeds, wheat germ, flax seed, and salt in a large bowl. Add the wet mixture to the dry mixture and stir well to combine making sure everything is evenly coated. Spread the mixture evenly onto the prepared sheet pan and bake in the oven, stirring occasionally, until golden brown and crisp, about 25 to 30 minutes.
Remove from the oven and let cool slightly. While still warm, break into clumps. Add the dried fruit after it has cooled. Serve the yogurt in bowls and top with some of the granola and a drizzle of honey. Store the leftover granola in an airtight container in a cool place.