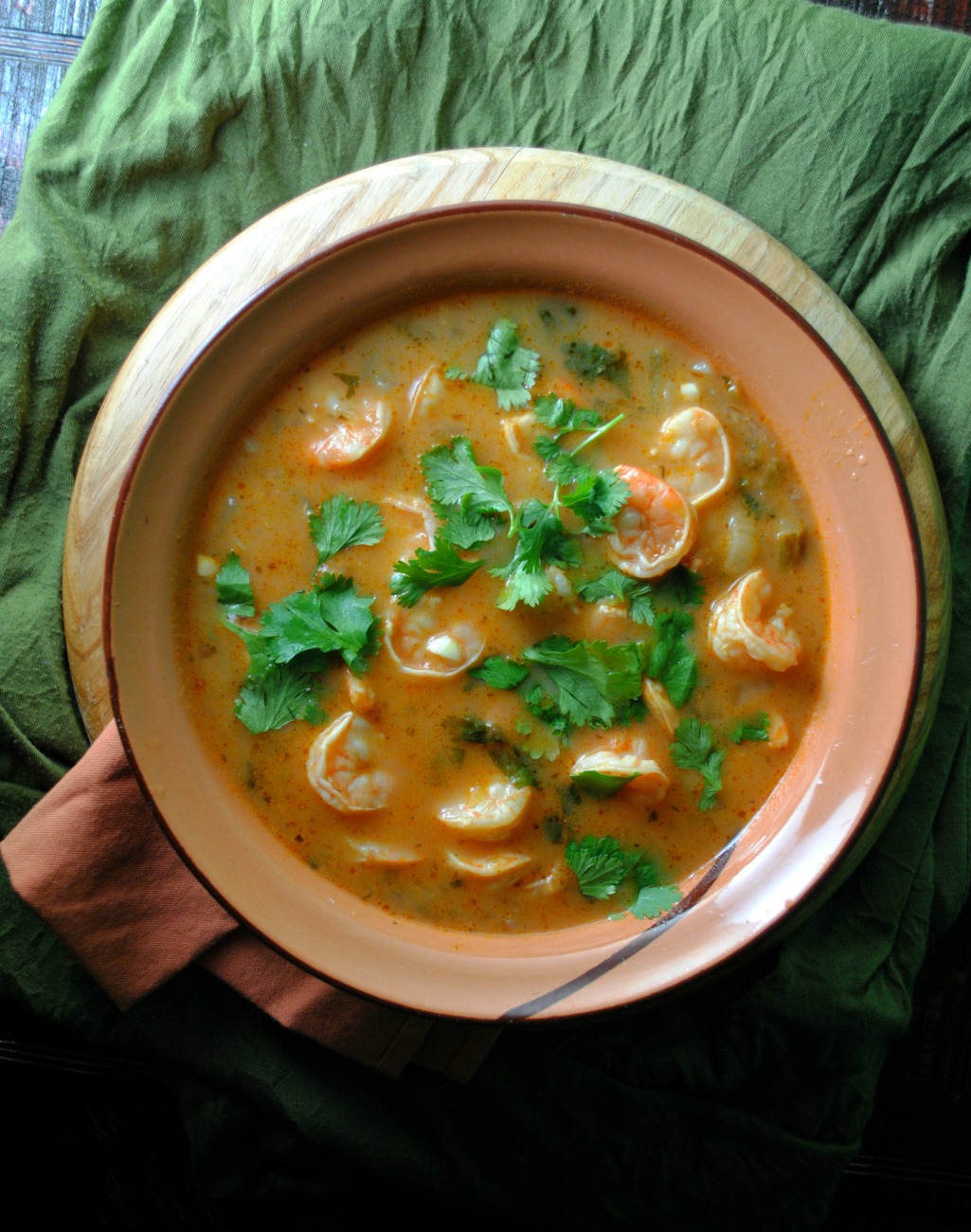 Moqueca – Brazilian Stew
We are currently obsessed, glued to the TV watching endless hours of soccer matches. We can't get enough of them, so exciting!  We also enjoy learning more about the host country Brazil with its abundant green parks and stunning landscapes. A melting pot of cultures, flavors and wonderful food the coverage made us crave Moqueca with lots and lots of shrimp.
A hearty Brazilian stew that is made with firm white fish or shrimp in a creamy coconut broth.  Traditionally it is slow cooked in a clay-pot and made with the catch of the day, but I opted for shrimp that is plentiful here in South Texas. Moqueca is the ideal game day fare to rejuvenate the body, mind and soul after a tough loss or a cheerful treat to rejoice with your team's win.
The shrimp is marinated with spices, lime juice and garlic, but to spotlight on Brazil's dynamic cuisine I used McCormick's recipe for a Bahian Spice blend. Featured in McCormick's flavor forecast the Bahian blend is an all-purpose seasoning blend from the Brazilian state of Bahia is known as tempero baiano in Brazilian Portuguese.  It adds zest to many savory dishes including seafood, vegetables, soups and stews.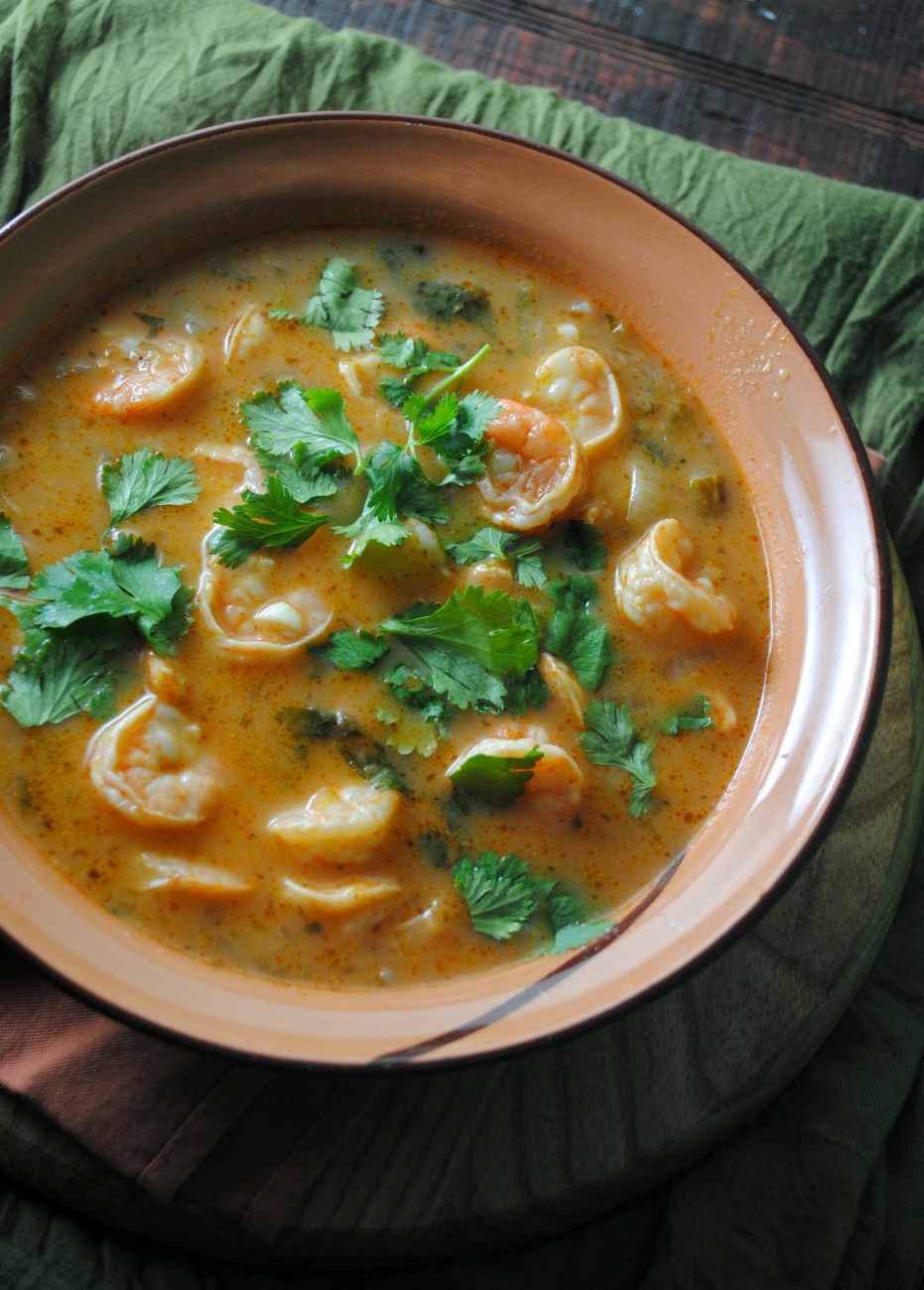 I'm 5!  Yeehaw! Time to celebrate! The entire month of July I'm celebrating my 5th blog anniversary! Join in on the fun!
And to celebrate I'm hosting a month's worth of exciting giveaways with the amazing foodies I have met in my blog journey. Growing up my mami always and to this day stocks her pantry and has cooked a gazillion meals with McCormick spices so it was only fitting my first giveaway would feature a brand that I have grown up with. McCormick is also celebrating their 125th Anniversay by showcasing cooks flavor stories.
By sharing your story of flavor McCormick will donate $1 to the United Way Worldwide.  Make sure to stop by and share your story for a good cause and keep an eye out as McCormick will be featuring some of stories shared on the FlavorofTogether.com.    
Since 1889, McCormick & Company has proudly provided families the flavors we love, crave and cannot cook without.  The plates we share with family and friends over the holidays and throughout the year made extra special with McCormick spices.
McCormick will be sharing their best flavors stories also along with the hottest trends in the culinary world through their McCormick® Flavor Forecast® 2014:125th Anniversary Edition.  Flavor experts will share their tips, recipes and stories through videos, pictures and testimonials.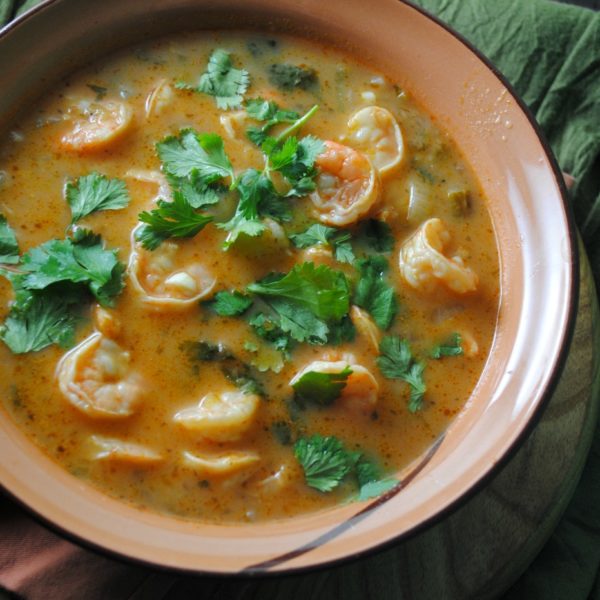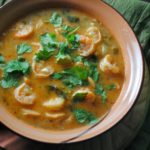 Moqueca – Brazilian Stew
Ingredients
1 1/4

lb

large shrimp

peeled and deveined

1

teaspoon

Bahian blend

recipe follows

1/2

teaspoons

salt

2

garlic cloves

minced

1/4

cup

fresh lime juice

1

14- to 15-oz can diced tomatoes including juice

1

medium onion

diced

1

green bell pepper

diced

1 1/2

tablespoons

olive oil

5

tablespoons

coarsely chopped fresh cilantro

1

cup

unsweetened coconut milk

For Bahian Blend

1

teaspoon

McCormick ground cumin

1

teaspoon

McCormick oregano leaves

½

teaspoon

McCormick ground white pepper

¼

teaspoon

McCormick ground red pepper

Mix all ingredients until well blended. Store in a tightly covered jar in cool

dry place.
Instructions
Toss shrimp with Bahian blend, 1/2 teaspoon salt, garlic, and lime juice and marinate, covered and chilled, 20 minutes. Purée tomatoes with juice in a blender until smooth. In a dutch oven or large skillet heat olive oil over medium-high heat. Cook onion and bell pepper, stirring, until softened, 8 to 10 minutes. Add 1 tablespoon cilantro and cook, stirring, 1 minute. Add tomato purée and simmer, stirring, until mixture is very thick, about 15 minutes. Stir in coconut milk and bring to a boil, then add shrimp mixture and cook, stirring, until shrimp are just cooked through, about 3 to 5 minutes.
Recipe Notes
adapted from epicurious
GIVEAWAY: Enter to WIN
McCormick Anniversary Edition spice gift package – both black pepper and vanilla extract – not available in stores!), a McCormick recipe book, and a branded canvas tote – a pack valued at $50.     
Charmed by Brazil spice gift package – gift set valued at $50
Sweet Life Disclosure: This is a sponsored post with McCormick® to celebrate Flavor of Together.