A simple bread made of baking powder, flour and shortening pan de campo has become a beloved staple of the Tejano kitchen, traditionally cooked in a Dutch oven.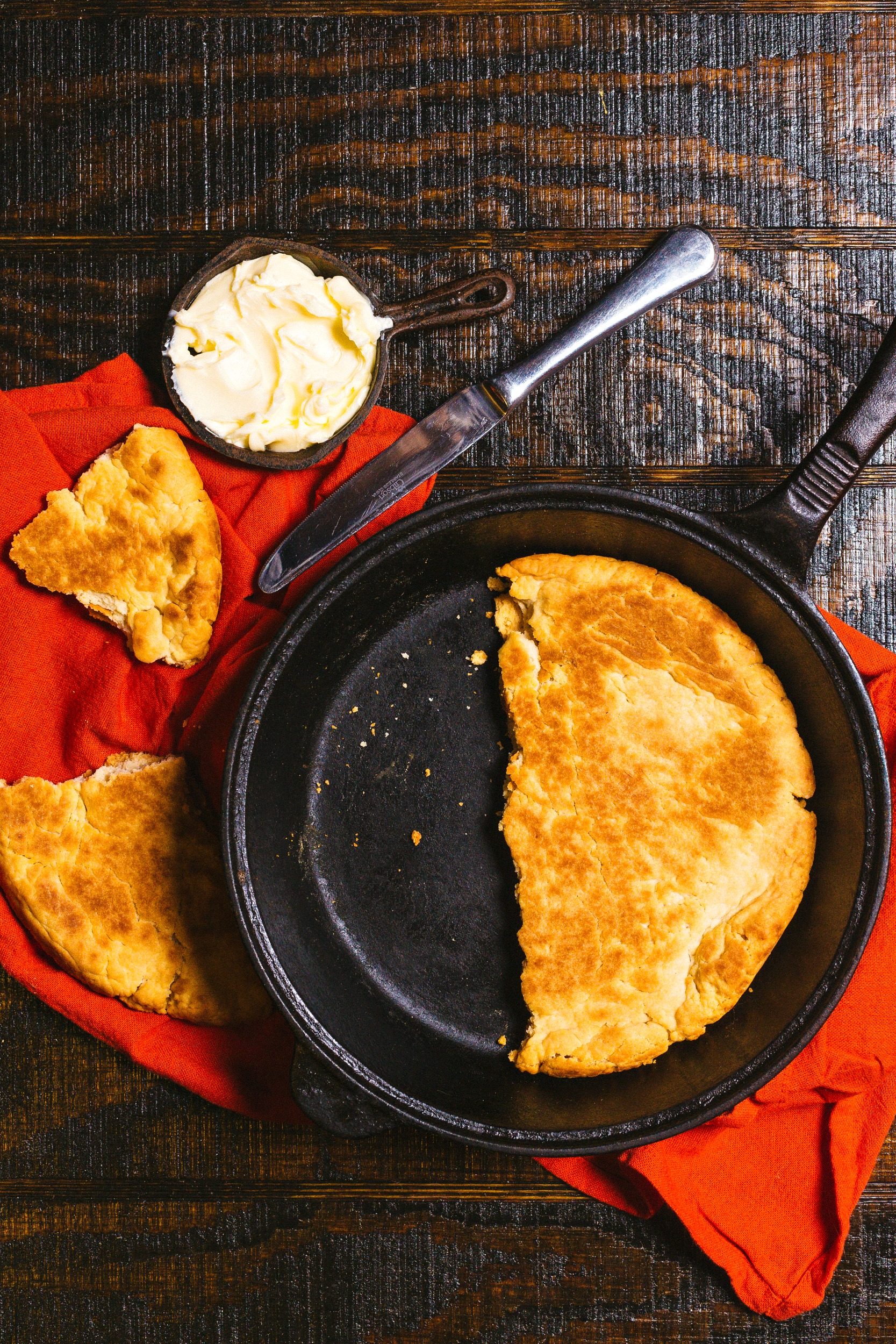 Pan de Campo
In 2005 pan de campo was declared the state bread of Texas. Pan de campo also known as "camp bread" or "cowboy bread" originated with the vaqueros of South Texas. The bread baked quickly and was eaten with a heaping spoon of beans or dried meat. The crispy exterior made pan de campo a delicious portable meal while the vaqueros tended cattle on the South Texas ranchos.
A festival dedicated to love of pan de campo was first held in San Diego, Texas in 1978. It was a celebration of the food, music and culture of South Texas and helped cement pan de campo as the state bread of Texas and forever made this vaquero bread a beloved part of South Texas- Tejano history.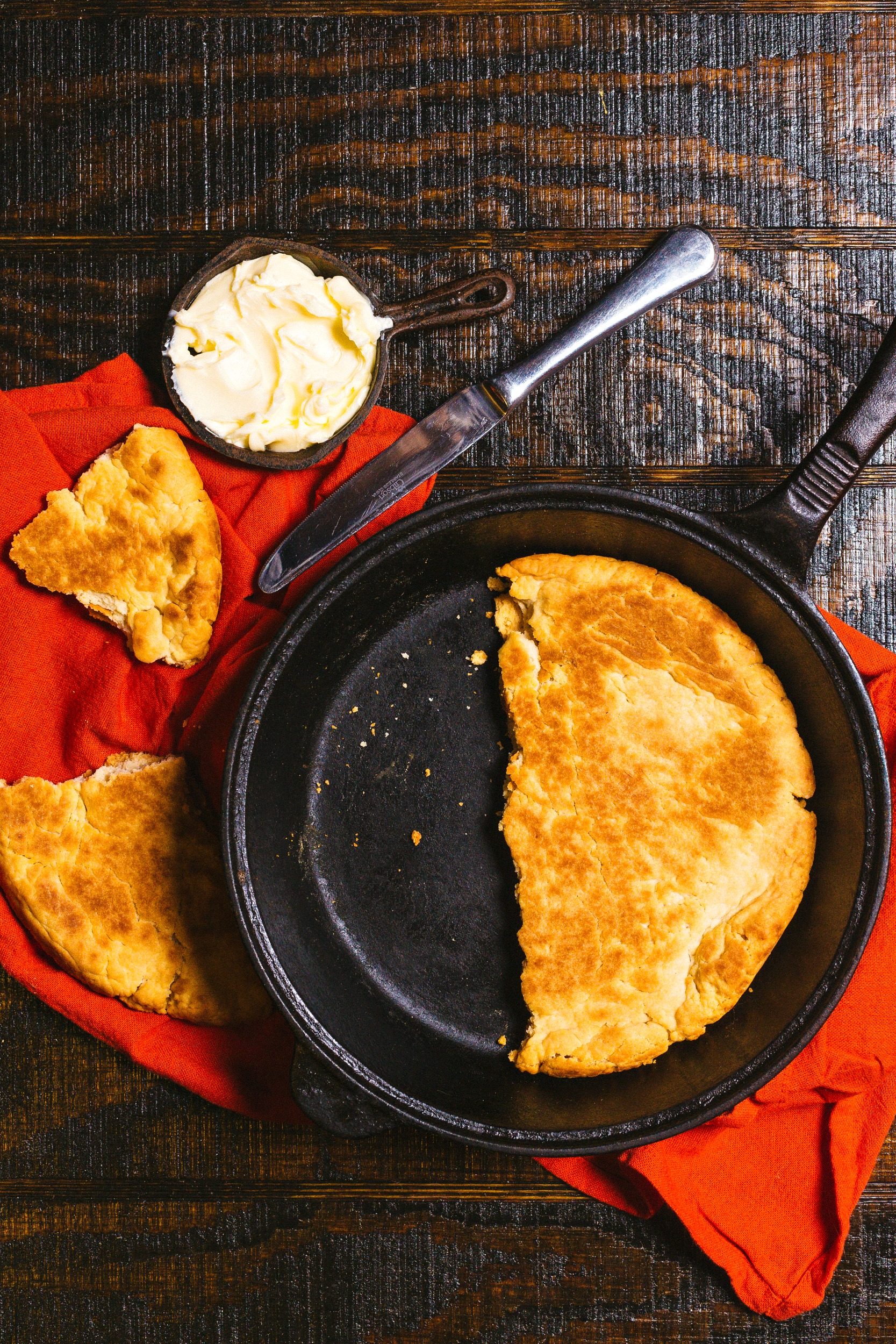 A Piece of South Texas History
Pan de campo resembles a flatbread, a thicker flatter biscuit. Crispy on the outside, soft and chewy interior every South Texas family has their own version, their own special twist that makes their pan de campo the best.
My abuelita made her pan de campo in a cast iron skillet. Warm from the oven she enjoyed hers with a steaming cup of coffee. My mami continued this tradition and usually made three at a time. She would wrap the pan de campo in a kitchen towel and nestle them in her tortilla warmer. We would break off pieces as we headed to school or enjoyed it with butter and honey after school.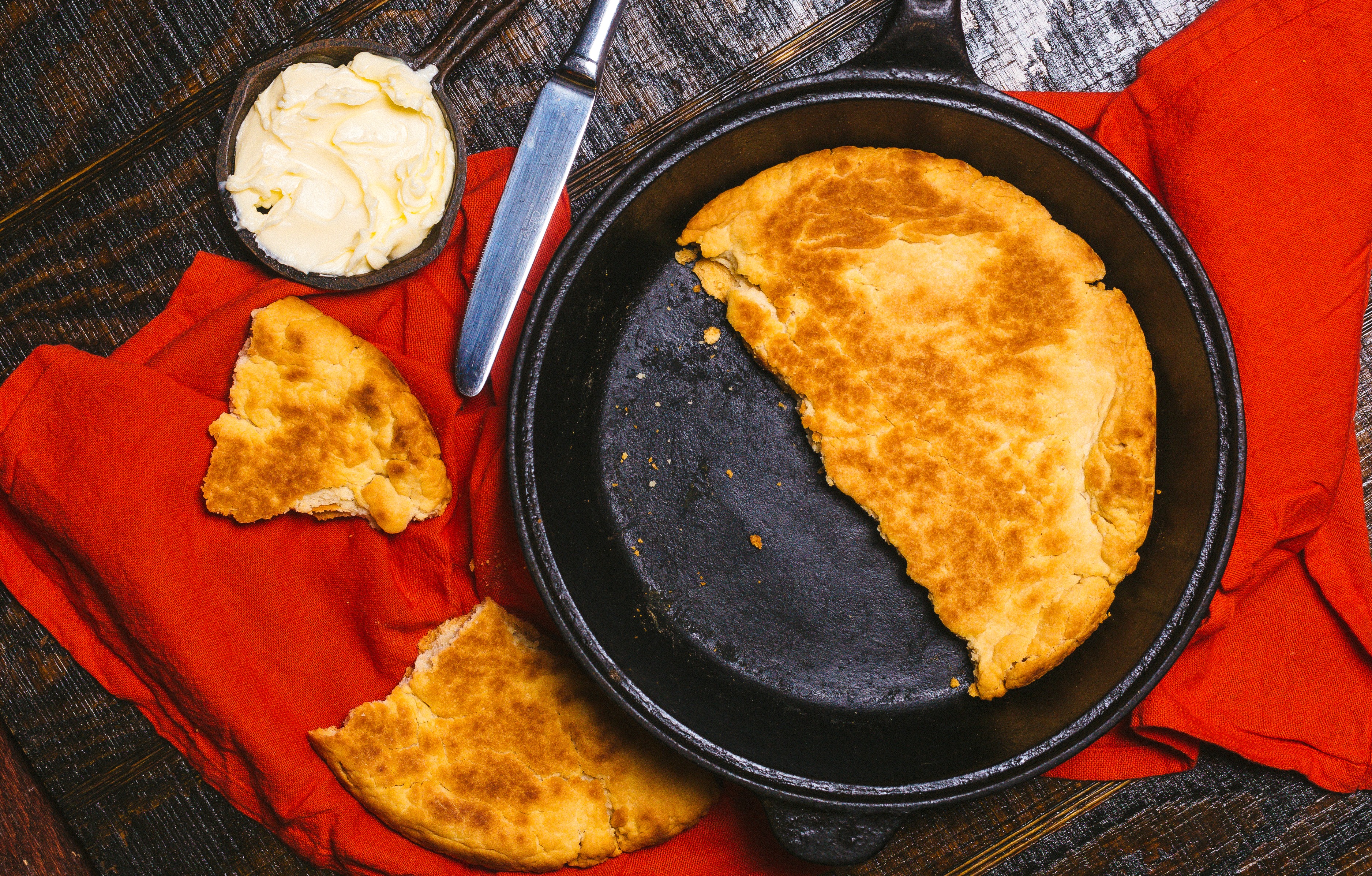 When cooking pan de campo in a cast iron skillet in the oven the trick to its crispy exterior is to carefully flip the pan de campo once during baking time. My abuelita did this as did my mami. Begin heating the shortening in your cast iron skillet pan on the stove-top, so when your dough hits the pan it immediately begins to crisp.
I recently tried this pan de campo from Texas Monthly with great results. I have my abuelita's recipe and mami's recipe jotted down on a notecard, but have yet to perfect the recipe. I hope to share their version soon, but until then enjoy this recipe from Texas Monthly.
Pan de Campo
Yield 4-6 Serves
A simple bread made of baking powder, flour and shortening pan de campo has become a beloved staple of Tejanos traditionally cooked in a Dutch oven.
Ingredients
2 cups all-purpose flour
2 teaspoons baking powder
1 teaspoon salt
1/2 teaspoon sugar
6 tablespoons shortening, slightly chilled (can also use lard)
3/4 cup whole milk
Instructions
Preheat oven to 450. Stir together the dry ingredients, then blend in the shortening with a pastry cutter or your fingers until the mixture is crumbly. Add milk, a bit at a time, until you can form a not-too-sticky ball of dough. Turn it out on a floured surface and knead gently for about 1 minute. Flatten the ball of dough and roll out into a round about 1/2 inch thick. Prick the top all over with a fork.
Meanwhile, melt a little shortening in a 12-inch cast-iron skillet (enough to coat the bottom). Add the round of dough to the skillet and place in the oven. Bake for about 6 minutes, then flip the bread and bake another 6 minutes.
Courses Breakfast
Cuisine Texan