Growing up the norm in our house was a pot of beans.  Well, not much has changed as I each week make a pot of beans for my family.   Beans aside from being a Hispanic staple are versatile in meal planning.  The possibilities for beans are endless, appetizers, breakfast, brunch, sides, soups and even desserts, yes desserts (more on this later).   As I gaze through any new cookbook my fingers quickly skim the pages for any sign of a new bean recipe.  When I came upon this Pinto Bean Chowder I was intrigued, one associates chowder with seafood, corn or potatoes, but beans..the was no question I had to try this recipe.  The base of the soup is not  milk or cream, beans itself are used which results in a hearty soup.   
Beans are pureed with chicken stock to create a thickening sauce for  the soup.  Corn is blackened then simmered with bacon, onion, bell peppers, carrots and celery.  Jalapenos are added for a kick of heat, not feeling the heat, de seed the jalapenos, add as followed for a slight ting in the background.  The recipe calls for 2 cups of beans, the perfect opportunity to rejuvenate a dwindling pot of beans.  Crunched for time on a busy week, try canned beans.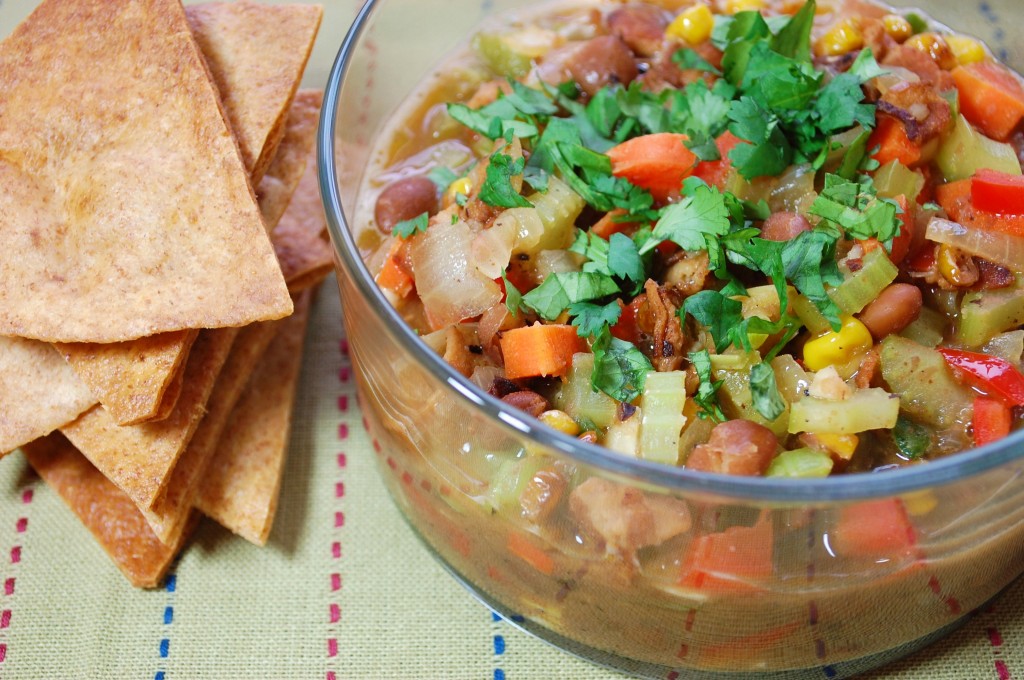 What Julia Child and Jacques Pepin have done for modern French Cooking, what Diana Kennedy did for Mexican Cooking, Grady Spears has done and continues to do for Cowboy Cooking. What Mark Miller is to Southwestern Cuisine, what Emeril Lagasse is to Modern American Cuisine, Grady Spears is to Cowboy Cuisine. Putting his indelible brand on the genre, he is both creator and charismatic personality, enthralling cooks of all levels of expertise with his endearing, joyous approach to hearty fare. Named one of the Top Five Chefs of 1998 by Restaurant and Institutions, and Rising Star of 1999 by Restaurant Hospitality Magazine, Grady's work has been widely praised in such prestigious publications as The New York Times, Texas Monthly, P.O.V., Martha Stewart Living, Country Homes, Southern Living, and countless others.  Grady a Forth Worth Native, prefers to be called a Cowboy Cook than Chef.
from Grady Spears.com
Pinto Bean Chowder
Grady Spears with June Naylor
from The Texas Cowboy Kitchen
serves 4 to 6
1 cup Corn, cut fresh from the cob
2 tablespoons Vegetable Oil
1 cup diced Bacon
2 Carrots, Diced
4 Celery stalks, diced
1 Red Bell Pepper, Diced
2 Yellow Onions, Diced
4 Jalapenos, Seeded and Diced
6 cloves Garlic, thinly sliced
2 cups Cooked Pinto Beans, drained and divided
2 cups Chicken Stock, divided
Kosher Salt, to taste
1/2 cup Chopped Cilantro
Preparation:
1. In a large saute pan, cook corn over high heat 4 to 5 minutes, until blackened,  set aside.
2.In the same pan,  heat the oil and cook the bacon over high heat until  it starts to brown.
4. Add carrots,celery, bell pepper, onions, jalapenos, and garlic cooking until they begin to soften.
5. Remove  from heat.
6. In a food processor, puree half the pinto beans with 1/2 cup chicken stock.
7. Add pureed pinto bean mixture, remaining stock and pinto beans to vegetables in the skillet, and simmer for 15 to 20 minutes.
8. Season with salt to taste. Stir in Cilantro, remove from heat and divide among bowls.