This year I've partner with Jennie-O to showcase how delicious and easy it is to whip up a fabulous Thanksgiving featuring their Oven Ready Whole Turkey.  I'm excited to partner with Jennie-O to bring you an exciting new recipe.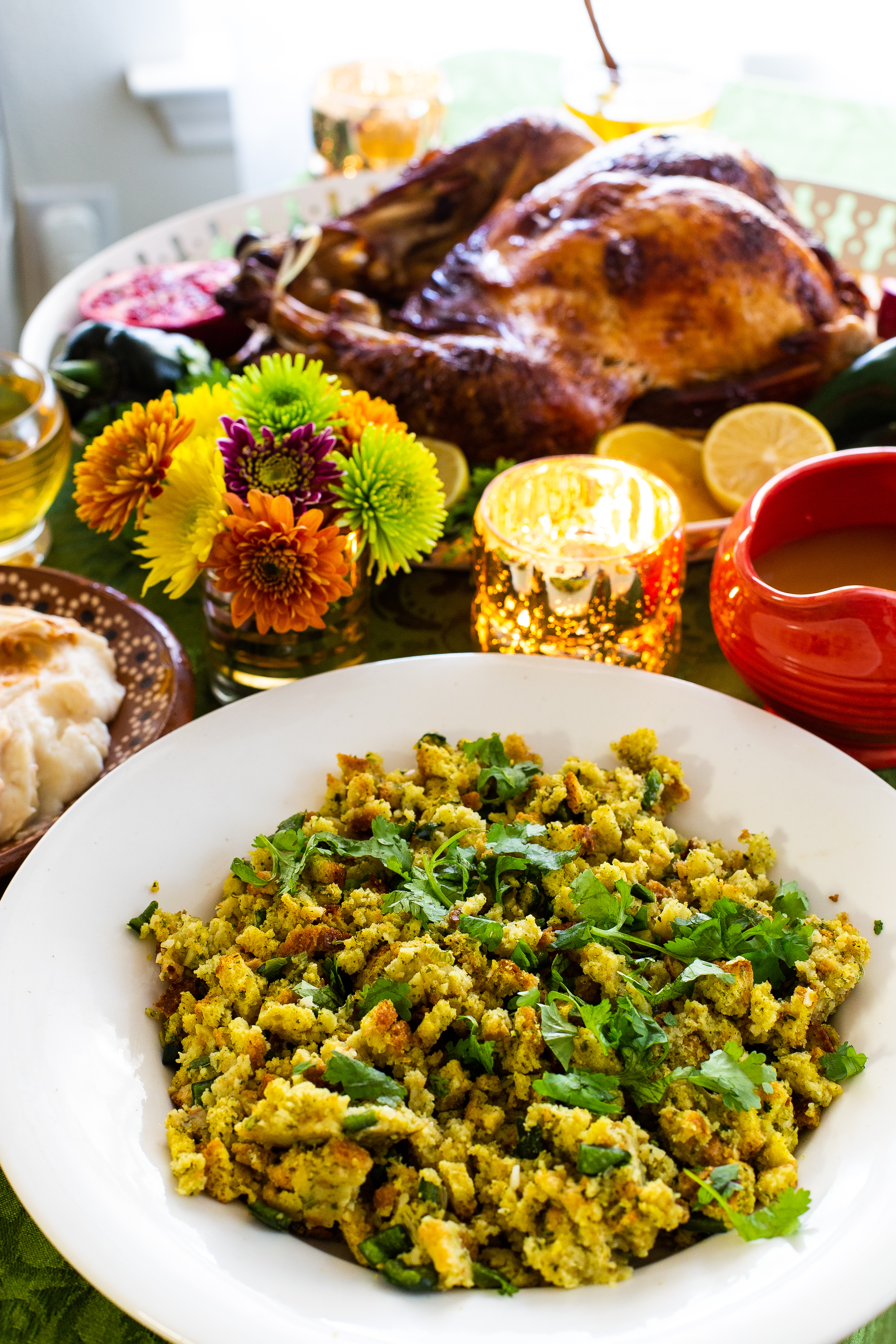 I'm hosting Thanksgiving this year and I couldn't be happier. My menu is set, recipes gathered, and my grocery list is complete.
Hosting Thanksgiving can be both exciting and stressful. I can clearly remember burning the turkey the first year I hosted Thanksgiving. There was no saving it. I broke into tears my perfect day was ruined.
My mami and sisters joined me in the kitchen to ensure me Thanksgiving was not ruined. I cried, they made me laugh and all was well. We proceeded to feast on sides and sandwiches. It was a great day.
After that day I decide not to put added pressure on myself – it takes all the fun out of the day. I set my menu, create a solid grocery list and am always open to new tasty ways to relieve the stress.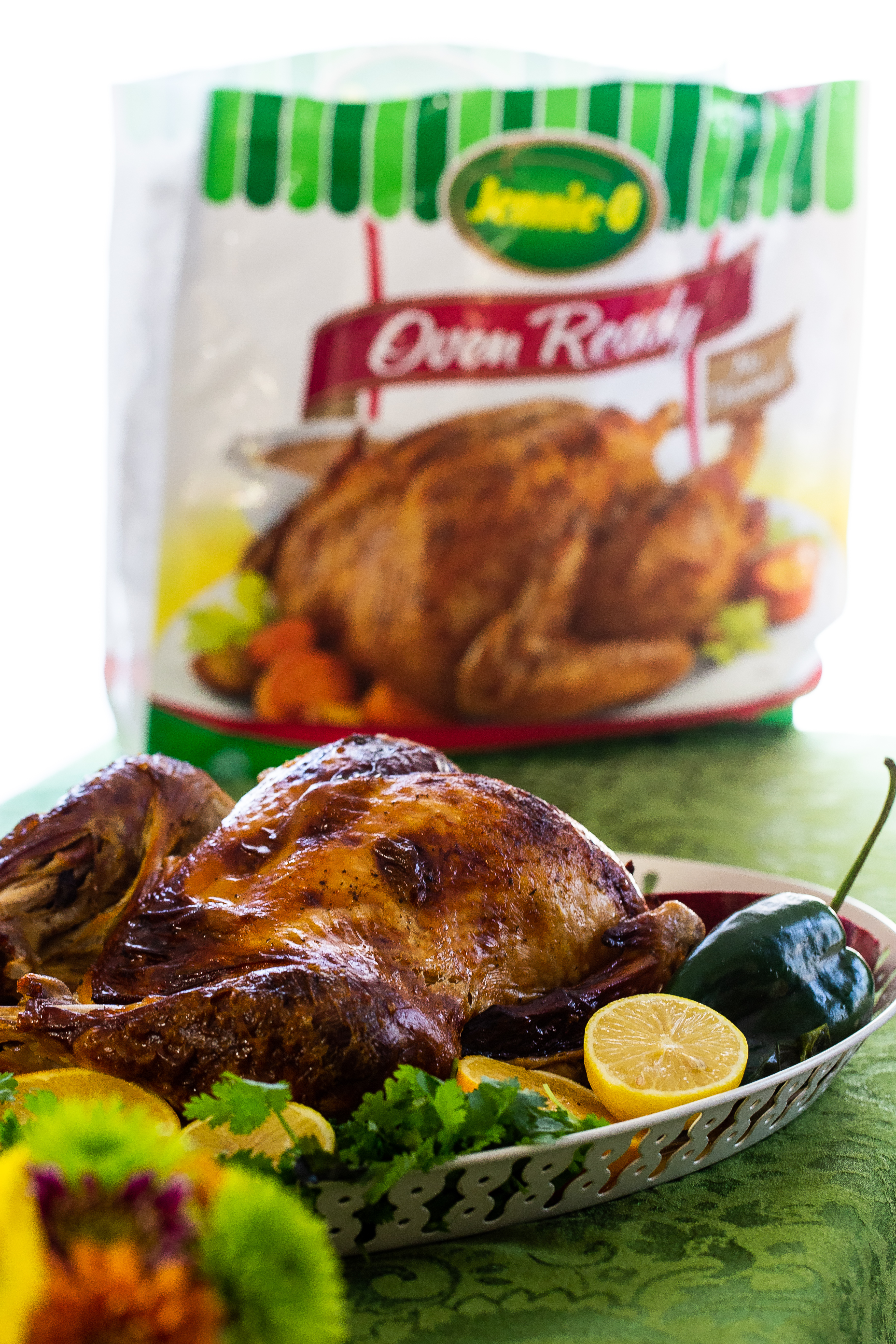 This year I've partner with Jennie-O to showcase how delicious and easy it is to whip up a wonderful Thanksgiving featuring their Oven Ready Whole Turkey.
OVEN READY™ Whole Turkey comes preseasoned and cooks safely in a bag for juicy flavor that's locked in. And it goes straight from the freezer to the oven with no thawing required, perfect for busy schedules! Here's a simple How-To Video to learn more about cooking OVEN READY™ Whole Turkey and look for it in the freezer section of your grocery store
GLUTEN FREE, PRESEASONED, WITH GRAVY PACKET, COMES SEALED IN COOKING BAG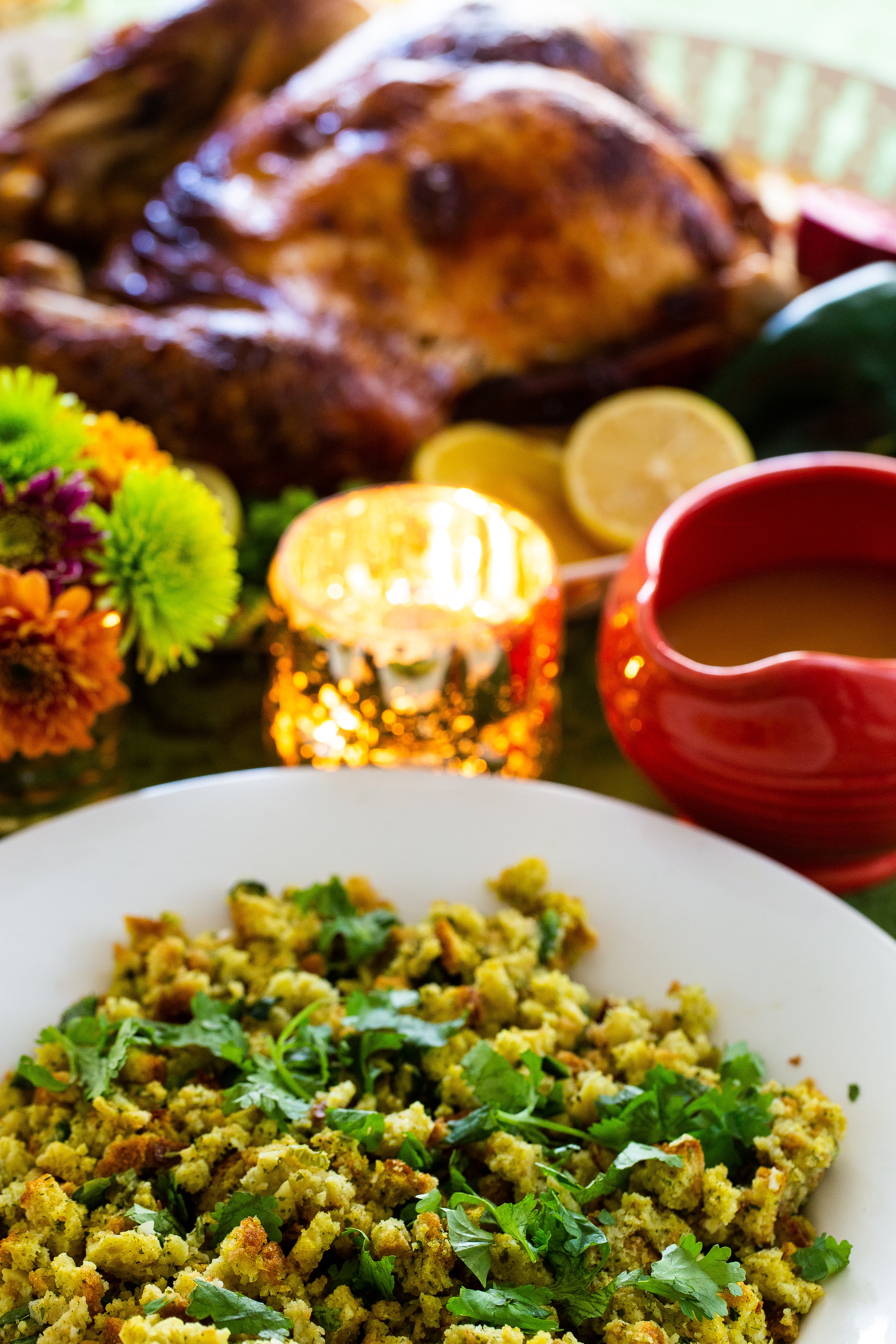 And what's Thanksgiving without dressing? Today I want to share with you a simple Thanksgiving dressing studded with poblanos that is the tastiest side dish. Studded with plenty of poblanos my dressing can be made with homemade cornbread or store-bought.
Poblanos, onion, and celery are sautéed until soft, seasoned with fresh thyme, salt and pepper before mixing with cornbread. Baked until toasted my poblano dressing is the ultimate side dish for your Thanksgiving.
Poblano Cornbread Dressing
Yield 8-10 Serves
Ingredients
2 (8-inch) pans of home-made or store-bought cornbread, cut into 1-inch cubes
8 tablespoons unsalted butter
1 onion, finely chopped
2 celery ribs, finely chopped
2 poblanos, seeds removed, diced
1 tablespoon finely chopped fresh thyme leaves
1 teaspoon salt
1 teaspoon black pepper
2 cups chicken or turkey broth
2 large eggs
1/4 cup cilantro, washed, chopped
Instructions
Preheat the oven to 375 degrees. Liberally spray a pan with non-stick cooking spray.
To a baking sheet evenly spread cornbread cubes, bake in oven for 15 minutes until toasted and lightly browned, stirring once to evenly bake. Remove from the oven and set aside to cool.
In a skillet over medium-high heat butter. Add the onions, celery and poblanos and cook, stirring occasionally, until softened and golden, about 10 minutes.
Add the thyme, season with salt and pepper and transfer to a large bowl. Add the toasted cornbread and toss gently to combine.
Whisk together the broth and eggs and pour over the cornbread mixture. Toss gently until evenly moistened.
Transfer the mixture pan, cover with foil and bake for 1 hour. After 1 hour, remove foil and bake an additional 15 minutes or until top is lightly toasted. When ready to serve, garnish with cilantro.
Courses Dinner
Cuisine Mexican