Hello dears, how was your weekend? Mine was F-A-N-T-A-S-T-I-C!!!  Yup it was one of those weekends when there's no commitments, no obligations,  Nada I mean Nada. Those are rare around our house so we took complete advantage and just let loose, went with the flow and enjoyed each other's company. On Friday we hit a bookstore that was going out of business,  we arrived foaming at the mouth (well at least I did) and hit that store like there was no tomorrow. 
I found some real gems in the History section and of course Chuls came out with two cookbooks, my younger one couldn't decide so she quickly persuaded daddy to buy them all, which I knew he would.  How lucky for me there was a cute ,little kitchen store right next to the bookstore, coincidence- I think not….   I finally made the plunge and purchased one of those electric griddles, ya know those ginormous- nonstick flat surfaces where you can make 10lbs of bacon and 85 pancake all at the same time???  I  have a cast iron griddle for my stove top which works perfect, but it gets really hot and I'm afraid Chuls will burn her arm- ya see where I'm going with this? Yup, she made breakfast–  I bring you pretty pancakes that chuls made us for Sunday morning, she did a really cool trick (well I thought it was cool) instead of using milk or buttermilk for the batter she juiced strawberries and blackberries.  She made two batches one tinted pink (her fav color) the other batch tinted purple (pips 5yr fav color). She put the purple batter into one of those plastic thingys you use to drizzle sauces on your food, but she drizzled purple batter on top of the pink. They came out very cool, a kinda tye dyed effect…"very fashionable" like my 5yr said. Enjoy!!
Quick tip – after you juice the berries- strain
You can use any batter recipe, I'm not sure the effect would be as clear on whole wheat..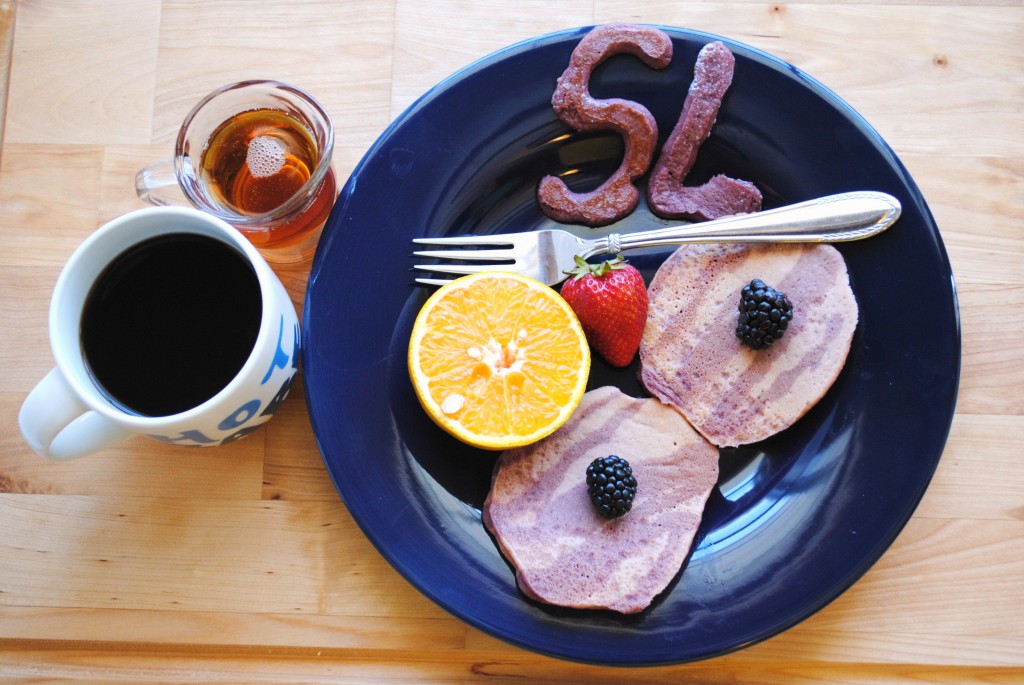 See my coffee cup, it says HOT BABE, hubby got it for me—it totally cracks me up and grosses my kids out…Too funny!!!
"Your not a BABE, your a MOMMY!!!"  Have a great week…