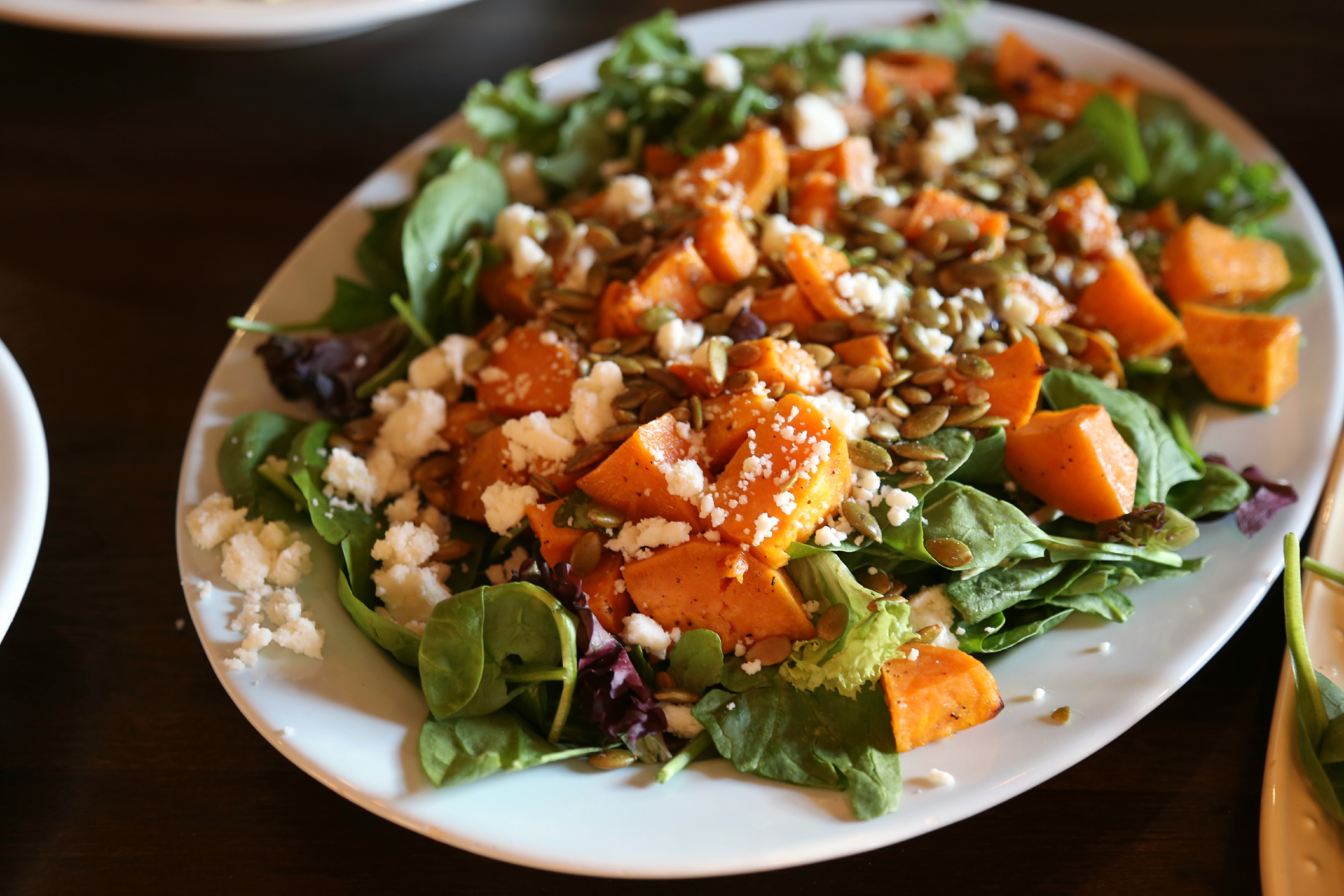 Roasted Sweet Potato Salad with Hibiscus-Lime Vinaigrette
I recently hosted a FEED supper in San Antonio with a few of my favorite bloggers. The goal was to come together, share a meal and raise donations to provide meals for people in need. I'll post a full re-cap of my first feed supper soon, but today I want share with you the fall inspired salad I served.
Roasted sweet potatoes served over a bed of mixed greens, topped with queso fresco, pepitas and dressed with hibiscus-lime vinaigrette. I roasted the sweet potatoes and made the vinaigrette in advance for ease of assembling.  Skin off, cubed, seasoned with cumin, salt and pepper the sweet potatoes went into the oven until tender.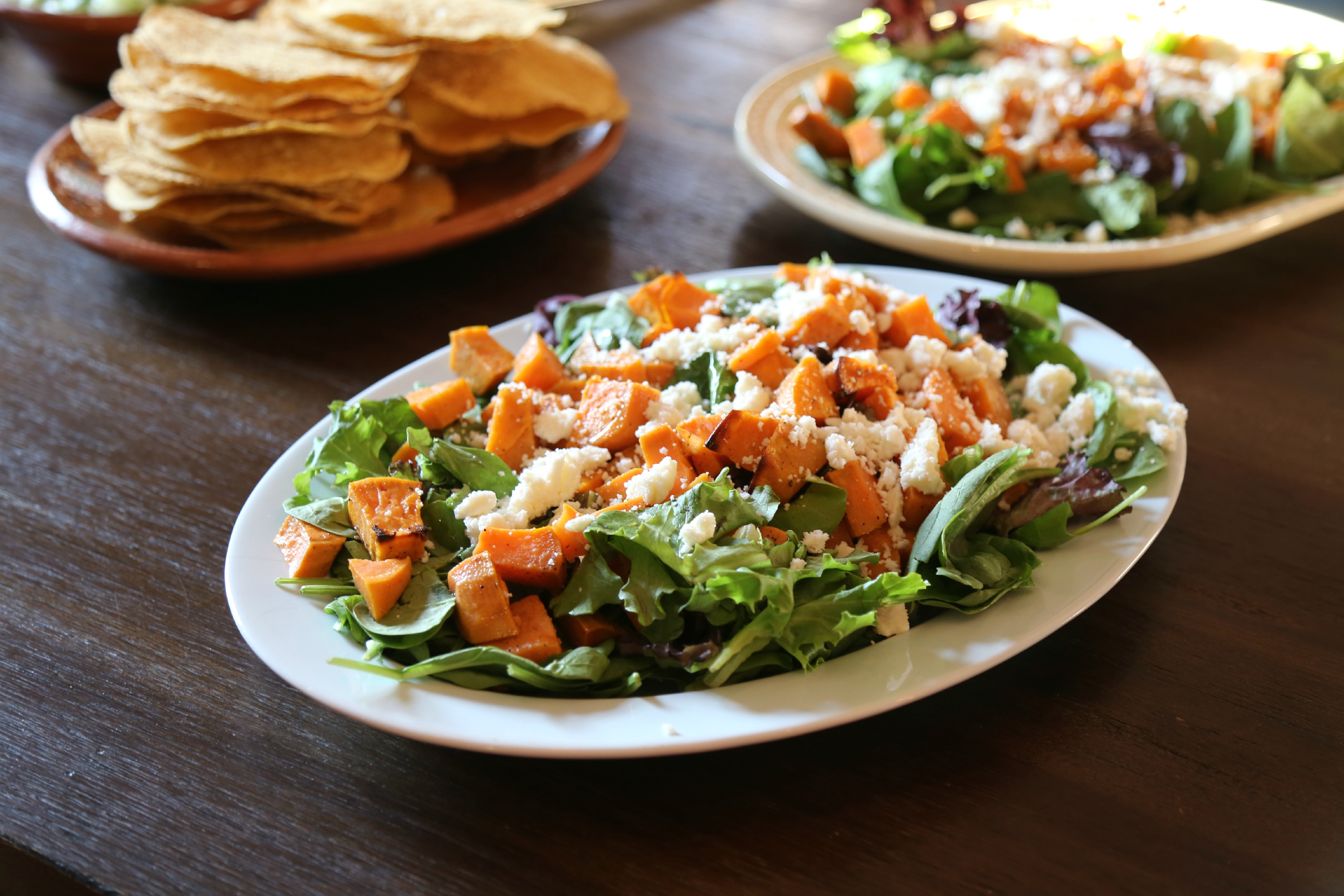 The hibiscus-lime vinaigrette was the star of the show. I received the sweetest compliments and am happy to say this vinaigrette is impossibly easy to make. I make it often since I always have agua de Jamaica on-hand.  I add all the ingredients in a mason jar, shake until well-blended and I'm ready to dress my salad. I lightly dress the salad, then leave the jar for my guests to add more if they like.
This vinaigrette will keep in the fridge for up to one week.  Allow to come to room temperature and shake to re-mix before serving.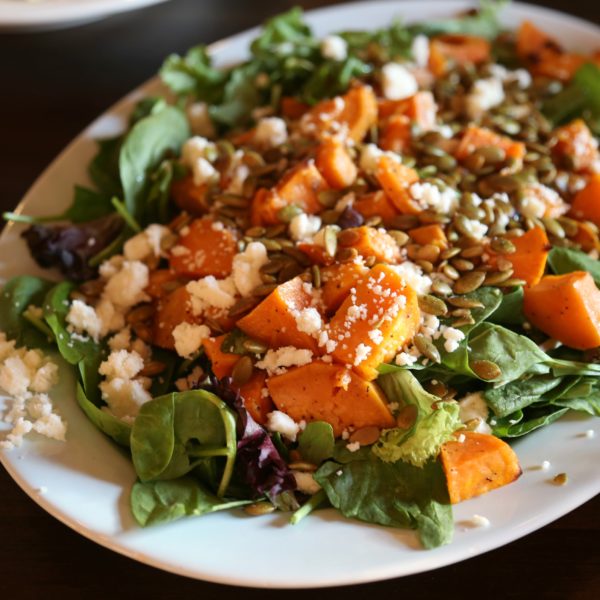 Roasted Sweet Potato Salad with Hibiscus-Lime Dressing
Ingredients
For vinaigrette:

1

cup

agua de jamaica

½

cup

olive oil

4

tablespoons

fresh lime juice

2

tablespoon

red wine vinegar

1

teaspoon

kosher salt

or to taste

1

teaspoon

freshly ground black pepper

or to taste

For Salad:

4

sweet potatoes

peeled and cut cubes

1/4

cup

olive oil

4

teaspoons

ground cumin

1

teaspoon

salt

6

cups

mixed greens

2

cups

queso fresco crumbled

1

cup

roasted pepitas

1

teaspoon

black pepper
Instructions
For vinaigrette: Combine ingredients in a small jar; shake to blend. Adjust seasoning to taste, serve with salad.

For Salad: Pre-heat oven to 425 degrees. Place sweet potatoes in a single layer on a baking sheet and drizzle with oil, turn to coat and season with cumin, salt and pepper. Roast for 25 to 30 minutes in oven or until tender. Allow to cool. (sweet potatoes can be made a day in advance). To assemble place mixed greens on serving platter, add roasted sweet potatoes, crumbled queso fresco and pepitas. Dress with vinaigrette and serve.