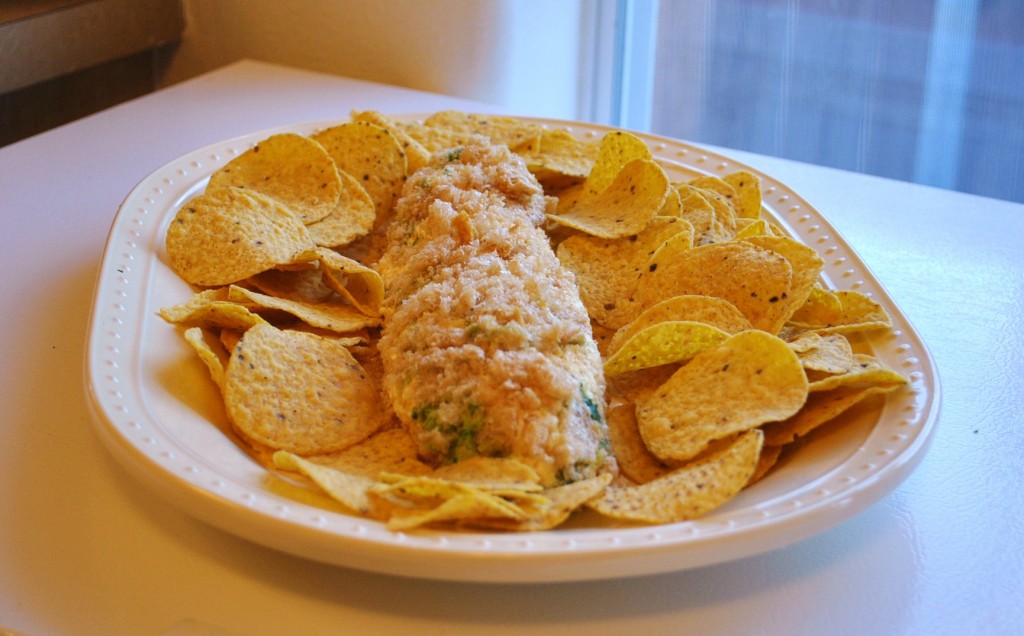 I am always explaining to my daughters that more of anything is not always the best thing.
More candy- no
More soda- no
More fries- no
Well I went to make this recipe and thought to myself maybe I should add another avocado to the mix. I thought it would add more creaminess- is that a word? Well my daughter walks by and says, mom should you add more? Here it was the daughter using the same advice I gave her to test me….. Well I just thought- forget it. She was right I should have held back, but the crushed chicharrones covered my mistake- yes!!  Lesson learned. Enjoy!!
Rollo de Queso y Aguacate
William Sonoma
Savoring Mexico
1/2 lb (250g) cream cheese at room temperature
1 avocado preferably Haas
2 tbsp chopped fresh cilantro
1 tbsp finely chopped white onion
1 serrano chile finely chopped
1/4 tsp fresh lime juice
sea salt to taste
2 cups crumbled chicharrones or 2 cups sesame seeds toasted
totopos or tortillas chips
Place the cream cheese between 2 sheets of parchment paper. Using a rolling pin, roll to form a rectangle about 6 inches by 8 inches and 1/2 inch thick. Remove the top sheet.
Cut the avocado in half, remove pit, and scoop the flesh into a bowl. Mash until it is rather smooth, leaving some chunks to add texture. Stir in the cilantro, onion, chile, lime juice and salt. Spread the avocado mixture evenly over the cream cheese. Using the bottom sheet of paper, roll up the cream cheese to form a log.
Coat the roll completely with the crushed chicharrones or seeds. cover lightly with plastic and chill in fridge for 15 minutes before serving. The roll can be made in advanced for 6-8 hours then set out at room temperature for 30 minutes before serving.
Unwrap the roll and place on a serving platter or tray. Serve with totopos or crackers.