Sweet Life Disclosure: This blog post was sponsored by Aldi.  All opinions are my own.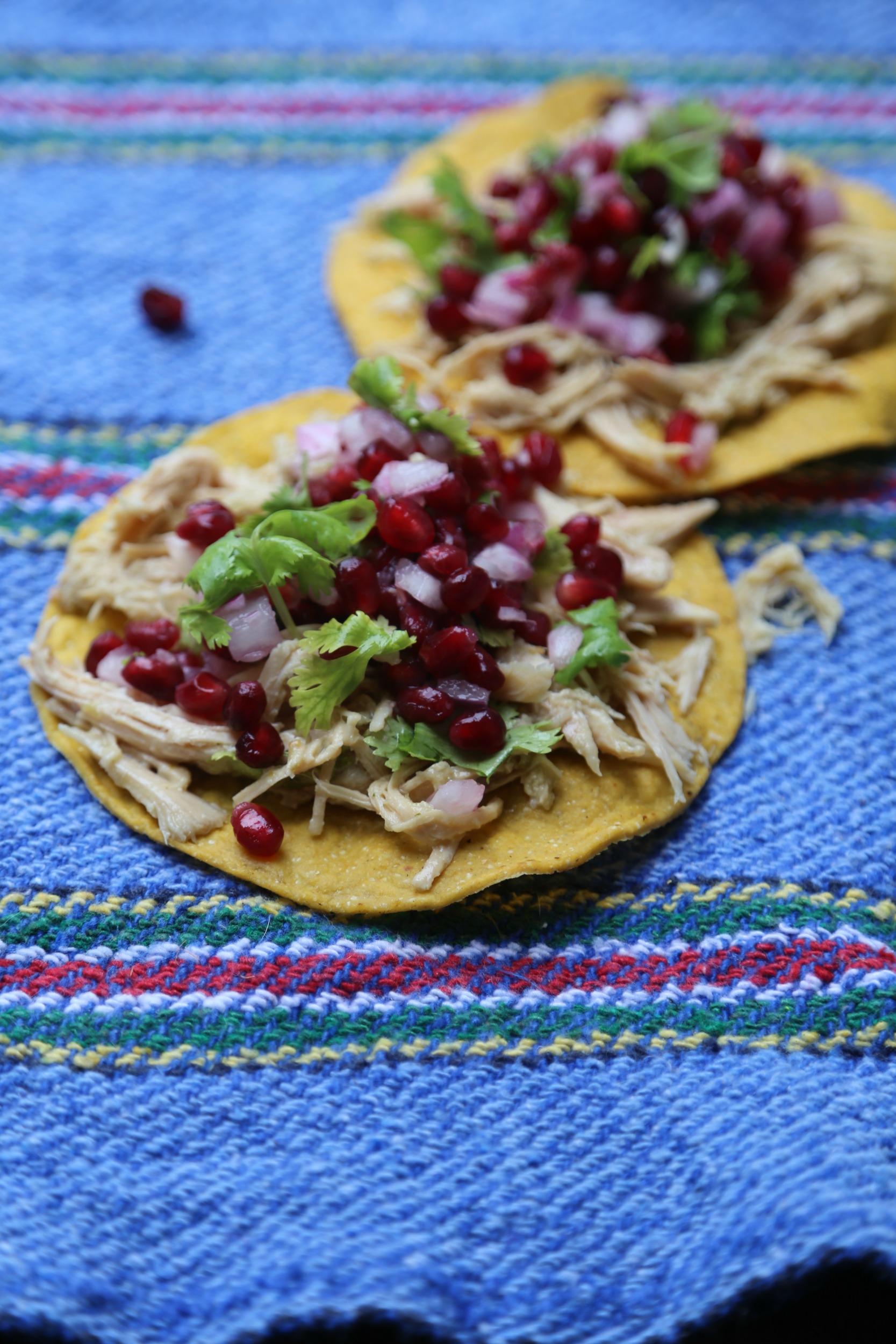 The holiday season is brimming with good food and time well-spent with family and friends.  It's one of my favorite times of year and I absolutely love entertaining and serving up delicious meals for all of my guests.
And all that entertaining can get busy.  On those days and in between holiday parties, I like to keep it simple and save time with quick and easy meals that are flavorful and super satisfying.  
That's why I love tostadas.  They're still one of my favorite go-to meals, especially during the holiday season, when I'm already spending a lot of time in the kitchen.  They're super easy to make and can be eaten as an entree or as a hearty snack in between meals.
Just serve up a batch of warm, crispy corn tortillas and pile on all of your favorite toppings!
And tostadas are super versatile.  They can fit a variety of diets, including vegetarian and vegan diets.  You can serve your tostadas stacked high with delicious, juicy meats or simply spread on a layer of beans, avocado or salsa for an easy snack.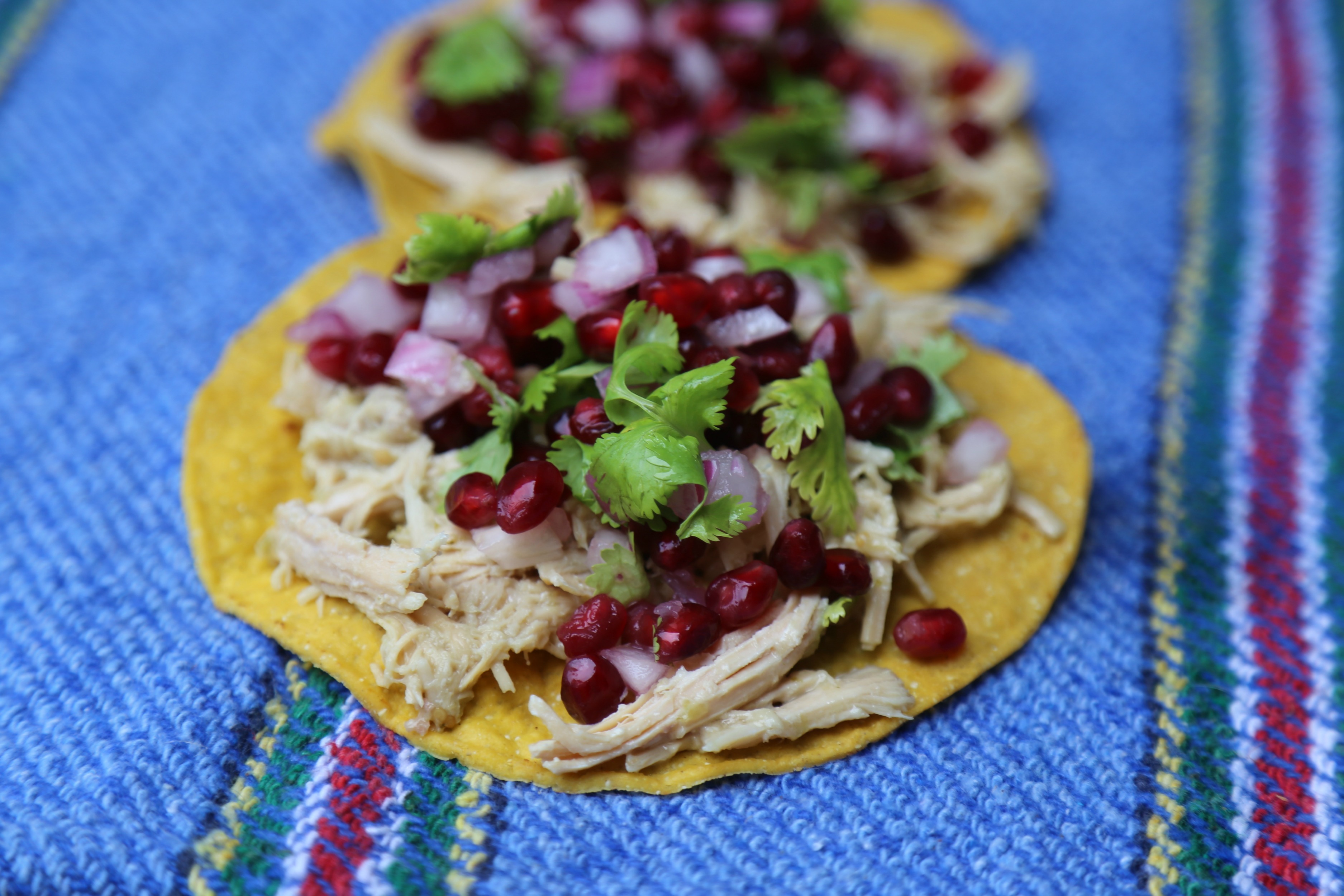 These easy shredded chicken tostadas are super simple and served up with easy-to-find ingredients from your local Aldi's market.  That way, you can spend a little less time in the kitchen, and a little more time with your holiday guests.
Today, I'm going to show you how to create these rich, savory shredded chicken tostadas, topped with a refreshing and slightly sweet pomegranate salsa.
To keep things easy, I like to use my slow cooker to prepare the shredded chicken.  I can toss in the chicken, a delicious marinade made with Aldi's Pueblo Lindo Green Enchilada Sauce, my favorite spices, and just let it set while I relax with family or guests.
Once the chicken is ready, I warm Aldi's Pueblo Lindo Casera Style Tostadas on the comal to bring out their natural aroma and add that slightly charred, crispy texture to them that I love.
To serve, simply place a warm tostada on a plate and top with your shredded chicken and add your favorite toppings.  
I like to add a festive touch to my holiday tostadas by topping them with a delicious pomegranate salsa.  This salsa will add a pop of color to any holiday plate and a sweet contrast to savory dish, like these juicy shredded beef tostadas.
Enjoy!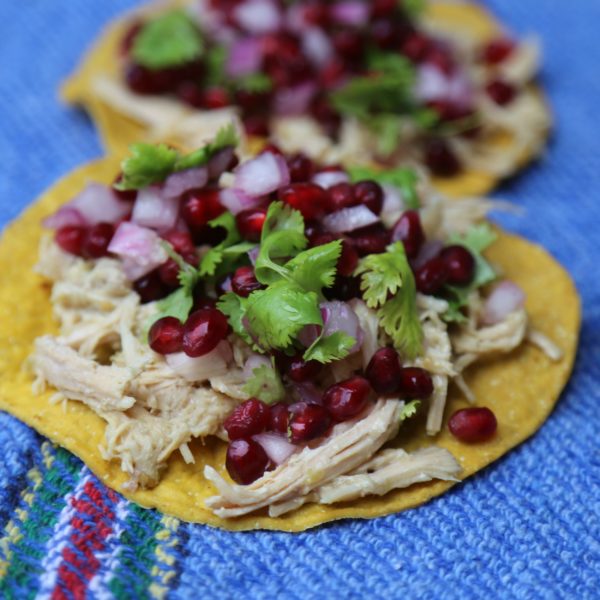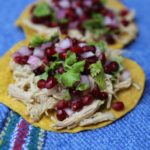 Shredded Chicken Tostadas with Pomegranate Salsa
Ingredients
serves 4

4

boneless skinless chicken breasts

½

cup

onions

chopped

1 15

oz

can green enchilada sauce

1

tsp

garlic salt

½

tsp

salt

½

tsp

pepper

Aldi Puebla Lina Tostada shells
Instructions
Turn slow cooker pot on high.

Add chicken, onions and season with garlic salt, salt and pepper.

Pour enchilada sauce over chicken.

Cover and let cook on high for 6-8 hours, or low 8-10 hours, or until chicken falls apart easily.

Remove chicken from crock pot and put in a large bowl or plate.

Shred chicken with a fork.

Top warm tostadas with shredded chicken and top with pomegranate salsa.