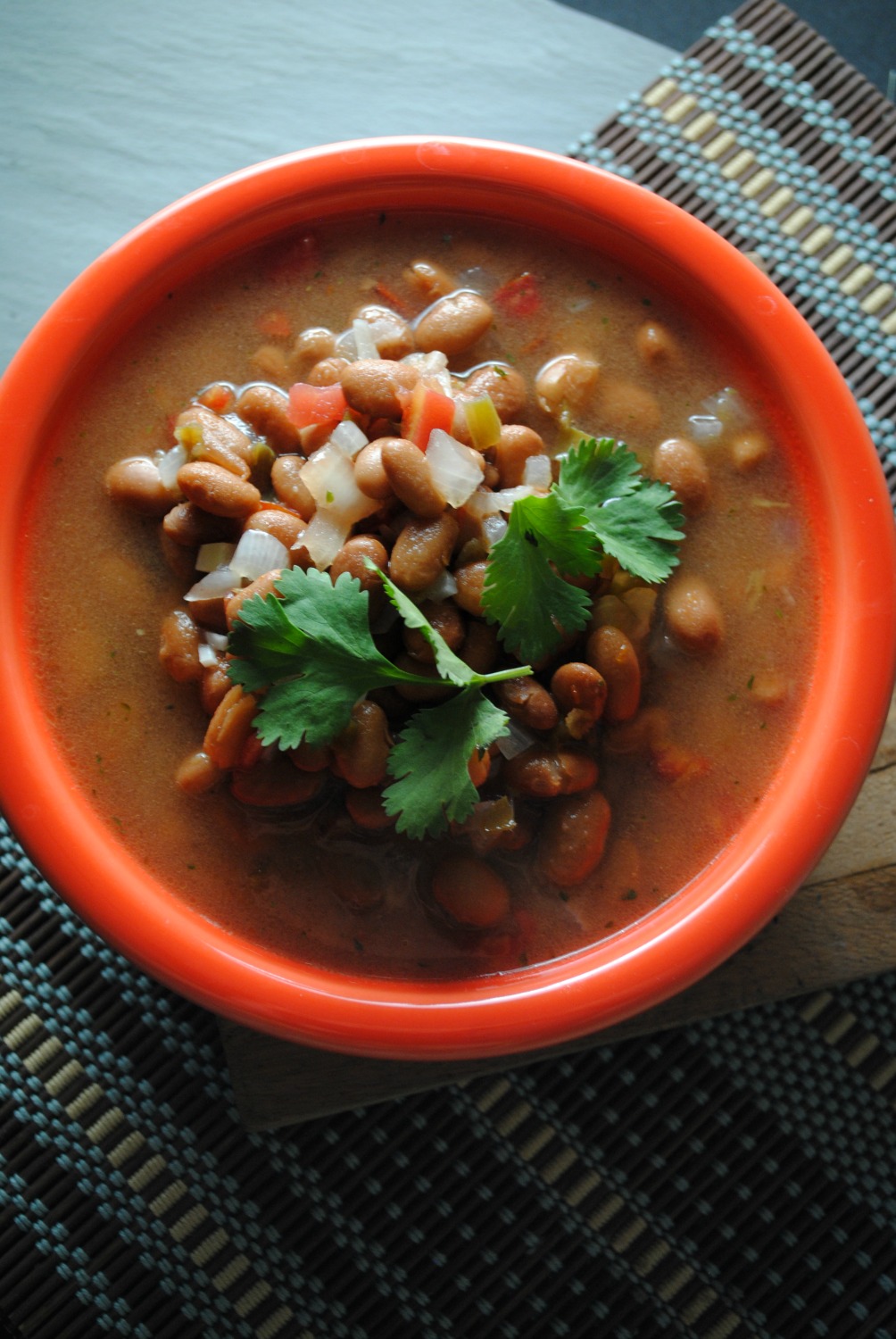 Simmered Pinto Beans
It's no secret that I adore pinto beans.  I could live on solely a big steaming bowl of pinto beans topped with queso fresco and a drizzle of salsa for breakfast, lunch and dinner.  The only problem is I am married to a man who desires a little variety in his life, bummer.  I prefer to make my pinto beans from scratch low and slow, simmering away until they reach perfection.  And I was under the impression that my entire family followed this golden rule of homemade pinto beans that was until I had dinner at my older sister's house.
A few weeks ago she invited us over for dinner.  She had roasted a few chickens, sautéed a medley of squashes, whipped up a big house salad and made a pot of pinto beans.  We quickly served the kiddos, sent them on their way and sat down to enjoy our plates.  Her beans were smoky, tender swimming in a rich bean broth, they were amazing, so amazing I had three bowls until I finally asked for the recipe.  She laughed and said they were from a can, what? She went on to explain on days where she has no time or patience or desire to sort, rinse and babysit a pot of beans all day she doctors up a few cans of beans.  I've made pinto beans from scratch forever the same way my mami taught me forever and while the idea intrigued me I couldn't imagine the can stuff would live up to my beloved homemade version.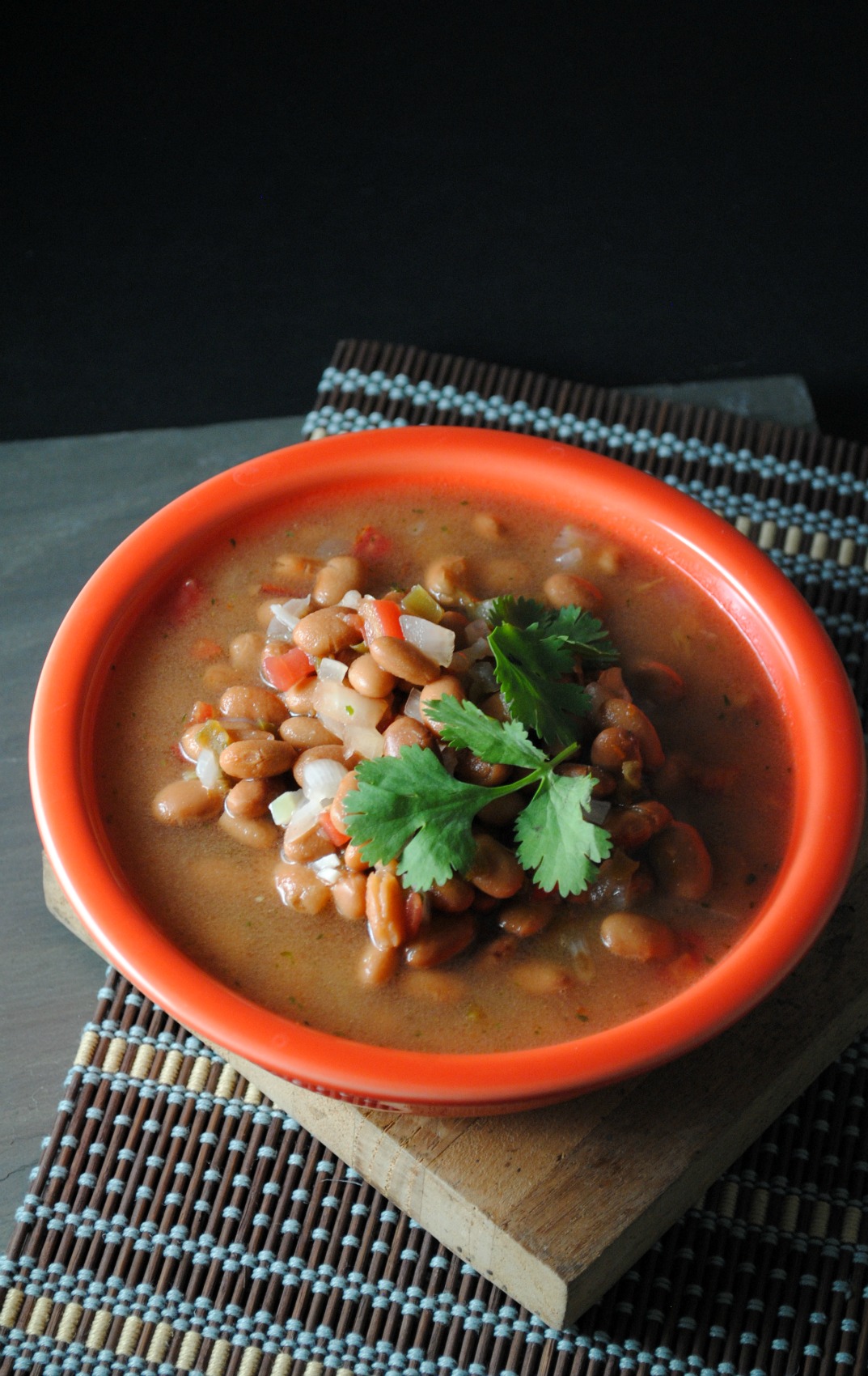 When I ran across this recipe in the latest Cooking Light magazine for simmered pinto beans and decided to give it a try.  Hmm, could there be a middle ground for days when I also have no want to make the homemade version?  I was pleasantly surprised that this recipe only takes 15 minutes to make and requires you to rinse the canned beans and replace the liquid with chicken stock.  I quickly sautéed the onion, bell pepper, cumin and garlic. I added the beans a quick simmer and they were done and they were good, actually they were fantastic.  The entire family gave them two thumbs up.  Hey maybe my older sister's on to something with doctoring up a simple can of beans.
These simmered beans really pop in my favorite bowl from Fiesta in the color poppy. Don't you agree the color is stunning? The color poppy is the signature color for 2014, dishwasher, oven, and microwave safe, lead-free and made in the USA I see many bowls of pinto beans in our future.  For more information on Fiesta dinnerware by The Homer Laughlin China co head over to their facebook page.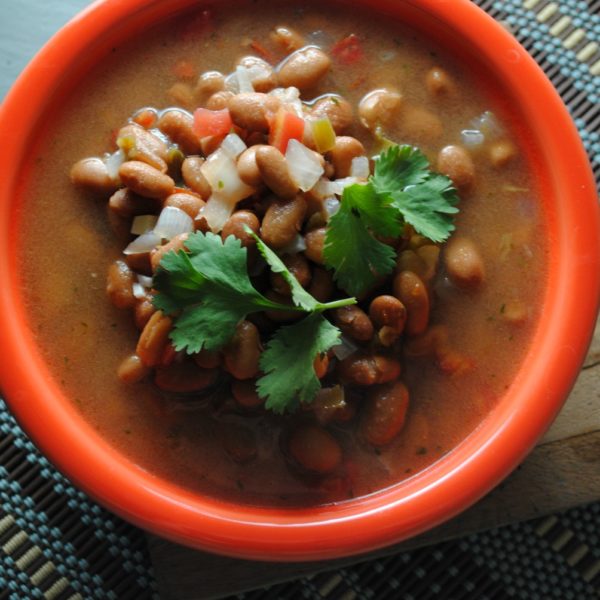 Simmered Pinto Beans
Ingredients
2

teaspoons

olive oil

1/2

cup

chopped onion

1/2

cup

chopped red bell pepper

1/2

teaspoon

ground cumin

2

garlic cloves

minced

1/2

cup

unsalted chicken stock

1/8

teaspoon

kosher salt

1/8

teaspoon

freshly ground black pepper

1

15-ounce can unsalted pinto beans, rinsed and drained

1

tablespoon

lemon juice

2

tablespoons

chopped fresh cilantro
Instructions
Heat a saucepan over medium-high heat. Add oil; swirl to coat. Add onion, bell pepper, cumin, and garlic; sauté 2 minutes. Add stock, salt, black pepper, and beans; simmer 7 minutes. Stir in juice and cilantro.