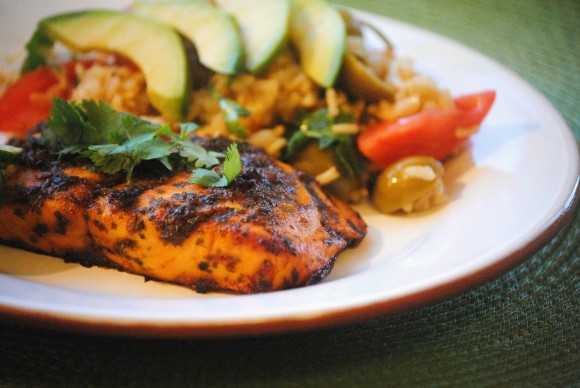 This recipe was originally posted over at New Latina where I contribute quick and healthy Latin inspired dishes twice a month.  Thank you for your continued support, enjoy! Comments Closed
After a busy day we often turn to the drive thru for a quick dinner. There's no shame in it we have all fallen victim to this, myself included. The after is what gets me. After I finish my drive thru meal I often find myself feeling sluggish, sleepy and not at all satisfied with my dietary choice for the evening. In crazy,busy days is when I am in the most need for a delicious healthy meal to rejuvenate me for the next day.
Healthy, delicious and quick is this possible? Yes, using your broiler you can have a great dinner in under 10 minutes.
Salmon dressed with the flavors of cumin,chipotle, lime and cilantro add spice to your meal. Serve alongside a salad, rice or steamed vegetables.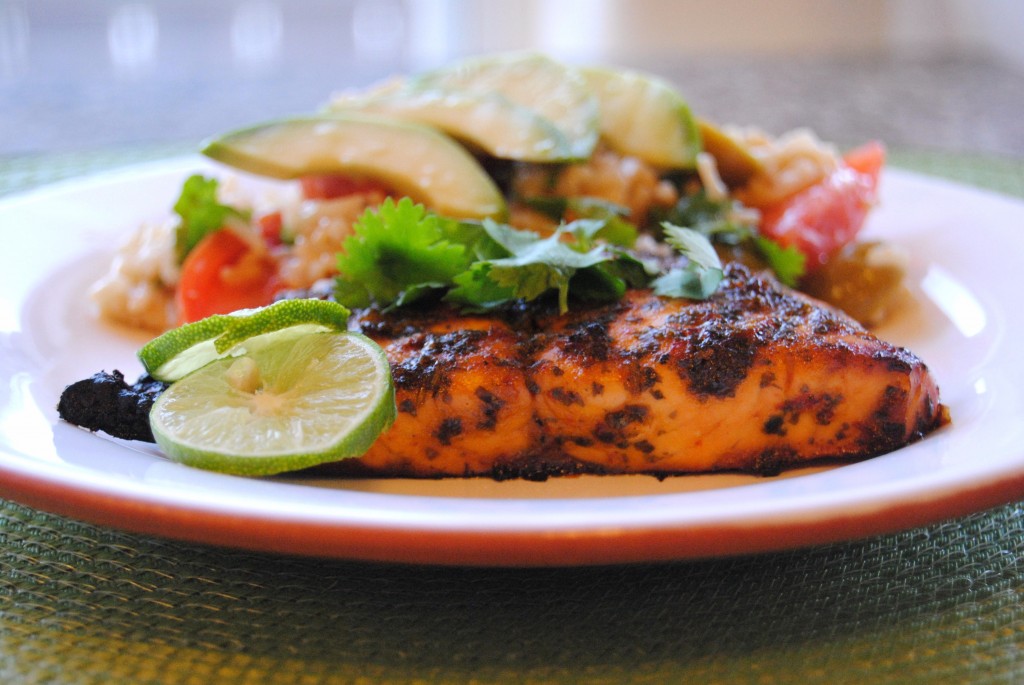 Did you know? Salmon offers a wide range of benefits for today's busy woman on the go. Salmon is a great source of omega 3 fatty acids. Our body alone cannot produce this fatty acid so we often turn to vitamins. Omega 3 helps in reducing the risk of heart disease, aids in healthy joints and skin. The American Heart Association recommends that adults have at least two servings of omega 3 per week. At 1.9 grams per 2 oz fillet the Atlantic Salmon provides a great health boost with the added bonus of a delicious dinner idea! Who needs the drive thru? Enjoy!
Spicy Salmon (serves 4)
by Vianney Rodriguez
4-(6oz) salmon
1 cup chopped cilantro, stems removed
1 tablespoon chopped chipotles in adobo, plus 1 teaspoon adobo sauce
4 tablespoons fresh lime juice
1/2 teaspoon cumin
1 garlic clove
3 tablespoons olive oil
1 teaspoon salt
1/2 teaspoon freshly ground pepper
Preheat broiler and line baking sheet with foil for easy clean up.  In a blender add cilantro, chiles, adobo sauce, lime juice,  cumin, garlic clove, oil, salt and pepper.  Blend until smooth.  Coat salmon with sauce and place on baking sheet.  Broil fish 3 to 4 inches from heat until just cooked through, 6 to 9 minutes.