This is a compensated campaign in collaboration with Cacique and Latina Bloggers Connect.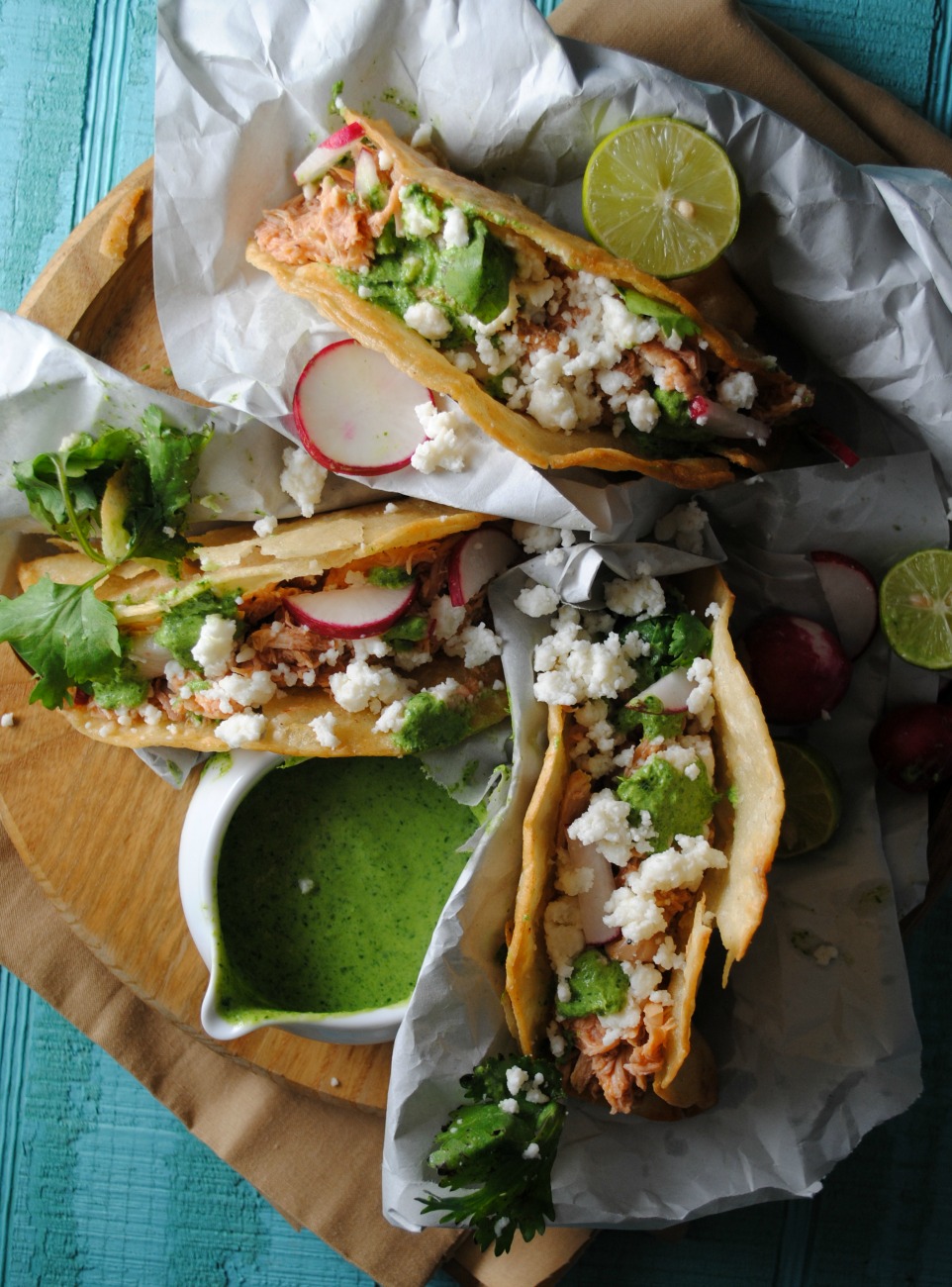 Chipotle Chicken Tacos
I enjoy hosting any major sporting event at my house, but I get stoked, really stoked to host Soccer games! I played soccer throughout my childhood until the age of 13 and boy was it fun.  I was fortunate enough to be on the same team as my older sis and did we have some great times.  Papi was very involved in our practices, games and training events that he has become quite the Soccer aficionado. Our family continues to be passionate about Soccer watching my nephew who has played for the last 4 years also and man can that boy play. Go Adan!
So to say we are all excited about the upcoming major soccer event happening in just a few days it putting it lightly. Decorations, t-shirts and menus are coming together. Everyone has their favorite teams, favorite players and of course favorite foods to enjoy throughout the game. The entire familia huddled together around the TV watching the game – I can't wait.
When deciding on my menu I knew I wanted a Mexican theme to support our beloved Mexican team.  The colors of the Mexican flag –yes!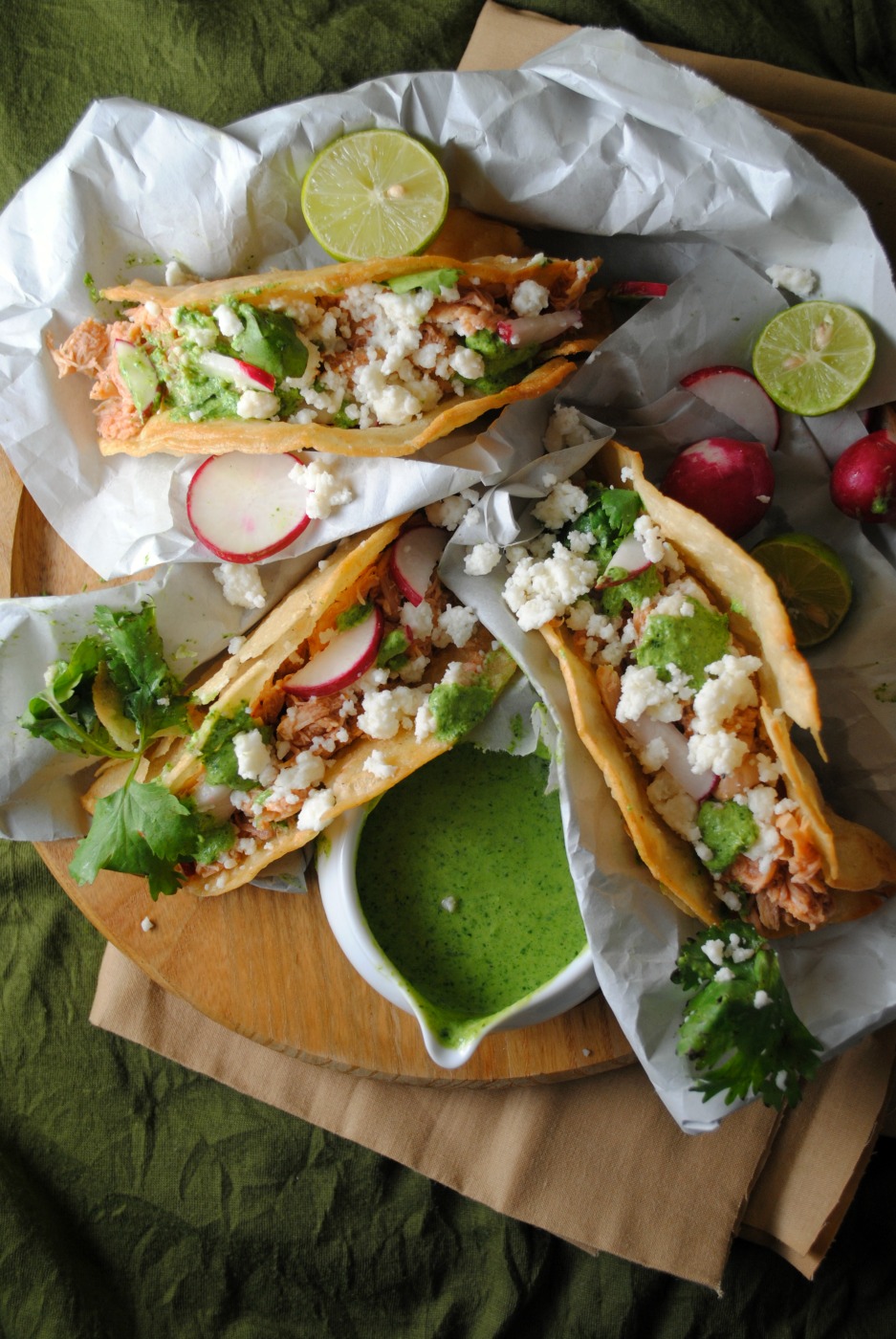 Green – White – Red
To drink big pitchers of aguas frescas in our teams colors – fresa, cucumber-mint and coconut.  Dessert was easy – gelatina (jello) cherry, lime and horchata would look amazing displayed on the soccer ball tablecloth that my sister gifted me a few years ago. I knew I wanted to serve crispy tacos brimming with a soul satisfying filling and piled high with toppings, but how would I incorporate the colors of the flag?
Then it hit me chipotles! I could make a rich tomato sauce flecked with chipotles to coat my poached chicken that would take care of red and of course I knew I could count on my reliable Cacique cheese queso fresco for white, now all that was left was green. We need a great sauce to accompany the crispy chipotle tacos. I had received such wonderful feedback on the ranchero sauce I served with my quesadillas from my family I knew I had to make another.  To the blender I added Cacique's Crema Mexicana, cilantro, lime zest and lime juice, blended until smooth and presto we had our green.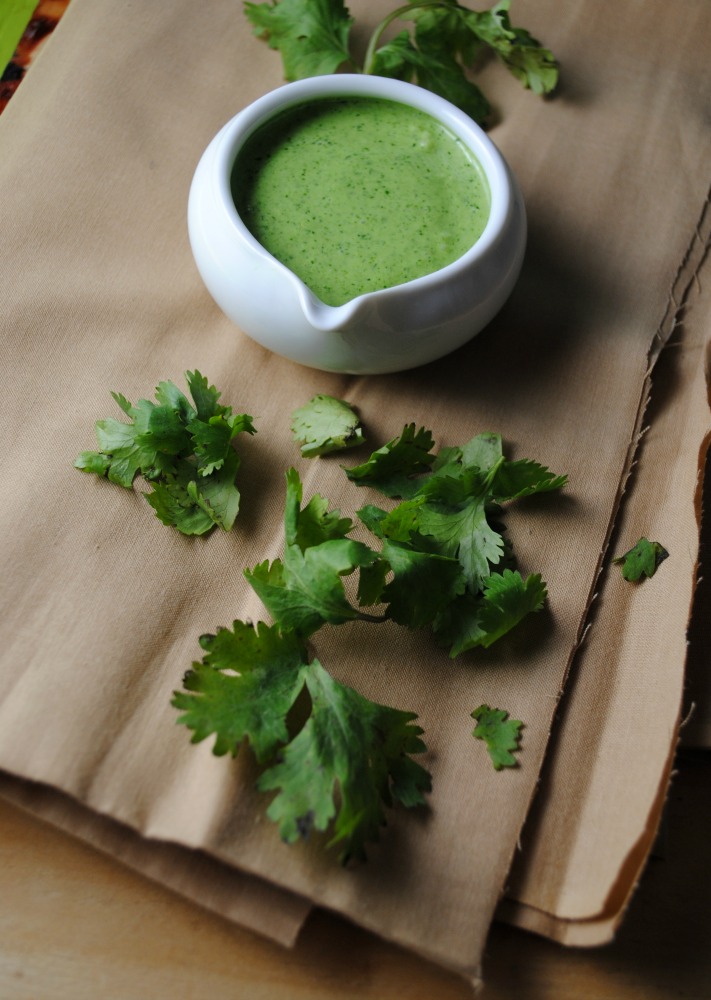 Yay!  It all came together nicely, not to mention delicious. The tacos were a hit with the famila and have been officially been placed on our Soccer Game menu.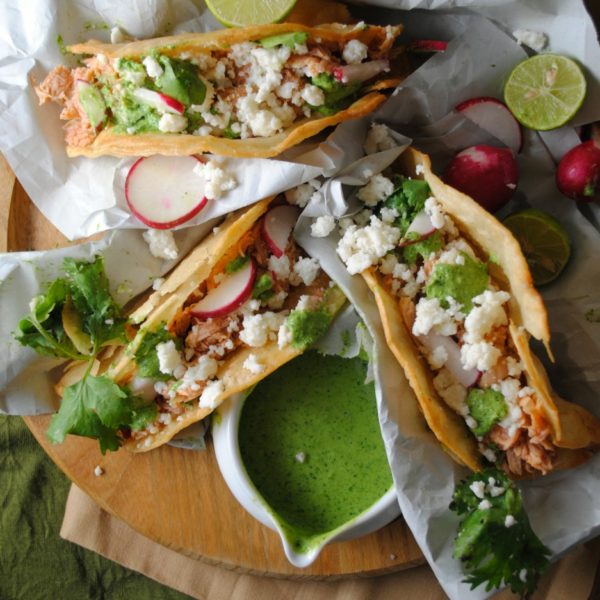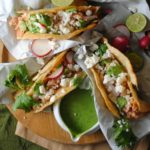 Chipotle Chicken Tacos
Ingredients
For Chipotle Chicken:

2

tbsp

extra virgin olive oil

1

large onion

thinly sliced

3

garlic cloves

minced

1-28

ounce

can diced tomatoes

2

canned chipotles in adobo

coarsely chopped

1

cup

chicken broth

Salt

Pepper

3

cups

shredded cooked chicken

store bought rotisserie chicken or leftover cooked chicken, divided

For Crispy Taco Shells

12

Corn Tortillas:

Cilantro Lime Crema – recipe below

1

cup

crumbled Cacique Queso Fresco

Sliced radishes

lime wedges

For Cilantro Lime Crema:

1

cup

Cacique Crema Mexicana

½

cup

cilantro

washed and chopped

Zest of 1 medium lime

Juice of lime

Salt

Pepper
Instructions
For Chicken:

Add olive oil to the skillet over medium high heat, add onion. Cook, stirring occasionally, until the onion is lightly browned and softened, 5 minutes. Add the garlic and cook until fragrant, 2 minutes.

Add the tomatoes and their juices, the chipotles and the broth and bring to a boil. Simmer over moderate heat, stirring occasionally, until thickened and slightly reduced, 20 minutes. Remove from heat and carefully place in a blender. Puree until smooth and season with salt and pepper and return to heat, add chicken and simmer on low. Stuff crispy tacos shells with chicken, top with queso fresco and drizzle with cilantro lime crema. Serve with sliced radishes and lime wedges.

For Crispy Tacos Shells:

Heat 1 cup oil in a heavy skillet over medium-high heat. Fry tortilla for 10-30 seconds on each side, until lightly golden. Try not to over crispy, this results in the taco shell breaking when trying to fill with chicken. Place on a paper towel lined plate to drain.

For Cilantro Lime Crema:

Add ingredients to a blender, blend until smooth – add more crema if needed. Season to taste with salt and pepper and serve with tacos.