This is a Sponsored post written by me on behalf of Sabra Dipping Co, LLC. for SocialSpark. All opinions are 100% mine.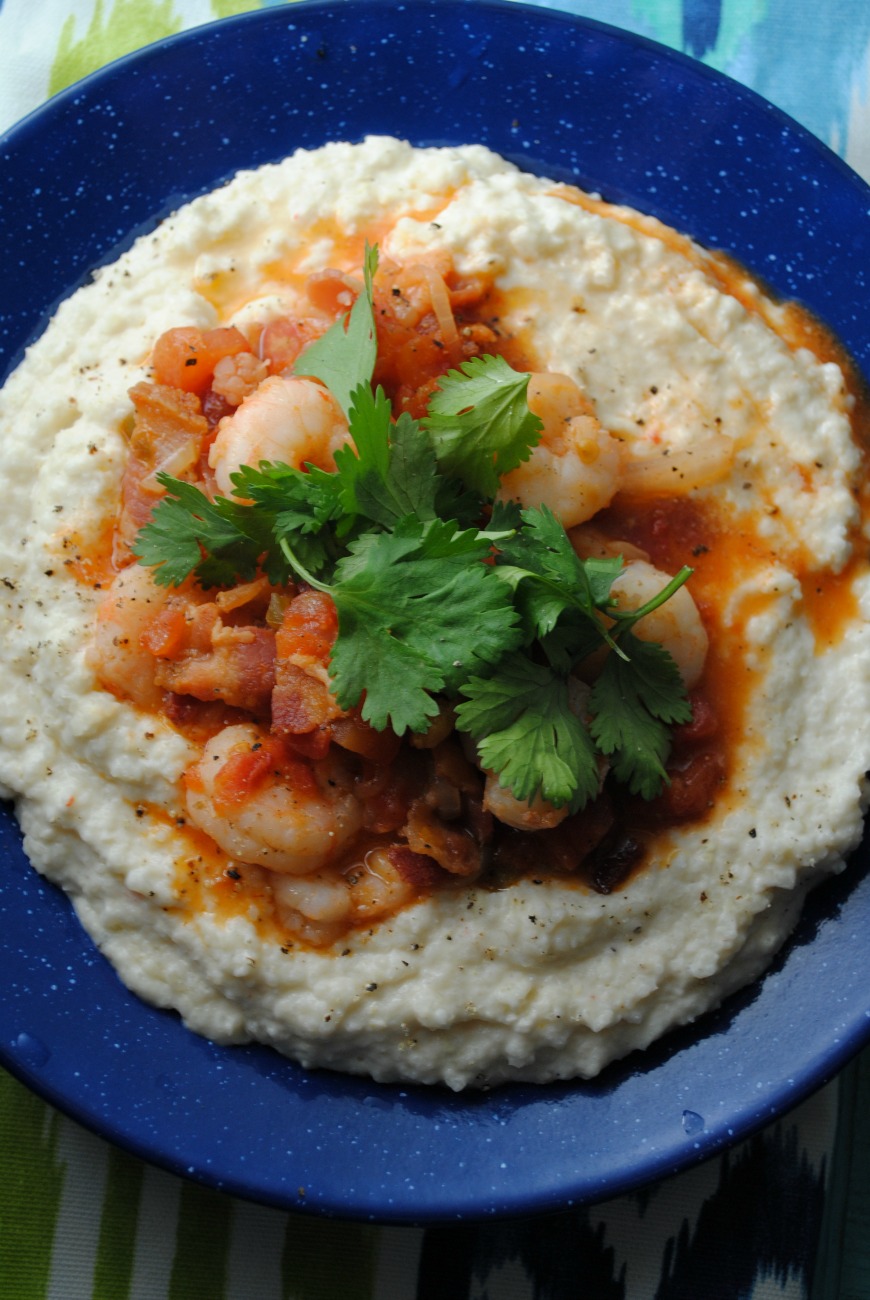 I did not grow up eating grits; in fact all I knew of grits was the famous tagline from Flo on the Alice sitcom "kiss my grits."  Mi carino who grew up an hour from where I grew up knew grits all too well. His family enjoyed them with thick slabs of ham for breakfast, with fried chicken for dinner or with fried eggs as a midnight craving after a few too many beers with thick slabs of butter, loads of butter.  His mom made them often as a side dish and with six kids I imagine they were an affordable dish she could rely on to help stretch her grocery budget.
My first taste of grits was when I lived in San Antonio and I ordered them in a local diner.  I was not impressed. A pile of gooey, tasteless goop was placed on my plate. One bite was all it took for me to never order them again.  A few years later I tried them once again at a friend's house – she said they were her mother's specialty – topped with cheese they were nothing to brag about.  I had almost given up on grits then I got married.  And he began to request them; it was time to do a little research.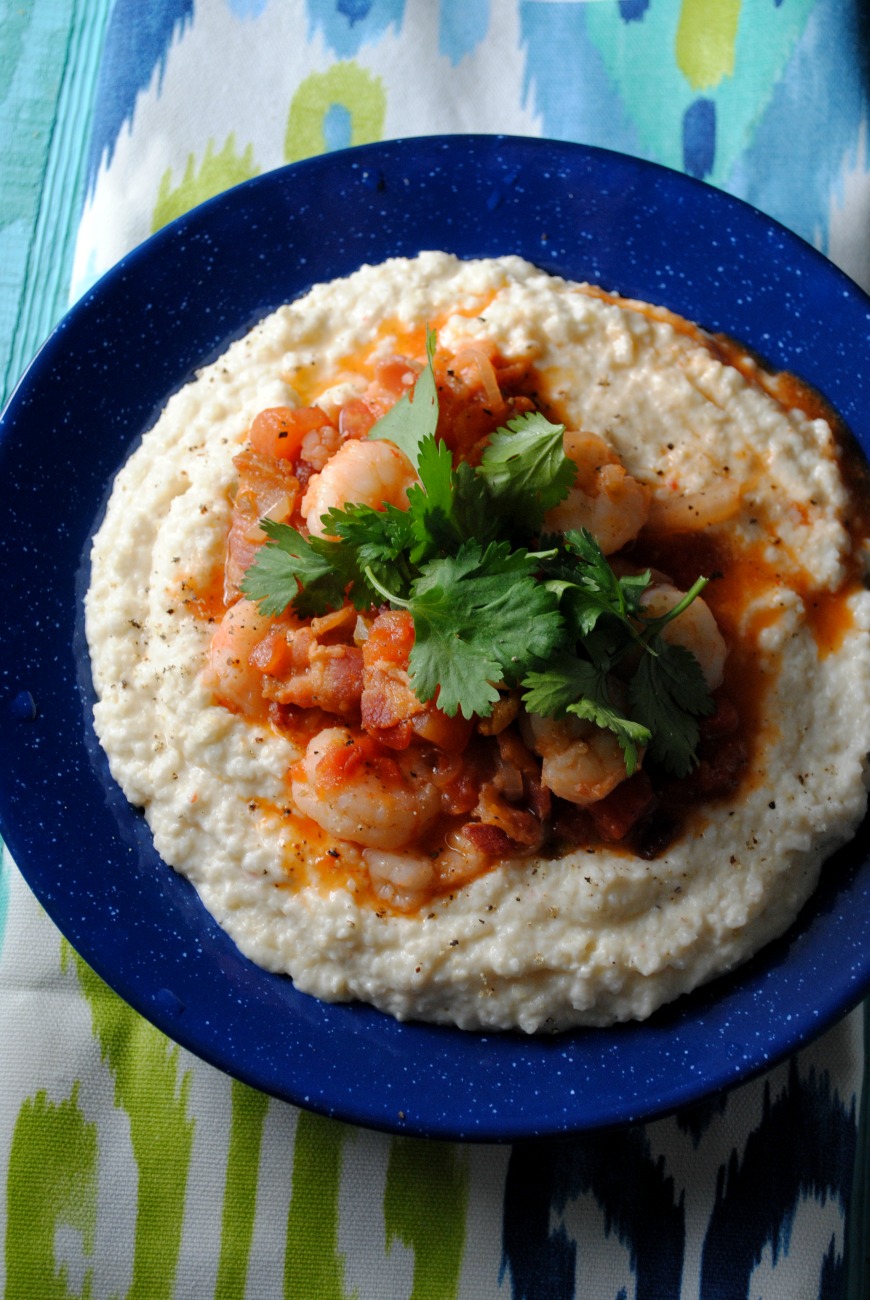 Imagine my surprise when I found out grits are made from hominy…hellooo- hominy grits, now hominy I am familiar with. I began purchasing commercially produced grits and doctoring them up for mi carino and he loved them, said they were better than his mom's.  Score –
Rewind to three years ago – my mom and I had had made an extra large batch of menudo for the family and we had a few cans of hominy left over, we always do.  They lingered in my pantry for awhile and one day in a pinch I decided to make grits to serve with spicy shrimp and reached from the hominy.  Warmed through with milk, onions and garlic a quick puree in the food processor and topped with plenty of butter and ground pepper these were not the grits I had first tasted in San Antonio.
I have been making them like this ever since, sometimes I add a few chipotles or pickled jalapenos or roasted poblanos.  My family can't get enough of them and I thrilled to be a grit eating gal, which makes mi carino very happy.  Over the weekend, surprise mi carino requested grits with spicy shrimp. Looking to spruce them up a bit I decided to add an extra touch of creaminess with hummus.  Lucky me I had just received a delivery of Sabra Hummus.  While the hominy heated through with sliced onions I added a container of roasted garlic Sabra Hummus, a quick puree in the food processor, a touch of salt and pepper and my creamy grits were ready for a topping of spicy shrimp.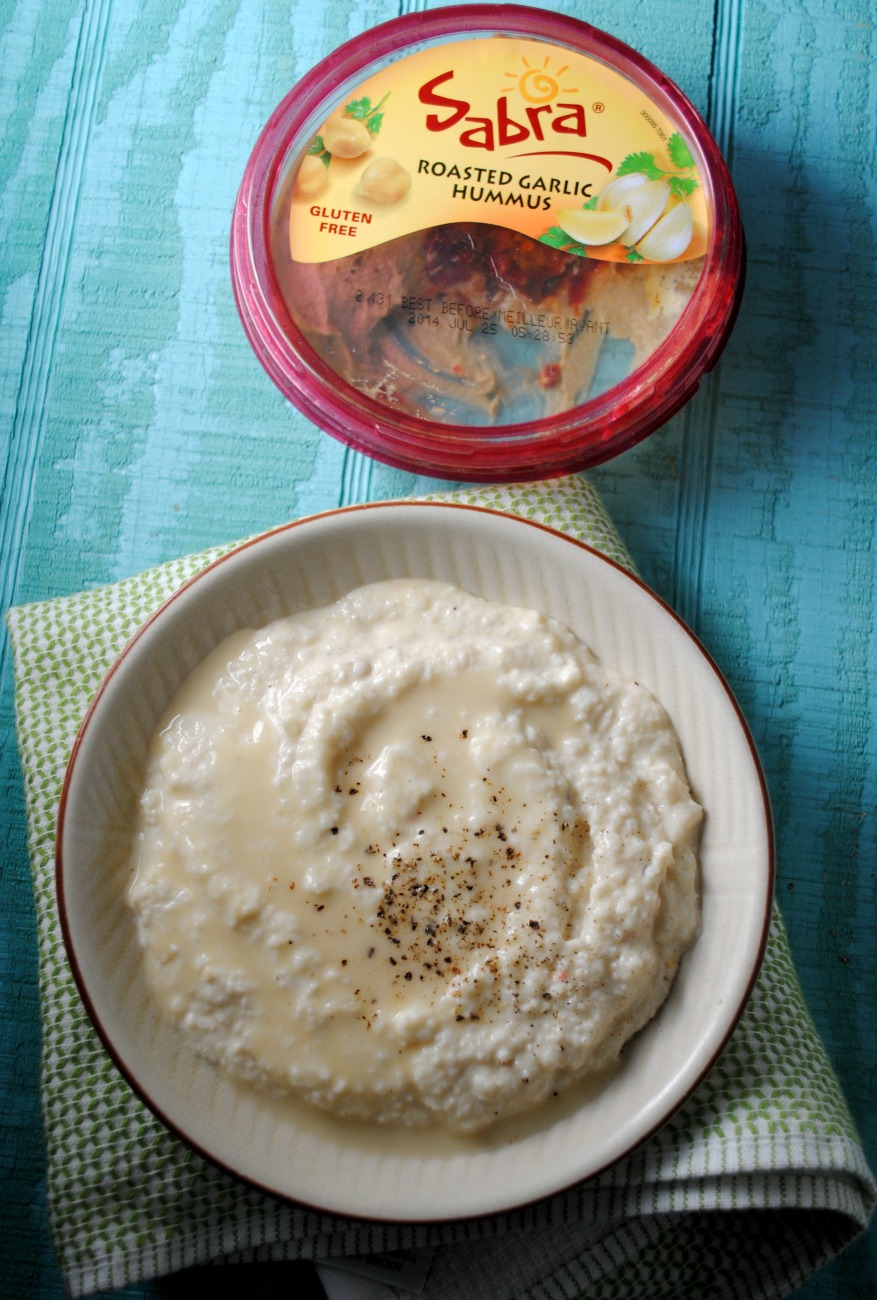 The hummus gave the grits the taste of an all day slow cooked dish.  An extra boost of garlic flavor was an unexpected nice touch, plus we all love garbanzo beans.
Roasted Garlic Hummus Grits
1 (30 oz) can of hominy, drained and rinsed
1 (10 oz) Sabra Hummus Roasted Garlic
2 cups milk
1 tsp salt
2 tsp freshly ground pepper
1 tablespoon unsalted butter
In a saucepan over medium high heat simmer hominy, hummus and milk until warm. With a potato smasher or using a food processor mash or puree hominy until smooth. Reduce heat to low stir in salt, pepper and butter. Taste and adjust seasoning; keep warm.