This post brought to you by Sabra Dipping Co, LLC.. All opinions are 100% mine.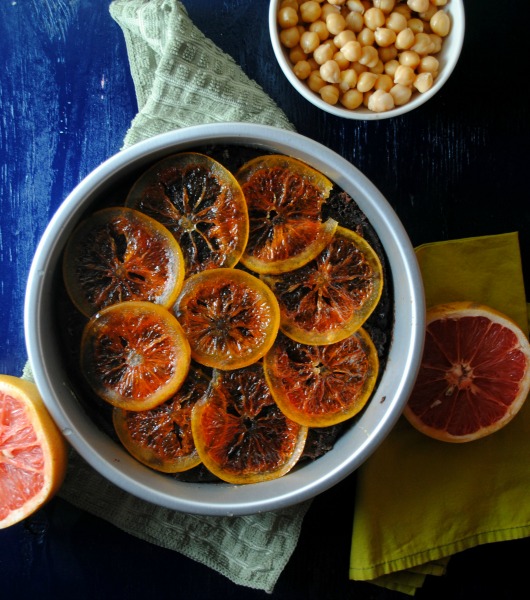 My parents have been on a mission to spruce up their backyard. A new fence, a few truck loads of dirt to even out their lots and lots and lots of tree trimming. Big potted planters have been moved, little plants have been transferred to decorative planters and the old chairs have a new coat of paint. Why all the fuss? Well for the first time in a really, really long time all their children have moved, are in the process of living within a short drive from them. It's a pretty big deal if you take into account their youngest child, the Marine who left for service when he was 18 is slowly making his way closer and closer home. It has them in a happy panic arranging, rearranging outside tables, dusting off tiki torches because in our family the party always makes its way to the backyard.
And taking into account between us children we have 9 kiddos, we all crave open spaces. Big platters of nibbles, large pitchers of agua frescas and of course we must have pastel, cake. I'm in charge of the sweets, always. And before you get ahead of yourself… it's not because I am an amazing baker. Nope. I just happen to be the mom of the amazing baker; yup my daughter is the Princess of Sweets in our house. She dazzle us with new creations at every family event and it has become quite the guessing game adventure as everyone tries to figure out what she will create.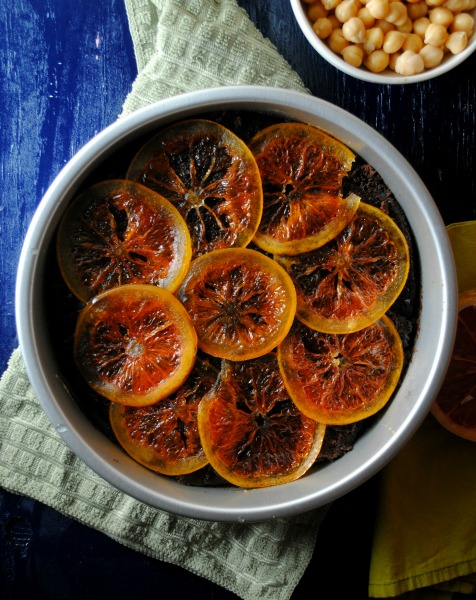 Our next shin-dig is early is only a few weeks away and I've decided to throw on my trusty old apron and improve my baking skills and surprise everyone with a new cake! I started out thinking dulce de leche was the way to go then I thought guava would be amazing, but then I thought why not go spicy? We ALL love spice, even the kiddos enjoy a touch of warmth. Then I thought what if I add grapefruit, my mom's favorite citrus that could garner me a few extra bonus points… oh and chocolate my older sister loves chocolate…and hey why not throw in one of my favorite ingredients, garbanzos. What? Did I lose you?
Okay I confess I'm addicted, obsessed with garbanzos and will find any new way to add them to my dishes. They are so versatile. Throw them in salads; add them to guacamole or caldos (soups) or even smoothies. And let's not forget… whirl those babies in the food processor and you are left with the silky smooth goodness of hummus. And we all know how much I love hummus. Luckily I am stocked and ready to head into to the kitchen with the help of Sabra Hummus, who kindly sent me a generous amount to hummus to create exciting new recipes with. And baby for my first recipe we are going all out with this luscious, decadent spicy chocolate hummus cake made with Sabra's Jalapeño Hummus.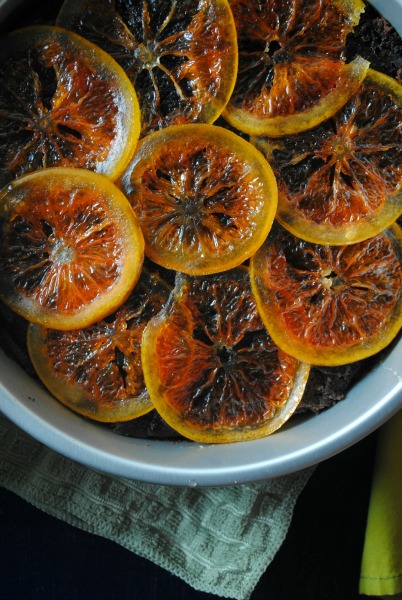 And to earn every bonus points I took it a step further and added sweet candied grapefruit slices over this warm cake and drizzled it with a bit of the infused grapefruit syrup. This hummus cake is rich, served best warm from the oven by the spoonful with a hefty scoop of vanilla ice cream. A touch of spice from the jalapeno infused hummus with a splash of citrus from fresh grapefruit zest and juice this cake is sure to have them singing my praises at our next family get together. Thanks Sabra for inspiring me to get my bake on. Make sure to head over and Like Sabra on Facebook for new inspiration, recipes and promos.
Spicy Citrus Chocolate Hummus Cake
Makes 1 (9-inch) cake
serves 6-8
1 (10-oz.) Sabra Jalapeño Hummus
2 teaspoons grapefruit zest
2/3 cup fresh grapefruit juice orange juice
4 eggs
1/2 cup sugar
2/3 cup cocoa
1 teaspoon baking powder
1/2 teaspoon baking soda
1 teaspoon vanilla extract
Candied Grapefruit Slices (recipe follows)
Preheat oven to 350°F.
Grease and flour a 9-inch cake pan.
With a hand mixer or stand mixer blend together hummus, grapefruit zest and grapefruit juice until smooth. Add eggs, one at a time – blending and scraping down sides after each addition. Add sugar, cocoa, baking powder, baking soda and vanilla extract and blend until smooth. Pour into prepared pan and bake 45 minutes or until a toothpick/knife comes out clean. While cake is still warm add candied grapefruit slices over cake and drizzle with sugar syrup from making candied grapefruit.
Candied Grapefruit Slices
1 cup water
1 cup sugar
½ medium grapefruit, sliced thin
In a large skillet, add water, sugar and bring to a boil.
Add the grapefruit slices and cook over moderate heat, turning occasionally, until the liquid is reduced to thin syrup and the orange slices are translucent, about 20 minutes.
Reduce the heat to moderately low and simmer until the syrup is thick and the slices are tender but still intact, turning occasionally, about 10 minutes. Layer over warm cake; reserve syrup.