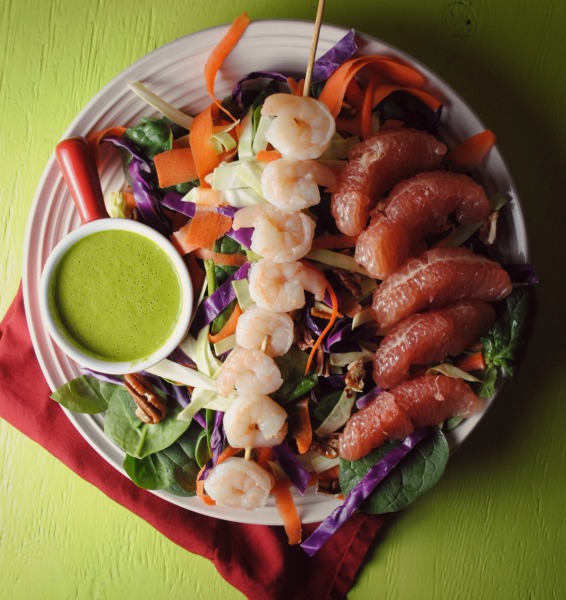 Growing up every Summer the ladies of our small town headed to the local shrimp factory to earn a bit of extra money. Our next door neighbor and my mamí would strap on their rubber boots, grab their packed lunch and head out for the day. Their mornings began at 4am sorting, picking and filling orders from the endless summer bounty the shrimpers hauled in only hours earlier.
We kids waited patiently outside to catch a glimpse of them heading home around 7pm. They laughed, chatted as they walked never giving the impression they had just pulled a 15 hour shift. She would quickly jump into the shower, wash off the day and head into the kitchen to make dinner. Not once did she ever complain, ever lose her patience with us or ever give us the slight indication that she was exhausted from the day. She worked the entire summer and the next 5 summers, never missing a day and ever year she would plan ahead to stock her freezer with shrimp for the Lenten season. Fried, grilled, in tacos or in caldos we would feast on shrimp the entire Lenten season.
These days when she craves shrimp she picks up her phone and calls her children. My little brother takes her to a place in Rockport, Texas she loves, my older sister drives her into Corpus Christi, Texas and my younger sister and I (we're much more adventurous) always enjoy taking her to new places in different cities when we travel.
This salad is one of her favorites that we enjoy on the weekends or for Sunday dinner. A big fan of grapefruits I make sure to have plenty and dressing on the side because she prefers to dress her own salad.
Shrimp, spinach, pecans red and green cabbage this salad is brimming with flavor, color and really packs a punch.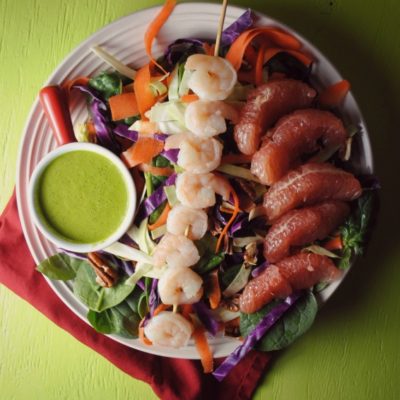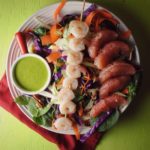 Shrimp Salad with Cumin Cilantro Dressing
Ingredients
16

medium shrimp

peeled and deveined

2

tbsp

olive oil

¼

tsp

freshly ground pepper

½

tsp

salt

4

cups

spinach

1

grapefruit

½

cup

shredded red cabbage

½

cup

shredded green cabbage

1

cup

shredded carrots

1

cup

pecans

For Dressing:

¾

cup

cilantro

washed

½

cup

olive oil

1/4

cup

fresh lime juice

2

tsp

cumin

Salt and freshly ground pepper
Instructions
Heat a large skillet over medium high heat. Add oil.

Season shrimp with salt and pepper.

Add Shrimp to pan; cook 3 minutes, stirring frequently, until cooked through.

Set aside.

Cut the peel from the grapefruit using a sharp knife. Cut out the segments.

Line 2 salad plates with spinach, red cabbage, green cabbage, carrots.

Arrange the shrimp, grapefruit and pecans on top of the spinach.

Drizzle with salad dressing or serve on the side.

For Dressing:

Combine cilantro, olive oil, lime juice, and cumin in blender or food processor.

Blend until smooth, season to taste with salt and pepper.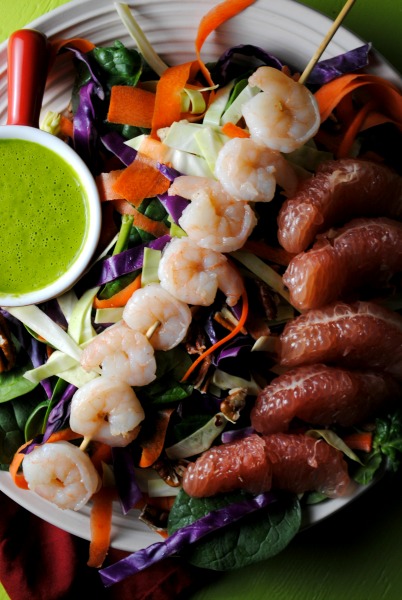 Creciendo cada verano las damas de nuestra pequeña ciudad se dirigieron a la fábrica de camarón local para ganar un poco de dinero extra. Nuestro vecino de al lado y mi Mami ponerse sus botas de goma, toma su almuerzo para llevar y salian para el día. Sus mañanas comenzaron a las 4 a.m. clasificación, recogida y atender los pedidos de de la generosidad del mar que los camaroneros transportados en apenas unas horas antes.
Nosotros, los niños esperaban pacientemente afuera para echar un vistazo a ellos de regresar a casa alrededor de las 7 pm. Se rieron, conversaron mientras caminaban nunca dando la impresión de que sólo se habían retirado un cambio 15 horas. Ella tomaría rápidamente un baño, quitarse la día y seguir a la cocina para preparar la cena. Ni una vez ella nunca se quejó, nunca perder la paciencia con nosotros o alguna vez nos da la ligera indicación de que ella estaba agotada por el día. Trabajaba todo el verano y los próximos 5 veranos, nunca perdió un día y cada año iba a planee con anticipación para surtir su congelador con camarones para la temporada de Cuaresma. Frita, asada, en tacos o en caldos comeríamos camarón el tiempo de Cuaresma.
En estos días cuando quiere camarones ella recoge el teléfono y llama a sus hijos. Mi hermano pequeño se la lleva a un lugar en Rockport, Texas que ama, mi hermana mayor, la lleva en Corpus Christi, Texas, y mi hermana menor y yo (somos mucho más aventurero) siempre disfrutamos llevándola a nuevos lugares en diferentes ciudades cuando viajamos.
Esta ensalada es uno de sus favoritos que disfrutamos los fines de semana o para la cena del domingo. Un gran fan de toronjas me aseguro de tener un montón y aderezo a un lado porque ella prefiere vestir su propia ensalada.
Camarones, espinacas, nueces rojo y col verde esta ensalada está lleno de sabor, color y realmente es delcious.
Ensalada de camarones con Aderezon de Comino y Cilantro
sirve 2
16 camarones medianos, pelados y limpios
2 cucharadas de aceite de oliva
¼ cucharadita de pimienta recién molida
½ cucharadita de sal
4 tazas de espinaca
1 toronja
½ taza de repollo rolo, rallado
½ taza de repollo verde, rallado
1 taza zanahorias, ralladas
1 taza de nueces
Cilantro Comino aderezo para ensalada (receta a continuación)
Caliente una sartén grande a fuego medio-alto. Añadir el aceite.
Sazone los camarones con sal y pimienta.
Agregue los camarones a la sartén y cocine 3 minutos, revolviendo con frecuencia, hasta que estén cocidas.
Ponga aun lado.
Cortar la cáscara de la toronja con un cuchillo afilado. Cortar los segmentos.
Línea 2 platos de ensalada con espinacas, col roja, col verde, zanahorias.
Disponga los camarones, toronjas y nueces en la parte superior de la espinaca.
Rocíe con el aderezo para ensaladas o servir en el lateral.
Aderezo de Cilantro y Comino
¾ de taza de cilantro
½ taza de aceite de oliva
1/4 taza de jugo de limón fresco
2 cucharadita de comino
Sal y pimienta recién molida
Combine cilantro, aceite de oliva, jugo de limón y el comino en la licuadora o procesador de alimentos.
Mezcle hasta que quede suave, sazone al gusto con sal y pimienta.
We are Celebrating the Season of Lent, check out what a few of my favorite foodies are featuring this week: