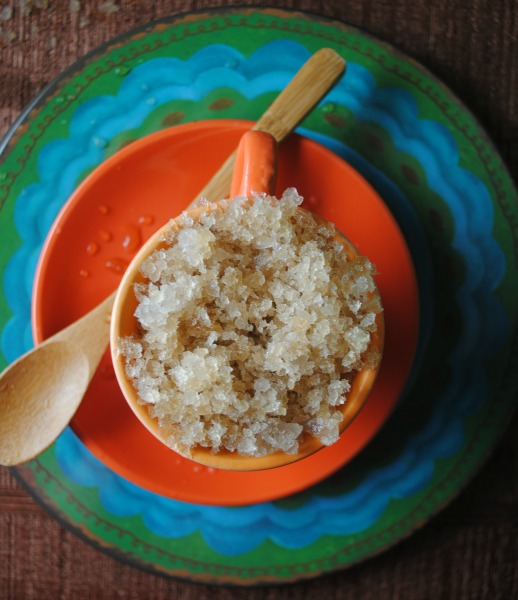 Cuba Libre Granita
Hello sweet, sweet Sunday! It's been a long, exhausting week and I'm happy to end the week with one of my favorite cocktails. A Cuba Libra transformed into an elegant dessert, a granita.  Granita's are one of best desserts to make for entertaining or lazy Sunday evenings.  Refreshing after a big meal and the flavor profiles are limitless.
Reach for quality rum to make this Cuba Libre granita and never, never skimp on the fresh lime juice
Fresh fruit juice, sparkling water or alcohol can all be used to create a spectacular granita.  When making granita be sure to use a shallow dish which creates an even surface for scraping.  Make sure to check in on the granita while it freezes, scraping every hour to create a fluffy texture. But don't worry/freak if you forget and the granita freezes completely, simply break the granita into chunks, add to the food processor and pulse until you reach the desired consistency.  
Place your serving ware in the freezer to chill; this prevents the granita from melting while serving.  Prep ahead and scoop your granita in chilled glasses, return to freezer and retrieve when ready to serve.
A little history on the Cuba Libra:
In the summer of 1898 Teddy Roosevelt and his Rough Riders arrived in San Juan Hill in Santiago de Cuba.  The United States would remain in Cuba until 1902. Coca Cola quickly followed behind them, for the first time Cocoa cola was for sale in Cuba.  
The Cuba Libre cocktail is said to be invented in 1900 by Captain Russell of the United States Army Signal Corps.  While celebrating a victory over Spain captain Russell ordered Bacardi rum with coca-cola and a slice of lime.  Holding up his new cocktail he toasted "Por Cuba Libre!" which meant Free Cuba and the Cuba Libre was born.  The drink quickly grew in popularity gaining political significance and the phrase was shouted by both Cubans and Americans.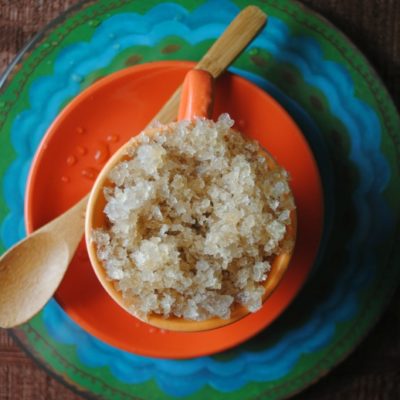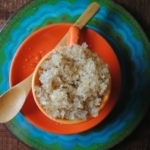 Cuba Libre Granita
Ingredients
2

cups

rum

4

cups

coca-cola

¼

cup

fresh lime juice
Instructions
Whisk together rum, coca-cola and lime juice.

Pour rum mixture into a shallow 8 inch (square) baking dish and place in freezer.

Freeze for 4 hours; using the tines of a fork, stir mixture every 30 minutes, scraping edges and breaking up any chunks as the mixture freezes.

Divide granita into individual serving glasses and serve.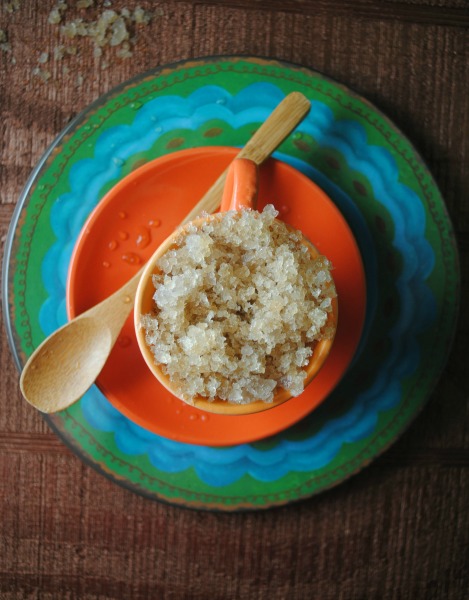 Hola dulce, dulce domingo! Ha sido una semana agotadora y estoy feliz de decir adiós a la semana con uno de mis cócteles favorites, Cuba Libra transformado en un postre elegante, un granizado. Granita's son uno de los mejores postres de hacer para las noches de entretenimiento o un Domingo de descanso. Refrescante después de una comida abundante y los perfiles de sabor son ilimitadas.
Jugo de fruta fresca, agua mineral o alcohol, pueden ser utilizados para crear un granizado espectacular. Al hacer granita, asegúrese de usar un plato poco profundo que crea una superficie plana para raspar. Asegúrese de echar un vistazo a el granizado mientras se congela, raspando cada hora para crear una textura esponjosa. Pero no se preocupe si se olvida y el granizado se congela por completo, simplemente romper el granizado en trozos, agregar a la procesadora de alimentos y el pulso hasta que llegue a la consistencia deseada.
Coloca el utensilios para servir en el congelador para enfriar, lo que impide que el granizado no se derrite durante mientras lo servas. Prep adelante y servir su granizado en vasos fríos, vuelven al congelador y retirar cuando esté listo para servir.
Un poco de historia sobre la Cuba Libra:
En el verano de 1898 Teddy Roosevelt y sus Rough Riders llegaron a San Juan Hill, en Santiago de Cuba. Los Estados Unidos se quedaría en Cuba hasta 1902. Coca Cola siguió rápidamente detrás de ellos, por primera vez Coca cola estaba a la venta en Cuba.
El cóctel Cuba Libre se dice que está inventado en 1900 por el Capitán Russell del Cuerpo de Señales del Ejército de Estados Unidos. Mientras celebraba la victoria sobre España capitán Russell ordenó ron Bacardí con coca-cola y una rodaja de limón. Sosteniendo su nuevo cóctel brindó "Por Cuba Libre!" Lo que significaba Free Cuba y el Cuab Libre nació. La bebida se convirtió rápidamente en popularidad ganando importancia política y la frase fue abucheado por los dos cubanos y norteamericanos.
Cuba Libre Granita
sirve 4
2 tazas de ron
4 tazas de coca-cola
¼ de taza de jugo de limón fresco
Mezcle el ron, coca-cola y jugo de limón.
Vierta la mezcla de ron en una plato para hornear (shallow) de 8 pulgadas (cuadrado) y colocar en el congelador.
Congelar durante 4 horas; utilizando los dientes de un tenedor, revuelva la mezcla cada 30 minutos, raspando los bordes y deshaciendo cualquier trozos como se congela la mezcla.
Divida granizado en vasos individuales y servir.