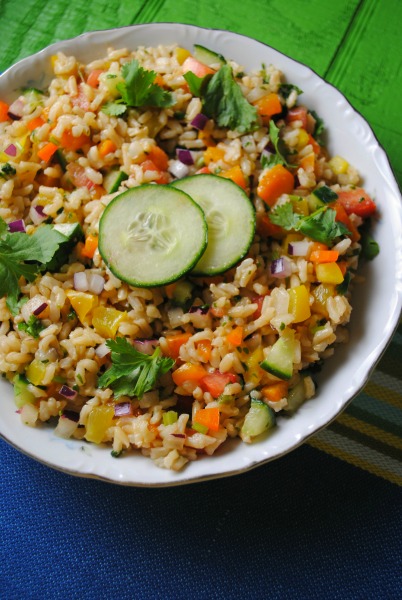 Brown Rice Salad with Cilantro Lime Dressing
I prefer to keep my weekday lunches light. I enjoy simple, easy to make lunches that come together in a snap, using what I have on hand or have cooked over the weekends. This brown rice salad with cilantro lime dressing is hands down one of my favorite lunches. On the weekends my husband takes charge of the grill and I focus on the sides.  With our large family sure to pop in for dinner I always make double or even triple of everything. Using my rice maker I can quickly cook up a triple batch of brown rice; one for our family meal, one to send home with mami and one to enjoy throughout the week. I place the rice in a food storage container and refrigerate for the week.
Brown rice is extremely versatile and pairs well with any vegetable or fruit.  Grilled corn, roasted vegetables, chopped spinach, beans, diced fruit or even shredded chicken can be added to your rice.  A simple dressing using olive oil, any citrus or fresh juice can be quickly whisked together and drizzled over this easy rice salad.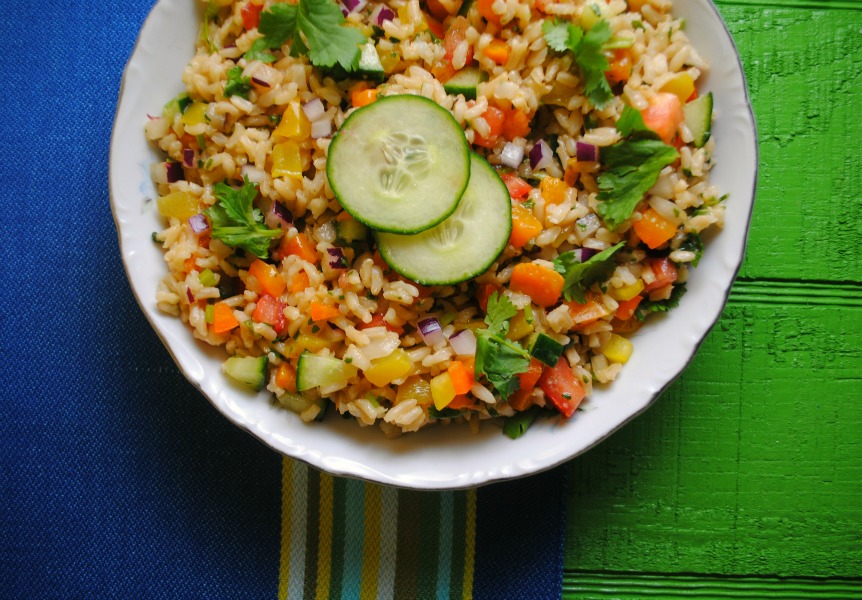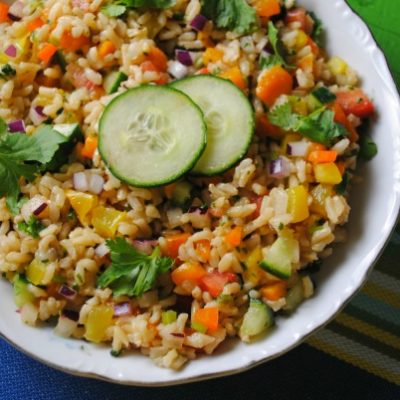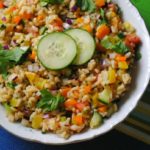 Brown Rice Salad with Cilantro Lime Dressing
Ingredients
2

cups

cooked brown rice

made according to package directions

1/2

red onion finely chopped

1/2

seedless cucumber

diced

½

roasted orange bell pepper

diced

½

roasted yellow bell pepper

diced

1

medium tomato

chopped

3

tbsp

olive oil

Juice of 1 lime

1

tsp

cumin

1

clove

garlic

finely chopped

1/4

cup

finely chopped fresh cilantro

1

tsp

salt

1

tsp

pepper
Instructions
In a small bowl, whisk together the olive oil, lime juice, cumin, garlic, cilantro, salt and pepper; set aside.

In a large bowl combine cooked rice, red onion, cucumber, orange bell pepper, yellow bell pepper and tomatoes.

Add the dressing, and toss well to combine.
Recipe Notes
Notes: roasted peppers can be prepared a day in advance; store in airtight container in fridge.
Preheat the broiler and place the rack near the top of the oven. Remove the core, seeds and membrane from the peppers. Line a baking sheet with aluminum foil and place the peppers, skin side up, on the foil. Gently press the pepper so that they lay almost flat.
Cook 15-20 minutes, or until the skins are almost completely blackened. Remove from the baking sheet place in a bowl and cover with kitchen towel. Let rest for 10 minutes. Remove the peppers and peel off the blackened skins.