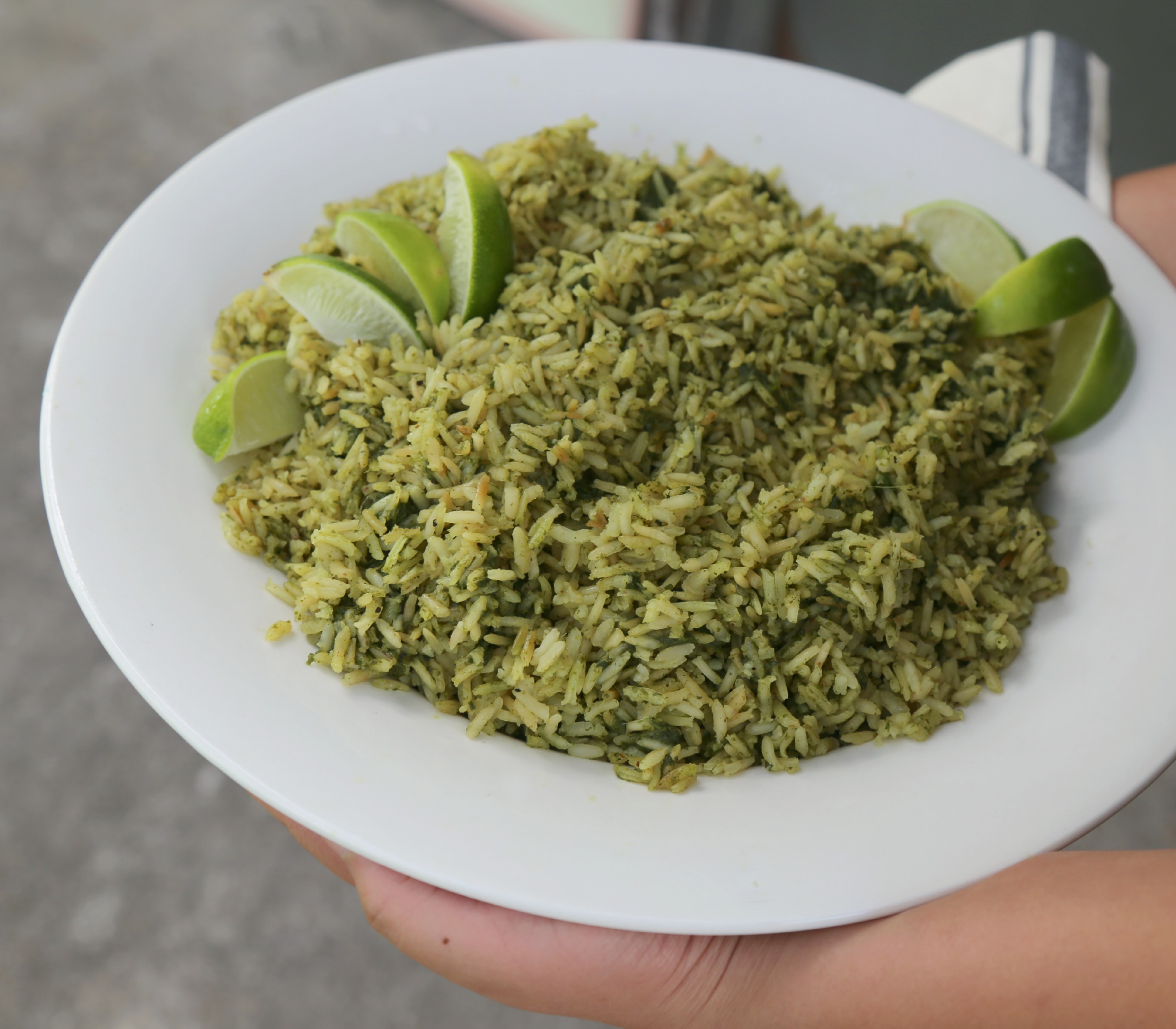 Arroz Verde
My youngest daughter loves rice. Often when I ask her what she wants for dinner, she will simply reply "rice."
"Rice and beans."
"Rice and fajitas."
"Rice. Extra please," in her caldo.
Or…
"Rice, a few slices of avocado and a warm corn tortilla."
I don't blame her. I could live off rice and beans for the rest of my life. Rice is comfort food at its best.  
A few days ago, she requested green rice with her enchiladas and I realized I had never shared my arroz verde recipe on the blog.
Arroz verde is a wonderful side dish, especially when served with enchiladas or a steamy bowl of caldo.
Made with poblanos, cilantro and a squeeze of fresh lime juice, arroz verde takes on a beautiful green hue that gives your plate a festive touch!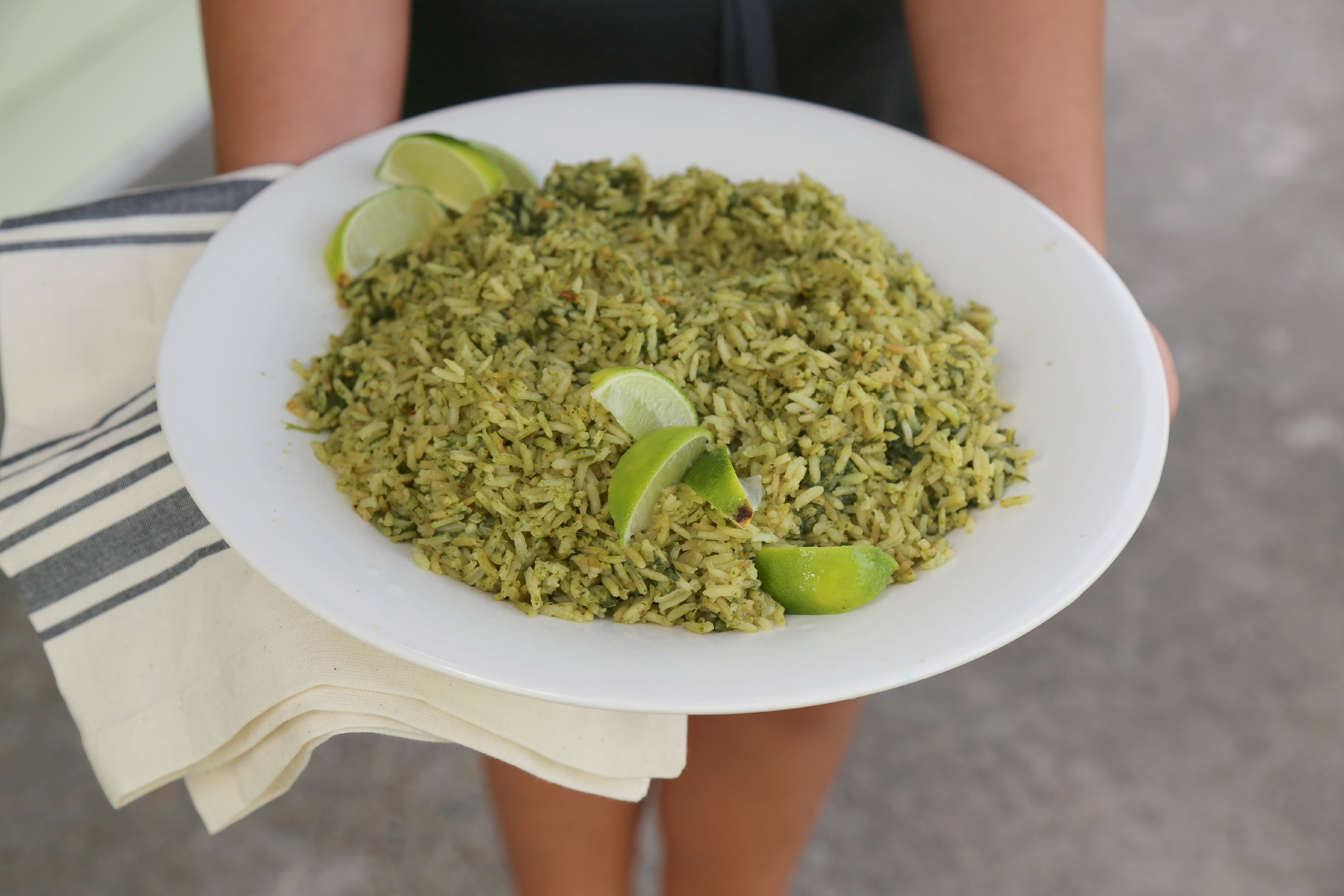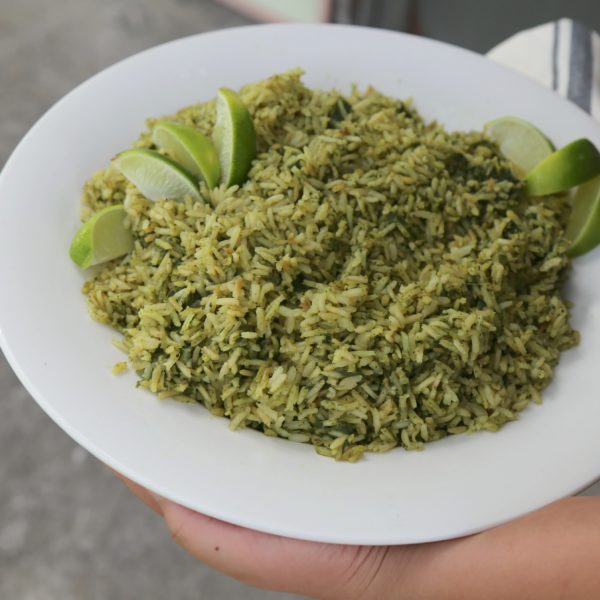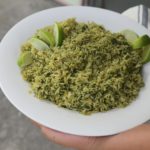 Arroz Verde
Ingredients
1

poblano chile

roasted, peeled and seeded

½

cup

cilantro

washed, plus more for garnishing

¼

cup

onion

diced

½

jalapeno

minced (optional)

1

garlic clove

1

teaspoon

salt

1

teaspoon

pepper

¼

cup

vegetable oil or olive oil

1

cup

white rice

Lime wedges for serving
Instructions
In a blender combine the poblano, cilantro, onion, jalapeno (if using), salt, pepper and ½ cup water. Blend until smooth. In a saucepan heat oil over medium-high heat. Add the rice and cook stirring, until the rice is light, golden brown and has absorbed most of the oil, about 5-8 minutes. Add the puree, stir and continue cooking until mixture thickens slightly, about 2 minutes. Add 1 ¾ cups water, stir and bring to a gentle boil. Cover; reduce heat to low and cook until all liquid has been absorbed, about 10-15 minutes. Do not stir rice during this cooking time. Once all liquid is absorbed remove from heat, let stand covered for an additional 5 minutes. When ready to serve fluff rice, garnish with cilantro and serve with lime wedges.