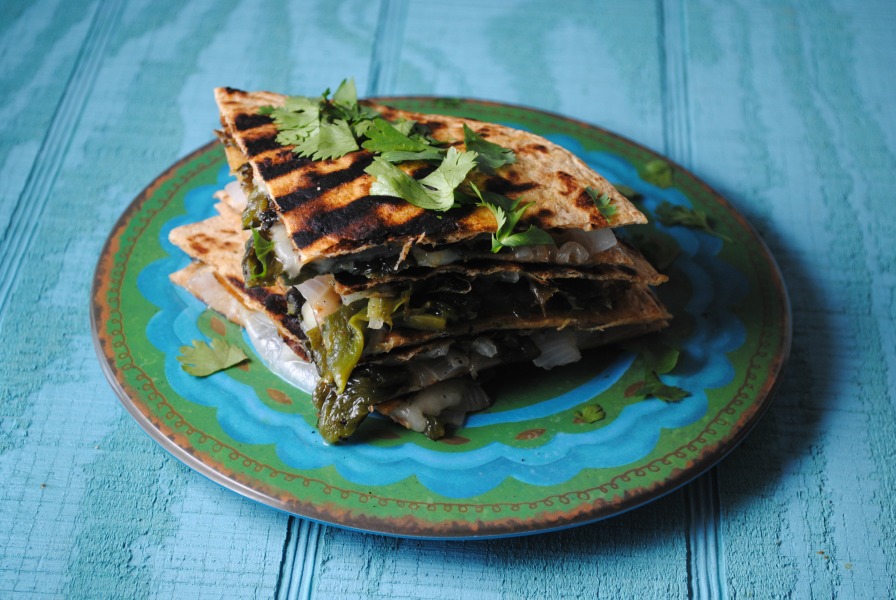 Roasted Poblano Quesadilla
Quesadillas are the ideal late night snack. Quickly pulled together quesadillas are the perfect vessel to use up any leftovers lingering in your fridge. A roasted  chicken from the last night's dinner or leftover fajitas can be diced and added to quesadillas.
My mami likes to make an extra large batch of papitas fritas (breakfast potatoes) on Sunday morning and use the leftovers to make a potato, onion and cheese quesadillas for lunch on Monday. Smart lady! I enjoy loads and loads of roasted poblano strips in my midnight quesadillas with thick slices of onion and plenty of cheese. I roast a few extra poblanos during the week. Slice and stash away in the fridge. On Friday nights when the adults gather for game night we like to nibble on quesadillas with a few cold beers.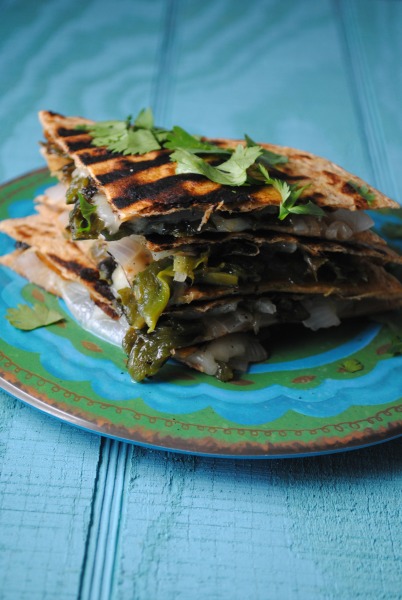 Gooey cheese holds everything together in quesadillas so make sure you choose a quality cheese and shred yourself. Queso quesadilla is one of my go-to cheeses, but I find monterrey jack and pepper jack are also great. For a Tex-Mex twist I use cheddar or good ole Velveeta cheese, we Texans love it!
I find roasting poblanos under the broiler is much more efficient and allows me to roast plenty at one time. Be sure to check in on them every few minutes and rotate, you want a nice char all around. Remove from broiler and cover with a kitchen towel and allow the poblanos to steam, this helps with removal of the blackened skins; make the process much, much easier. Another quick tip; never, never rinse you poblano under cold water when trying to remove the blackened skin this will remove all that gorgeous roasted flavor.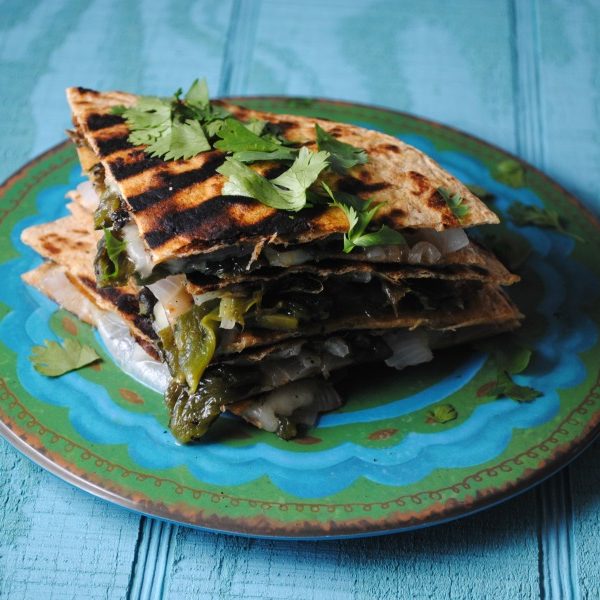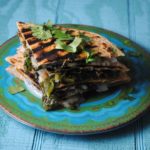 Roasted Poblano Quesadillas
Ingredients
4

large poblanos

4

flour tortillas

quesadilla or fajita size

3-4

cups

shredded Monterey jack

Pepper Jack, or Chihuahua cheese

2

medium onions

sliced

1

cup

cilantro

chopped

¼

cup

olive oil
Instructions
Preheat broiler to high.

Place poblanos on baking sheet and char under the broiler until skin blackens on all sides, 7 to 8 minutes.

Place in a bowl cover with towel or plastic wrap; let stand 10 minutes. Peel and seed the peppers, then slice.

Heat 1 tbsp olive oil in large skillet over medium heat, add onion and cook for 4-5 minutes, till onion tender. Remove from skillet.

In the same skillet over medium-high heat add a drizzle of extra-virgin olive oil; add a tortilla, cover the tortilla with half the cheese, poblano, onion and cilantro.

Fold the tortilla in half and cook 2 minutes to crisp and char the tortilla evenly and melt cheese. Remove and cut into wedges; repeat.