I've been missing my abuelita a lot lately.
I'm not sure if it's the Texas heat, the current renovations of our temporary home or my hectic schedule… I can't seem to get her out of my mind.
I miss her smile, her hands and most of all spending time in the kitchen with her and my mami.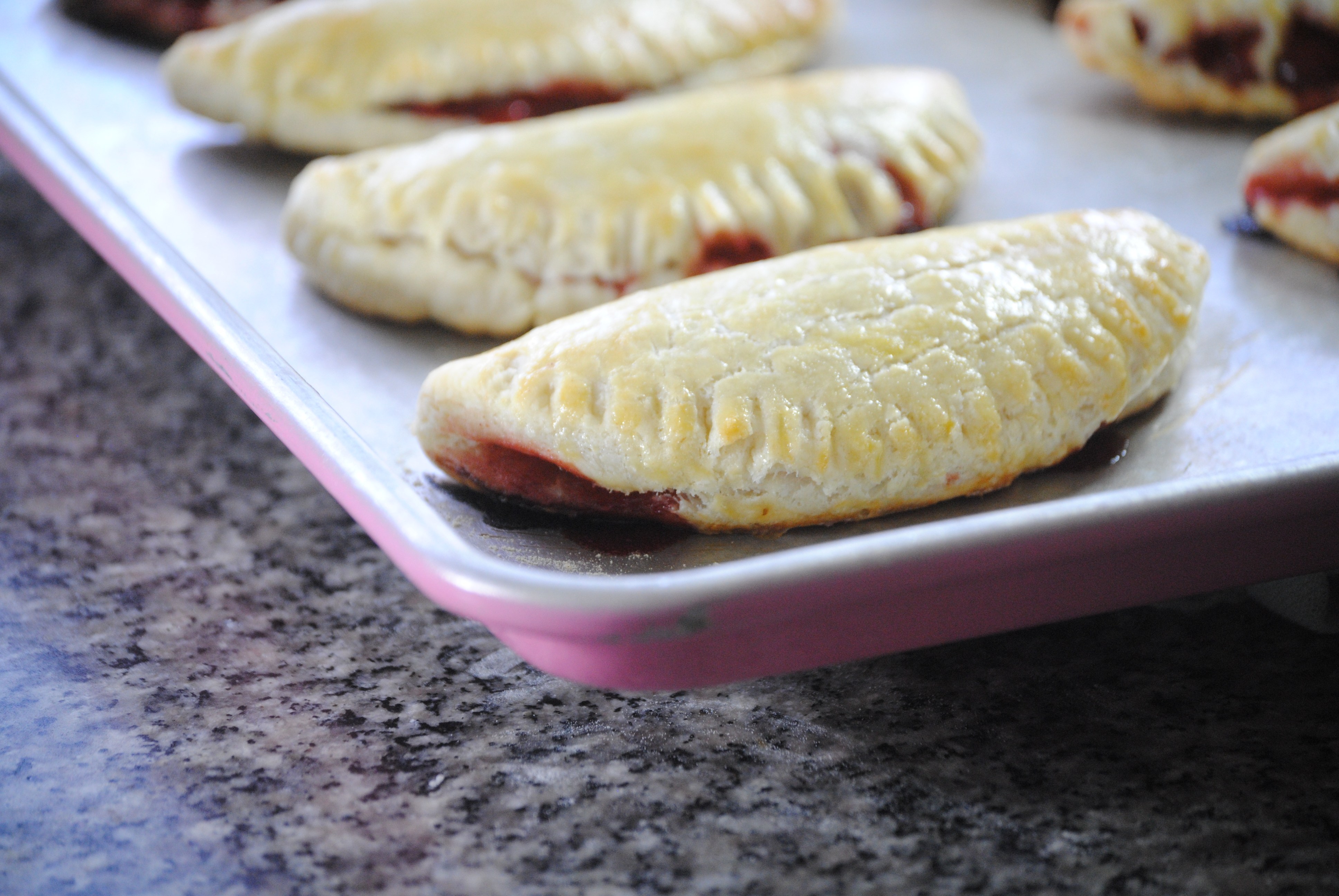 Spending time in the kitchen with my abuelita and mami are some of my fondest memories, and I will forever be grateful they allowed me into their cherished space. This time spent with them gave me the opportunity to connect with them through food, which instilled in me the love of cooking for my loved ones.
My abuelita first invited me into the kitchen to help her make empanadas. I was sitting at the kitchen table watching them prepare the dough. I was hoping they would ask me to join them, so when my abuelita asked if I wanted to help, I jumped at the chance.
She proceeded to show me how to fold the empanada dough over the filling, then how to carefully press the edges with a fork to seal the empanada. Her hands moved very slowly while she patiently explained the process.
I remember every single moment from that day – the smell of the piloncillo-cinnamon stewed strawberries, the softness of the dough, our conversations, the music in the background and the aroma wafting from the oven.
I felt her love for the kitchen, her family and me that day. That day I fell in love with the kitchen.
Little did I know this experience with my abuelita would shape my feelings toward food y familia.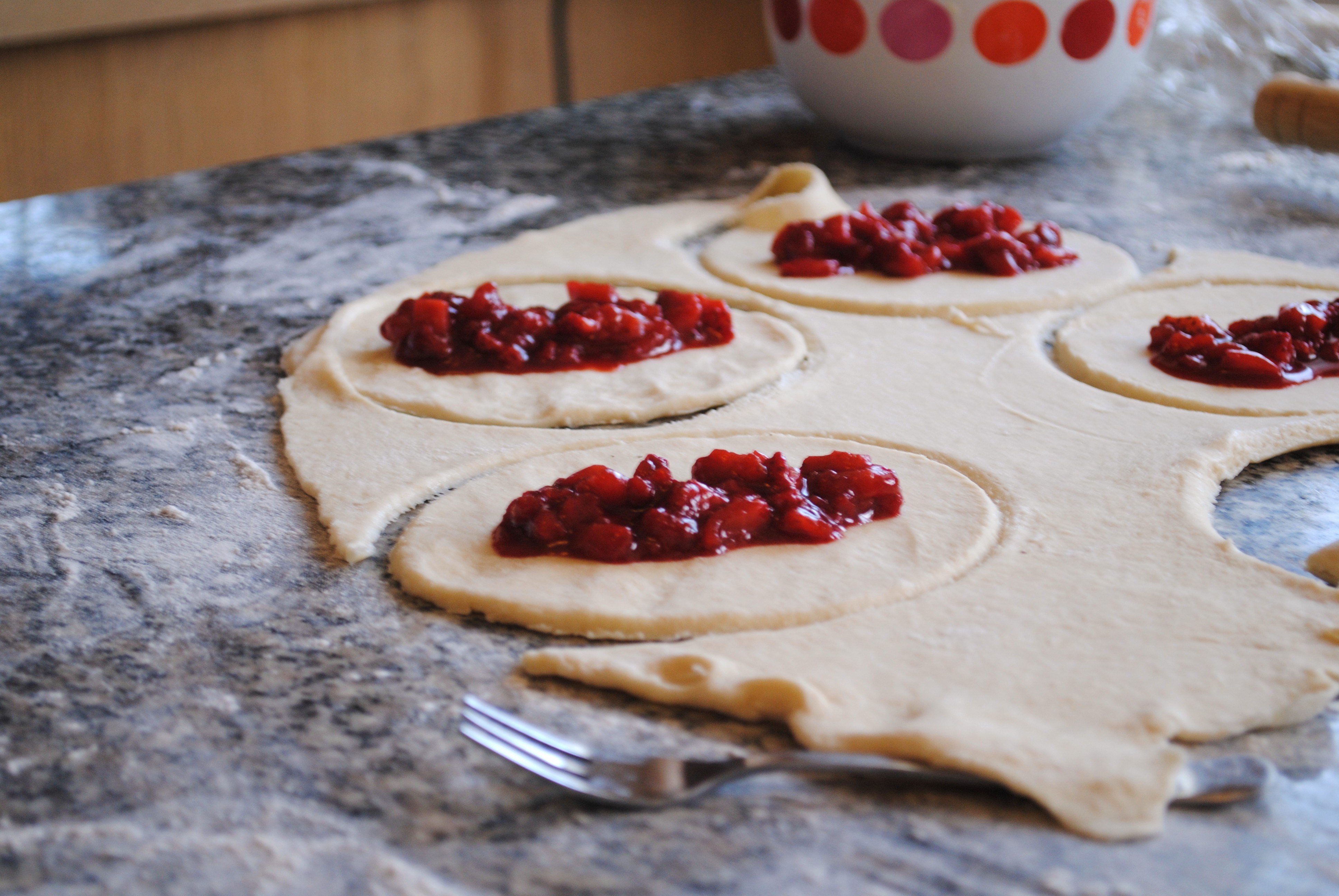 I've been missing my abuelita a lot lately.
I craved our moments together, so I decided to head to the kitchen to make a sweet treat that makes me feel her warmth.
These strawberry empanadas are the best of my abuelita and me. A little of her, a little of me brimming with the flavor of summer.
Strawberries sweetened with piloncillo and cinnamon baked into a flaky empanada dough.
I made these strawberry empanadas with my daughters while we shared stories about abuelita. My heart swelled with love as we baked. The kitchen was filled with a sweet aroma, and she was there with us. I could feel her presence, her love and her warmth.
Strawberry Empanadas
Yield 12-15 Makes
Ingredients
For the Dough:
3 cups all-purpose flour, plus a little more for rolling dough
1/2 tsp salt
3 teaspoons piloncillo, grated with zester
2 sticks of butter, diced and chilled in freezer until needed
3/4 cups milk, chilled and divided
For the Filling:
2 cups strawberries, diced
1 teaspoon cinnamon
1/4 cup brown sugar
For egg wash:
1 egg beaten with 1 tbsp of milk
Instructions
To Prepare Filling: (can be made the day before)
Over medium-high heat in a medium saucepan add strawberries, cinnamon and brown sugar.
Cook until brown sugar dissolves and strawberries become thickened about 15 minutes.
Move filling to a bowl and cool to room temperature.
Prepare dough:
Add the flour, salt, and piloncillo into a food processor, pulse twice to combine.
Add butter, cover, and pulse eight or nine times until butter and flour combine to the crumbly texture.
Add the ¼ cup of milk and pulse twice. Continue to add milk and pulse until dough comes together.
If the dough does not combine continue to add milk. Remove dough and knead into a ball, wrap in plastic and refrigerate for at least 2 hours or overnight.
To Prepare Empanada Discs:
On a large work surface and lightly dust with flour.
Roll dough and cut into 4-inch circles.
If working on a small surface cut dough in half. Roll into a smaller rectangle and cut your circles.
To Bake:
Heat oven to 400 degrees.
Spoon 1 tablespoon of filling in center of empanada disc.
Brush one edge lightly with egg wash and fold the dough over.
Using a fork seal edges, transfer to baking sheet and brush top with egg wash.
Bake 15 minutes.
Courses Dessert
Cuisine Mexican