A delicious quick bread made with fresh strawberries, pecans and cinnamon is tender, moist and wonderful for breakfast.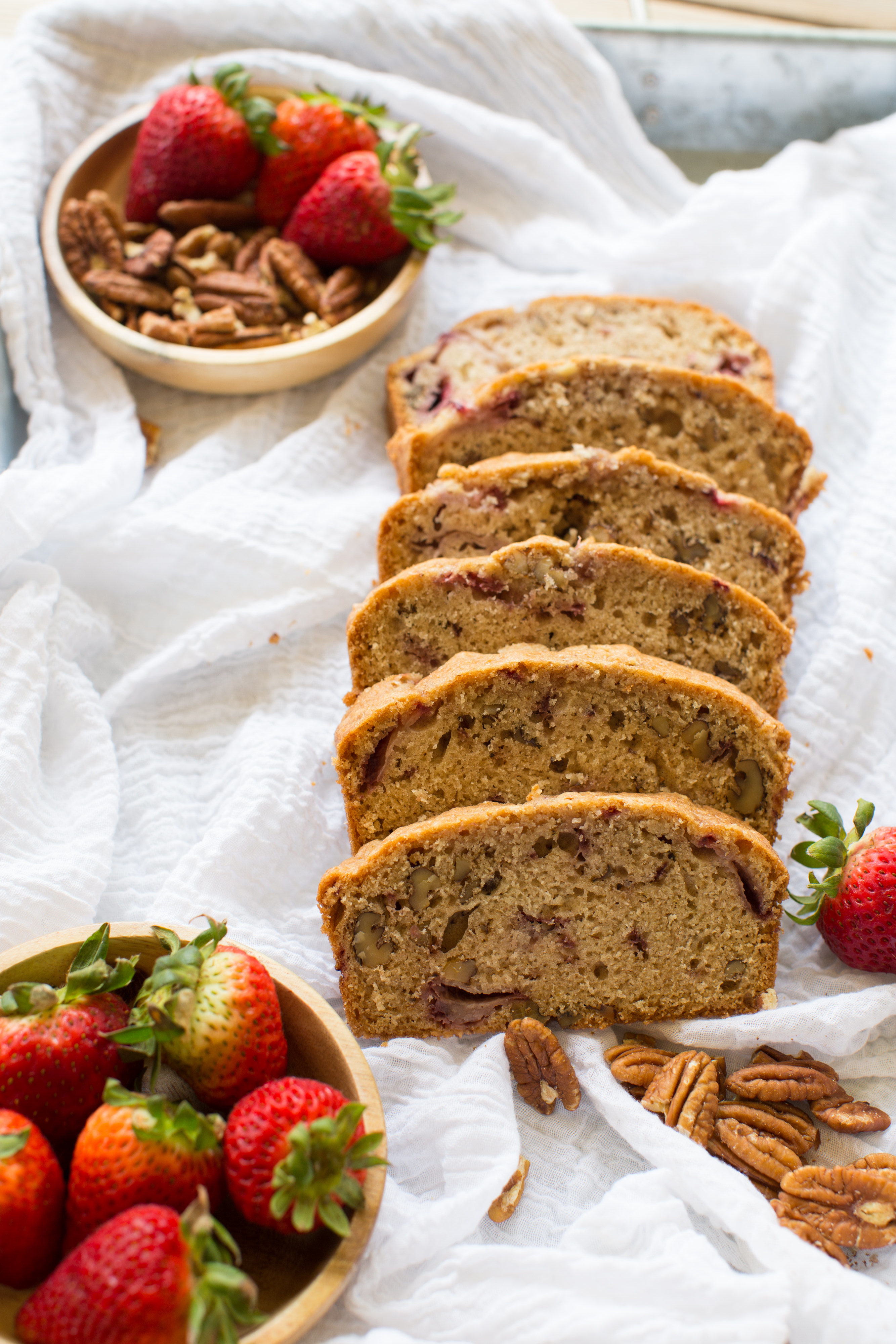 I have been making this strawberry bread for over ten years. A quick bread batter that comes together in a snap. I found the recipe on a cooking forum I was a member before the blogging days.
I was living in Killeen, Texas at the time. Mi carino was an Army Medic serving at Fort Hood. I was a stay at home mami. We only had Angelica at the time. She was four, so we spent our days doing schoolwork, reading time at the local library and plenty of trips to the park. When she would go down for a nap, I would jump online to read what everyone was cooking for dinner on the forum.
I loved reading what everyone was preparing for dinner. Nancy was making pasta; Ellen was making pork chops and Betty wanted to know if anyone had a great recipe for dumplings.  When member posted what they were making for dinner they would also post the recipe. This forum became my daily source of inspiration for meal planning. I would push myself to try a new recipe every week from my online amigas on the forum.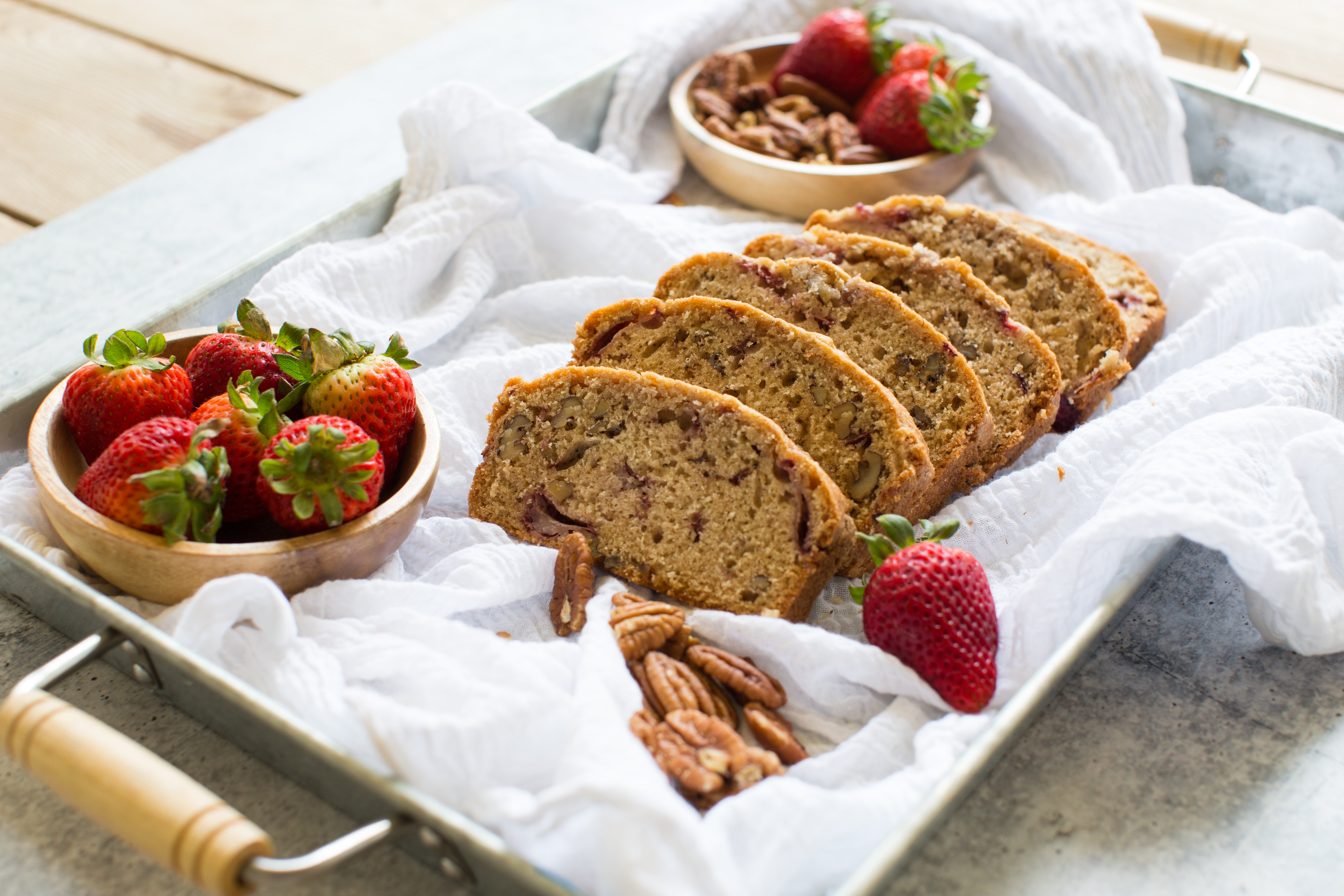 One day I spotted a recipe for strawberry bread – I was instantly intrigued. Angelica loved strawberries, so I always had plenty on-hand. The batter came together quickly with pantry staples. A touch of cinnamon and plenty of fresh strawberries I baked it that day and have been baking-enjoying-sharing this delicious quick bread ever since. The only minor change I made to this recipe was add pecans, because adoro pecans.
I have made it in California when we visited my brother who was stationed with the Marines in San Diego. He took us strawberry picking. We picked so many berries that day. Angelica was in heaven. I made 6 loaves of this bread, we enjoyed two and I stashed the remaining loaves, sliced in the freezer for him to pull out as needed.
When my little sister was pregnant, I made this bread for her when we visited her in Kansas, where she was stationed with the Army. She would toast the slices on her comal, then smear them with cream cheese. She requested I bake her a few loaves before we left. I happily agreed, never say no to a new mami.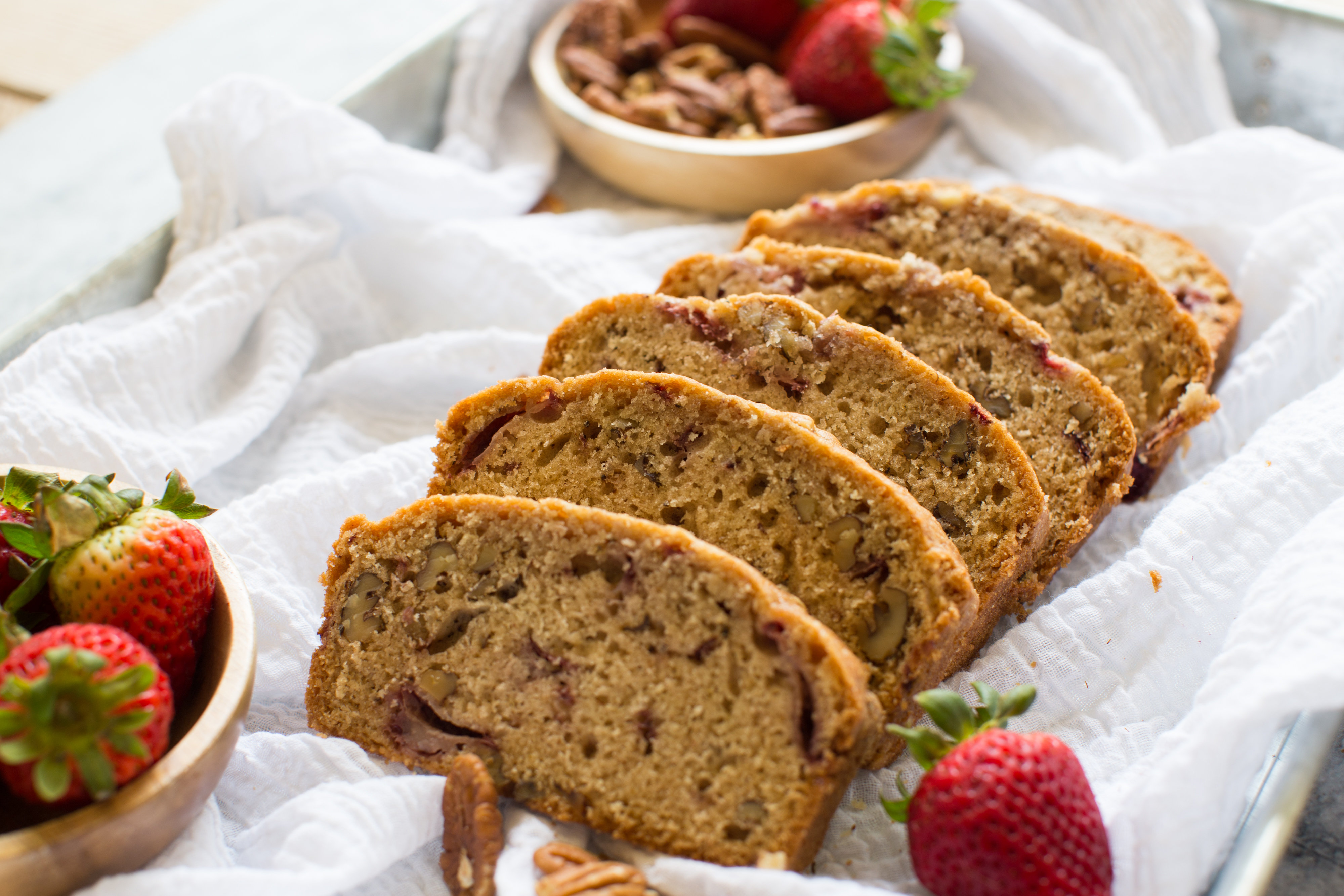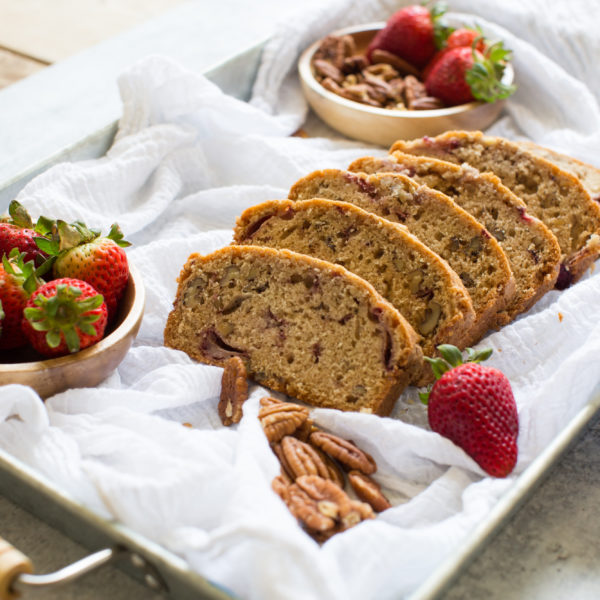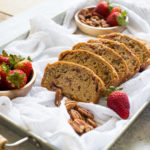 Strawberry Pecan Bread
A delicious quick bread made with fresh strawberries, pecans and cinnamon is tender, moist and wonderful for breakfast.
Course:
Breakfast, Dessert, Snack
Keyword:
pecans, quick bread, strawberries
Ingredients
3

cups

all-purpose flour

2

cups

sugar

1

teaspoon

baking soda

1

teaspoon

salt

1

teaspoon

ground cinnamon

1

cup

vegetable oil

4

eggs

lightly beaten

1

teaspoon

vanilla

2 1/2

cups

diced strawberries

1

cup

pecans
Instructions
Preheat the oven to 350 degrees. Spray 2 loaf pans with nonstick cooking spray, set aside until ready to use.

In a large bowl or the bowl of a stand mixer, combine the flour, sugar, baking soda, salt and cinnamon, stir to combine. Stir in the vegetable oil, eggs and vanilla. The batter will be thick, stir until well combined. Gently stir in the strawberries & pecans.

Spoon batter in prepared loaf pans. Bake 45-50 minutes or until toothpick inserted come out clean. Cool the loaves in the pans for 10-15 minutes before turning out onto a cooling rack to cool completely. Slice and serve.