One of my favorite things about cooking and entertaining is the simple act of gathering together around a table to share a meal. I love looking over to see people I adore sharing a meal, smiling and sharing their day with me – nothing, I repeat nothing makes me happier. I live to feed my people.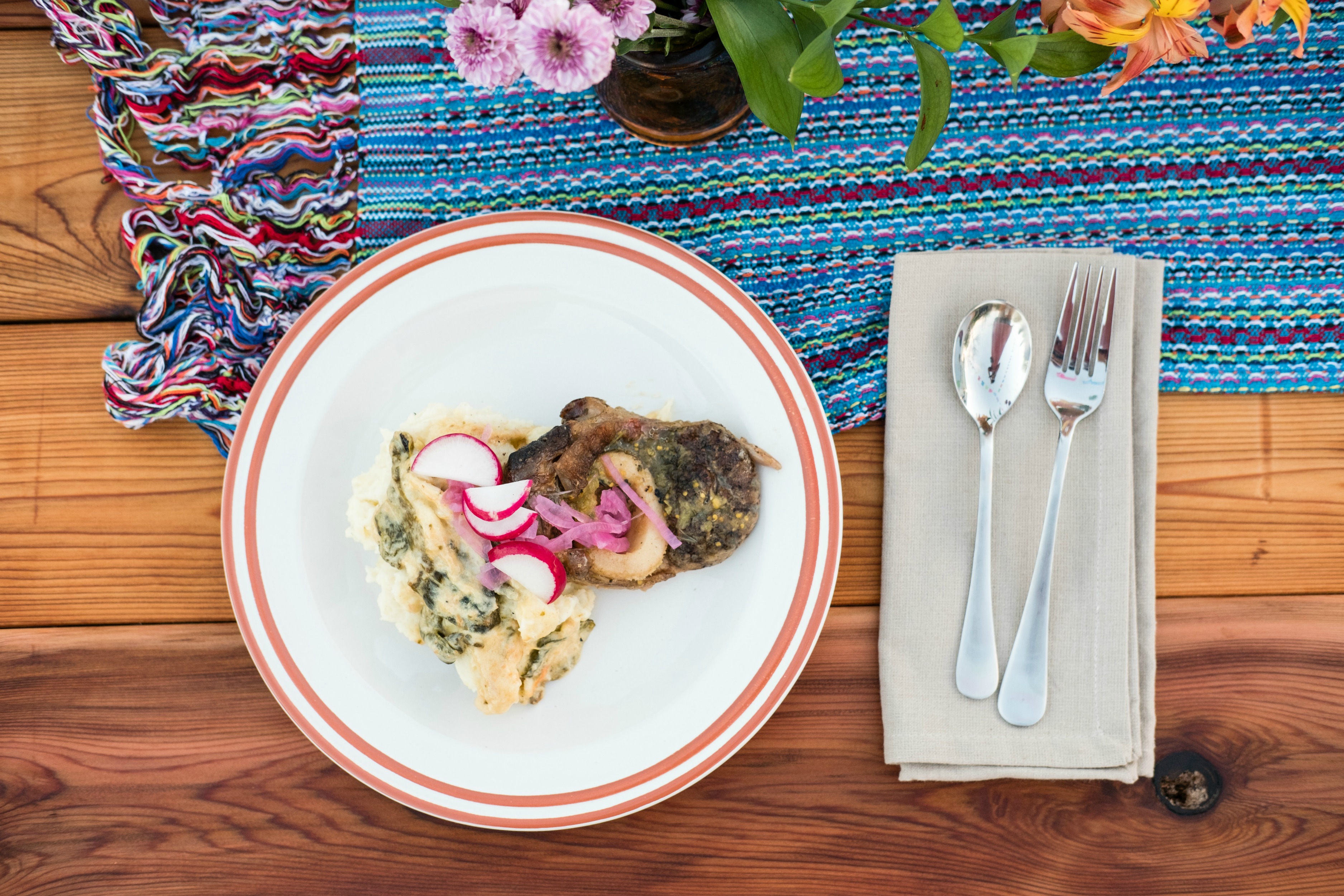 After Hurricane Harvey, I lost items, objects, possessions, but not what I cherished most – the people I adore.  The fantastic people over at Rumba Meats in collaboration with Neighbor's Table surprised me with the sweetest gift – a beautiful, made with love table that encouraged me to get back in the kitchen to do what I love most. Cook for the people I adore.
The following recipe is one of many highlights of this special evening. Huge abrazos y mil besos to the folks over at Rumba Meats and Neighbor's Table for making this evening so special.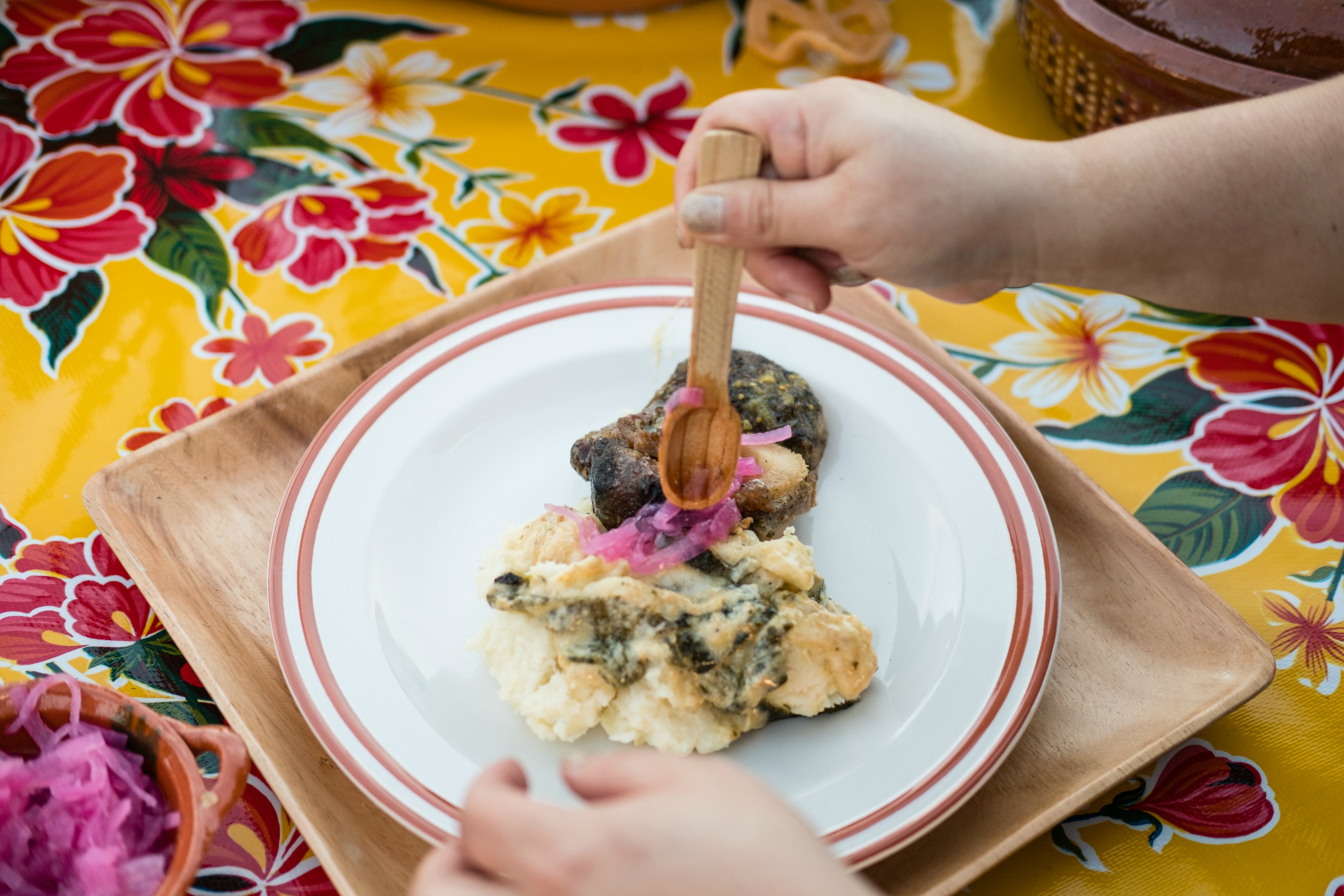 Chilly evenings always make me crave stews, braised meat, and soups. These are also some of the best recipes to make when entertaining as they do not require endless of hours of prep, are budget-friendly and taste even better the more they simmer away on the stove.  While my meal simmers away, I can concentrate on my making my side dishes, whip up a big batch cocktail or set the table.
Beef shanks are one of my go-to cuts of meats when braising. They are rich, juicy and flavorful and the perfect cut of meat for slow cooking. My mami always had beef shanks in her freezer to make caldo de rez, so I grew up enjoying them and now cook them often for my familia.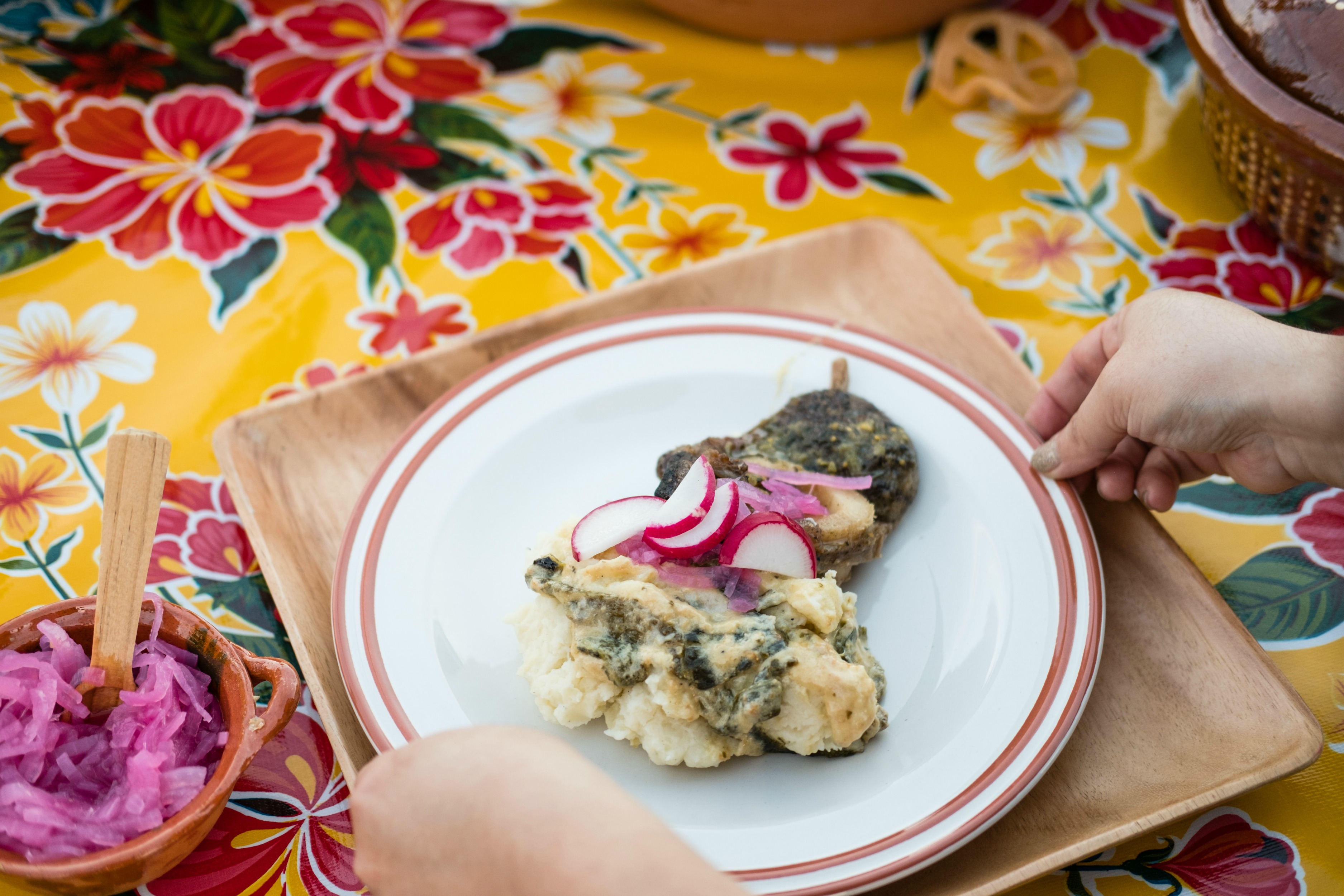 This is one of many reasons I adore Rumba Meats. They offer products that help me share my familia's heritage through food by providing the ingredients to make traditional dishes and I can easily find them in my local grocery store or when I travel to visit extended familia.
I braised my beef shanks in a bright salsa verde. Tomatillos have an addicting acidic tang which pairs perfectly with the rich, beefy flavor from the beef shanks. Served paired with creamy mashed potatoes with rajas my tomatillo braised beef shanks are not only easy to cook, but they are comfort food at it's best.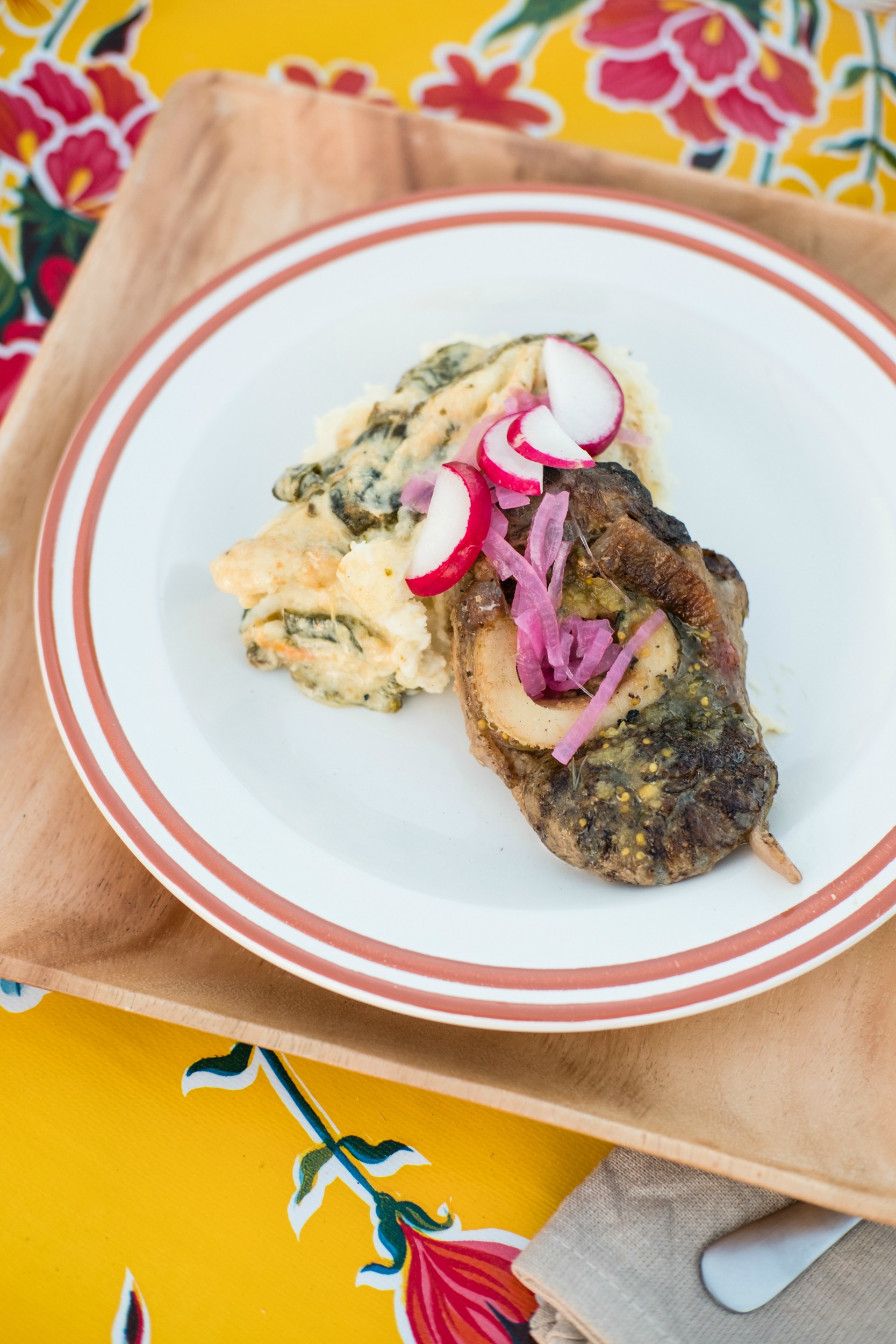 Tomatillo-Braised Beef Shanks
Yield 4 Serves
Beef shanks are braised in a bright salsa verde. Tomatillos have an addicting acidic tang which pairs perfectly with the rich, beefy flavor from the beef shanks.
Ingredients
For Salsa Verde:
1 pound tomatillos
2 jalapenos, chopped (remove seeds for less heat)
1 medium onion, chopped
2 cloves of garlic, skin on
1/2 cup cilantro, washed
Juice from one lime
2 teaspoons salt
For Beef Shanks:
2 pounds Rumba Meats cross-cut beef shanks
2 teaspoons salt
2 teaspoon pepper
2 tablespoons flour
2 tablespoons olive oil
4 cups beef stock, plus additional 1 cup if needed
To serve:
Diced radishes
Instructions
For Salsa Verde:
Pre-heat broiler. Place tomatillos, onion and garlic on foil-lined baking sheet.
Broil for 5-7 minutes to lightly char the skins. Be sure to watch the garlic, it will char quickly.
Allow to cool, remove skin from garlic and place with remaining ingredients into a blender along with cilantro, lime juice and salt. Blend until smooth.
For Beef Shanks:
Pat the beef shanks dry with paper towel. Season with salt and pepper, then dust with flour. In a dutch oven heat oil over medium-high heat. Add the shanks and sear on both sides until well browned. Remove from pot and set aside.
Add salsa verde, gently scraping the dutch oven to release any browned bits, continue cooking for 3 minutes. Return beef shanks to Dutch oven, add beef stock to cover shanks. Bring to a boil, then reduce heat to low. Simmer, covered, for about 2 hours, or until the shanks are tender and falling off the bone. Check periodically to make sure the shanks are covered up with braising liquid, topping up additional beef broth if needed.
Serve warm over mashed potatoes with rajas, pickled red onions, and diced radishes.
Courses Dinner Lunch
Cuisine Mexican
Recipe by Vianney Rodriguez
Styling by Vianney Rodriguez