My Turkey Tostadas topped with Pineapple Salsa will be your new go-to dinner! A simple, nutritious dinner idea made with Jennie-O ground turkey. I'm excited to partner with Jennie-O to bring you exciting new recipes.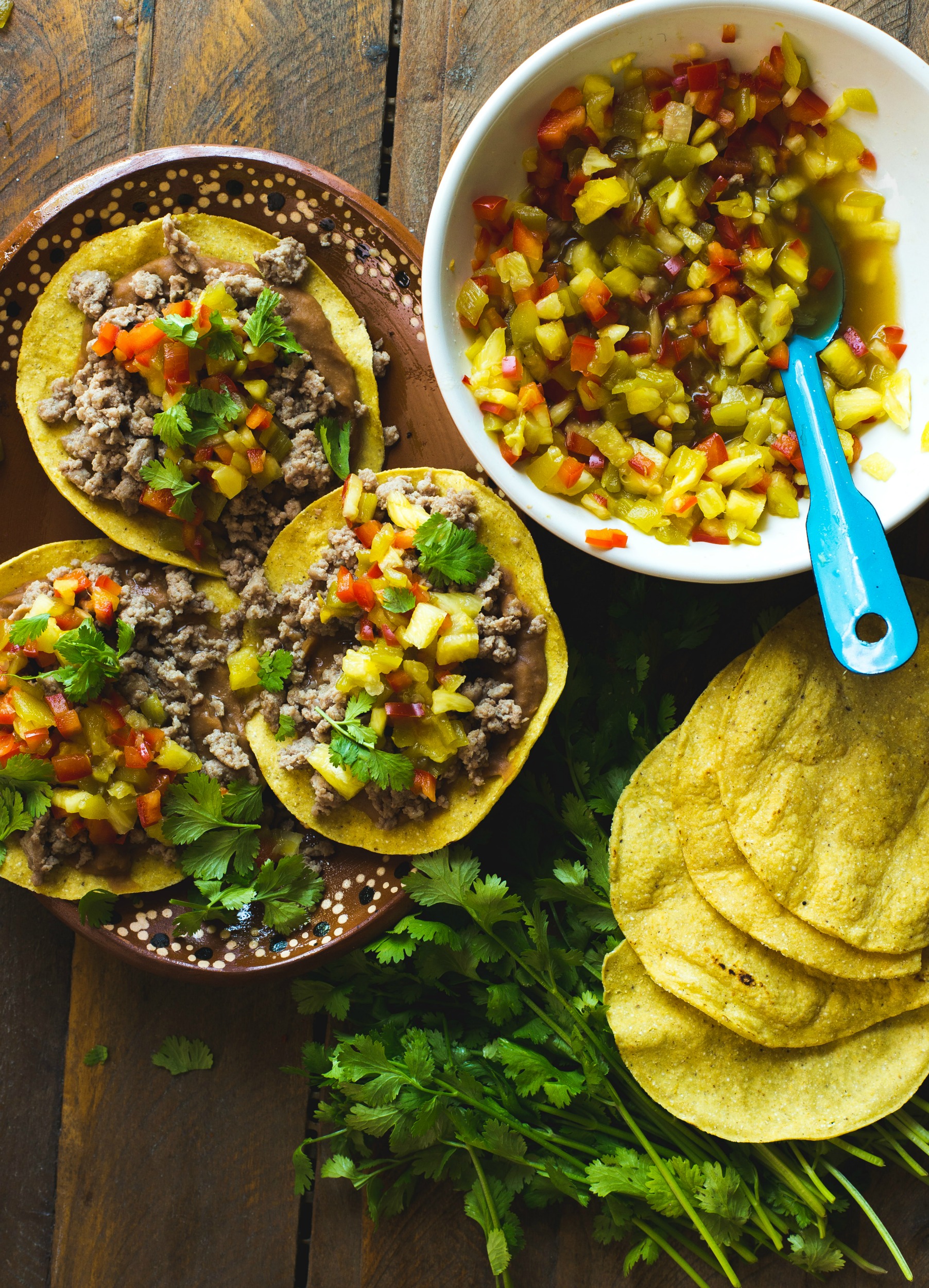 As a child, I remember one of my favorite meals was tostadas. My mami would make them on busy nights when it seemed like time was against her.  She would peek into the fridge to pull out fresh tomatoes, lettuce and any leftovers we had from my dad grilling over the weekend. A few minutes of slicing and dicing, along with a quick heat through and dinner was served.
Now with a family of my own, I rely on a handful of recipes that are always in my rotation for those busy weeknights when I still want to make a nutritious meal that is sure to please.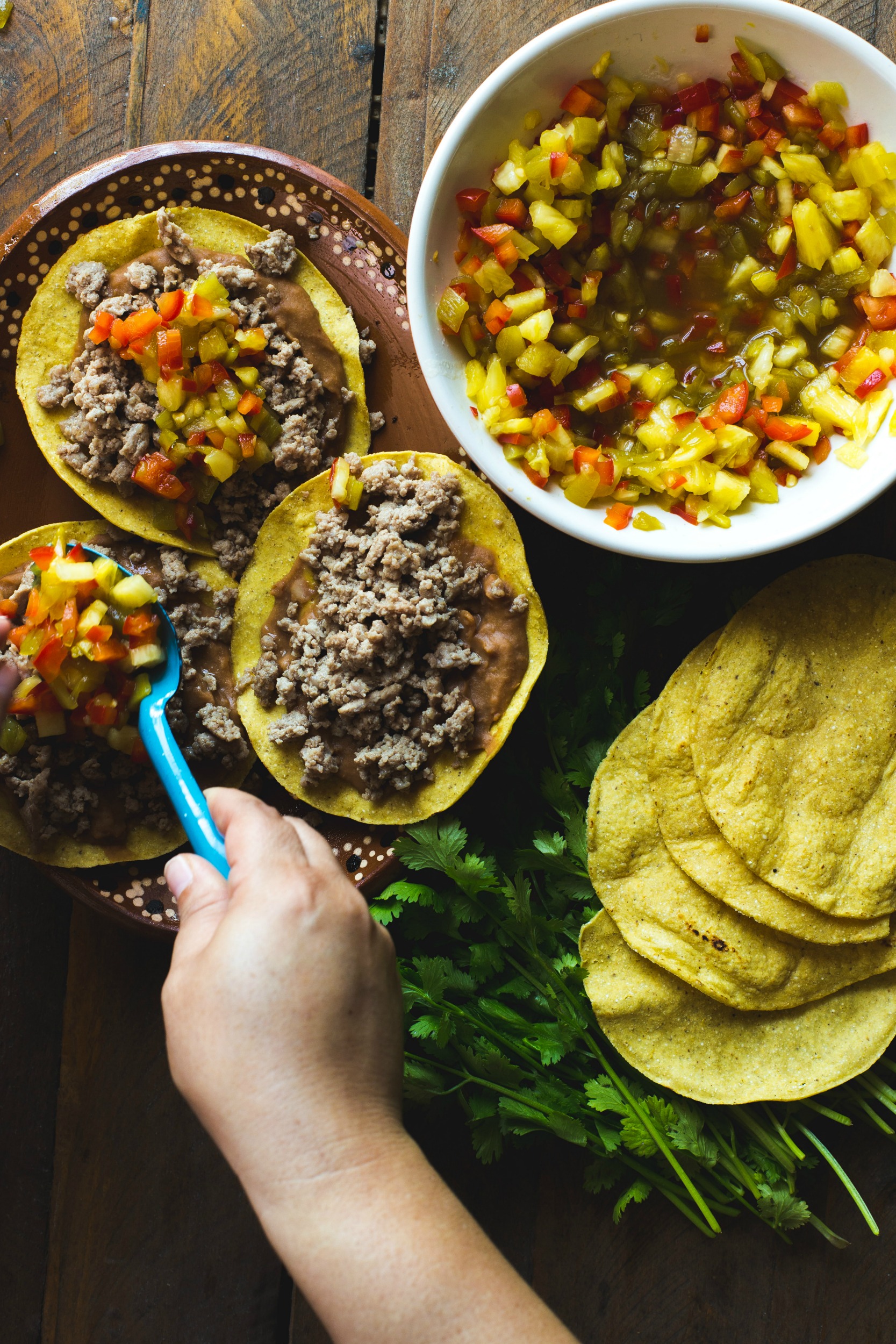 When Jennie-O reached out and asked me to share a family favorite healthy weeknight meal I knew I had to share my turkey tostadas. After all, we are a Jennie-O familia. We have been enjoying Jennie-O for years. What I love about Jennie-O makes it easy to eat well without sacrificing taste, quality or the recipes you love. I can make all my family favorite using Jennie-O lean ground turkey like these tostadas, enchiladas or sopes knowing that my family will enjoy a tasty, healthy meal.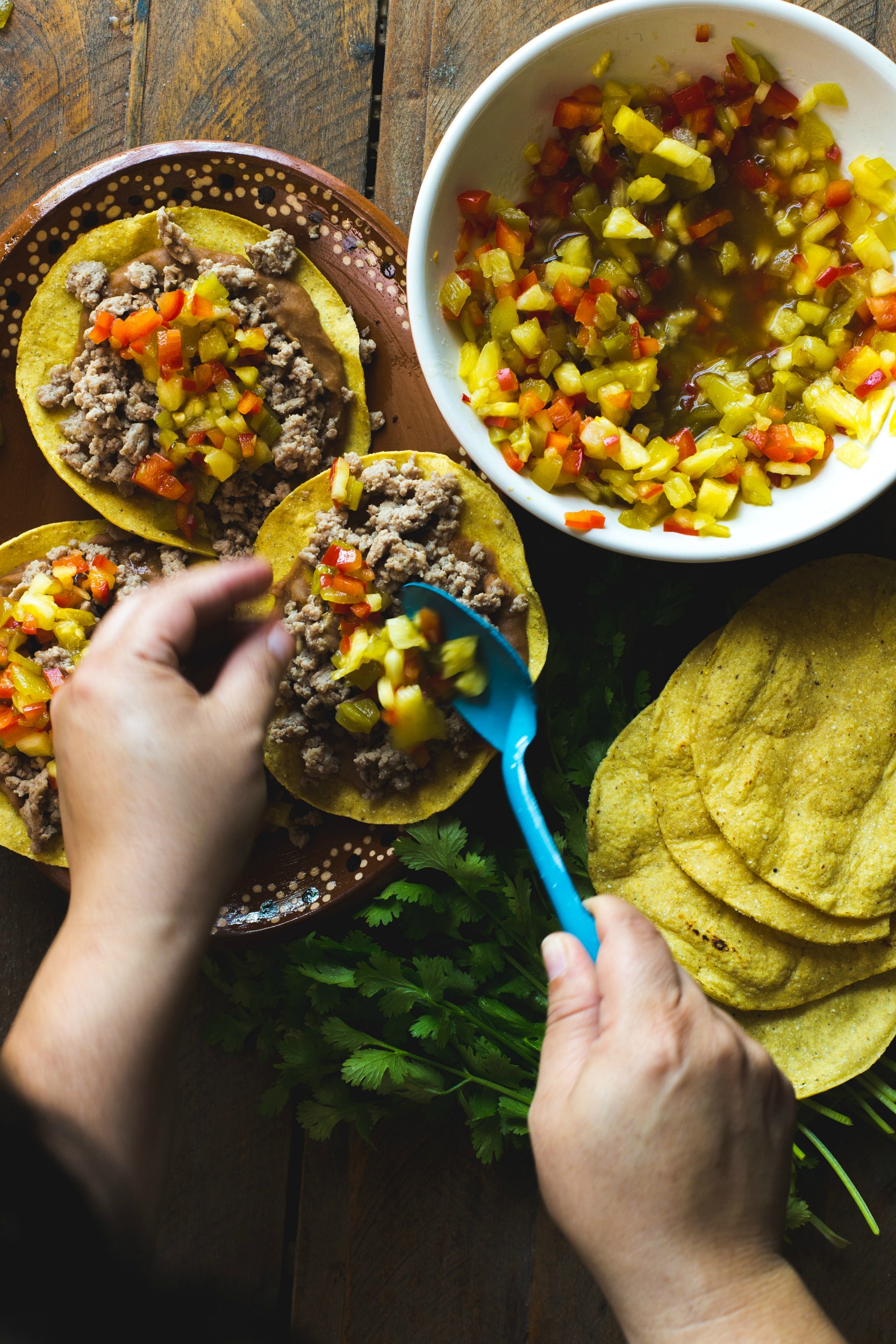 The beauty of tostadas is they are super easy to make, plus you will never get bored of them since there are so many different ways you can top them. Pico, salsa, cheese, fresh veggies or slaw. The options are limitless.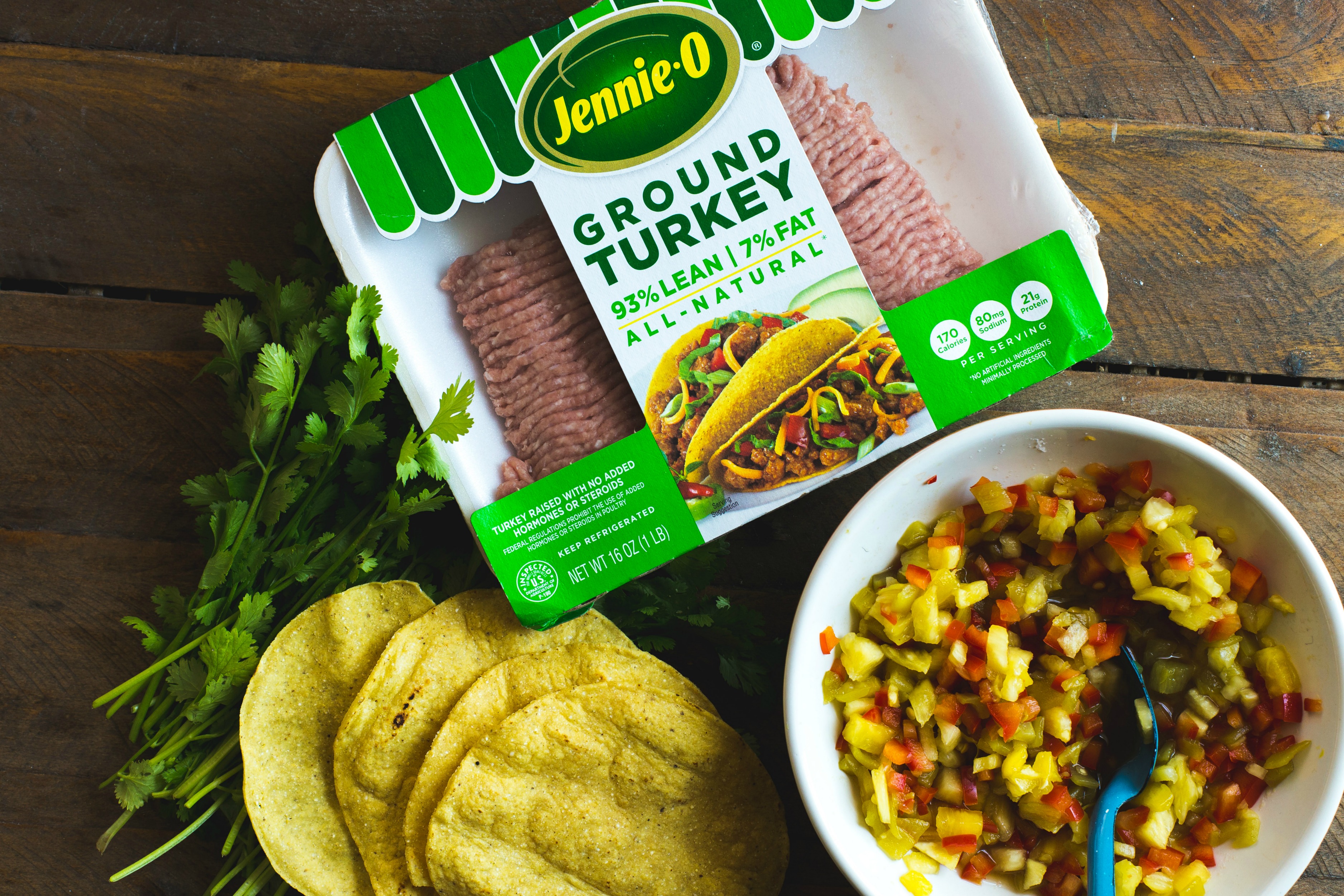 I topped my ground turkey tostadas with a fresh pineapple salsa bursting with plenty of fresh pineapples, green chiles, red bell pepper and cilantro. The pineapple salsa complimented the turkey perfectly.
My turkey tostadas are always a hit with the family. I can prep them in just a few minutes, and I always have Jennie-O ground turkey and baked tostada shells on hand. I like to serve family style and allow everyone to make their own tostada.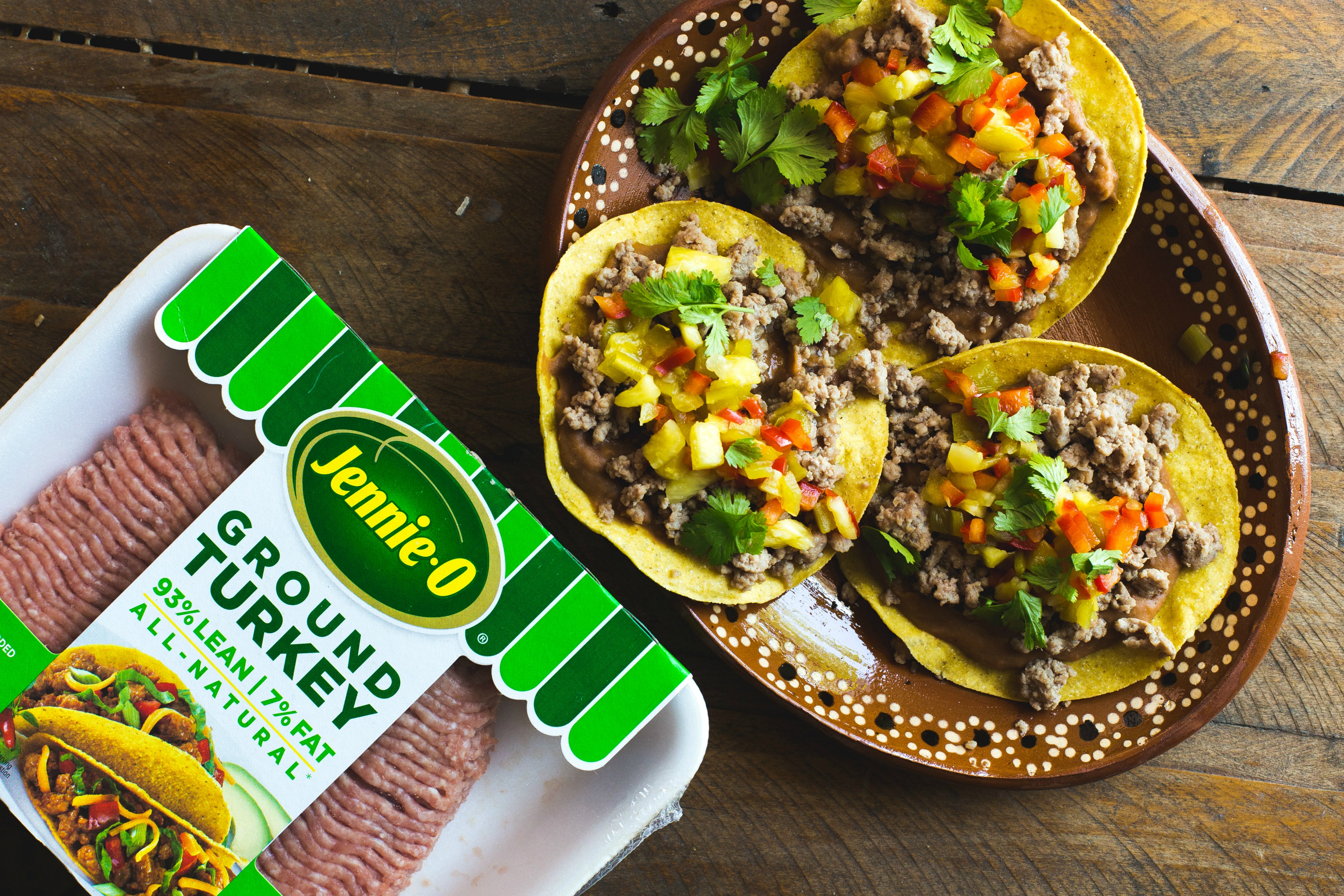 Turkey Tostadas with Pineapple Salsa
Yield 6 Serves
My Turkey Tostadas topped with Pineapple Salsa will be your new go-to dinner! A simple, nutritious dinner idea made with Jennie-O ground turkey.
Ingredients
For ground turkey:
1 pound Jennie-O ground lean ground turkey
1 teaspoon olive oil
2 garlic cloves, finely minced
1 teaspoon ground cumin
1 teaspoon salt
1 teaspoon pepper
2 cups refried beans, canned or homemade – heated through, warm
For Pineapple salsa:
4 cups pineapple, diced
1 red bell pepper, diced
1 (8 ounce) can diced green chiles, drained
2 tablespoons fresh lime juice
1 teaspoon salt
1 teaspoon ground black pepper
1 bunch cilantro finely chopped
To assemble tostada:
Pre-baked Tostadas
Instructions
For ground turkey:
Heat skillet over medium-high heat. Add olive oil and turkey and garlic.
Saute turkey, breaking up with a spoon until cooked through, until no pink.
Stir in cumin, salt & pepper. Reduce heat and keep warm.
To assemble tostadas:
Spread beans on tostadas, spoon ground turkey and top with pineapple salsa.
For Pineapple Salsa:
In a large bowl, combine pineapple, red belle peer, diced green chiles, lime juice, salt, and pepper. Taste, adjust seasoning if needed. Chill until ready to serve, when ready to serve mix in cilantro, serve with tostadas.
Courses Dinner
Cuisine Mexican