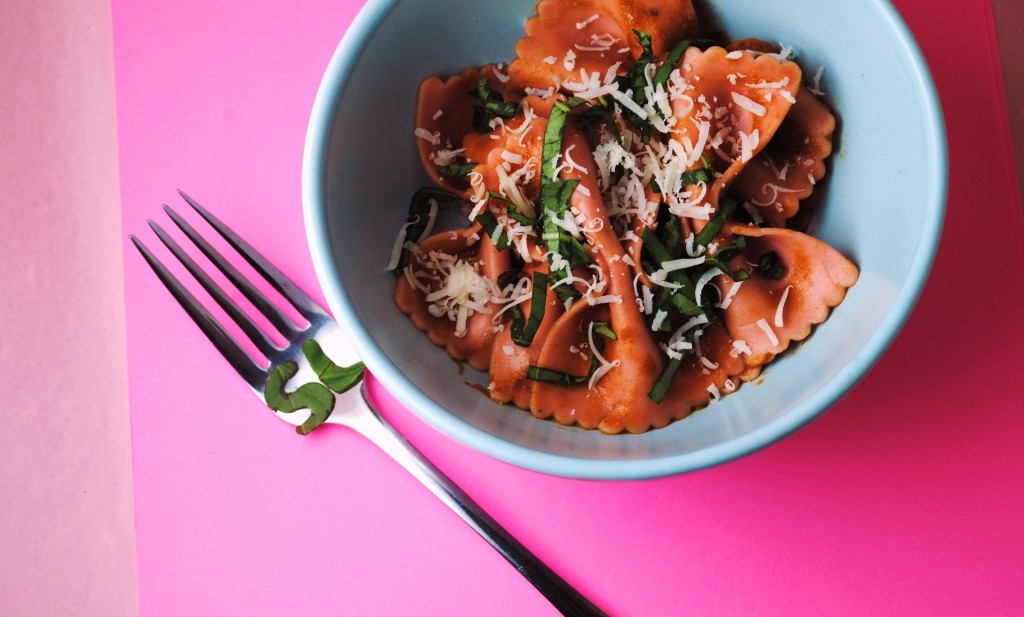 Tomato Basil and Balsamic Pasta
In my earlier post I whined..ya I whine when I'm stressed about how I had alot of school work to get done, but instantly felt better when I realized my salvation was with me all along.  I hope you didn't think I was going to say take-out? nah.. Well let me introduce you to Chuls, she's my 10yr old daughter and guess what? She steps in when mommy is losing her mind and I do lose my mind at least once a week. Let me give ya some background first- when she was 8yrs old I decided to begin introducing what I thought were "life skills." I wanted her to leave for college and be prepared so, we started with baby steps- clean your room, pick up your laundry, wipe down the dinner table- well she did such a great job and was so excited abut her little accomplishments – aren't all 8yrs old though?  I began adding different skills I thought could help — how to properly wash her laundry , what to do in an emergency, simple cpr skills, basic kitchen skills- since she already knew how to chop and dice I walked her through scrambled eggs – to my surprise she loved it..she wanted to learn more. I was thrilled so, next was pancakes, quesadillas, pies, cookies and soon she began looking through my cookbooks and ripping out recipes from magazines she wanted to attempt.  One morning after we had been at this for a year hubby and I woke up to a complete breakfast she had prepared completely  alone. I was floored!!
This is still one of my  proudest mommy moments, not simply because she had made breakfast (which was nice. don't get me wrong), but I knew at that moment when she left  home she would be able to feed herself and she understood the importance of preparing  healthy dinners. Since that moment she has excelled farther than I ever was at her age, (I did not really really began cooking until I had married). So once a week we are all treated to her dinners which are always such a pleasure. With this semester coming to an end quickly, while the work continues to pile up–I turn to my secret weapon, my first born, my little domestic goddess. Shall we meet her? First off don't think there is something wrong with your monitor–this post will be entirely pink highlighted..why? because Chuls loves pink-hot pink and since she is sharing her recipe- she calls the shots.
Tomato Basil and Balsamic Pasta
Chuls loves Nigella-reads all her cookbooks, still dvr's her shows and signed up to recieve her newsletter (thanks chuls). She is also a avid blog reader…chances are if you are reading this and have left a comment she has visited your blog and more than likely added your link to her phone, yup when we run errands and travel she spends her time reading blogs on her phone and browsing her favorite cooking mags–which at the moment are Cooking Light, Food Network magazine and Texas Monthly.  Chuls also loves her Ipod- her hot pink Ipod, her current fav is Joan Jett.  She is also addicted to Percy Jackson, Diary of a Wimpy Kid and American Girls.  She loves her older cousin Andrea with such devotion – Ihope they stay close forever. She loves carnivals, drive inns, and great pizza.
 Chuls also loves Jamie Oliver so, when she ran across this recipe in a magazine, she knew this would be a great quick dinner. Tomato, basil, and balsamic pasta. A quick sauce with fresh basil and a sprinkle of parm added with chuls's favorite pasta hot pink bow-ties, yup I don't know how but, she found hot-pink pasta at a specialty store were we stopped to get coffee. She was so excited.  Let's eat shall we? Enjoy!!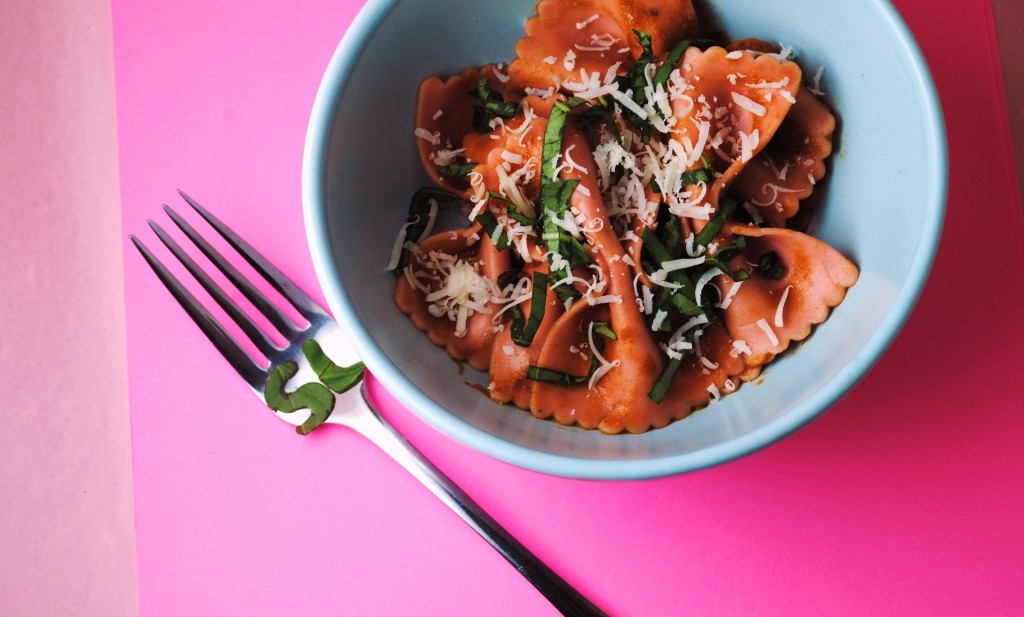 Tomato, Basil, And Balsamic Pasta
Jamie Oliver
Nick Jr Magazine
March 2006
serves 4
3 ounces balsamic vinegar
2 cups plum tomatoes with juice (from a 28 ounce can)
Sea salt and freshly ground black pepper, to taste
Extra virgin olive oil
1 handful (about 1/3 cup) fresh basil leaves
1 pound dry pasta
1/4 cup freshly grated Parmesan cheese
1. place vinegar in a pan over low heat for 5 minutes. It will reduce and become slightly thicker and sweeter. Meanwhile, boil lightly salted water for pasta.
2. Add the tomatoes to reduced vinegar and season with a pinch of salt and pepper. Simmer sauce 10 minutes, then add about 1 tbsp of olive oil and most of the basil, reserving a few for garnish. Remove pan from heat and cool slightly, then carefully puree the sauce in a blender. Pour back into pan to keep warm.
3. Cook pasta according to the pkg directions. Drain, then add it to the pan of sauce. Add half of the parm. Stir well until all the pasta is coated in sauce. Serve with remaining basil leaves torn over the top and sprinkled with remaining parm.