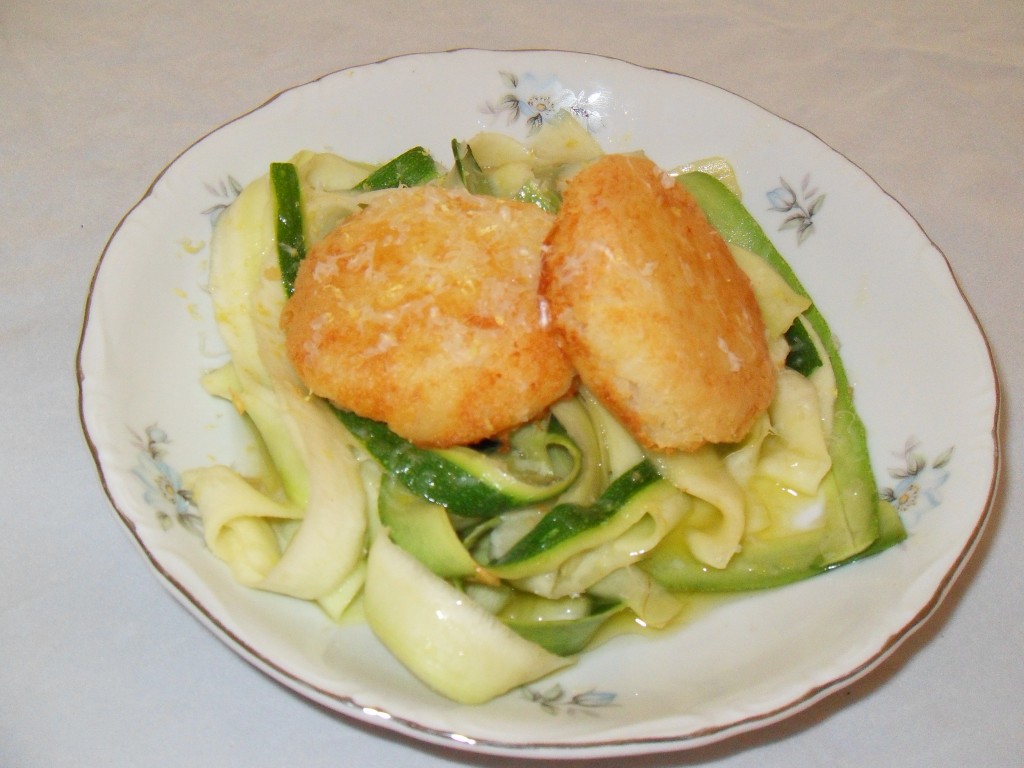 My hubby is extremely busy and to add to his list of duties- is the Army Reserve. After he left active duty, to fufill his contract he was to serve in the Reserves. During the week him being so busy I cater to his every manly need of meat, bacon and more meat. Hey it's love, it has nothing to do with me enjoying any of these meals…. ya whatever!! Well when daddy leaves for the weekend me and my girls get a chance to enjoy some of our own fav foods. We love to indulge in pasta, veggies dishes and making different coolers to wash everything down with. Here is what we enjoyed this weekend. Enjoy!!
The next day we had a plate of  buttered zucchinni noodles with  potato cakes. The potato cakes are from Michael Chirarello, they use up any left over mashed potatoes from a previous dinner. The girls really liked the potato cakes, which have a chunk of mozzarella inside which melts after the cake is fried. The zuchinni noodles are super easy, buttery and cheesey. I added parm, lemon zest and just a sprinkle of lemon juice when serving.
Zucchini Noodles
adapted from Allrecipes
6 zucchini
2 tsp salt
3 tbsp margarine ( I used butter and olive oil)
1 clove garlice minced (I used 3 but I love garlic)
salt and pepper to taste
1/4 cup grated parmesan cheese
lemon zest (optional)
lemon juice (optional)
Cut zucchini into thin, noodle like strips (you can use a mandoline or peeler). Toss with salt and place noodles into colander to drain for 30 minutes.
Bring a pot of water to boil, add noodles- cook for one minute. Drain and rinse with cold water to stop cooking process.
Heat pan over medium heat add butter and olive oil. Add garlic and saute quickly, add noodles and season to taste- add zest amd juice. Cook for about 5 minutes and sprinkle with cheese.
***You can also add any herb you have on hand
***Zest and lemon juice are optional, I like to add jusat to give a little kick to noodles.
===================
Potato Cakes
adapted from Michael Chiarello
8 servings
3 pounds large russet potatoes scrubbed cleaned
1 tsp salt
1/2 tsp freshly grated black pepper
8 oz mozzarella cheese
1/4 cup all purpose flour
1/2 to 1 cup olive oil
1 small jar store bought pesto sauce.
Preheat oven to 450
Bake potatoes right on oven rack until a bit overdone, about 1 hour.
Let sit until cool enough to handle, cut in half and scoop out the flesh. Reserve the potato skins, for another use if desired. Lower the oven to 250 degrees. Pass the potatos through a potato ricer or grate them on the large holes of a box grater. You should have about six cups. Season with salt and pepper and then divide into 16 equal balls. Press each into a patty about 1/3 thick.
Cut half of the cheese into 1/4 inch pieces. Place a piece of cheese in the middle of each of eight patties. cover with the remaining patties and shape into a smooth disc. lightly dust each side with flour. (potato patties can be made one day ahead and covered in the fridge one day before cooking)
Heat a 12 inch skillet over medium high heat. Add 3 tbsp of oil an dheat just until the oil begins to smoke. Place four patties in the skillet. When you hear the patties sizzle lower the heat to medium. Cook until brown and crispy on both sides 10 to 12 minutes total, turning once. if the potatoes absorb all the oil add another tbsp or 2 to the skillet and cook four remaining patties.
In a microwave safe bowl, warm pesto in microwave for about 30 seconds or until warmed through. Grate the remaining mozzarella.
To serve Sprinkle each potato cake with grated mozarella and place in the 250 degree oven until cheese is melted. Spoon pesto on top of each cake and serve immediately.
*** I had leftover mash potaotes that I used for this recipe and I did not use pesto.