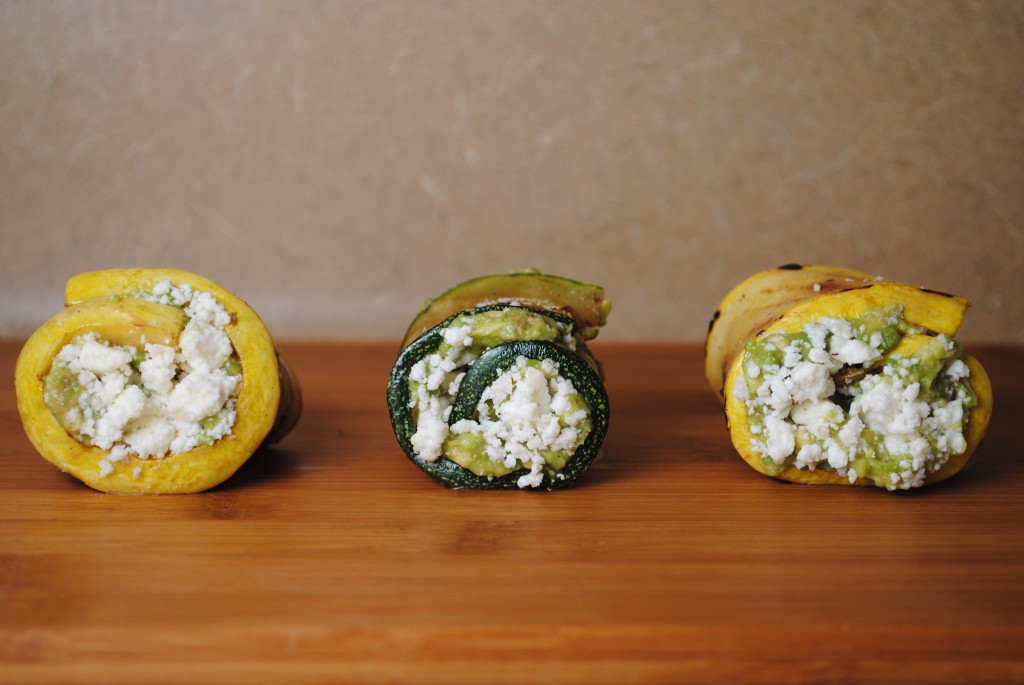 Honey Balsamic Grilled Zucchini with Avocado and Feta
 I almost can't stand it when something you try really, really works together. I know, I know.. it's not "Iron chef" material, but hey isn't  part of the reason we love cooking is for the excitement of combining  ingredients into something remotely edible?
These are super simple to make so don't start freaking, I am like most of you,  I enjoy simple, uncomplicated bites that I can hungrily shove into my mouth. They have sweetness from the balsamic and honey, smokiness from the paprika and grilling,  creamy from avocado a tang of salt form the feta.  Creamy, sweet, salty and grilled flavor really, can you go wrong?
The squash can even be grilled the day before, just fill and roll before serving.  There is smoked paprika in the marinade, so feel free to sprinkle some on also for that extra pop of color. I went at these like a mad woman with my camera, due to a "always starving" 5 yr old tugging my shirt, so they were spared my sprinkle love.  Try them as an appetizer or heck serve them as a side dish, or even better make extra and stash them away for yourself so lunch the next day.  Enjoy, Sweetlife..
Honey Balsamic Grilled Zucchini with Avocado and Feta
Honey balsamic marinade
by sweetlife
Vianney Rodriguez
2tbsp olive oil
3 tbsp balsamic vinegar
2 tbsp honey
1/4 tsp smoked paprika
1/4 tsp salt
1/4 tsp freshly ground pepper
combine all and whisk together,  taste for seasoning, set aside
*feel free to double, I always do for a quick fish or chicken dinner the next day**
Zucchini rolls
make about 8-12 depending on size of squash
1 yellow squash
1 zucchini
1 large avocado. or 2 small
1 tbsp lemon juice
feta cheese
with a peeler, mandolin or  knife cut your veggies lengthwise  into  strips, try no to cut them either too thin or too thick, for easier rolling.
heat your grill or indoor grill pan
brush your marinade on the veggies and place on the heated grill, lay crosswise if you desire grill marks, they do make for a nice presentation.
grill on each side until slightly tender, about 2 minutes. Remove and allow to cool to room temperature.
While the veggies cool, cut and place you avocado into a bowl and mash, adding lemon juice.
crumble your feta
when veggies are cool spread the mashed avocado and add your feta.
roll and either place seam side down, or attach festive toothpick.
serve along  side leftover marinade.
***Texas local ingredients used was the honey, from Fain's   ( Fain's )
I am submitting these rolls into the Quickies challenge hosted by Denise and Larazo.