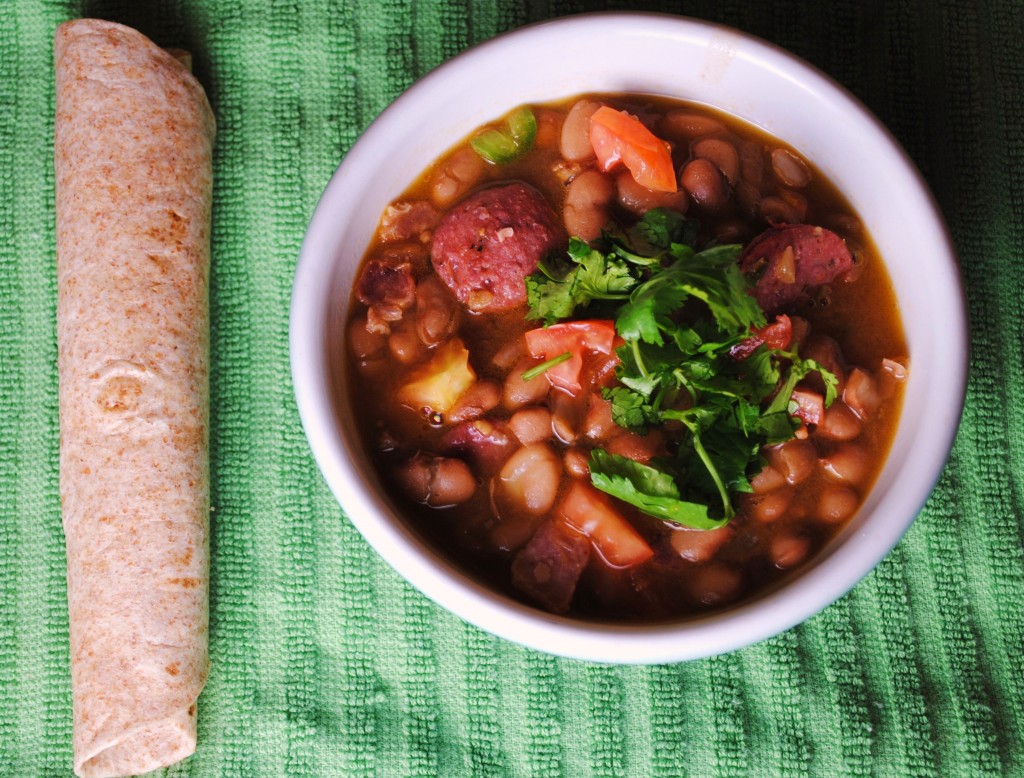 Some evenings I crave beans, okay seriously I could live off beans.  They are pretty high on my list of "last meals on this earth," – you know you have one, everyone does. Well when I want a heartier version, a complete meal in a bowl I turn to Charro beans.  Okay I know it's not original, I'm not reinventing the wheel, but their good, I mean really good.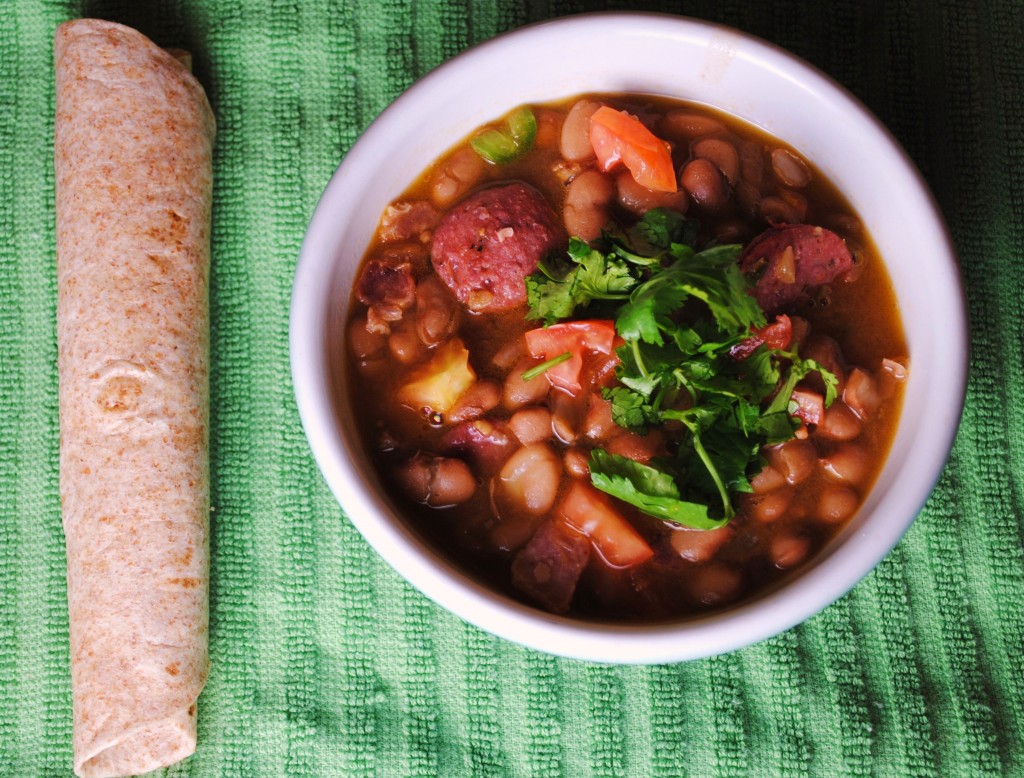 Charro beans or frijoles charros came from Guadalajara, Mexico. Here in Texas they are also called "cowboy beans," there is many versions and every region in Mexico has their own twist.   Here they are served in every Tex-Mex joint, in little bowls alongside your meal.  Beer can also be added to make the beans "borracho beans,"  or drunken beans, I have yet to try this, but I see myself attempting these soon.   Pinto beans are the most commonly used here in South Texas, but they can also be made with black beans or use any beans you like, after all aren't recipes guidelines for you to create your own inspiration, I know I change most recipe to suit my families taste. I have never tried making Charro beans with canned beans, because they do require "brothy beans,"  so I make a pot of pinto beans and go from there.  Popular addition to charro beans are bacon, sausage, serrano, tomatoes, onion, garlic, chunks of ham, chorizo or pork.  If you want to cut back on your meat intake or are a vegetarian, they can easily be loaded with your fav veggie. I have made the veggie version twice by adding squash, carrots, onions, tomatoes, garlic, potatoes, honestly the possibilities are endless. Add any leftovers in the fridge, or any meat from a previous meal.  Shall I share my version? with pleasure…Enjoy!
Charro Beans
by Sweetlife
Vianney Rodriguez
serves many
4-6 cups of beans, with broth (save extra broth in case the mix gets too thick)
1 medium onion, chopped
2-3 tomatoes, chopped
serrano pepper- I use 2-3, ( as suits your heat preference) sliced thinly
8- 10  slices of bacon, chopped
1 tbsp comino
jalapeno sausage(cooked), sliced
2 garlic cloves chopped
salt
pepper
cilantro, washed and thick stems removed-chopped
Heat a large pot, or dutch oven( you need  enough room for the beans) and add bacon.
Cook bacon until crisps and remove from pan, add sausage to the pan to slightly crisp and heat through.
Remove the sausage and add onions. Stir frequently to loosen the brown bits from the bacon.
Cook for 2-3 minutes. Add tomatoes and serranos and continue to stir to remove any left over bits, you want all that flavor in your beans.
Add the comino,garlic, salt and pepper. Stir to combine.
Add your brothy beans and heat through.  Taste for seasoning and add salt or pepper if needed.
Add the cilantro just before serving, the cilantro will wilt quickly and it does not make for a great presentation.
+++I also want to share with you the products that I used in this recipe locally from Texas.
Hickory Smoked Bacon from Houston, Texas
Jalapeno Beef Smoked Sausage from San Antonio, Texas  Kiolbassa