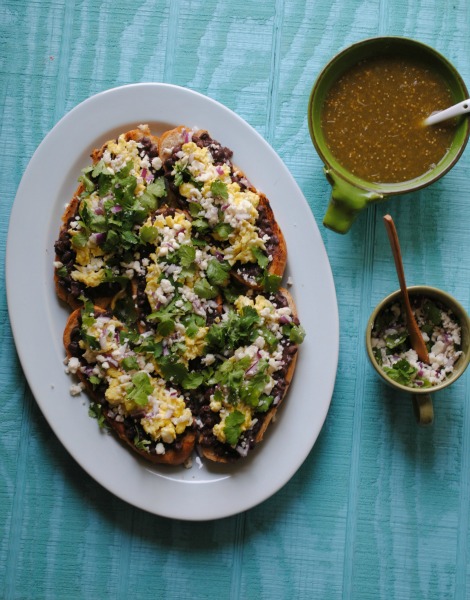 Breakfast Molletes
Growing up mami used to make what we called "butter bread." Sliced bolillos that were slathered in butter and heated until crispy in her favorite cast iron pan.  One the easiest recipes, really no recipe is needed but one that is engrained in my heart forever.  The simple smell of butter bread in my mami's cast iron pan, which she still uses to this day, instantly makes me feel 8 years old.  Whenever I was sick, homesick or pregnant and she would visit, butter bread was the cure.                   
She would make a heaping pile, cut up a few melons, pour tall glasses of milk and Saturday breakfast was served.  She was usually heading out to tend her garden and wanted to take advantage of the early morning cool weather. This called for a quick breakfast. We never complained, we loved chomping on butter bread while we watched Saturday morning cartoons.
After we all had eaten, watched our cartoons and cleaned up we would head out to play.  Mami was busy weeding as we set out to climb trees, bike ride or play with the neighborhood kids all while not trying to be noticed.  If you were spotted too close you ran the risk of being her next yard volunteer and no one wanted that.
Around noon time she would head in, wash up and began lunch.  Having skipped breakfast herself (solamente con café en la panza), she was hungry.  She would take the remaining pile of butter bread and grab whatever she could find in the fridge.  Of course there were always refried beans, fresh salsa y queso.  She would fry a few eggs, slather the bread with beans and top each of with a hearty scoop of eggs.
While she put the finishing touches on lunch my little brother was in charge of rounding us up.  Lunch was served, molletes.  Typically a snack or appetizer in Mexico these babies were beefed up molletes.  Beefed up to satisfy a morning of yard work, beefed up to give her a much needed boost and totally beefed up to make sure she didn't have to feed us an early dinner.  She was planning on working late until the evening.
These days I still make her hearty molletes for dinner or a late breakfast after a late night out with the kids.  They hit the spot, always have, and always will.   As I make them with eyes half shut from the tiredness I think back to the easy, breezy days of being a kid.
Wow, I feel old.  I need butter bread.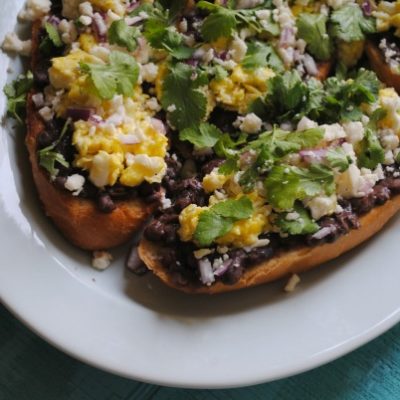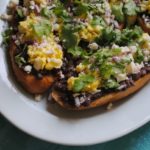 Breakfast Molletes
Ingredients
4

bolillos

Butter

softened

Refried beans

Scrambled eggs

Fresh salsa

pico de gallo or queso fresco

Cilantro
Instructions
Heat a cast iron pan or large skillet over medium heat. Slice bolillos in half and remove a little of the inside.

Spread lightly with butter. Place in pan, cut side down and cook until crispy and lightly golden brown.

Spread each half with beans, scrambled eggs, fresh salsa or queso and cilantro.