Paletas de Piña y Limón
Spring Break treats! The weather has been amazing in South Texas.  Sunny, breezy and cool; everything needed to make Spring Break fun!  The kids enjoyed spending the entire day outside with their cousins, Papi spent his days adding a fresh new coat of color to mami's house and I spent some time on the grill.
Of course there had to be something sweet to end the day, paletas for everyone!
Vivid in color, bursting with flavor and endless fruit combinations paletas offer a sweet bite to the end of any meal. Easy to make with fresh fruit juice little to no sugar is needed. A refreshing guilt free snack, paletas are the perfect any day treat!
Fresh pineapple is blended until smooth with a touch of lime for a perk of citrus. Freeze until set and enjoy with friends.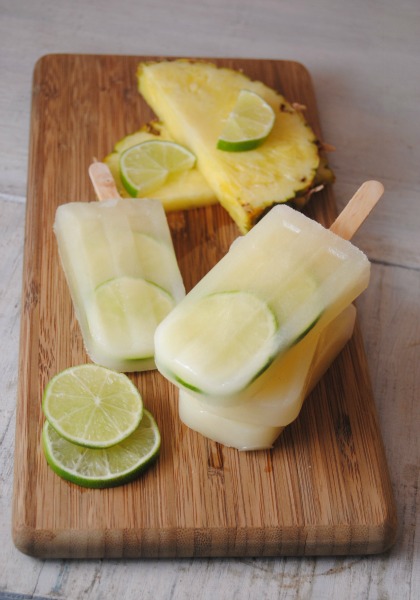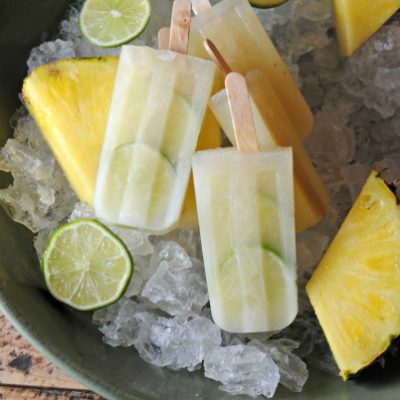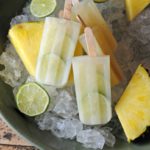 Paletas de Piña y Limón
Ingredients
4

cups

fresh pineapple

1/2

cup

water

¼

cup

fresh lime juice

plus lime slices for garnish

1

tsp

salt
Instructions
Place pineapple, lime juice and salt in blender or food processor with just a splash of the 1/2 cup water. You do not want to dilute the pineapple flavor.

Blend until smooth and strain.

Pour fresh pineapple juice into your paleta mold, insert slices of lime and freeze for about 1 hour. Insert Popsicle sticks and freeze until solid, about 3 hours.

To release paletas run your mold under warm water.
Recipe Notes
*Try soaking your wooden stick in warm water 20 minutes before using. This helps the stick to stay in place