A quick bread, frybread often accompanies a meal, similar to the way that tortillas can be torn into pieces and used to scoop bites of food or can be dipped in stews and soups. Frybreads can also be sprinkled with sugar or honey, or used for taco-style dishes. Indian tacos are typically topped with ground beef, but I wanted focus on the frybread and also give the hominy salsa a chance to shine. So instead, I decided to top my frybread with black beans and tons of hominy slasa.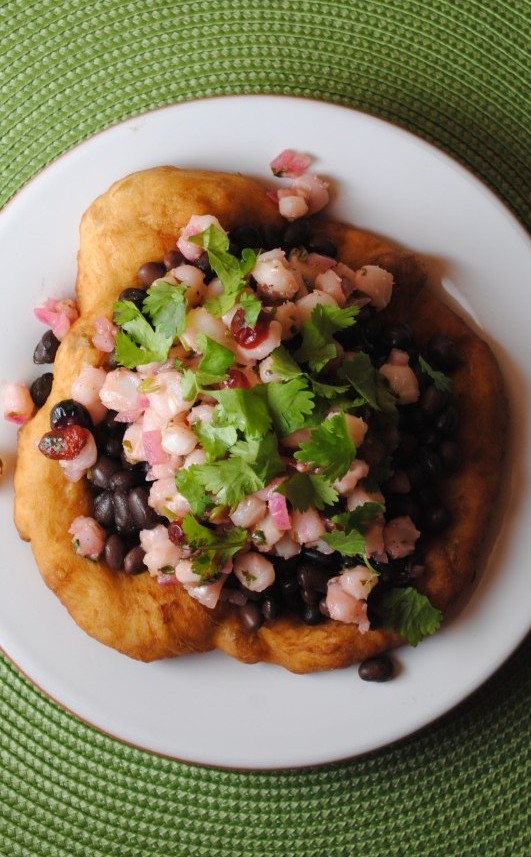 Ingredients
2 cups flour
4 tsp baking powder
½ tsp salt
1 tbsp honey
1 cup milk
Oil for frying
Instructions
In a small saucepan or microwave, heat milk and honey until lukewarm temperature.
In a bowl soft together flour, salt and baking powder.
Slowly add the milk-honey mixture to the four and stir until soft dough is formed
On a floured surface, knead dough gently. Do not overwork dough.
Cut into eight equal pieces.
Roll each piece to about ½ thick circles, as you might when making tortillas.
Fry on each side until golden brown.
Notes
Recipe adapted from Indian Country
http://sweetlifebake.com/2012/07/03/indian-frybread-taco-with-hominy-salsa/
Ingredients
2 cups hominy, drained and rinsed
½ red onion, finely diced
2 tsp cumin
1 tsp chili powder
2 tsp sugar
2 garlic cloves, finely minced
1 Serrano chile, seeds removed and finely minced
1/4 cup fresh lime juice
1 tbsp olive oil
1 tbsp red wine vinegar
1/4 cup finely chopped cilantro
salt
freshly ground pepper
Instructions
Add all ingredients and stir until well combined. Refrigerate until ready to serve.
Notes
adapted from Native Food.com
http://sweetlifebake.com/2012/07/03/indian-frybread-taco-with-hominy-salsa/
I'm sharing this with BYOB, Bake Your Own Bread, hosted by Girlichef. BYOB is a monthly bread baking event that is open to anyone who loves baking bread.