Paletas de Melon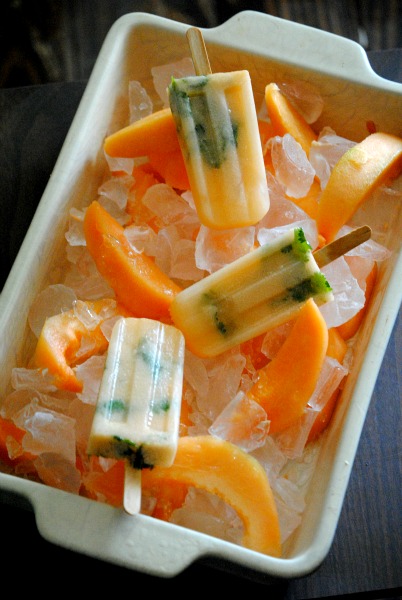 Paletas de Melon
I'm home.  I arrived this morning and I already miss my little brother in sunny California.  I had the best time.
Thing is… the California weather was much like Texas, minus the humidity.  It was HOT!! The lady I chatted with at the local honey stand said this is the hottest it's ever been in California, figures.  I show up to get a break from the Texas weather and it follows me.
Lucky us we had paletas. Paletas de melon to ease the heat.
There is a chance for rain today with cooler temps. Too bad I'll be catching up on much needed sleep after our 24 hour drive home.   Enjoy!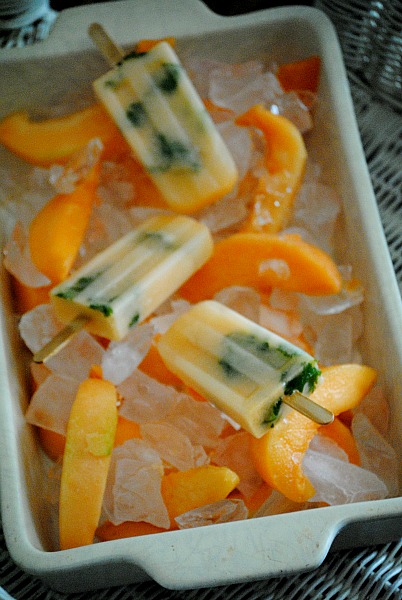 I added cilantro and bit of salt to my paletas to capture the flavors of one my favorite summer salads. Feel free to omit the cilantro if it's not your thing.
Ingredients
4 cups melon, diced
1/2 cup water
1 tsp salt
Instructions
Place melon and salt in blender with just a splash of the 1/2 cup water to get it started.
Blend until smooth.
Pour into a paleta mold, insert wooden sticks and freeze for about 4 hours.
Run your mold under warm water to loosen the paleta.
Notes
Try soaking your wooden stick in warm water 20 minutes before using. This helps the stick to stay in place.
http://sweetlifebake.com/2012/08/22/paletas-de-melon/

I'm sharing this with Girlichef for Summer of the Popsicle
FoodNetwork celebrate the best of the summer with Summer Fest. Today we celebrate Melon!
check out what these fab food bloggers created with melons…
Jeanette's Healthy Living: Watermelon-Mint Freeze
What's Gaby Cooking: Melon and Prosciutto Salad
Cooking With Elise: Quinoa Crunch With Melons, Blueberries and Yogurt
Haute Apple Pie: Watermelon and Feta Salad
Cooking Channel: Five Things to Make With Watermelon
Healthy Eats: Melon Refreshers
Ingredients, Inc.: Melon-Arugula Salad
Daily*Dishin: Honeydew Melon Salad With Genoa Salami and Mozzarella Fresca
Made by Michelle: Cantaloupe Popsicles
Chez Us: Cantaloupe Lime Agua Fresca
Napa Farmhouse 1885: Mixed Melon Smoothie
Virtually Homemade: Melon-Mint Popsicles
Thursday Night Dinner: Cantaloupe With Figs, Basil and Kalamata Olives
Zaika Zabardast: Cantaloupe Soup With Cardamom Infused Cherry Syrup
Sweet Life Bake: Paletas de Melon
HGTV Gardens: Garden-to-Table: Melons
FN Dish: There's More to Melon
© 2012, Sweet Life. All rights reserved. Please contact us to request written approval for reproduction of images and recipes.