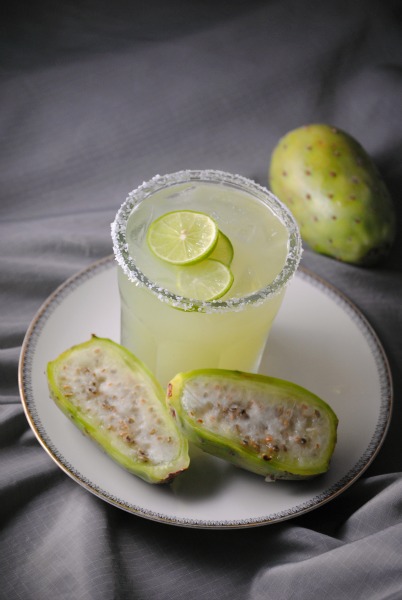 Prickly Pear Margarita
I'm in California!!  I had just unpacked from my trip to NYC when my parents decided to visit my little brother in California and of course I just had to tag along.  Before we left I had a basket of prickly pears that I couldn't let go to waste, so a few went in for an agua for the kids and a few for a pitcher of margaritas for the adults.
To make the prickly pear fresh juice in a blender add peeled and diced prickly pears. Blend until smooth and strain for seeds. The airy shade of lime was the complete opposite from the bright pink shade when I made these margaritas earlier last year.  Enjoy!!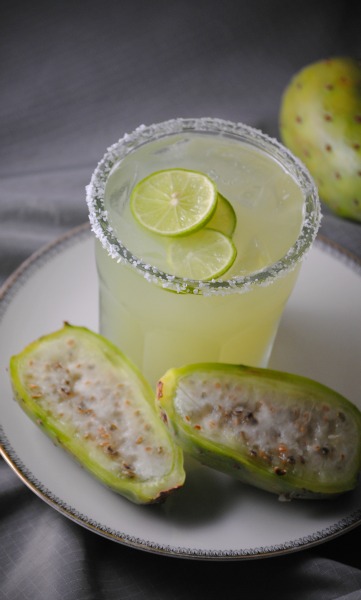 Prickly pears also known as tunas are the fruit found on nopales. In either red or green they can be found in many Latin markets in the produce section. The outside skin contains spines so please be careful.
Our local grocery store has them with the spines removed or even peeled and ready to eat. I prefer to peel my own simply for freshness. The interior in lined with small seeds. Your blender should have no problem breaking these down, but strain your water for any little bits that may have lingered. Enjoy!!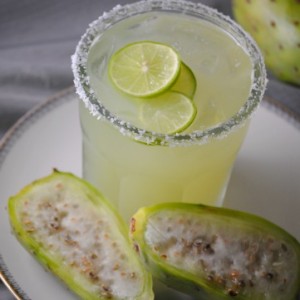 Prickly Pear Margarita
Ingredients
1

cup

fresh prickly pear water

about 4 or 5 medium prickly pears

1/3

cup

fresh lime juice

1/2

cup

Cointreau

1

cup

tequila

salt

lime wedges

ice cubes
Instructions
On a small plate spread salt.

With lime wedges moisten rim of 6 ounce glasses.

Dip glasses into salt.

Place glasses into freezer to chill.

In a pitcher combine the tequila, fresh prickly pear water, lime juice and Cointreau.

Remove glasses from freezer and serve margarita mixture over ice.

Garnish with lime slices.