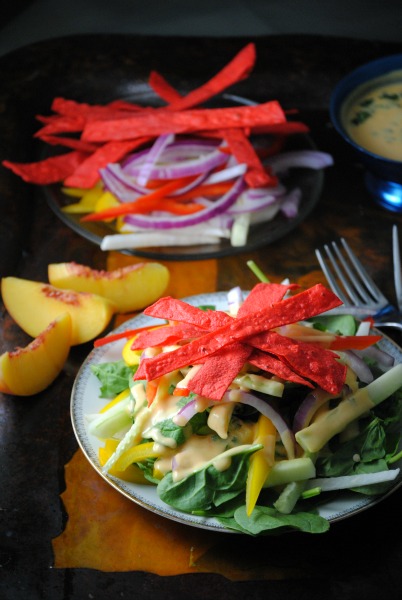 Jícama-Tortilla Salad With Peach Dressing
I once took my girls along with my parents to pick peaches.  We left early morning and drove a few hours out to a nearby family farm.  As we arrived I couldn't help but think how my dad was going to handle this scenario. You see my dad, mi papi as much as I love him (adore him) has always been, continues to be strict with us kids.  A father who can put you in place with a mere glare, that is my father.   As we picked up our baskets I suggested the girls tag along with me and he could roam the area with my mom.  He gave me a quick look from the corner of his eyes and informed me the girls were to go with him.  Of course I said nothing, strict I tell you.
And believe me this Pequeña still fears her papi. 
Off they went my 7 year old and 2 year old to pick peaches with papi.  I lingered behind with my mom picking peaches with one eye and keeping the other on my father.  I could hear my girls in the distant giggling, running through the trees, tossing peaches into the basket, examining bugs and asking papi millions of questions.. kids ask a lot of questions.  Patiently he would answer, bend over to tie my youngest shoe laces and examine each peach before placing it into the basket.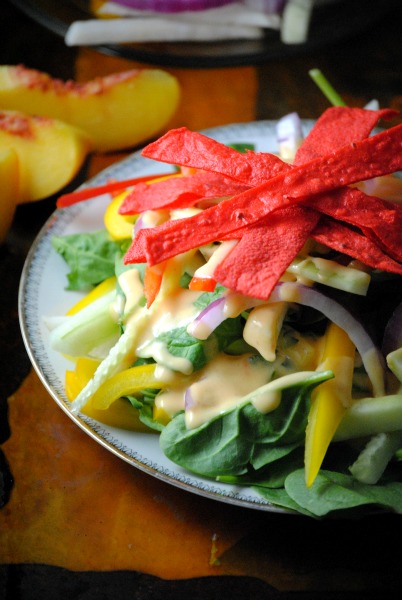 Who was this man?
After a few hours I turned to my mom and asked, what the heck?  Who is this man and where is my father?  She laughed.
Ah Mija, he's an abuelito now.
Funny how they change. I adore that man, love him!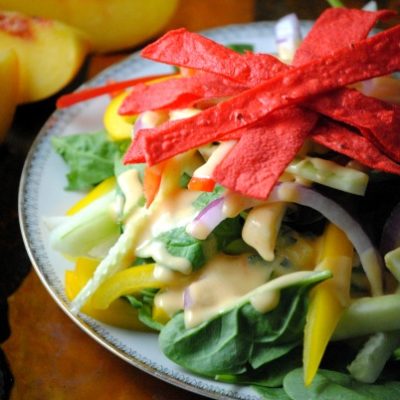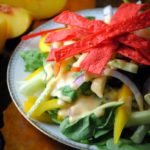 Jícama-Tortilla Salad With Peach Dressing
Ingredients
1

small red onion

about 6 ounces, sliced into thin rings

6

medium peaches

1

tablespoon

plus 1 teaspoon fresh lime juice

3

tablespoons

olive oil

1

medium red bell pepper

seeded and cut into thin strips

1

medium yellow bell pepper

seeded and cut into thin strips

1

small jícama

about 16 ounces, peeled and cut into thin strips

1

mango

peeled, pitted, and cut into thin strips

1

tablespoon

fresh cilantro

chopped

3

cups

fresh spinach

washed and cut into thin strips

6

corn tortillas

cut into thin strips and fried until crisp

salt to taste
Instructions
Have a bowl of ice water ready. In a small saucepan, blanch onion rings in boiling salted water for 1 minute. Cool in ice water for 1 minute and drain.

Slice and seed 2 peaches and set aside.

Juice and strain remaining 4 peaches.

Combine peach juice and lime juice in a mixing bowl.

Drizzle in olive oil while whisking.

Place onion rings, bell peppers, jícama, and mango in a mixing bowl and toss lightly with dressing. Allow to marinate, refrigerated, for at least 30 minutes.

Add cilantro, spinach, tortilla strips, and salt.

Toss again and garnish with reserved peach slices.
Recipe Notes
recipe from Texas Monthly ~ adapted, original featured tangerines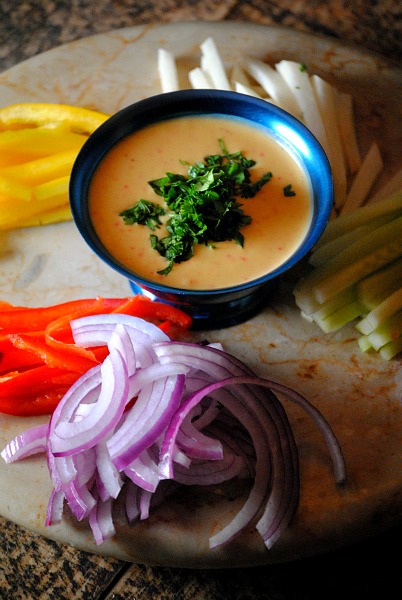 I am sharing this with Summer Fest with FoodNetwork, check out what creations these fab food bloggers made with peaches!! Enjoy!
Jeanette's Healthy Living: Peach Blackberry Arugula Salad
Cooking With Elise: Streusel Topped Peach Muffins With Peach Butter
Heather Christo Cooks: Peach Coconut Pancakes
Ingredients, Inc: Easy Peach Pie
From My Corner of Saratoga: Grilled Peaches With Caramel-Ginger Sauce and Pound Cake
Dishin & Dishes: Peach Lacquered Chicken Salad
Big Girls Small Kitchen: Easy Peach Limeade
Napa Farmhouse 1885: Fresh Peach and Coconut Cake
Daily*Dishin: Caramelized Grilled Peaches
Delicious Lean: Smokey Peach Chipotle Grilled Chicken
Thursday Night Dinner: Peach Shortbread
Sweet Life Bake: Jicama Tortilla Salad With Peach Dressing
I Am Baker: Cilantro Peach Salsa
Zaika Zabardast: Donut Peach Quesadilla
And Love It Too: Peachy Coconut Streusel Muffins
Daydreamer Desserts: White Peach Margaritas
Cooking Channel: 4 Savory Uses for Peaches
Healthy Eats: What to do With Overripe Peaches
FN Dish: Peaches Move to the Big Kids' Table