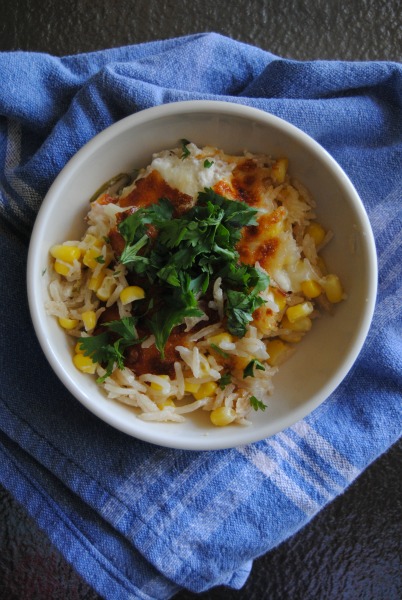 The night before I flew out to NYC my little family and I enjoyed a nice quiet dinner. I served this rice with grilled chicken and a small salad.  Roasted poblanos in a creamy sauce baked until bubbly, it's pretty popular in our house.  A splash of lime to the crema and a handful of cilantro is the only addition I make to the rice.  Enjoy!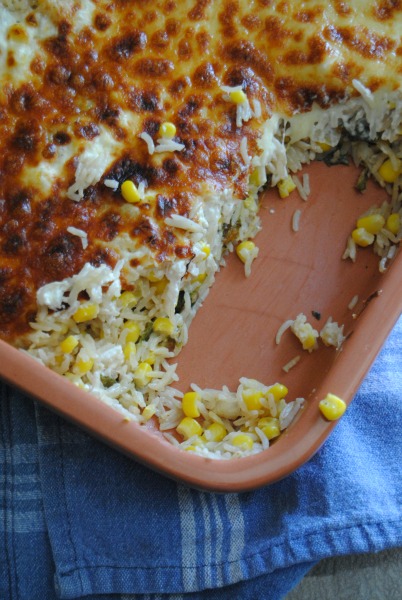 Marcella Valladolid's Chile and Cheese Rice
from foodnetwork.com
makes 4 servings
Ingredients
2 tablespoons olive oil
1/4 large white onion, minced
1 cup long-grain white rice
2 cups water
2 ears fresh corn, kernels removed or 2 cups frozen corn, thawed
1 teaspoon kosher salt
Freshly ground black pepper
2 poblano chiles, charred, peeled, stemmed, seeded, and chopped * see Cook's Note
1/4 cup Mexican crema or sour cream
1/2 cup grated Monterey Jack cheese
Directions
Heat the oil in a medium-size heavy skillet over medium-high heat. Add the onion, and saute for until translucent, about 5 minutes. Add the rice and cook until the rice is opaque, about 10 minutes. Stir in the water and the corn kernels, then season the water with salt and pepper, to taste. Bring the mixture to a boil.  Reduce the heat to medium-low, cover, and simmer until the rice is tender, about for 15 minutes.
Preheat a broiler. Using a fork, fluff the rice and stir in the chopped poblanos. Transfer the rice to a 7 by 10-inch baking dish.  Drizzle with the creama or sour cream and sprinkle the cheese over the top.  Broil until the top is browned in spots and the cheese has melted, about 5 to 8 minutes.
Remove from the oven and serve.
*Cooks Note: To char the chiles (or any fresh chile): Put the chiles over a gas flame or underneath the broiler and cook until they are blackened on all sides. Enclose them in a plastic bag and let stand for 10 minutes to steam, which will make them easier to peel. Peel, stem, and seed the chiles. Once peeled, the chiles may be chopped, sliced or stuffed.