Sweet Life Disclosure: This is a sponsored post with Absolut Vodka. Thank you for supporting the companies I collaborate with to bring you exciting new cocktails.
Absolut Mango Cooler
Growing up, I remember family picnics in the summer.  I would run in the grass with my primos while the adults would prepare a delicious feast accompanied by lots of vibrant conversation and laughter.  Our family parties would last hours into the night, with plenty of food and drinks for everyone.
My tías would always bring treats for us too…sweets, paletas, aguas and plenty of hugs and kisses.
My favorite agua was the mango agua my tia made. It was refreshing treat on a hot summer day. Sometimes she topped her agua with a splash of mango soda to create an icy cold bubbly treat that us kids couldn't get enough of.  
Today, I'm going to share a recipe with you that takes me back to those summer days where we enjoyed familia and nights filled with laughter and delicious sweet treats.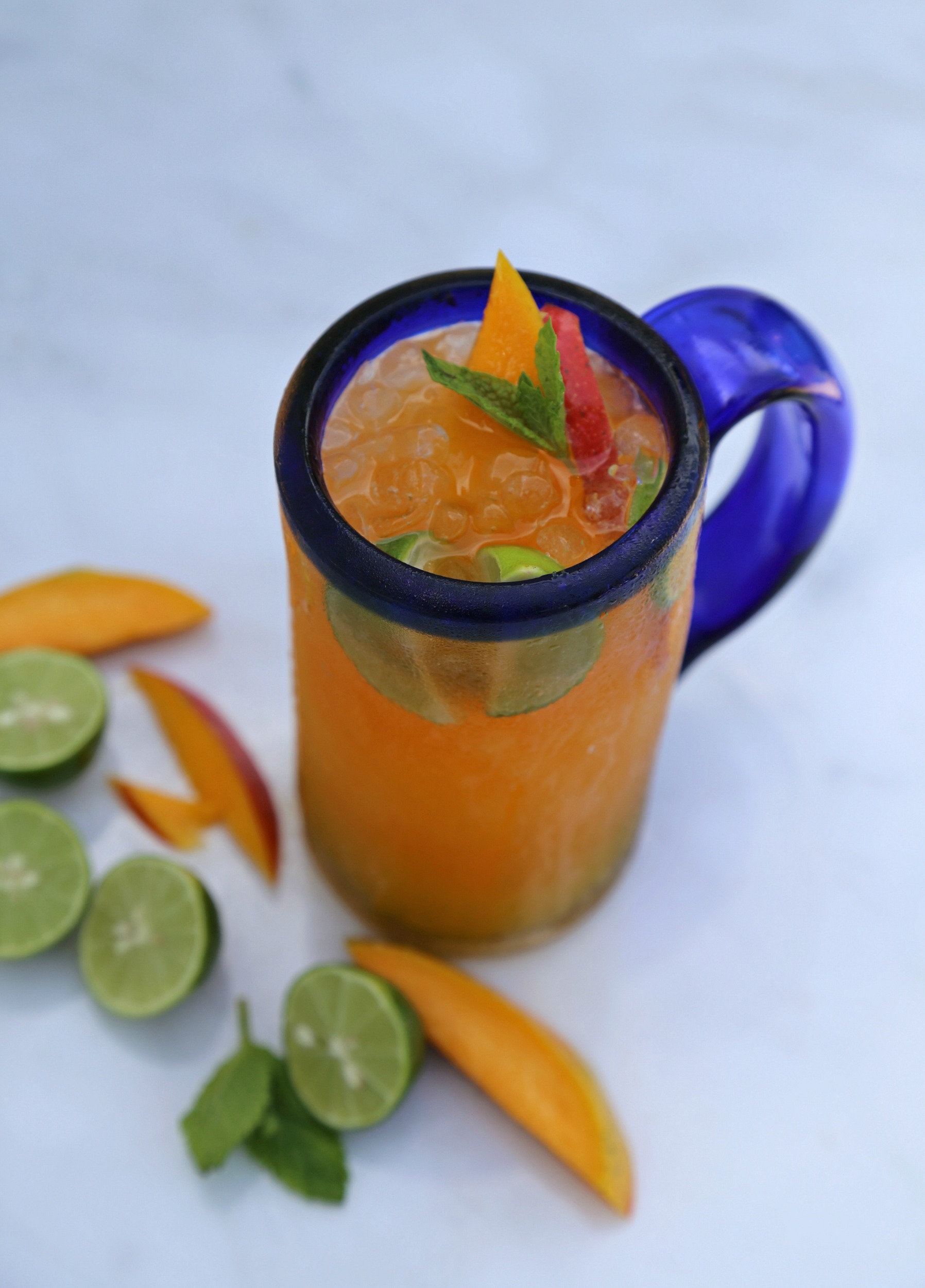 Vibrant Absolut Mango Cooler Recipe
I'm excited to partner with Absolut Vodka to shake up fun cocktail perfect for summer fiestas. Absolut mango Vodka brings the perfect punch to this rich, fruity cocktail and is made with natural ingredients and natural mango flavor. Absolut Mango Vodka is bursting with juicy ripe mango notes, it is quickly becoming my favorite item in my bar cart.
This Absolut Mango Cooler will quench your thirsty tastebuds and bring a delicious kick of mango flavor to your party.  It's the perfect accompaniment to a juicy burger or a plate full of spicy tacos!
I've always been a huge fan of Jarritos mango flavored soda.  It's rich, sweet and packed with flavorful mango.  Jarritos make the perfect addition to this summer cocktail. Today's cocktail recipe is a grown up spin on that same bubbly mango agua drink I enjoyed as a kid.  
Want to try this yummy sunshine in a glass?  Here's the recipe.
To make this refreshing mango cooler recipe, simply shake Absolut Mango Vodka, with mango juice, mint leaves and lime wedges together until well mixed.  Serve with a big splash of Mango Jarritos, and top with fresh mango slices for garnish.  That's it!  The result?  A rich, refreshing drink with a kick of flavor and a punch of color!
This drink is the perfect easy cocktail for entertaining and a must-have summer treat!  Take your summer parties up a notch with this delicious, fruity mango cooler recipe made with Absolut Mango Vodka.  The perfect fun drink for your party guests, with a distinctly grown up kick!
Enjoy!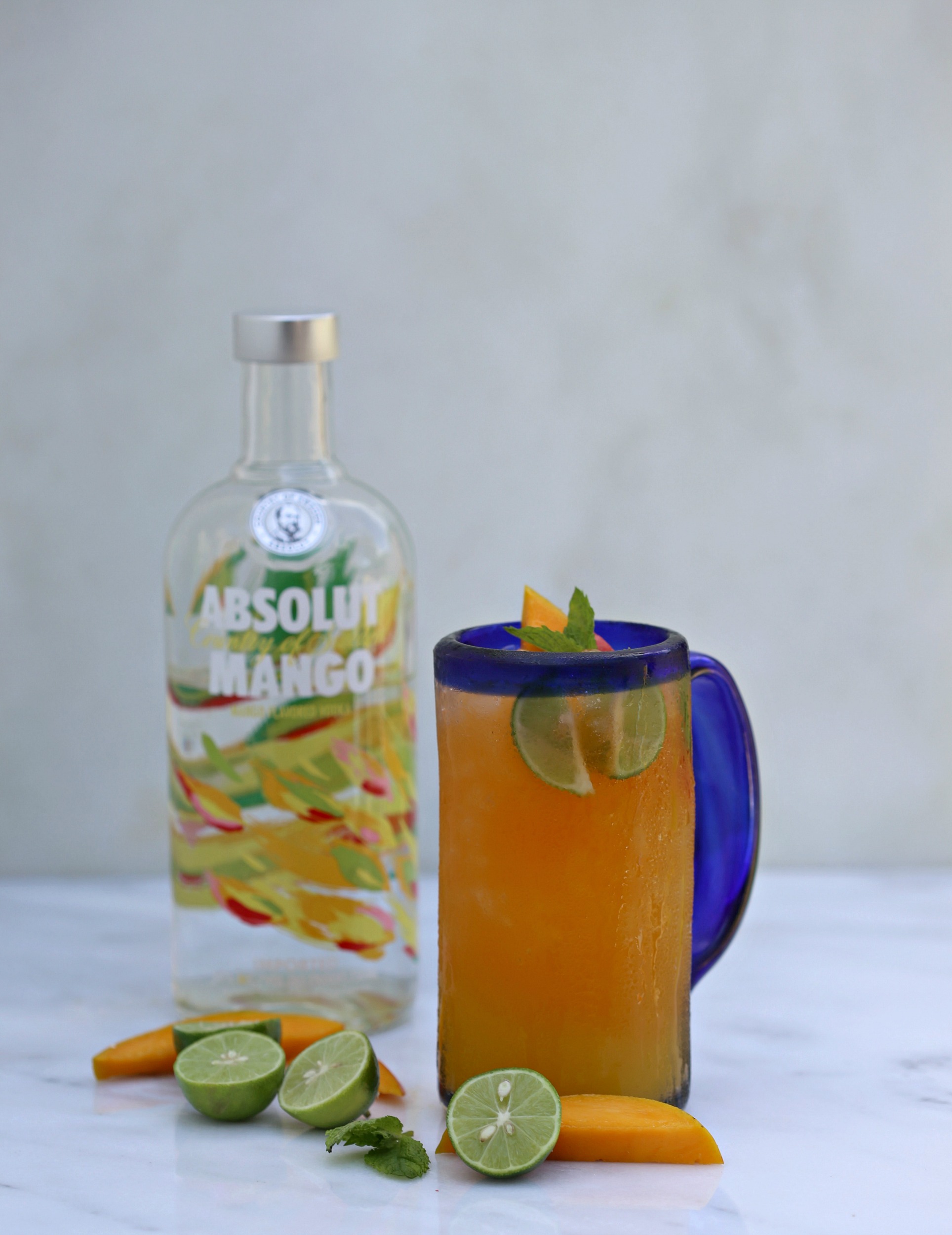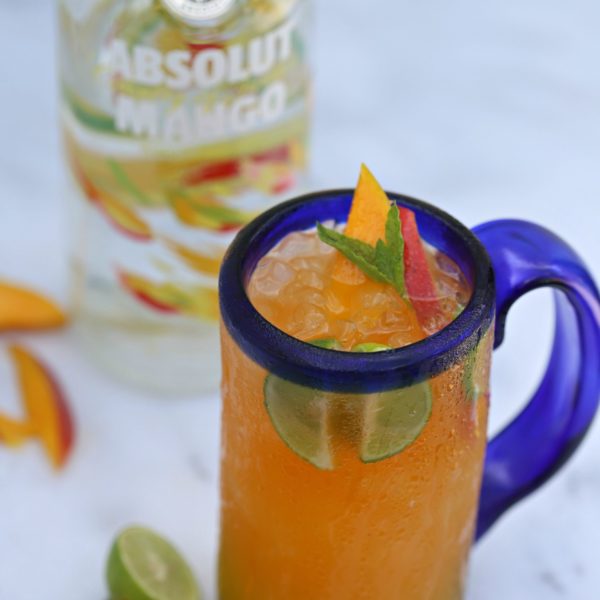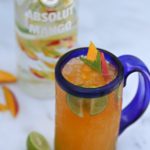 Absolut Mango Cooler
Ingredients
1 1/2

ounces

of Absolut

1

ounce

mango Juice

3-4

Mint leaves

Lime Wedge

3

ounces

Jarritos Mango Soda

Mango for garnish
Instructions
Mix ingredients in cocktail shaker filled with ice. Pour into glass filled with ice, top with Jarritos mango soda and garnish with mango.