Sweet Life Disclosure: This is a compensated post in collaboration with Kikkoman and Latina Bloggers Connect. All opinions are my own.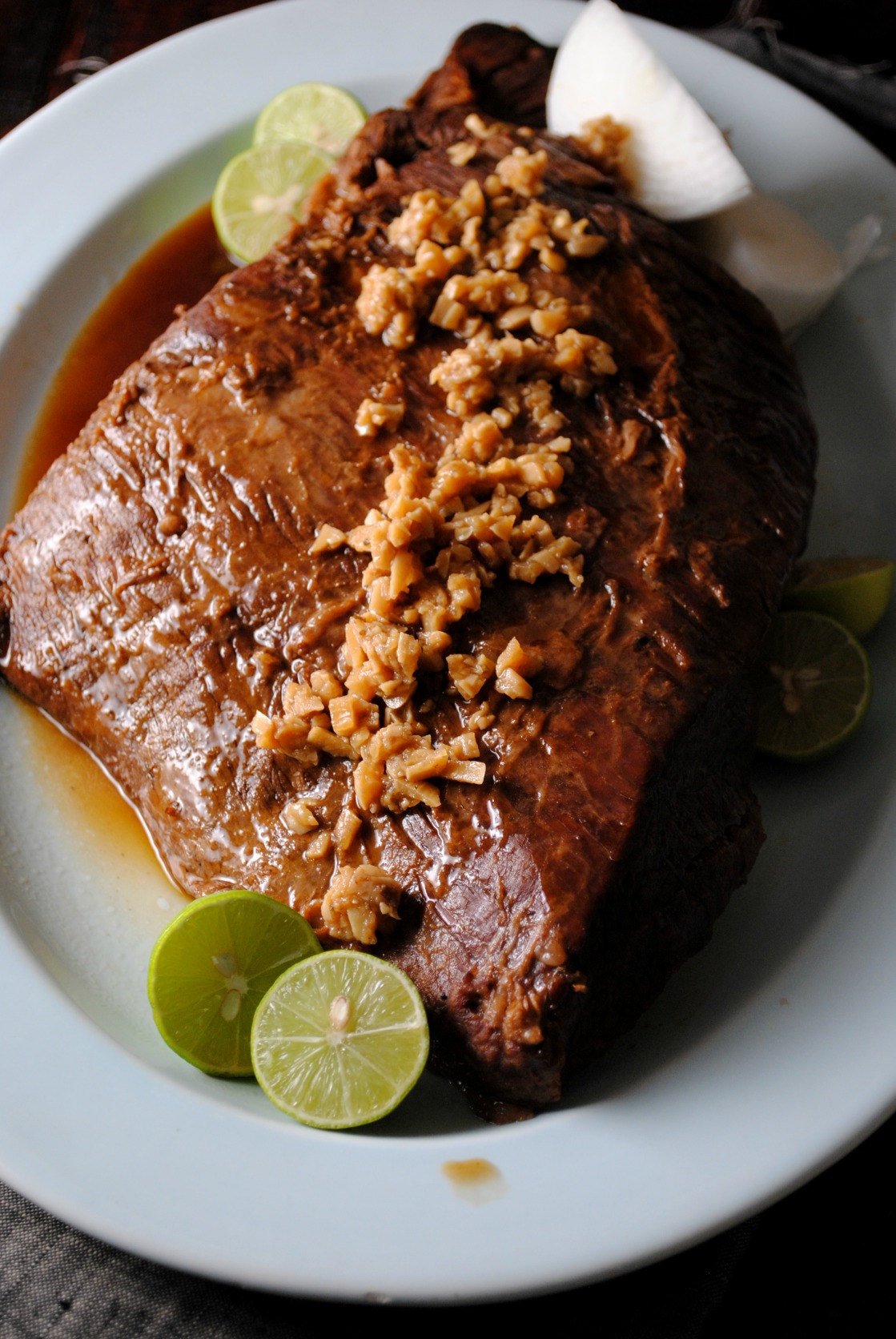 Braised Brisket
Texans – Tejanos are obsessed with Brisket.  Here in Texas we grill year round and brisket is hands down a crowd favorite. A few years ago I made almost 20 briskets myself to somewhat understand the science, patience and begin to develop a smidge of brisket know-how. Perfecting a brisket can take years and loads of time and patience this is exactly why they dedicate numerous full length features in many of our Texas magazines and many restaurants are judged by their brisket plate alone, so am I on the right path to being a brisket ninja?
Hmmmm it might take a few more years.
Last week when mi carino was out running errands I decided to fire up the grill and work on my brisket skills when the sky drew dark, the clouds came in and we were hit with heavy rain. I almost threw in the towel when I remembered that before I began my grill journey this girl learned how to braise a mean brisket.  Yup, mami made sure all her niñas could braise a brisket until succulent and tender, since she had no want, need or desire to stand in front of a hot grill all day.
I ran to my pantry and reached for my bottle of Kikkoman soy sauce.  Kikkoman soy sauce is a versatile ingredient that can be used to cook many different types of cuisines (remember those ponzu tacos from last year?) and can be used to add a pop to salsa, fajitas, grilled onions and is amazing on pickled red onions. Kikkoman soy sauce also works very, very well with brisket. Naturally brewed Kikkoman enhances the flavor to any spice I marinade my brisket in.  And it makes for a mean sauce after the brisket is cooked until fork tender.
Marinated for 24 hours in a rich sauce with loads of garlic this brisket is braised for 4 -4 ½ hours until succulent and fork tender and give the garlic a gorgeous smoked flavor that is to-die for over the brisket with a ladle of pan sauce.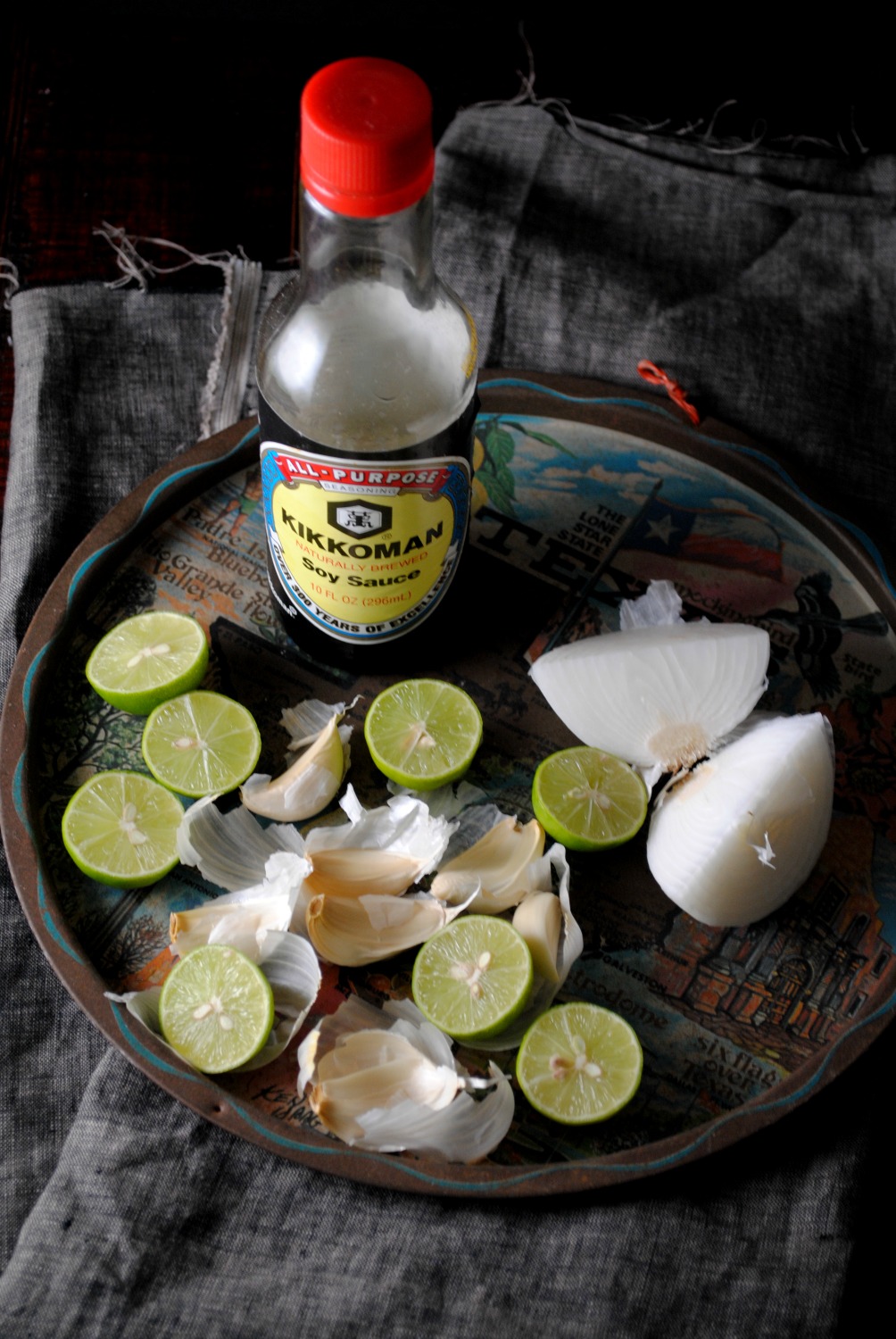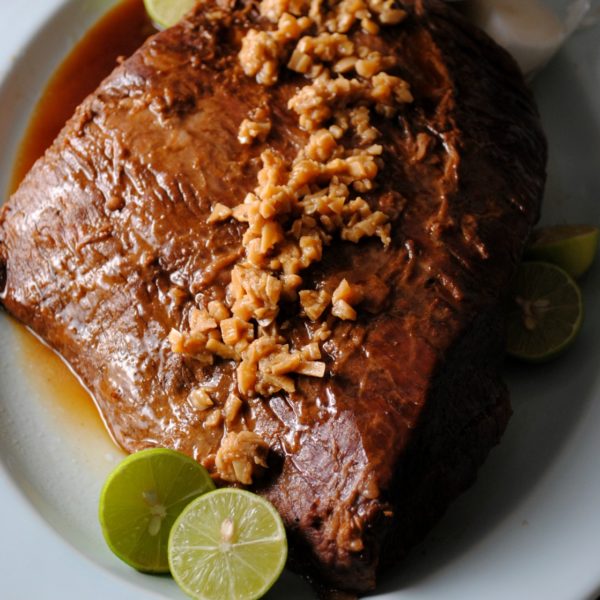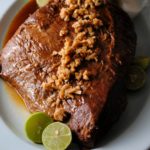 Braised Brisket
Ingredients
1

7-10 lb. brisket, trimmed

3

14.5-oz. cans low-sodium beef broth

1

cup

Kikkoman soy sauce

1

tablespoon

lime zest

1/4

cup

lime juice

12

garlic cloves

chopped

1

tablespoon

hickory liquid smoke
Instructions
In a large roasting pan place brisket fat side up. Whisk together broth, soy sauce, lime zest, lime juice and garlic cloves. Pour over brisket, cover tightly and place in fridge overnight. (24 hours if possible)

Braise brisket in a 300 degree pre-heated oven for 4 – 4 1/2 hours or until fork tender. Uncover, carefully remove brisket to a serving platter, tent with foil and allow to rest for 20 minutes.

Place roasting pan on stove top over medium high heat and cook marinade/juices until reduced in half.

Cut brisket across the grain or cut brisket into large pieces, and shred with two forks. Serve warm with pan sauce.