Hi guys it's me chuls (waving). This week I will be in charge – hooray! My mom and dad both have finals this week so, they will be freaking out( I mean busy)  all week.  I'm stepping in to help, so I will be posting what I cook.  I will also be commenting on your blogs this week so I am super excited!!     My mom will post once this week,  on Wednesday where she will share with you what we had for our Cinco De Mayo celebration. On Wednesday my dad has a final so, we had our party on Sunday.    Saturday I made this cookies that  my aunt (Tita Nina) made  for my cousins. We both have the same cookbook so I thought they sounded neat. They are chocolate chip cookies made  with chickpeas. I  mashed the chickpeas before I added them to the batter. My aunt gave me this tip; she did not want her kids to freak out if they bit into the cookie and found a whole chickpea. I decided I should follow her advice my little sister can be weird too. The only thing I did different was to use butter and I added dried cherries. Like my mom says "Enjoy!" peace-Chuls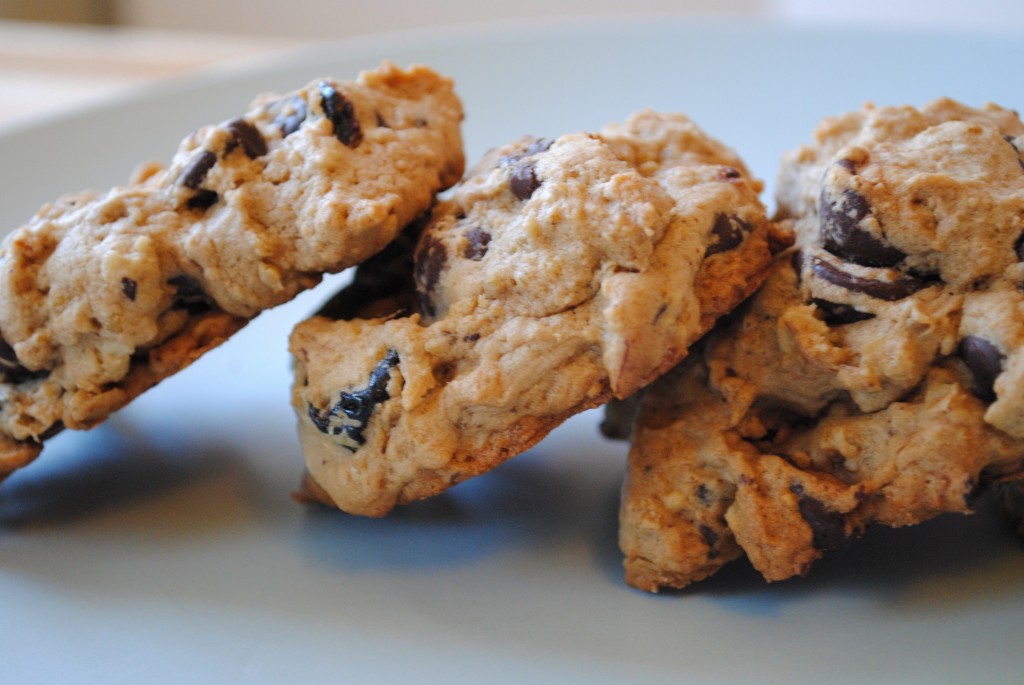 My Aunt sent me these pics from Kansas.   
 Her kids loved these cookies, so did we.   The kiddos who enjoyed these a 10yr old, 5yr old,  2yr old and 1yr old- yup we have a winner.
Chocolate Chip Cookies (with chickpeas)
by Jessica Seinfeld
Deceptively Delicious
makes 2 dozen
nonstick cooking spray
1 cup firmly packed light or dark brown sugar
3/4 cup trans-fat-free soft tub margarine spread (I used unsalted butter)
2 large egg whites
2 tsp pure vanilla extract
1 – 15 oz can chickpeas, drained and rinsed
2 cups (12oz) semisweet chocolate chips
2 cups all purpose flour
1/2 cup old fashioned oats
1 tsp baking soda
1/4 tsp salt
1-  Preheat the oven to 350 coat a baking sheet with cooking spray.
2. In a large mixing bowl or the bowl of an electric mixer, beat the sugar and margarine with a wooden spoon or on medium speed until smooth. Beat in the egg whites and vanilla, then the chickpeas and chocolate chips. Add the flour, oats,baking soda, and salt, and mix on low speed until thick dough forms.
3  Drop the dough by the tablespoonful onto the baking sheet, spacing the cookies about 2 inches apart. Press gently with a fork to flatten. Bake until the cookies are golden brown and just set, 11 to 13 minutes; do not over bake. Transfer to a rack to cool.
4. Store in an airtight container for up to 3 days.