For the love of pan dulce! A no-churn ice cream swirled with plenty of conchas is the ultimate sweet treat for pan dulce lovers.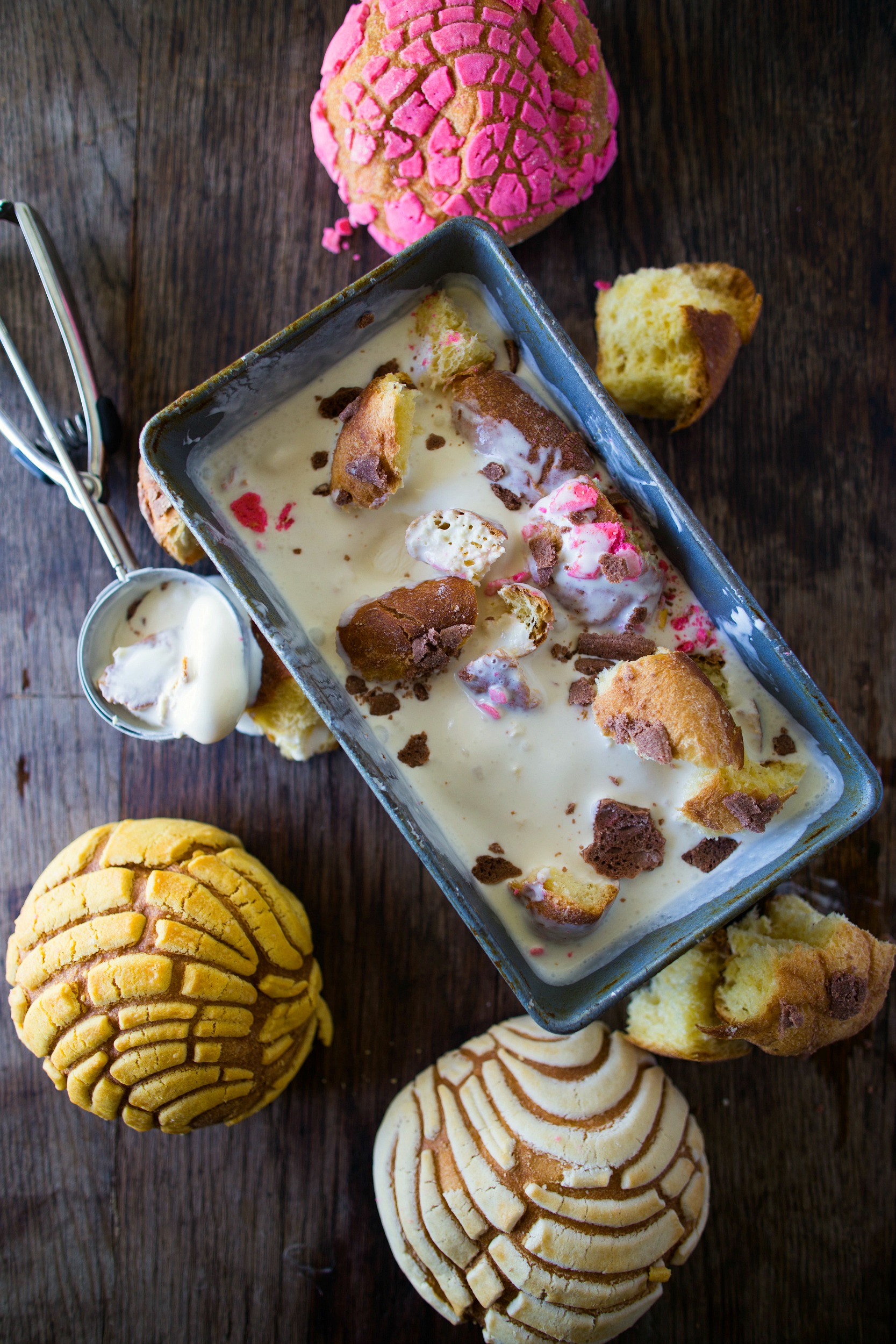 Concha No-Churn Ice Cream
Anyone that grew up near a traditional panaderia cherishes the tradition of the weekly visit to pick up pan dulce. Our weekly trips were on Sunday mornings. We kids looked forward to this day all week. Mami would grab the large tray, a set of tongs and we kids would go to town picking all our favorite – empanadas, galletas, cuernos and of course plenty, plenty of conchas. The pink ones were our favorite. Delicate, spongy and lightly sweet Is there anything better than a fresh concha? I think not.
I used to try to sneak one out of the bag to enjoy on the drive home. Mami wasn't having it – she didn't want crumbs covering the back seat of her car.
My concha ice cream is the third ice cream recipe in my ice cream series featuring my childhood favorite flavors. I recently shared a no-churn ice cream featuring the Mexican cookie Arcoiris followed by a Gansito no-churn chocolate ice cream. Also be sure to check out the concha ice cream sandwiches, they are out of this world amazing.
All three recipes feature an easy no-churn ice cream base. Have you tried making no-churn ice cream? It is soooo simple and only requires a few ingredients. No stove-top cooking, no machines and can be made with a hand mixer – winning.
This recipe is a snap to make. A few whips with the hand mixer to whip the heavy cream, then fold in the remaining ingredients to create a creamy, homemade ice cream that's ready for any add-ins.
I whipped up a batch of no-churn ice, then carefully mixed in my concha pieces. I tore the conchas by hand to give the ice cream texture and used conchas in different flavors. I poured my mix into an 8×5 bread loaf pan then placed in the freezer to freeze.
Concha Ice Cream
Yield 10 Serves
For the love of pan dulce! A no-churn ice cream, swirled with plenty of conchas is the ultimate treat for pan dulce lovers.
Ingredients
1 can (14 ounces) sweetened condensed milk
1 teaspoon vanilla extract
2 cups cold heavy cream
6 Conchas (pan dulce), torn into large pieces
Instructions
Stir together the condensed milk and vanilla; set aside. With a hand, mixer whip the heavy cream until peaks form. Gently fold the whipped cream into the sweetened condensed mixture, fold in torn concha pieces. Pour into a freezer safe container and freeze for 6 hours, or until firm.
Courses Dessert
Cuisine Mexican